A Trip Well Taken
"You can check-out any time you like,
But you can never leave!"

Hotel California, The Eagles
There are many wine regions in California that produce Pinot Noir of uncommon richness, but there is only one that has a major river running through it that defines its very existence. The Russian River Valley is 1,485 square miles of wilderness, farmland, towns and cities that lie in the Russian River watershed. Vintners here like to say that fog makes the Pinot Noir and it is the regular intrusion of cooling fog from the Pacific Ocean through the Petaluma Wind Gap a few miles to the west of the Russian River Valley and through the channel cut by the Russian River that allows Pinot Noir to develop intense flavor maturity over an extended growing season. It would almost seem that the River gives Russian River Valley Pinot Noir its spirit.
For me, I am drawn back to the Russian River Valley for the lifestyle built around great Pinot Noir, food and wine country living. The combination of farmers' markets, reservation-only restaurants, roadside taverns and winery dining are all part of the tapestry of life along the Russian River Valley. It is one of those magical places that you never really leave even as you reluctantly slide into your car for the trip home.
Each year as part of ¡Salud! The Oregon Wine Auction, I donate a hosted "Russian River Valley Immersion Weekend" for four people. ¡Salud! is uniquely Oregon and represents a collaboration between Oregon winemakers and healthcare professionals to provide access to health care for Oregon's seasonal vineyard and winery workers and their families. A dedicated group of vintners and Tuality Healthcare physicians created ¡Salud!, named for the traditional Spanish toast, "To your health!" This year's ¡Salud! Tasting and Big Board Auction will be held November 11 and the Dinner and Auction Gala on November 12.
Recently, I hosted brothers Bill and Michael Sweat. Bill, along with Donna Norris, is the proprietor of Winderlea Wine Co., a boutique winery in the Dundee Hills of Oregon, and Michael is a business executive from Boston, Massachusetts. We drank more great Pinot Noir and ate more incredible food than we deserved, but someone had to do it.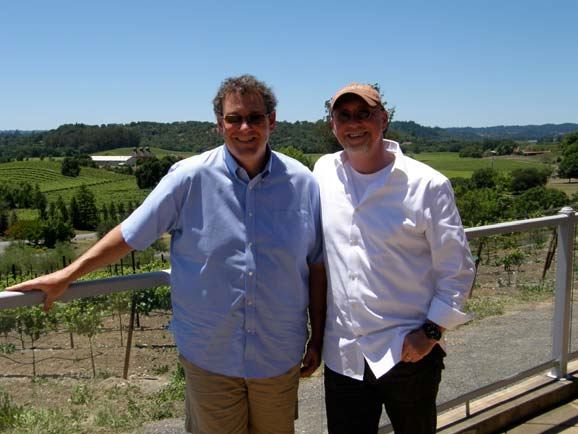 The gracious hosts at the wineries we visited gave generously of their time and we remain especially grateful to Bob Mosby at Benovia, winemaker Ben Cane at Twomey, winemaker Ted Lemon of Littorai, winemaker Kathleen Inman of Inman Family Wines, and winemaker Eva Dehlinger of Dehlinger, as well as the hospitality staffs at Lynmar, Dutton-Goldfield and Russian Hill.
Thursday

Benovia (Santa Rosa)
After the Sweats settled into the Benovia Vineyard Hideaway Guest Cottage overlooking the winery's Martaella Vineyards, we met with Sales Director Bob Mosby in the new Benovia hospitality center to sample the lineup of 2009 Benovia wines. Bob is well known in the Russian River Valley wine community after working ten harvests at Williams Selyem and several more at Brogan Cellars. Bob came to Benovia from Phoenix, Arizona, where he had met proprietors Joe Anderson and Mary Dewane who had successful careers in the health care industry. Benovia's winemaker, Mike Sullivan, grew up in the Russian River Valley area, graduated with a degree in fermentation science at Fresno State, and has crafted wines on the Sonoma Coast since 1987. He has been the winemaker at Benovia since its first vintage in 2006 and is extremely well respected in the Sonoma County winemaking community.
Benovia harvests grapes from 71 planted acres in both the Russian River Valley and Sonoma County AVAs. The estate vineyards include Cohn Vineyard (18 acres), Martaella Vineyards (41 acres) and Falstaff Road Vineyard (12 acres).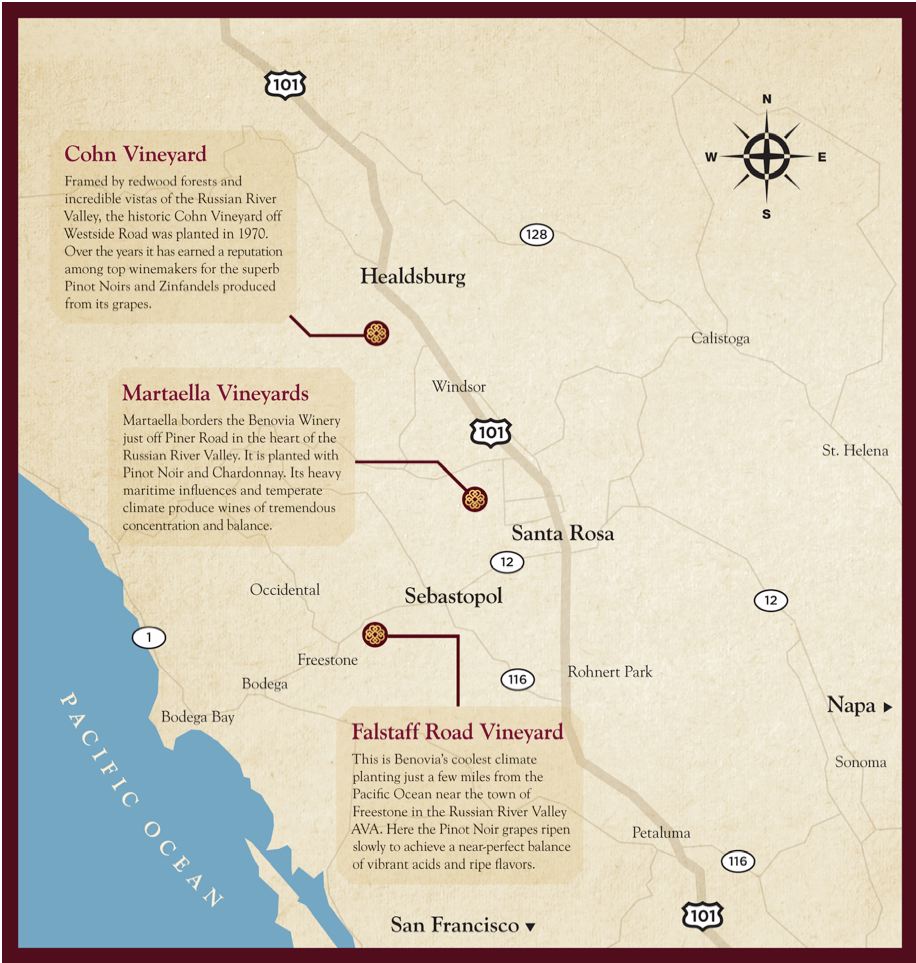 Grower partners include Martinelli Vineyards, Savoy Vineyards, Manzana Vineyard/Dutton Ranches, Petersen Vineyard and Four Brothers/Sullivan Vineyard.
Winemaking for Pinot Noir, Chardonnay and Zinfandel are traditional. The Pinot Noir grapes are harvested whole cluster, hand sorted, de-stemmed and then berry sorted. Small amounts of whole cluster are included. Pre-fermentation cold maceration lasts 5-8 days, followed by indigenous yeast fermentation and a long, slow inoculated malolactic fermentation with weekly lees stirring. The wines spend 14 to 16 months in French oak barrels (Francois Frères, Rousseau, Remond and others) before they are bottled and labeled at the winery.
The quality has always been high at Benovia, but after tasting through the 2009 vintage lineup, I felt these were the best wines Sullivan has crafted there. Even Sullivan, who is conservative and not one to tout his wines, has raved about the 2009 vintage, calling them "elegant and expressive." The summer of 2009 saw moderate heat from August through harvest resulting in perfect physiologic grape ripeness. The 2009 Pinot Noirs are generally more approachable than the 2008 versions, possessing less tannin, and more charm. The current spring releases include a Sonoma Coast and Russian River Valley Pinot Noir blend, a Sonoma Mountain Chardonnay and "La Pommeraie" Russian River Valley Chardonnay. All alcohols for the 2009 vintage are 14.1%-14.2% except the Zinfandel which is 15.8%. The vineyard-designate Pinot Noirs will be released in the fall. Total production in 2009 was about 3,500 cases.
The wines are sold primarily through a mailing list at www.benoviawines.com, but may be purchased through the winery's website store. Tasting at Benovia is by appointment. Note: there are still a few bottles of the 2007 Benovia Sonoma Coast Pinot Noir ($45) available from the winery. The wine is now drinking in its prime with plenty of appealing flavors of black cherries, cola and sassafras.

Thursday evening we dined at a newer restaurant in Healdsburg, Shimo Modern Steak, owned by Chef Douglas Keane of the two Michelin Star Cyrus. This is a casual restaurant harmonizing the American steakhouse with the comfort foods of Japan. The result is striking, with impeccable service and innovative dishes of uncommon flavor interest. We enjoyed tempura asparagus with yuzu bearnaise, six cheddar parmesan biscuit, maitake, shitake and crimini mushrooms, okonomiyaki-japanese mountain yam pancake, and shared a 24 oz. USDA prime rib eye steak. Corkage is free here and we enjoyed a 2004 Littorai Mays Canyon Chardonnay and a 2003 Joseph Swan Trenton Estate Russian River Valley Pinot Noir. A great way to cap the first day in wine country and highly recommended for a unique dining experience. The website is www.shimomodernsteak.com.
Friday

I headed out early to the Wild Flour Bakery in Freestone to pick up my supply of chocolate-hazelnut biscotti to go with my morning cup of cocoa over the next few days. The brick oven sweets, biscotti and breads from this small outpost off Bodega Highway are known to foodies throughout Northern California.

Twomey Cellars (Healdsburg)
We met with winemaker Ben Cane, toured the expansive winery and tasted through the lineup of 2009 Pinot Noirs and the 2010 Twomey Sauvignon Blanc. Under the direction of Cane, Twomey intends to produce Pinot Noirs that rival their lofty and iconic neighboring wineries on Westside Road and the 2009 vintage wines are proof that the winery is on the right track. Cane is an Aussie who has traveled and worked all over the world including winemaking stints at Domaine Dujac in Morey-St.-Denis and Arcadian Wines in Santa Barbara County. His stylistic goals clearly reflect the influence of Jeremy Seysses and Joe Davis. The Twomey Pinot Noirs are intended to be refined and food-friendly and to be enjoyed shortly after release, while still possessing the structure and balance to age.

Twomey Cellars focus is blended appellation-designated Pinot Noir, although the Central Coast bottling is now entirely from Bien Nacido Vineyard Block N. The Anderson Valley Pinot is primarily sourced from the Monument Tree Vineyard (which Twomey has purchased), the Sonoma Coast offering is anchored by Gap's Crown Vineyard, and the Russian River Valley Pinot Noir mainly features fruit from the Twomey estate WestPin Vineyard located in the Middle Reach along Westside Road. Cane has a total of 9 vineyards and 39 separate wines with which to create his Pinot Noir blends. He also crafts the Twomey Sauvignon Blanc.
More detailed coverage on Twomey Cellars including my tasting notes on the 2009 Pinot Noirs is available from a recent PinotFile article I wrote after visiting previously: http://www.princeofpinot.com/article/1057/. The 2010 Twomey Sauvignon Blanc is sourced from a vineyard in Calistoga and is vinified one-third in barrel, one third in tank and one-third in drums. At 13.4% alc., this Sancerre-styled Sauvignon Blanc is crisp and fruity with tropical melon, green apple and lime flavors unencumbered by any herbal and vegetal notes that this varietal can exhibit. Twomey Cellars Pinot Noir and Sauvignon Blanc are available at the winery, fine wine retail outlets, and better restaurants. The website is www.twomeycellars.com. The tasting room is open daily and offers spectacular views of the Russian River Valley.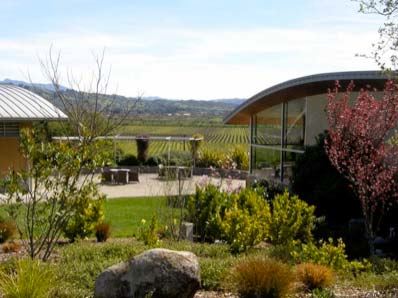 Our group, including Ben Cane, headed for lunch at Bistro Ralph on the Healdsburg Square. This is a longstanding treasure in Healdsburg known for its French bistro cuisine. I have never been there for lunch when I haven't run into a winemaker or two. If you go, don't miss the Lamb Burger, the grilled albacore sandwich, the snap peas or the Plate of 1,000 Fries (thin fries piled 18" high on a plate). The 2009 Twomey Anderson Valley Pinot Noir was the perfect accompaniment to our lunch. The restaurant's website is www.bistroralph.com.
Ben shared a couple of insights with us over lunch. He is a fan of using whole clusters and finds that putting stems (whole clusters) in the bottom of the fermenting tank creates an anaerobic environment whereby the stems become riper (Don't ask me how). In addition, in striving for ripe phenolics in Pinot Noir without high sugars, he has discovered that it is beneficial to open the trellis and allow the canopy to be more sprawling. This lets more sun through without producing ripe flavors produced by heat.

Littorai (Sebastopol)

After a short drive to Sebastopol, we met with Littorai proprietor and winemaker Ted Lemon at his 30-acre estate vineyard and winery. I have seen the development of this property and winery from the beginning, having visited on several occasions. His new winery, which opened in 2010, was a goal since Littorai's inception in 1993 when 12 barrels of wine were crafted in the back of Robert Pecota Winery. This environmentally sensitive winery incorporates straw bale construction and incorporates gravity flow on its two levels. All the process waste from winemaking is recycled through a constructed wetlands system and recycled for vineyard and property irrigation. Natural lighting is employed with strategically placed windows reducing the need for electricity.
Ted's years in France led to his philosophy of winegrowing based on the concept of terroir and the practice of biodynamic farming. The estate Pinot Noir vineyard (Pivot Vineyard) is farmed using only organically certified materials and the farm is integrated, diversified and self-sustaining. Ted's property is almost magical in its serenity yet vibrant with healthy plant life in abundance, tall crop cover between vineyard rows, a large compost pile (photo below), and strategically placed plantings to attract beneficial insects, control erosion, nourish the soil, and add visual appeal. I have never seen another farm estate quite like it in my extensive wine region travels. Ted has added to the property slowly, carefully and deliberately, with the goal of achieving a self-contained farm and with an intent to minimize or eliminate undesirable inputs. He plans to eventually add some cattle to his farm to provide the manure and horns for field preparations. The compost preparations originate on the property. Ted has not sought out organic or biodynamic certification for his vineyard and property because he is confident in his own approach apart from verification.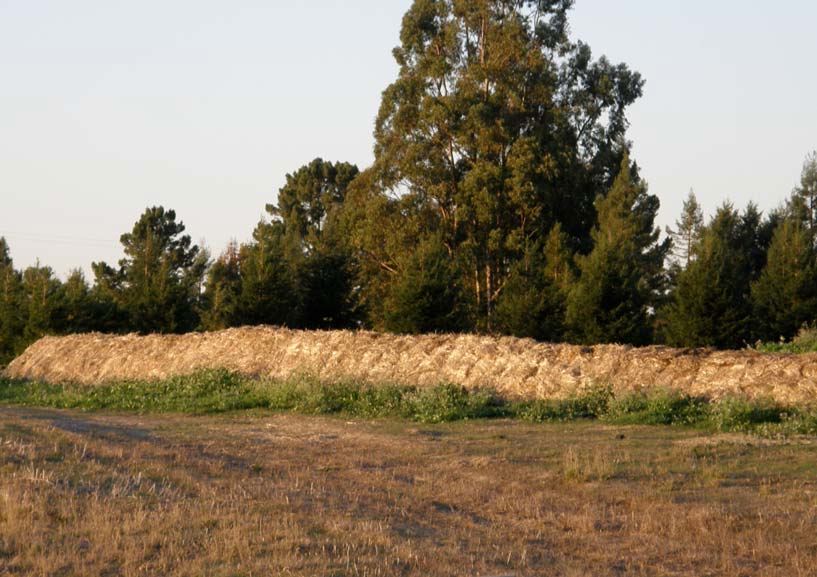 Ted and his staff offer tours and tasting by appointment and definitely take advantage of the opportunity. Call the Littorai office at 707-823-9586 or email info@littorai.com. You must join the Littorai mailing list to access the wines (www.littorai.com/signup.asp). There is limited restaurant placement and the wines are rarely available in retail stores. Ted's website doesn't do him justice and offers little information, but he told me the website is going to be revamped shortly.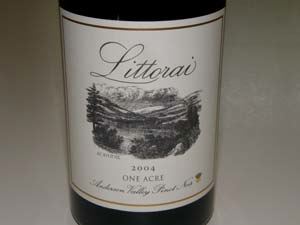 We tasted a number of 2008 Littorai Pinot Noirs which I have previously reviewed in the PinotFile. Besides an Anderson Valley (Les Larmes) and Sonoma Coast appellation blend, Pinot Noir vineyard designates include Platt Vineyard, B.A. Thieriot Vineyard, Hirsch Vineyard, The Haven Vineyard and Pivot Vineyard in the Sonoma Coast, Savoy Vineyard, Cerise Vineyard and One Acre Vineyard in Anderson Valley. Ted's Chardonnays are classics as well, straddling the line between the flamboyant early drinking California styles that are popular and the more austere, age worthy French white burgundies. The Littorai Chardonnays drink fine early on but also age extremely well. His Chardonnay sources are superb, including Charles Heintz Vineyard, Mays Canyon Vineyard, The Tributary Vineyard and B.A. Theirot Vineyard. Ted uses 25% new French oak for his Chardonnays and 35% new French oak for the Pinot Noirs.

Inman Family Wines (Santa Rosa)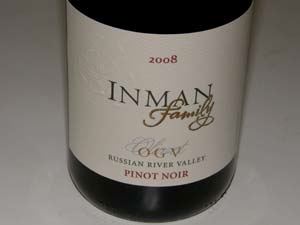 We were lucky to find Kathleen Inman at her winery late Friday afternoon. She graciously offered her current lineup of wines to taste: 2010 Endless Crush Rosé, 2009 Pinot Gris, 2009 Chardonnay, and 2007 and 2008 OGV Pinot Noirs As she poured, she discussed her commitment to eco-friendly practices in her vineyard and winery. Kathleen is an impressive woman who started her winery from scratch nine years ago, and built it into a very popular Russian River Valley destination winery offering consistently top notch wines. For full coverage of Inman Family Wines and a report on my tasting of a Olivet Grange Vineyard (OGV) Pinot Noir vertical, visit the previous issue of the PinotFile (www.princeofpinot.com/article/1096/). The tasting room at 3900 Piner Road is open 11:00-4:00 Thursday through Sunday. If you visit, say hi to my son, Dane, who is working at the winery. The website is www.inmanfamilywines.com.
For dinner, we had a special treat. Well-known North Bay chef and caterer, Mateo Granados, offers a series of Tendejon ("A sutler's tent in a camp" in Spanish) Dinners Thursday and Friday evenings during the summer at various wineries. Mateo brings his crew and a mobile kitchen and serves a sit-down Yucatán-inspired meal served restaurant-style outdoors. Mateo is a Yucatán-born chef who has worked at legendary restaurants such as 42 Degrees, Masa's, Manka's Inverness Lodge, and Charlie Palmer's Dry Creek Kitchen. Our dinner was at Thomas George Estates on Westside Road in Healdsburg. The setting here is magnificent with the winery and grounds tucked among majestic wooded hills. The menu is below. We had the following wines with dinner: 2009 Thomas George Estates Wildwood Vineyard Sonoma Valley Viognier (tropical perfume and flavors, dry, exotic), 2006 Marcassin Marcassin Vineyard Sonoma Coast Chardonnay (big, boozy, well-oaked buttery style), and a magnum of 1995 Williams Selyem Sonoma Coast Pinot Noir (fresh, dark-fruited, vanillin, spice, silky, drinking beautifully). Check Mateo's website, www.tendejon.com, for dates of upcoming dinners at Amphora Winery, Twomey Cellars, Quivira Vineyards and Winery, and Preston Vineyards. Mateo is at Healdsburg Farmers' Market on Saturdays and Sebastopol Farmers' Market on Sundays.
Tendejon de la Calle Spring Menu

Botanas
Tacones
Crispy tortilla cone filled with:
"Olivio di Gio" Olive Oil Guacamole & Baby Oregon Shrimp or
"Preston Vineyards" Lamb Home Made Chorizo with "Tierra Farm" Black Bean Paste

Antojitos

Atole Grueso con Esparragos
"Tierra Farm" Blue Corn & Roasted Asparagus, "Salmon Creek Ranch" Fried Duck Egg,
"White Crane Spring" Mixed Greens
Ensalada de Alcachofas y Habas
"Quivira" Slow Braised Artichokes & Favas, "Preston" Torn Olive Oil Sea Salt Bread,
Meyer Lemon Aoili, "White Crane Spring" Greens
Tartara de Salmon y Aquacate
Wild King Salmon Tartare with Avocado, "Tierra Farm" Rhubarb, "Quivera" Radishes,
Pumpkin Seed Cracker

Platos Fuertes

Conejo en salsa de Chihuacle
"Jones Family Farm" Slow Roasted Rabbit, "La Bonne Terre" Garlic "Calasparra" Rice,
Crispy Rabbit Shank, Market Vegetables, "Tierra Farm" Home Made Mole Sauce
Cordero Lechal
"Preston Vineyards" Spring Lamb braised in Chihuacle Sauce, Yucatan Style "Quivira"
Whipped Olive Oil Potatoes, Spring Vegetables
Salmon Rostizado con Hierbas Aromaticas
Fort Bragg Roasted Wild King Salmon with "Quivira" Aromatic Herbs,
"White Crane Spring" Watercress Sauce, "Quivira" Potatoes' Crispy Skin,
"Tierra Farm" Grilled Asparagus
Especial de la Casa
"Preston Vineyards" Roasted Aromatic Rack of Lamb or
"Salmon Creek Ranch" Roasted Aromatic Duck Breast

Postre

"Tierra Farm" Baked Strawberry-Rhubarb, Strawberry Ice Cream
Saturday
Dehlinger Winery (Sebastopol)
The morning was bright and sunny as we arrived at the junction of Highway 116 and Vine Hill Road, the site of Dehlinger Winery and estate vineyards. The octagon-shaped house at the top of the hill, a Russian River Valley landmark, marks the spot. Tom Dehlinger ( DAY-leen-ger) is an icon in the Russian River Valley, shunning publicity, but highly respected for his accomplishments. He was born on the East Coast, but grew up in Berkeley, California, where he earned a degree in biochemistry at University of California Berkeley. He pursued graduate work in enology and food science at University of California Davis, leaving after a year to work in the wine industry, first as a lab technician at Beringer, then in winemaking positions at Hanzell and Dry Creek Vineyard. He was only 26 years old when he set upon a career as an independent winegrower and winemaker in 1973. Early on, Dehlinger had a well-defined idea of how wine grapes should be grown, and realizing that other grape farmers were not conforming to his vision, he decided to plant his own vineyard. He found a neglected hillside property planted to Gravenstein apple trees, bought it with the help of his radiologist father, and with the guidance of Joseph Swan, Warren Dutton and Forrest Tanzer, planted the first 14 acres of vines on his property in the spring of 1975. Dehlinger chose this particular site because of the cool climate and the Goldridge soils.
Vineyard planting continued through the early 1900s, reaching a total of 45 acres. Currently several vineyard blocks are undergoing redevelopment including new plantings of Pinot Noir clone 943 and Swan and Calera selections on phylloxera-resistant rootstocks (visit www.dehlinger-replant.blogspot.com/ for more details). Vineyard manager Marty Hedlund has been over seeing the vineyard since 1988. The vineyard has a unique split-canopy vertically shoot positioned Lyre trellis system derived from Bordeaux. Dehlinger chose this system to overcome vine imbalances in the Dehlinger Vineyard. This moveable trellis lifts shoots and leaves up and away from the bank of grapes allowing more light exposure and permitting more precise (but laborious) hand work to manage the shoots and clusters during the growing season. The trellis also minimizes the risk of mold and mildew and permits the vine and grapes to dry out quickly if rain occurs before harvest.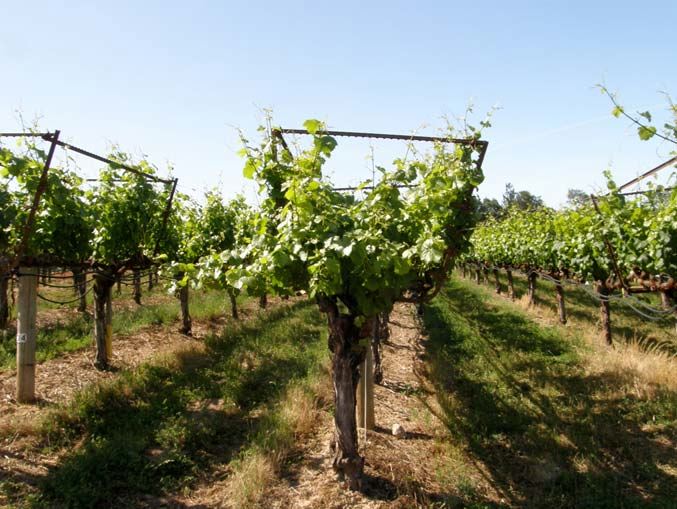 The Pinot Noir plantings are in multiple blocks. Grapes from the lower parts of the vineyard are in Goldridge soil and are referred to and bottled as the Goldridge Vineyard. The hilltop areas feature Altamont soil and are the source for the Estate and special reserve type bottlings. Winemaking is traditional with inclusion of 10% whole cluster in the Estate bottling and the wines are typically exposed to 40% new oak during aging.
The Dehlinger Vineyard is one of the very few in the Russian River Valley and the only one in the cooler southern part of the Russian River Valley AVA to grow Cabernet Sauvignon. Dehlinger admits that farming Cabernet Sauvignon has been a challenge in some vintages, but in select years the wines have been superb and highly lauded by the wine press. Chardonnay and a small amount of Syrah are also produced from estate grapes. Total production is about 7,000 cases with most of the wine sold through a mailing list (wwwdehlingerwinery.com). Visitors are welcome by appointment from January through August and there are two Open Houses for mailing list members. An informative newsletter is released each January and July.
For over 35 years that Dehlinger has been producing wine, quality and consistency have been the hallmarks. Noted wine critic, Matt Kramer, wrote in 2004, "Dehlinger wines represent an impeccable standard regardless of vintage." This stalwart winery has never wavered from the vision upon which it was founded. As an added plus, the winery avoids expensive promotion so that prices remain sensible. In 2008, daughters Carmen and Eva Dehlinger returned to Sonoma County to work in the family business; Carmen in customer service and sales and Eva in operations and winemaking. Tom is still active and on the day we visited, he was out in the vineyards working. He is an extremely personable figure, but is fiercely independent and private. His daughter, Eva, in contrast, who received us, gave us a tour, and conducted a tasting, is extremely warm and outgoing. As the second generation becomes more involved, expect to see some modern innovations (Eva has instituted a blog, for example) at the winery.
We sat outdoors and sampled several wines, all of which were high quality. The 2007 Estate and 2006 Estate Reserve Pinot Noirs were quintessential Russian River Valley Pinot Noir, exhibiting the vibrant cherry fruit, cola and spice flavors the region is known for. I have not sampled much cool-climate Syrah, but I was taken by the (?2008) Dehlinger Syrah. The wine reminds me of Pinot Noir, yet offers a distinctive flavor profile and I can see why wine lovers get excited about cool-climate Syrah. The (?2008) Cabernet Sauvignon was superb as well, displaying a more reserved, less tannic version of this varietal. (I am not sure on the vintages as I was having such a relaxing time sitting outside, chatting with Eva, and enjoying the wines, I took no notes. Sometimes I just like to enjoy wine for what it is and not worry about the details. Suffice it say, every wine Dehlinger produces is first-rate and you owe it to yourselves to join the mailing list.) Kicking the beautiful soil (below)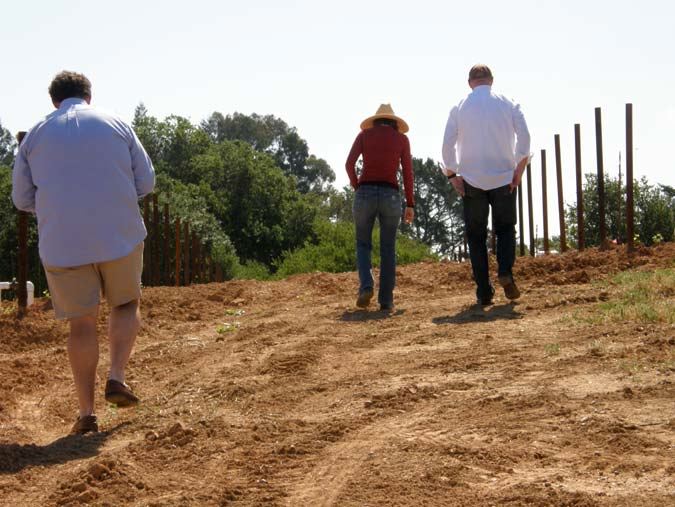 Lynmar Estate (Sebastopol)
Lynmar Estate offers one of the most complete Russian River Valley wine country experiences. The modern hospitality center and its terrace look out on lush gardens and vineyards. An on site executive chef allows Lynmar to offer private lunches and dinners, celebrations, receptions, private barbecues, wood-burning oven parties, and interactive culinary classes. Several private tastings and tours are offered by an extremely professional and well-informed hospitality staff. Proprietor Anisy Fritz is often in the visitor center offering her personal touch. All of this would have little substance, however, if the wines did not match up (which is not the case).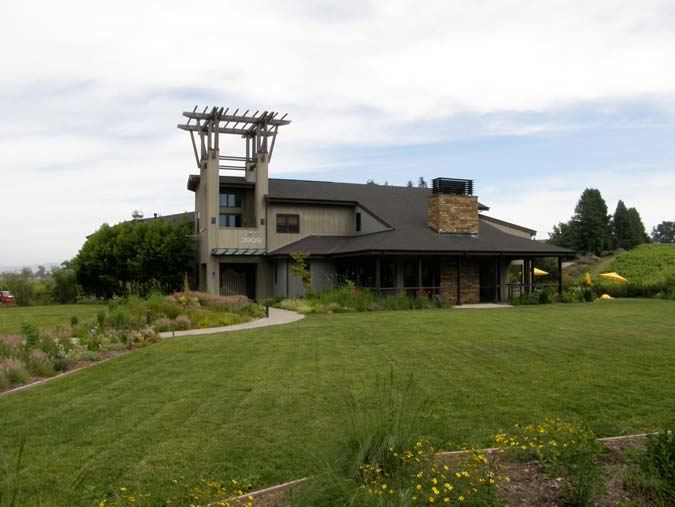 Lynmar has been a consistent producer of wines of excellence since the first 1994 vintage. In recent years the winery underwent a complete renovation with the addition of caves, and the estate vineyards were redeveloped and upgraded to modern viticultural standards. New vineyard sources have also been obtained, allowing for a series of vineyard-designate Pinot Noirs. The wines seemed to be more refined in recent years under the direction of winemaker Hugh Chapelle and consulting winemaker Paul Hobbs. In late 2009, Chapelle left and was replaced by Bibiana Gonzalez Rave, probably the only Columbian-born winemaker in the world. Her years of experience in France have served her well and she is one of the rising stars among California's new generation of winemakers. I met her and interviewed her for Grape Radio at this year's World of Pinot Noir and was impressed by her background and knowledge. She earned a Diploma of Enology from the University of Bordeaux and spent time at Chateau Haut-Brion. In California, she has worked at wineries such as Peay Vineyards, Au Bon Climat and Qupe.
We were warmly received, offered a glass of the 2010 Lynmar Rosé of Pinot Noir, given a tour of the gardens, and seated outdoors for a special lunch. All the wines served at lunch were stellar and have been previously reviewed in the PinotFile. The menu and wines:
Estate Lunch

Mixed Organic Garden Lettuces, Roasted Baby Beet Chutney, Shaved Fennel, "Matos Family" Sao Jorge, Curried Lemon Vinaigrette
2007 Lynmar Quail Hill Vineyard Russian River Valley Chardonnay

Za'atar Crusted Tenderloin of Local Pork, Couscous with Turkish Apricot & Dried Cherries, Wilted Orach with Confit of Estate Garlic, Shwarma Oil
2008 Lynmar Quail Hill Vineyard Russian River Valley Pinot Noir
2008 Lynmar Terra De Promissio Sonoma Coast Pinot Noir

Warm Cardamom Crumb Cake, Braised Crimson Rhubarb & Alpine Strawberry Salad,
Blueberry Marmalade

An impressive number of Pinot Noirs will be offered by Lynmar Estate from the 2009 vintage: Quail Hill Vineyard Estate, several block designated Pinot Noirs from Quail Hill Vineyard (offered for the first time) including Quail Hill Vineyard Bliss Block, Quail Hill Vineyard Lynn's Blend, Quail Hill Vineyard Old Vines, Quail Hill Vineyard Summit, and Quail Hill Vineyard Block 10, a Russian River Valley blend, and vineyard designated Pinot Noirs from Hawk Hill Vineyard Russian River Valley, Jenkins Vineyard Russian River Valley, Zephyr Farms Russian River Valley, Terra de Promissio Vineyard Sonoma Coast, and Freestone Cuvée Russian River Valley.
Lynmar Estate visitor center is open daily at 3909 Frei Road. Visit the website (www.lynmarwinery.com) for more information and to obtain the wines. Limited bottlings are sold primarily through a mailing list. The Bliss House located on the Lynmar Estate 100-acre property is available as a wine country retreat and guests have access to Lynmar Estate's chef and well as picnics or seated food and wine experiences.

Saturday night we dined at Healdsburg's hottest restaurant, Scopa. Housed in a former barber shop on the Healdsburg Square, this tiny restaurant (maybe 12 tables) turns out inspired Italian fare at reasonable prices. The restaurant has quite a noisy but good buzz, and I have had incredible meals here. When we left the restaurant about 10:00 PM, there were still at least 10 people standing outside trying to get in. Obviously, you need reservations here. Brian and Kerith Overstreet, owners of Bruliam Wines, joined us for dinner. They had just driven north from La Jolla to permanently relocate in Healdsburg and were ready to celebrate. They brought an incredible Barolo to share but I have no memory of the lengthy Italian name. I brought a magnum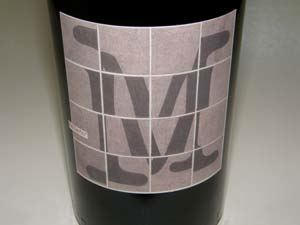 of 2002 Sine Qua Non Hollern'M Shea Vineyard Willamette Valley Pinot Noir. I have had this wine on several occasions and it has never failed to impress me. Although this was a well-cellared magnum, I felt the wine was losing interest. It still offered sumptuous flavors of dark berries, earth, tobacco and mocha in the rich, hedonistic Sine Qua Non style. We shared practically every item on the menu including: Larry Pacini's House Made Ciabatta Bread with Dry Creek Extra Virgin Olive Oil (unbelievably good), grilled calamari with white beans, pickled onions and arugula, pizza margherita, Nonna's tomato-braised chicken with sauteed greens and soft polenta, Rosa Maria's sugo calabrese with lumache pasta, tomato braised pork with oregano, chili and pecorino cheese, and a few other items I don't remember. Extravagant and decadent! Visit www.scopahealdsburg.com.
Sunday
Dutton-Goldfield (Sebastopol)
Founded in 1998 by talented winemaker Dan Goldfield and noted viticulturist Warren Dutton's son, Steve Dutton, Dutton-Goldfield offers a lineup of exceptional wines including Chardonnay, Pinot Blanc, Gewüztraminer, Pinot Noir, Syrah and Zinfandel. Grapes are sourced from primarily from several Dutton properties in the Russian River Valley and Green Valley appellations with lesser amounts from vineyards in the Sonoma Coast and Marin County sources.
Dan Goldfield is an interesting study. He intended to enter medical school but after his brother turned him on to 1969 Burgundies he decided instead to pursue a master's degree in enology from University of California Davis. He honed his winemaking skills at Robert Mondavi Vineyards, Schramsberg, La Crema and Hartford Court which was created under his direction. Warren Dutton suggested that Dan and Steve form a partnership which was consummated at a Sebastopol pizza parlor with a handshake. Dan is an avid outdoorsman who enjoys hiking, climbing, skiing and bicycling.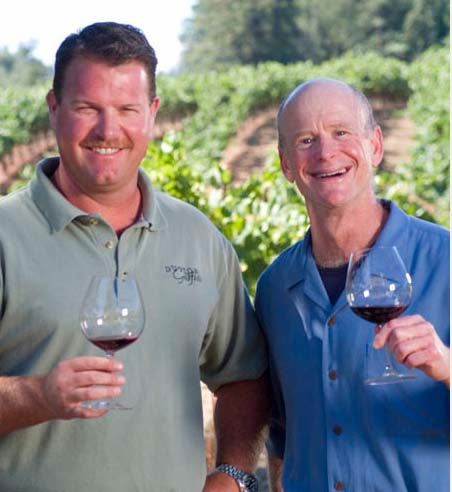 When we visited the new tasting room at the corner of Highway 116 (Gravenstein Highway) and Graton Road, Dan was off climbing a mountain somewhere. This presented no problem as Sarah Kelley, Director of Sales and Hospitality, filled in perfectly and we thoroughly enjoyed our tasting Sunday morning.
Pinot Noir sources include Dutton Ranch (Russian River Valley), Freestone Hill Vineyard (Russian River Valley), Devil's Gulch Vineyard (Marin County), Sanchietti Vineyard (Green Valley) Emerald Ridge (Green Valley) and McDougall Vineyard (Sonoma Coast). If you like your Pinots with modest alcohols, bright acidity, layered fruit flavors and admirable balance, Dutton-Goldfield's offerings are for you.
Dutton-Goldfield wines are available through the winery's online store and mailing list. An informative email newsletter is offered frequently (www.duttongoldfield.com). The tasting room is open daily from 10:00 to 4:30.
2009 Dutton-Goldfield Dutton Ranch Russian River Valley Pinot Noir
13.5% alc., pH 3.61, TA 0,63, 2,892 cases, $38. This wine represents the character of Dutton Ranch vineyards in the cooler areas of the Russian River Valley and in particular, the Green Valley. Vineyards include Maurice Galante, Marty's, Silva, Morelli Lane and Fox Den. 100% de-stemmed, 5-day cold soak, aged 10 months in 40% new French oak barrels. · An appealing wine with a nose replete with aromas of blackberries, black cherries and spicy oak and flavors of black plums, blackberries and baking spice. Juicy and moderately plush on the palate with an impressively long finish. Very good.
2008 Dutton-Goldfield Cherry Ridge Vineyard Green Valley of Russian River Valley Syrah
13.7% alc., pH 3.61, TA 0.68, 370 cases, $35. Located on the western side of Green Valley just north of the Petaluma Wind Gap. At 900 feet, 3 acres of Syrah are planted to four clones in an area temperate enough to ripen Syrah. 100% de-stemmed, 5-day cold soak, aged 20 months in 40% new French oak barrels. · This cool-climate Syrah is consistently one of California's best. Dark reddish-purple color in the glass. Aromas are bright and intense, offering notes of black cherries, spice and white pepper. Impressive mid palate intensity with black cherry flavors really standing out and following through to the generous finish. The tannins are well-proportioned and the acidity lifts the fruit to impressive heights of vibrancy. I am slowly becoming a fan of cool-climate Syrah because of its kinship to Pinot Noir in style. Very good (+).
2009 Dutton-Goldfield Morelli Lane Vineyard Russian River Valley Zinfandel
14.3% alc., pH 3.58, TA 0.64, 214 cases, $40. This 19th century planting is located north of Occidental on the far western edge of the Russian River Valley appellation. The grapes come from a dry farmed, head trained 1.8-acre block that is left of an ancient vineyard. Left unfarmed for years, the Duttons revived the vineyard in 1995. Its cool proximity to the coast gives this wine exceptional brightness and moderate alcohol. 100% de-stemmed, 7-day cold soak, gentle punchdowns, aged 16 months in 40% new French oak barrels. Dutton-Goldfield is only the winery making Zinfandel from this vineyard. · An elegant style of Zinfandel with appealing aromas and flavors of cherries, raspberries, anise, spice and vanilla. The tannins are soft and restrained making for easy drinking. A Zinfandel for Pinot lovers. Very good.

Russian Hill Estate Winery (Windsor)
We wrapped up the Immersion Weekend over lunch at this beautifully situated winery and tasting room. From the terrace, one can see manicured vineyards, old hop kilns, and majestic homes and ponds. The winery's Russian River Valley Pinot Noir Rosé, "Patio Pink," was the perfect accompaniment to our picnic. I brought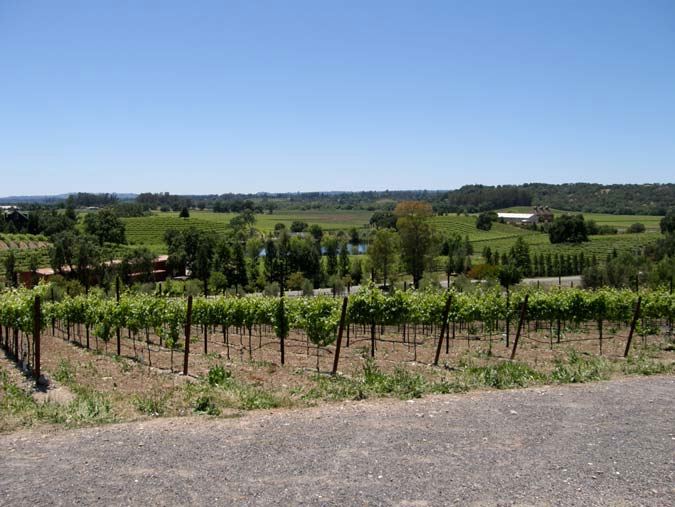 sandwiches and salads from Fresh by Lisa Hemenway, a superb gourmet market and eat in and take out deli on Mountain Hawk Drive in Santa Rosa. Hemenway is a chef who ran Lisa Hemenway's Restaurant and Lisa Hemenway's Bistro in Santa Rosa for many years. She was the original Sous Chef and Pastry Chef for John Ash & Co. This is the place (or Chloe's in Santa Rosa) to go for picnic supplies before heading out to tour Russian River Valley wineries. Nothing better than a BLT with avocado on seeded sour dough with Cherrywood smoked bacon and a refreshing, cold Rosé.

Visit the ¡Salud! website in a few months to bid on the auction items that will be posted. You do not have to attend ¡Salud! to bid on the Russian River Valley Immersion Weekend for Four. The Weekend includes round trip airfare to Santa Rosa or San Francisco, three nights at the 3 bedroom 2 bath deluxe Benovia Cottage, guided visits to many boutique Pinot Noir producers (many of which are not open to the public), three hosted lunches, and special Russian River Valley wines from my personal cellar to accompany all dinners. Each year the Weekend is unique and different. Join the Prince for a good cause.