Alysian Wines by Gary Farrell
Some consider Gary Farrell the father of Russian River Valley Pinot Noir because he was one of the first Pinot Noir winemakers in the region to rise to prominence. Growing up in Southern California, Farrell was a dedicated surfer who decided to continue his education at Sonoma State University, where he majored in political science. He soon acquired an interest in wine, and landed a job at Davis Bynum Winery on Westside Road. Farrell began as a cellar rat at Davis Bynum Winery working under Davis Bynum and Bynum's son, Hampton. He soon developed relationships with Russian River Valley pioneers Tom Dehlinger, Joe Rochioli, and Robert Stemmler, but his winemaking skills were largely self-taught.
Farrell become the winemaker at Davis Bynum in 1978. Bynum had built the first winery on Westside Road and produced Pinot Noir from Joe Rochioli's first crop. The 1973 Davis Bynum Winery Rochioli Vineyard Pinot Noir was the first Russian River vineyard-designated Pinot Noir although the label read "Russian River," not the Russian River Valley. From 1973 until 1981, Davis Bynum Winery was the only one to receive grapes from Rochioli Vineyard.
Bynum could not afford to pay Farrell much for his services, so Farrell launched his own eponymous label in 1982 with the release of 50 cases of Rochioli Vineyard Pinot Noir. The wine sold for $80 a case and much of it was hand-delivered to local retailers and customers. The wine became one of the most decorated wines of the vintage. The same year, Farrell made the inaugural Pinot Noir for Rochioli Vineyard and Winery, trading winemaking for grapes for his own inaugural release, and for a few years served as a consultant assisting in the planning and construction of the Rochioli Winery. This close relationship continues to this day with Gary Farrell Vineyards & Winery and Farrell's newest label, Alysian, receiving grapes annually from Rochioli Vineyard, the latter on a handshake basis.
Farrell was to produce the inaugural wines for Zinfandel specialist Limerick Lane and Moshin Vineyards on Westside Road, among others. He was adept at making all varietals and there was considerable interest in Chardonnay, Cabernet Sauvignon and Zinfandel in the 1980s, but Farrell's true passion was Pinot Noir. He foresaw the untapped potential for Pinot Noir in the Russian River Valley.
I enjoyed many Gary Farrell Pinot Noirs from the mid 1980s, but a 1987 Gary Farrell Russian River Valley Pinot Noir made an indelible impression on my wine psyche at a time when my love of Pinot Noir was in its formative years. Gary Farrell Pinot Noirs offered elegance, intense and layered flavors, low alcohol levels, and bright acidity, all beautifully exemplified in this wine. I still have the label from this wine: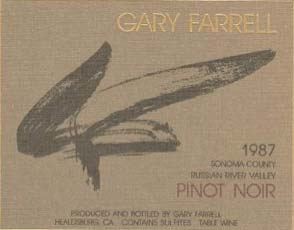 Farrell methodically built the size and reputation of his brand and in 1998 joined with business partner William Hambrecht to build his own Pinot Noir and Chardonnay production facility on Westside Road. Gary Farrell Vineyards & Winery was highly successful and was sold in 2004 to Allied Domecq. Later it was acquired by Fortune Brands, and subsequently by Ascentia Wine Estates. The rigors of producing wine in large quantity under corporate ownership took its toil on Farrell. H felt he was losing a close connection to all phases of winemaking, and in 2004 sold his namesake brand and winery.
Farrell remained as a consultant, but left the winery in 2006 to return to his roots as a producer of small lots of Pinot Noir from the regions finest vineyards. He partnered again with William Hambrecht to found a new label, Alysian (ah-liss-ee-uhn). Alysian is of Greek origin and refers to an endeavor arising from intuitive creativity and artistic resolution. The winery's appropriate logo is an ancient mark referencing a return to one's center or beginning. Planned production is about 3,500 cases of primarily Pinot Noir with smaller lots of Chardonnay, a modest output that allows him to indulge in his love of winemaking, yet enjoy other passions such as golf, travel and car collecting. A property has been set aside for a new winery at the Floodgate Vineyard along Trenton-Healdsburg Road.
Farrell quietly launched Alysian because of non compete agreements. These agreements are expiring and he is now becoming more of a spokesperson for the label. I recently met Farrell for the first time, chatting and sampling some of his marvelous 2008 Pinot Noirs at the Mayacamas Golf Club in Santa Rosa. We were accompanied by Denise Sanders, a Partner and CEO of Alysian Wines. Farrell is very soft spoken, calm and polite with an attractive smile and a golf tan that belies his age. It has been my observation that a winemaker's wines often reflect the winemaker's personality and I think that is definitely the case here.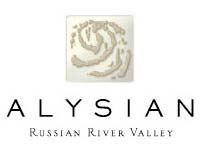 The vineyards that Farrell sources for Alysian are among Russian River Valley's finest.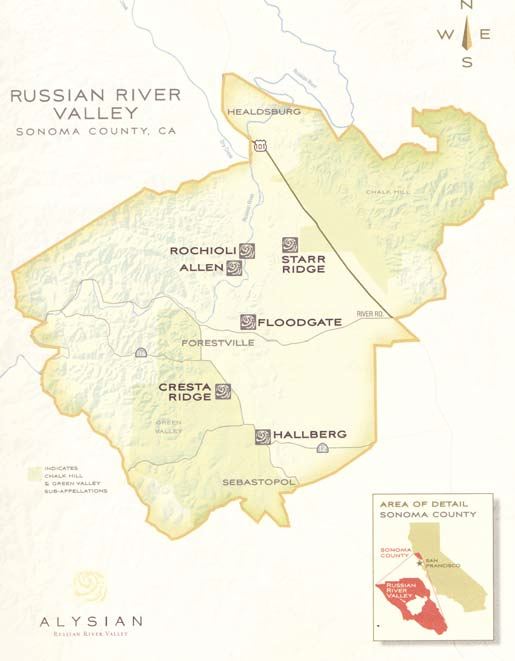 Here are the current releases. The wines are sold through a mailing list and through the winery's website store. Prices are commensurate with the high quality. These are world-class Pinot Noirs in every sense.
Current Releases


2007 Floodgate Vineyard West Block Pinot Noir
2007 Hallberg Vineyard Crossroads Pinot Noir
2007 Starr Ridge Vineyard East Terrace Pinot Noir
2007 Rochioli Vineyard Allen-Rochioli Block Pinot Noir (limited availability)


2008 Russian River Valley Selection Pinot Noir
2008 Floodgate Vineyard Rock Hill Pinot Noir (limited availability)
2008 Rochioli Vineyard River Block Pinot Noir (limited availability)
2008 Cresta Ridge Taurin Block Chardonnay


2008 Floodgate Vineyard West Block Pinot Noir
2008 Hallberg Vineyard Crossroads Pinot Noir
2008 Starr Ridge Vineyard East Terrace Pinot Noir
2008 Rochioli Vineyard Allen-Rochioli Block Pinot Noir
2008 Starr Ridge Vineyard Clone 95 Chardonnay
I sampled the following four Pinot Noirs with Gary Farrell. 2008 was a challenging vintage with sunburn a major problem. Significant amounts of fruit had to be dropped and sorting was exhaustive, with hand sorting both prior and after stem removal. The resulting wines possess more finesse than the more highly extracted 2007 vintage wines and embrace the style of winemaking that Farrell prefers.The grapes are 100% de-stemmed because Farrell prefers to pick earlier (average Brix in 2008 was 23.9 to 24.5 degrees) and wants to avoid the bitter tannins that green stems can impart to the finished wine. A 3 to 5-day cold soak is followed by fermentation with inoculation of Assmanshausen yeast and three daily punch downs. New oak is matched to the intensity of the fruit with 30%-45% new tight-grain French oak the rule. Elevage lasts 10-14 months. Final pHs are in the low range. Farrell has always remained true to his stylistic goals, preferring wines that are elegant in personality, possessing restrained tannins and bright acidity.

Sign up to receive an RSS feed for Alysian's Blog by Gary Farrell (www.alysianwines.com/blog/). A very informative discussion of acid and pH in wine was posted in March. Among Farrell's comments: "There are many advantages to producing structurally correct, balanced wines. On a sensory level, wines with excessive alcohol can produce undesirable "heat" in the finish, while low acid/high pH wines can be flat and lack freshness. Conversely, wines with lower alcohols and generous acidity are more likely to be crisp, vibrant and refreshing. Though pH values are not directly related to total acidity, wines with higher acidity generally exhibit lower pH values. For those looking to produce stable, age worthy wines, careful attention to pH is critical. Lower pH juices ferment cleaner, produce more favorable flavoring and coloring compounds and offer increased microbial stability by inhibiting bacterial growth. Furthermore, less sulfur is required to preserve and protect low pH wines from oxidation and spoilage organisms. Consider the average red wine in California (finished pH of 3.6) requires 50% more free sulfur than our average finished red wine at Alysian (pH of 3.4) to offer equal protection." In the last year or so, I have begun to include pH and titratable acidity figures when available on all wines reviewed. I believe this gives the consumer some valuable information that can be used as an adjunct to making choices about wines to drink. Alysian wines are sold exclusively through a mailing list and the winery's online store at www.alysianwines.com.