Emtu Estate Wines
John and Chris Mason lead double lives as dedicated servants for humanitarian causes and winegrowers and winemakers. Together they craft a single estate Pinot Noir from a dry farmed, 2-acre certified organic vineyard located in Forestville at the juncture of the Russian River Valley and Green Valley appellations of Sonoma County. They live on their property, farm their adjacent estate Labyrinth Vineyard, and control all the winemaking. That in itself is quite an accomplishment, but the Masons have looked beyond grape farming for self-fulfillment.
The Masons both had the sir name Mason before marriage but were unrelated, thus the derivation of the name Emtu, a phonetic spelling of M2. Jon is a retired paramedic and Chris a retired health care worker with a master's degree in dietary science, and since 1999 they have been international relief workers. Each year during the winter, they close up the farm as the vines lie dormant and the wine rests in barrels, and travel to a foreign country where their skills are most needed. During the last few years, they have traveled to regions suffering disasters in Peru, Thailand, Sumatra, Kyrgyzstan and Haiti. In 2005, the Masons founded the Labyrinth Foundation for Disaster Relief to allow them to operate independently or in cooperation with other aid organizations. All profit from the sale of Emtu wines goes to this charitable foundation.
The Labyrinth Vineyard was planted to Dijon clone 115 and Pommard 4 and 5 in 1999 and 2003. The vines are rooted in deep Goldridge soil and grafted onto 101-14 rootstock. Each vine is cane pruned individually and every year each vine is carefully assessed to determine the appropriate number of buds to be left as fruiting wood. Multiple passes through the vineyard allow for shoot thinning and positioning to ensure optimal canopy density. A small labyrinth pattern of vines was planted in one corner of the vineyard leaving a small central space fallow that serves as a serene place of contemplation among the vines.
John and Chris (shown below in front of their wine cellar) have honed their winemaking skills and refined their style over many years. Their first commercial release of Pinot Noir was in 2004. The 2007 Emtu Pinot Noir is still a staff favorite at Chez Panisse in Berkeley. The 2008 vintage is just now being released. The frost in 2008 reduced the crop by 50% so only 144 cases are available.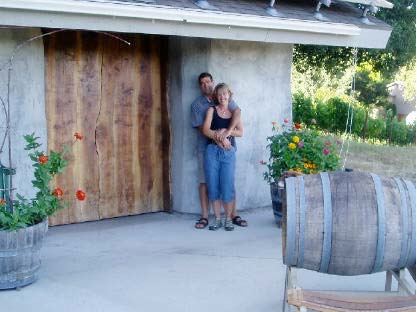 Visitors are welcome for a private tour and tasting (707-887-1239). The wines are available by phone or email (jrm1023@hotmail.com) and in selected wine retailers in the North Bay area.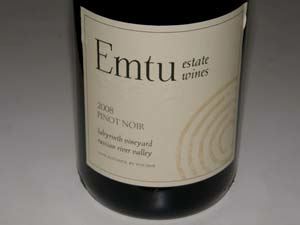 2008 Emtu Labyrinth Vineyard Russian River Valley Pinot Noir
14.0% alc., 144 cases, $40. · Moderate reddish-purple color in the glass. Demure aromas of deep, dark red cherries and berries with a complimentary hint of oak. More boldness and intensity than the 2007 vintage, offering a moderately rich mid palate panoply of fresh Bing cherry, raspberry, and red currant flavors with a hint of cola and anise. The ripe tannins add modest structure, the mouth feel is silky smooth and the wine's bright acidity leads to a pleasingly crisp finish. This is a very sensual wine that can work beautifully on its own or compliment any feast.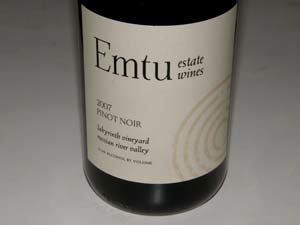 2007 Emtu Labyrinth Vineyard Russian River Valley Pinot Noir
14.2% alc., 275 cases, $36. · Medium reddish-purple color in the glass. Interesting and complex nose offering aromas of cherries, strawberries, prickly pear and spiced apple, developing over time in the glass a subtle green note and a hint of roasted fruit. Appealing core of dark red cherries and berries with accents of cherry cola and earth. Nicely balanced and sporting an appealingly soft elegance. A solid wine. Good (+).