Not Too Late For Oregon '08
Serious pinotphiles are weary of vintage hype, but in the case of Oregon's 2008 vintage, the exaltations are fully warranted. The Pinot Noirs from Oregon in 2008 have a dreamy combination of perfect ripeness and luscious flavors at modest alcohol levels (rarely crossing over 14.0%), added to impeccable balance that predicts age ability. Veteran Oregon winemakers liken the vintage to 1999, when the late harvest sunshine allowed vintners to leisurely pick their crop. The only negatives for this vintage are reduced yields that make top wines challenging to source, and the need for most of the best wines to be cellared at least five years. The wines do not offer the instant gratification that pinotphiles have become accustomed to with Oregon vintages of the past. I have been tasting Oregon Pinot Noir vintages since the early 1990s and I can say that the 2008 wines are stunning in comparison. If you don't have at least five cases of 2008 Oregon Pinot Noir in your cellar bow your head.
The 2008 Oregon Pinot Noirs are flirty, teasingly good now, but clearly in need of cellaring to integrate the tannins and reveal the nuances that reside deep within. I have reviewed many spectacular 2008 Oregon Pinot Noirs over the past year, but some wines have only recently reached the marketplace. Two factors were at play to explain this. First, a number of producers were trying to work through their inventory of 2007 Pinot Noirs which were not hyped by the wine press and were released during the nightmarish economy of 2009. After time in bottle, these wines have turned out to be classically styled Pinot Noir and perfect for short-term drinking. Second, many 2008 Pinot Noirs were closed initially and so tight that the consumer found the wines unappealing and were dismayed by the glowing reviews. A number of producers knew that these wines needed more time in bottle and held back releases as long as economically feasible.
I checked a number of winery websites and found a plethora of great 2008s still available. Cristom Vineyards released their early drinking 2008 Mt. Jefferson Cuvée some time ago and this wine is one of the finest 2008s I have had from Oregon in its price range (widely available at under $30). This would bode well for the 2008 Eileen Vineyard, Louise Vineyard and Jessie Vineyard just now released by the winery ($50). Ponzi Vineyards still has the 2008 Reserve, Abetina, Aurora and Vineyard Select available. Other top 2008 Pinot Noirs now offered by wineries include: Argyle 2008 Nuthouse and Reserve; Et Fille 2008 Willamette Valley, Nicholas Vineyard, Kalita Vineyard and Deux Vert Vineyard; Laura Volkman 2008 Rachel, Jacob and St. James; Scott Paul 2008 La Paulee and Dom Denise; ROCO 2008 Private Stash; Beaux Frères 2008 The Beaux Frères Vineyard; White Rose 2008 Willamette Valley, Dundee Hills, Whole Cluster, Sovarge, and White Rose Vineyard; Lange Yamhill Vineyards and Cru Club Exclusives; Lenné 2008 Estate; and Cardwell Hill Cellars 2008 Estate and Reserve.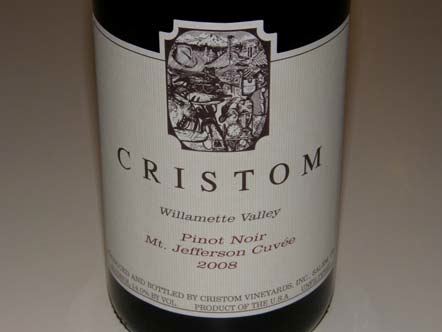 All the wines reviewed below are either available from the winery directly or through the retail marketplace.
Anam Cara Cellars
Nicholas and Sheila Nicholas launched this boutique winery in 2001 primarily devoted to Pinot Noir from their Nicholas Estate Vineyard. 33 acres are owned and farmed in Newberg, Oregon, part of the Chehalem Mountains AVA. The L.I.V.E. certified vineyard has a complete palette of clones including Pommard, Wädenswil, and Dijon 114, 115, 667 and 777. Soils are primarily Loess with some outcrops of volcanic Jory. Planting started in 2001 with additions in 2008. Noted veteran winemaker Aron Hess (Daedalus, Jezebel and others) crafts about 1,000 cases annually of Anam Cara Pinot Noir, Gewürztraminer and Riesling (and eventually Chardonnay) at the Maple Wine Company shared winemaking facility in Dundee. Sheila is very active in Oregon wine events including the International Pinot Noir Celebration and ¡Salud! The Oregon Wine Auction. Anam Cara Pinot Noirs are consistently fine, styled in a robust fruity manner with substantial flavor intensity. The silky texture of the 2008 wines is impressive. Special bottlings require a few years in bottle for maximum enjoyment. The wines are sold on the website and through a mailing list. A new tasting room has opened close to the junction of 99W and Highway 240 in Newberg, across from the historic mill at 306 North Main Street. The tasting room is open daily 11:00-5:00. The website is www.anamcaracellars.com.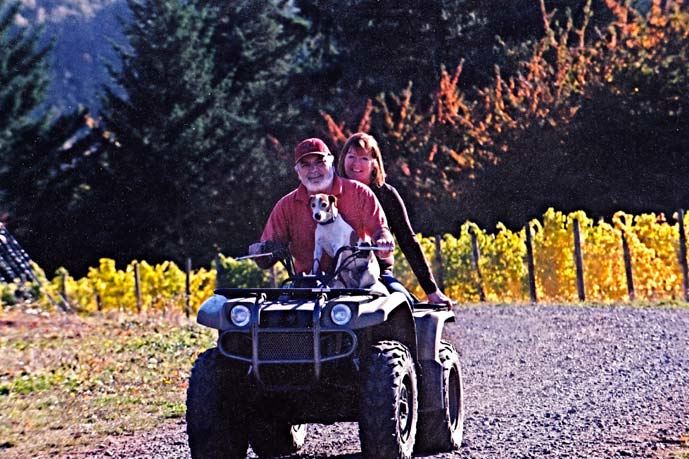 Daedalus Cellars
Winemaker Aron and spouse Pam Walden founded Daedalus (DAY-de-lus) Cellars in 2000. The name comes from Greek mythology by way of James Joyce (see full explanation on the website). The focus is Pinot Noir, primarily from grapes grown in the Dundee Hills AVA. Production is at the 12th & Maple Wine Company, a custom crush facility in Dundee, which Aron designed and where he is the head winemaker, crafting wines for over twenty clients. Seven acres of vines were planted on an estate vineyard in the Dundee Hills in 2008 with the first release scheduled for the 2011 vintage. The wines are crafted in a rich and bold style with notable oak presence and the balance to age. The 2008 wines reviewed below are the finest I have tasted from this producer. Production is about 3,000 cases (another 5,000 cases of Jezebal wines, a value-priced line, are also available). A tasting room is located at 990 N. Highway 99 in Dundee (open Weds-Sun). The wines are sold on the website at www.daedaluscellars.com.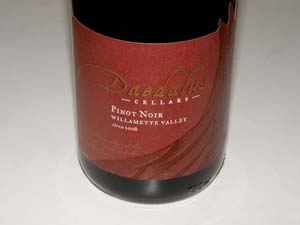 2008 Daedalus Cellars Willamette Valley Pinot Noir
13.0% alc., 1,180 cases, $25. Released May 2011. Sourced from five vineyards in three AVAs. Long cold-soak (21-36 days) with a cuvaison of 32 to 56 days. Native yeast fermentation. 15% whole cluster. Aged 21 months in 18% new French oak. · Moderately light reddish-purple color in the glass. Nicely perfumed with aromas of black cherries, violets, dark chocolate and a hint of oak. A lighter-weighted wine that still offers plenty of pleasure including flavors of red fruits, savory herbs and a hint of coffee. Supple tannins make for easy drinking now. Very Good.
2008 Daedalus Cellars Labyrinth Dundee Hills Pinot Noir
13.0% alc., 71 cases, $45. Released May 2011. A winemaker's cuvée of the best wine in the cellar. 70% Maresh Vineyard, 20% Durant Vineyard and small amounts of Thistle and Murto vineyards. 53% Pommard, 38% Wädenswil and 9% mixed Dijon clones. Native fermentation. Cold soak 21-36 days with total cuvaison of 32-56 days. 15% whole cluster. Aged 21 months in 18% new French oak barrels. · Moderately light reddish-purple color in the glass. Enticing aromas of cherry tart, brioche, seasoned oak and dried rose petals. Delicious red raspberry flavor with complimentary spice and oak. Soft and juicy in the mouth with notable persistence on the fruit-filled finish. A lighter-weighted, but fulfilling wine. Very Good.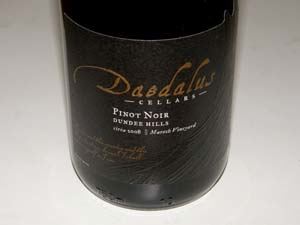 2008 Daedalus Cellars Maresh Vineyard Dundee Hills Pinot Noir
12.4% alc., 24 cases, $60. Released May 2011. From the oldest vineyard on Worden Hill Road in the Dundee Hills. 60% Wädenswil and 40% Pommard clones. Since 2007, the southern half of the vineyard has been farmed by Daedalus organically. Yields 1.0-1.6 tons per acre. 32-day cold soak. Native fermentation. Unfined and unfiltered. · Lighter redder-toned color in the glass. Intense aromas of dark red cherries and berries with oak in the background. Impressive mid palate flavors of dark red cherries, raspberries and cranberries with complimentary oak spice and toast. Seamless, sophisticated and classy with a capital C. Very light on its feet and elegant in structure. Will be better over time as the oak integrates but hard to resist now.
Lenné Estate
I reviewed the 2008 Pinot Noirs from Lenné Estate in the PinotFile a year ago (www.princeofpinot.com/article/947/). Owner Steve Lutz has a special vineyard just east of the town of Yamhill near Willakenzie Estate, Shea Vineyard, Soter Vineyards and Beaux Frères. The 20-acre vineyard was planted in 2001 and the winery was launched in 2002. The name, Lenné, ("Lenay") is a French adaptation of the name of Steve's father-in-law, Len, who raised his family including Steve's spouse, Karen, on a chicken farm west of London, England. The Lenné Estate value bottling, Le Nez, features a side portrait of Len's schnoz on the label and a silhouette of him appears on the Lenné Estate label. The wines under the Lenné Estate label represent the best barrels from the vineyard in each vintage. The wines are vinified in collaboration with noted Oregon vintner, David O'Reilly. Production in 2008 was 1,300 cases. The wines are largely sold through a mailing list and at the quaint hilltop tasting room (below) that is open on weekends or by appointment (503-956-2256). The 2008 growing season was ideal at Lenné Estate, with perfect fruit set and small, thick-skinned berries. Cool weather prevailed at harvest with no rain. The 2009 vintage Lenné Pinot Noirs are more approachable early, but will not be as long-lived (see the reviews of the 2009s elsewhere in this issue). I recently tasted the 2008 Lenné Estate Pinot Noir to compare with my tasting one year ago. The wine has taken on more intense flavors, offers a darker fruit profile, and displays full integration of oak now. Surprisingly, the wine is still available from the winery. Steve thinks the 2008 wines will show best from 2018 to 2022.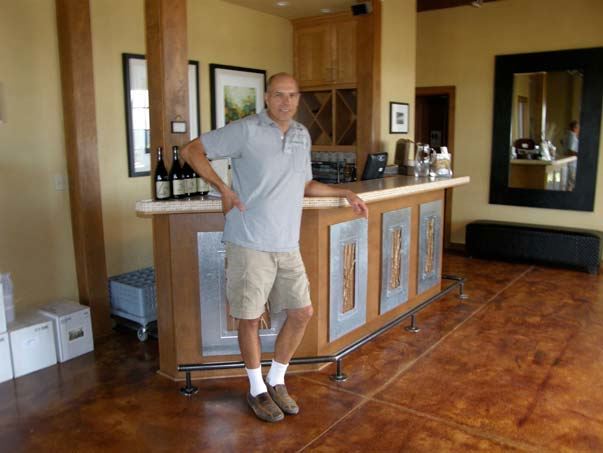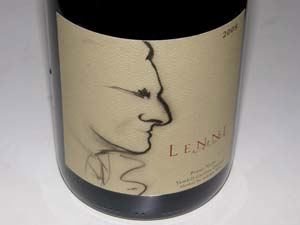 2008 Lenné Estate Yamhill-Carlton District Pinot Noir
14.0% alc., 496 cases, $45. A selection of the best barrels of 115 and Pommard from the estate vineyard. Unfined and unfiltered. · Dark reddish-purple color in the glass. Spectacular nose offering fully ripe aromas of dark red strawberries, raspberries and cherries with a hint of warm brioche and forest floor. Lavishly appointed with rich and intense flavors of berries, red plums, sassafras, and cassis. Ripely sweet and round with a striking persistence on the finish. Everything is in tune and structurally sound for aging. Hard to resist now, but give this wine another 5 years, and open it with a special companion.
Tyee Wine Cellars
You probably haven't heard of this small producer, but I urge you to get acquainted. Located near Corvallis on the Buchanan Family Century Farm, the estate's 450 acres have been owned by Dave Buchanan's family since 1885. Wine grapes were first planted in 1974, making the Buchanans one of the unheralded first wave of Pinot Noir pioneers in Oregon. In 1985, the Buchanans partnered with Oregon State University enologist Barney Watson and his spouse, Nola Mosier, to start the Tyee Winery. In 2005, the Buchanans became sole owners of Tyee Wine Cellars. The name, Tyee, honors the Kalapooian Indians who encamped on the Corvallis property. Tyee means "Chief" or "Best" in Northwest Indian dialect. In 2006, the Buchanans' daughter, Merilee Buchanan Benson, became the head winemaker, and the same year Tyee's wines began to be sourced entirely from estate plantings. The original plantings (1974 through the 1980s) include self-rooted Pinot Noir. In 2000, 3 additional acres of Pinot Noir, Dijon 115, 777 and Pommard, were planted on phylloxera-resistant rootstock. Production is about 1,500 cases annually. Most of the wine is sold to long time customers with some availability on the website (www.tyeewine.com). A tasting room is open Fri-Mon at 26335 Greenberry Road in Corvallis and picnicking is offered on the farm. 100% of the winery's power is supplied by solar.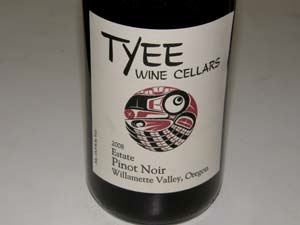 2008 Tyee Wine Cellars Estate Willamette Valley Pinot Noir
13.5% alc., 500 cases, $24. Produced from vines ranging in age from 34 years to 8 years. Pommard, 777 and 115 clones. · Moderate reddish-purple color in the glass. A charming wine in every way. Enticing aromas redolent of strawberries, raspberries and blueberries with a hint of vanilla cone. Lovely array of crisply flavored red and blue fruits with a hint of herbs. Nicely structured with ripe, firm tannins and bright acidity finishing dry and satisfying. Amazing value. Very Good.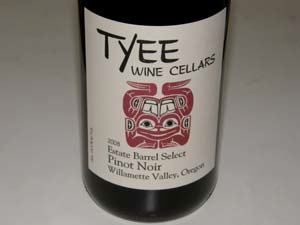 2008 Tyee Wine Cellars Estate Barrel Select Willamette Valley Pinot Noir
13.5% alc., 100 cases, $35. Produced from own-rooted old vines ranging from 20 to 34 years old (oldest plantings in the estate vineyard). Unfined and unfiltered. · Moderately light reddish-purple color in the glass. Reserved but pleasing scent of fresh cherries and raspberries with a hint of spice and rose petal. Similar flavor profile to the Estate bottling but with more intensity, more persistence, and more sophistication. The perfectly ripened fruit has a dark red profile, the dry tannins and crisp acidity frame the fruit beautifully, and the silky finish makes an lasting impression. A perfect argument for the superiority of old vine Pinot Noir. The wine was still great the following day from a previously opened and re-corked bottle, but I couldn't report beyond this as I eagerly finished the bottle. An exceptional wine that is much more approachable than many reserve Pinot Noirs from Oregon's 2008 vintage. A vin de garde for Oregon in 2008.
Other 2008 Oregon Pinot Noirs