Brandborg: A Gem Off the Beaten Track
I met Terry and Sue Brandborg at last year's International Pinot Noir Celebration where they were proudly pouring their Pinot Noirs as one of the featured wineries. I could see their passion for wine in their eyes and recorded an interview for Grape Radio which will air this month. Terry started out his winemaking career in California, crafting Pinot Noir from the Russian River Valley, Santa Maria Valley and Anderson Valley. He met Sue at a wine tasting event in Wyoming and soon they came together to search for the perfect spot to grow Pinot Noir. They fell in love with rural Elkton in the Umpqua Valley, which is located south of the better known Willamette Valley in Oregon (see map on page 18).
The Umpqua Valley actually has an interesting viticultural history. Richard Sommer came to the area in 1961 from California and ushered in the modern era of Oregon's wine industry when he settled in Roseburg in the southern Umpqua Valley and started Hillcrest Vineyard. He planted Riesling in 1961 and was the first to produce commercial quality wine in Oregon. Sommer has been largely forgotten, because most winegrowers followed David Lett to the Willamette Valley, 180 miles to the north. In 1972, Henry Estate and Giradet Wine Cellars were established in the Umpqua Valley and continue in business to the present. The Henry Estate is famous for the Scott Henry trellising system which was developed by Scott Henry to allow good air movement between canopies and increased fruit exposure to the sun. The trellising proved particularly useful for high-yielding vines. Viticulturalist Dr Richard Smart from New Zealand visited Henry Estate and he carried the trellising system to his native country. The Scott-Henry trellising system is now widely used in New Zealand and Australia.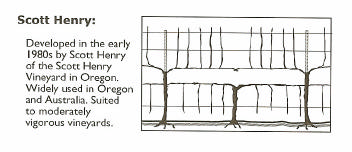 Since 1979 the Steamboat Pinot Noir Conference has been held at the Steamboat Inn on the North Umpqua River. This conference started out as a winemakers-only event for Oregon Pinot Noir specialists and over the years has expanded to include winemakers from Pinot Noir growing regions worldwide. No trade, press or consumers are allowed at this event.
There are now 16 wineries and 29 vineyards in the Umpqua Valley. With multiple microclimates, both cool and warm climate varietals thrive here. Terry and Sue chose to settle in Elkton, the coolest part of the Umpqua Valley. (Today while writing this feature I checked the weather in Elkton: the forecast is for snow the next three days and highs of 43° F and lows of 35° F. See photo of Terry in the snow on page 19). Here the geography allows for a significant maritime influence which moderates the warm summers. The Brandborgs chose a site 4 miles southeast of the town of Elkton where the marine sedimentary sandstone soils are well-drained, the elevation (750-1000 ft) is above the fog line, and the southern exposures are ideal. They planted the 50-acre estate Ferris Wheel Vineyard to primarily Dijon clones of Pinot Noir. A winery was built in time for the 2002 vintage and a tasting room opened.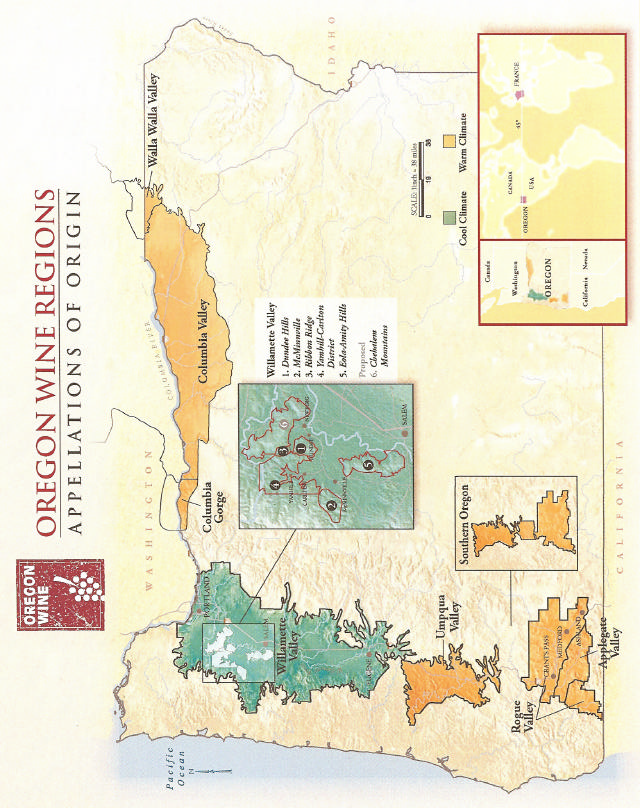 The first year production was 2,500 cases from purchased fruit in the Umpqua Valley and included several white varietals as well as Pinot Noir. The Estate vineyard came into production in 2005. The 2005 Brandborg Ferris Wheel Vineyard Umpqua Valley Pinot Noir was chosen to be poured at last year's International Pinot Noir Celebration in McMinnville, Oregon. Total production has now reached 15,000 cases.


The Brandborgs recently sent me three 2006 Pinot Noirs that are as yet unreleased.
2006 Brandborg Vineyard & Winery "Love Puppets" Umpqua Valley Pinot Noir
14.3% alc., 800 cases, $30. The grapes for this wine come from favorite dry farmed vineyards, all with yields below 2 tons per acre. The wine represents the best of the grapes they bring in from diverse growers. · If the Benchlands is a buck private, this is a sergeant demanding more attention. Similar, but more intense aromas of wild berries, spice, forest floor and a subtle touch of oak. A little more full-bodied, very smooth on the mid-palate with very decent acidity. Sweet red berry flavors. Commendable balance.
2006 Brandborg Vineyard & Winery Estate Ferris Wheel Vineyard Umpqua
13.8% alc., 452 cases, $38. As the estate Ferris Wheel Vineyard develops, the wines become more deep and satisfying. · Deep ruby color. Dark cherries dominate the aromatics with woodsy and damp earthy touches. Luscious black cherry aftertaste that lasts and lasts. Impeccably balanced with a full and sensual mouth feel. Oak, alcohol, acid and tannins are harmonious. I really like this for its powerful charisma.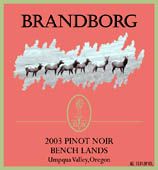 2005 Brandborg Vineyard & Winery Benchlands Umpqua Valley Pinot Noir
14.3% alc., 2,961 cases, $22, screw cap. This blend is sourced from several Umpqua Valley vineyards. All of Brandborg's Pinots are made the same way: small lots fermented separately with hand punch downs, gently pressed and barreled "dirty" to 100% French oak, 33% new. This is the winery's value bottling. · Attractive wild berries in the nose. Plenty of likeable berry flavors, especially strawberry, with a little spice and an earthy, mineral bent. Light on its feet and easy to drink.
Brandborg Vineyard & Winery is located at 345 First St, Elkton. The phone is 541-584-2870. Order the wines on the website at www.brandborgwine.com (the 2006 wines will be released in a few months). The tasting room is open 11-5 daily and the winery often features special tastings including entertainment from local musicians. Definitely worth a detour from the Willamette Valley.