Oregon '09: Precocious and Seductive
The 2009 Oregon Pinot Noirs might not be as appealing as the 2008 Oregon Pinot Noirs for the hard-core pinotphile, but they have found many fans among consumers. It is an early drinking vintage that will not have the aging potential of the 2008 vintage. An ideal spring led to a large fruit set but the summer was hot and in conjunction with early September rains, brought mold to some vineyards. Warm temperatures in September and October led some growers to pick late and the wines, although exuberant, showy and luscious (think Caliesque), ended up high in alcohol. The vintage was reminiscent of 2006 for some producers. One will need to tread carefully if your tastes run to more classical Oregon Pinot Noir, choosing those producers who picked earlier and cropped properly.
Antica Terra
The Antica Terra ("Old Earth" in Latin) vineyard, first planted in 1989, was purchased in 2005 by three friends and partners along with winemaker Maggie Harrison, a long time former assistant winemaker to Manfred Krankl at Sine Qua Non in Ventura, California. The 26-acre estate vineyard is situation in the Eola-Amity Hills appellation. The inaugural Willamette Valley release under Harrison was the 2006 vintage and the wines have been outstanding from the inaugural vintage. The vineyard had to be upgraded and additional plantings put in place, so about 50% of the grapes were sourced from other vineyards initially. For 2009, the following wines were scheduled for release in 2011: Willamette Valley Chardonnay and Estate Grown Pinot Noir (November 1, 2011), Erratica Rosé, Willamette Valley Pinot Noir, and the limited release Botanica (includes fruit from Shea Vineyard), the latter three April 1, 2011. The wines are sold through a mailing list with some distribution through retail channels. A new winery was completed in time for the 2009 harvest in Dundee. Vineyard tours and tasting are available by appointment (503-244-1748). The website is www.anticaterra.com.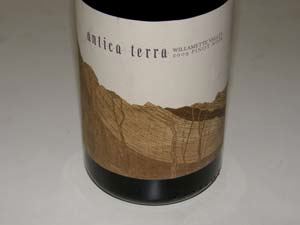 2009 Antica Terra Willamette Valley Pinot Noir
13.5% alc., $50. A blend of estate fruit with grapes from Shea, Old School, Cherry Grove, Johan and Bliss vineyards. Aged in 50% new French oak barrels. · Moderate reddish-purple color in the glass. Black cherry based aromas and flavors lashed with a noticeable oak presence of char, tobacco and coffee, but offering nuances of earth and grilled mushrooms. Creamy and silky, with firm but supple tannins, and a pleasing aromatic finish. Better the next day from a previously opened and re-corked bottle. Will benefit from time in the cellar. Good (+).
Lenné Estate
See description under first feature in this issue. Owner Steve Lutz says the 2009 vintage wines should be consumed within 4 to 5 years. The 2009 wines have higher alcohols, less intensity of flavor, and are more forward than their 2008 brethren. That said, these are very nice wines to drink while you wait for the 2008s to mature. The higher alcohols do not intrude unless the wines are allowed to warm to room temperature.
Luminous & Seven of Hearts
These wines are the work of Byron Dooley, who, along with his spouse Dana, escaped from Silicon Valley during the internet bubble of 2000. Arriving in Napa Valley, Byron earned his viticulture and winemaking degree at Napa Valley College. After an internship at Williams Selyem, he made his own Bordeaux-styled wine from Napa fruit. In 2004, the couple acquired a property in the Yamhill-Carlton District and developed a 11.2- acre estate vineyard named Luminous Hills. Two labels were started: Seven of Hearts and Luminous Hills. Dana opened Honest Chocolates in McMinnville selling traditional style chocolates. Later, a second branch was opened in Carlton which shares space with the Seven of Hearts and Luminous Hills Tasting Room.
Seven of Hearts is about exploring vineyards in Oregon's Willamette Valley and neighboring regions, featuring distinct appellations and in some cases, unique vineyards, as well as other varieties along with Pinot Noir. The label's neoclassical elements symbolizes the winery's passion for the traditional Burgundian style of Pinot Noir.
Wines from the estate vineyard are vinified under the Luminous Hills label. The vineyard is a unique high elevation site with both sedimentary and volcanic soils. The planted clones are Dijon 115, 667 and 777, and Pommard. The vineyard is dry-farmed and a participant in the L.I.V.E. sustainability program. Three wines are produced from the Luminous Hills Vineyard: a Yamhill-Carlton District Estate Grown Pinot Noir, the LUX Pinot Noir (777 and Pommard selection) and the ASTRA Pinot Noir (100% whole cluster 667, 60% 667 and 777 partially whole cluster fermented in a supporting role). Luminous Hills is unique for the two delineated soil types and diversity of terrain. The vineyard is divided into distinct blocks based on elevation, soil type and clones planted. The goal is to create distinct wines that highlight the differences in the different blocks of the vineyard. The Estate Grown bottling uses a broad selection from the vineyard. LUX is a smaller production wine largely based on Pommard grown on sedimentary soil. Whole cluster is about 50% in this wine, largely from one of the lots of Pommard that was 100% whole cluster fermented in combination with some partially whole cluster fermented 777. The ASTRA, which was launched in the 2009 vintage, is marked by the high percentage of 667 that is whole cluster fermented. Byron calls the LUX more voluptuous, ASTRA more radiant. The layout of the Luminous Hills Vineyard blocks is depicted below: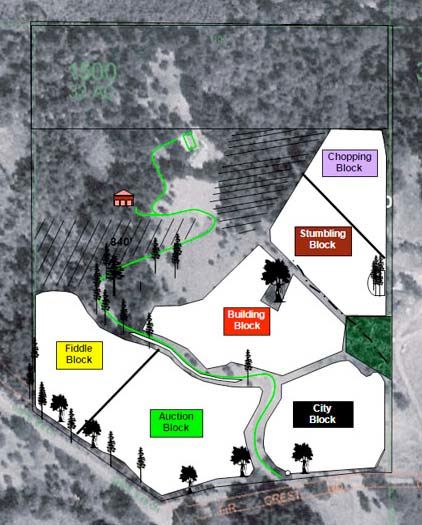 The winemaking approach for Seven of Hearts and Luminous Hills is the same using traditional methods such as native yeast fermentation, whole cluster fermentation when appropriate, minimal handling and additions, and largely no fining or filtering.
Varietals that are classically grown in France are featured under the Chatte d'Avignon sub-label of Seven of Hearts. Seven of Hearts wines (www.sevenofheartswine) and Luminous Hills wines (www.luminoushills.com) are sold on the respective websites. The owners sum up their goal as follows: "We want to make accessible (meaning both affordable and approachable) wines that are genuine expressions of different varietals, where they are from, and the conditions under which they were grown; wines with complexity, purity and elegance."