2009 Kosta Browne: Bombs Bursting In Your Mouth
Has there ever been another California Pinot Noir producer to so quickly captivate the wine buying public? The story is now familiar. Two friends, Michael Browne and Dan Kosta, met while working at John Ash and Co. restaurant in Santa Rosa and decided to save their tip money to make wine. In 1999 they produced 2,600 cases of Lake County Sauvignon Blanc, an extremely unrewarding financial mistake. By 2001 they had teamed with Chris Costello and his family who provided a fiscally conservative and thoughtful business plan. The 2003 wines crafted by Michael Browne were highly regarded by noted wine critic James Laube of the Wine Spectator who gave the wines scores ranging from 90 to 96. The mailing list quickly filled up and Kosta Browne Pinot Noir was soon on every pinotphile's radar.
In 2009, the winery was sold to the investment group Vincraft for a reported $40 million. Dan Kosta, Chris Costello and Michael Browne continue as minority partners and remain at the winery in their current sales and marketing, management, and winemaker roles respectively. In 2011 plans were announced to build a new modern winery in downtown Sebastopol, the first bonded winery within the city limits. The former Barlow Apple Factory is being reinvented to feature both production and retail for artisan wine as well as food purveyors and artists. Kosta Browne will double its space, from 18,000 square feet to 45,000 square feet. Production (about 14,000 cases) will remain nearly the same and although the winery is in a more public location, there is no plan to open a tasting room. Tasting is by appointment for mailing list members (there is currently a waiting list).
I believe Kosta Browne's rapid road to success stems from three sources. First, Dan and Michael are extremely congenial and customer service oriented, they are well-liked by the wine community, and they are willing to support many fund-raising charity activities. Second, the partners were able to use their longstanding friendships and contacts to source from top growers in the Russian River Valley, Sonoma Coast and Santa Lucia Highlands appellations. Like Williams Selyem who preceded them and established the model, they sought out premium vineyards that met their stringent standards for quality. In the most recent Kosta Browne newsletter, Michael says, "The most important thing I have learned about crafting wine over the years is how crucial it is to have the best fruit sources available to supply us with the raw product necessary to produce top quality wines." Third, Michael Browne knows how to make Pinot Noir in a New World hedonistic style that appeals to a broad audience of wine lovers. As Michael has noted, "Wine is enjoyed much like music, and I like Rock 'n Roll."
I asked Michael to give me his thoughts on the 2009 vintage. "2009 was pretty much an ideal growing year. Warm temperatures but very few heat spikes. The vines were in great balance both in the canopy and the fruit load. The clusters were similar in size to 2007: mainly small hand grenade sized clusters with uniformly sized, small berries. We did not need to do too many extra procedures in the vineyard (compared to 2008) as Mother Nature did most of the work, delivering just what the vines needed. We did get most of our fruit in a short amount of time which was a challenge. Fortunately, we had the crew and capacity to handle it."
"The resulting wines are intense but not too intense. The aromatics and flavors are of ripe fruit, not over ripe and not under ripe. Fresh, ripe, intense raspberry and strawberry off the plant for example rather than stewed, preserve style berries or light flavored berries. Same goes for the cherry, rhubarb, cranberry and pomegranate flavors and aromas in some of the wines. Peak of ripeness comes to mind. The wines, although all in the Kosta Browne style, show a unique and distinctive character which is driven by the region or by the vineyard. This is what we have been trying to do for some time. The wines at this point are intense with fruit, but will relax and come into very good balance in 3 to 5 years and beyond."
"In comparison, the 2007 vintage is a bit more tight. I love the wines but they need to age longer. The 2007s have great balance and are very well put together but they do need time for the soul to completely break out. The 2008 vintage is alive and well at this stage although these wines will age as well. The 2008s have fresh fruit components and are very expansive with lots of energy. I think the 2009 wines are a cross between the 2007 and 2008 vintages. They have the serious side of the 2007s and the playful side of the 2008s. Great combination. 2010 is shaping up well considering the challenging time with Mother Nature. Similar in intensity to 2009 with more of a broad texture. The pH levels are slightly higher which I believe is leading to the more broad texture."
In the most recent Kosta Browne newsletter, Michael makes the following remarks. "The resulting wines (referring to the 2009s) could be our best to date. I know I say this every year, but I do feel these wines are at the top of what we have ever produced. Upon completing our blended 2009 wines, we tasted them alongside the 2007 and 2008 wines. The 2009s revealed their intensity, fresh fruit aromatics and flavors, along with expansive red and black fruit character that starts at the top of the tongue, saturating the sides and top of the palate and melting down around the entire palate with a persistent and lingering finish. Although all the wines are unique in character, they all show this attribute: a beautiful fingerprint and delicious vintage!"
Kudos also go out to the team of exceptional winemakers at Kosta Browne: Shane Finley is the lead winemaker who has been at Kosta Browne for five years. Ryan O'Donnell has been a member of the winemaking staff since 2007. Pete Soergel was a key part of the staff for three years in the role of cellarmaster and has now moved on to assistant winemaker at Landmark Winery. Michael Browne below.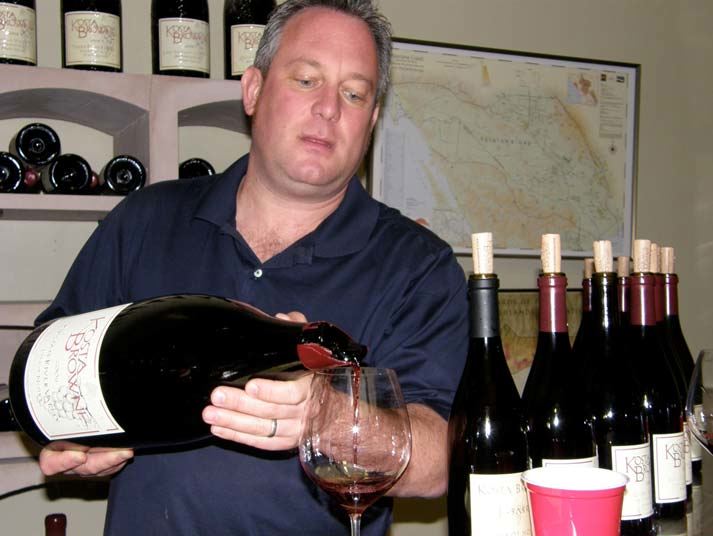 I concur with Michael that only sexual analogies can do the 2009s justice. The wines are packed with sweet fruit but have the tannin structure and alcohol backbone to handle it. Currently, the fruit in the wines is nearly overwhelming, but by the time the wines are released and consumers get their hands on the wines they should be a little more balanced. The wines can be enjoyed now for their hedonistic spirit, but will benefit from cellaring for a year or two. I would guess the wines will drink best in two to four years and plateau for a several years beyond that. Do not overlook the appellation wines as they are very impressive in this vintage. Total production in 2009 was about 14,000 cases including a Chardonnay for the first time. Magnums and larger formats are never sold and reserved for charity auctions and special events.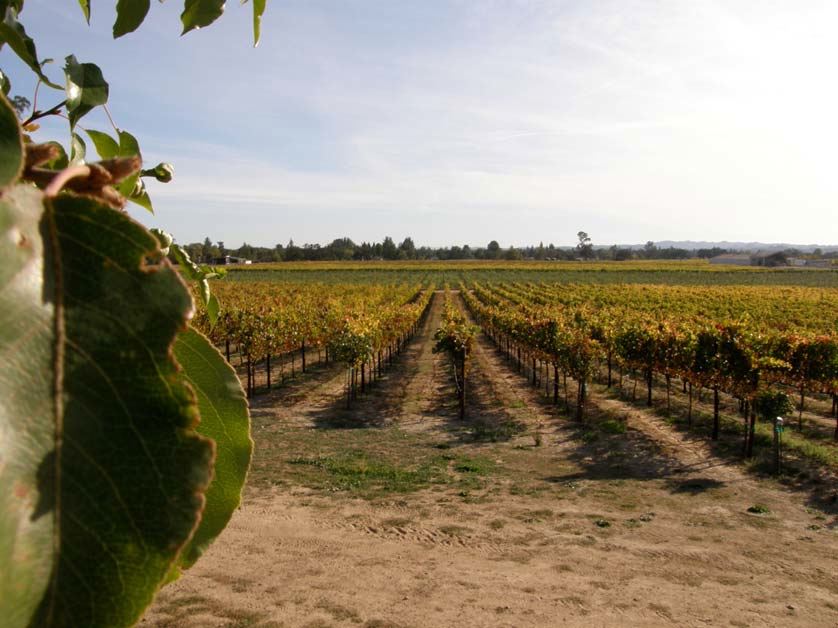 Koplen Vineyard
2009 Kosta Browne Pisoni Vineyard Santa Lucia Highlands Pinot Noir
14.8% alc., 142 cases, $72. · Moderately dark reddish-purple color in the glass. Subdued aromas of dark red and black fruits with a hint of seasoned oak. Discreetly concentrated array of dark red fruits which are monolithic at present but suggest an intensity waiting to get out. Smoothly textured with firm but supple tannins for aging. Hard to judge this wine at this stage as it has a long way to go to reveal itself, but I predict greatness over time. Patience advised. Very Good.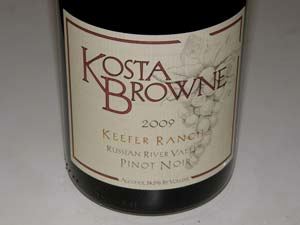 2009 Kosta Browne Keefer Ranch Russian River Valley Pinot Noir
14.5% alc., 816 cases, $72. · Reddish-purple hue in the glass. Lovely scent of just picked red cherries and red berries, baking spices and sandalwood. Bright and juicy flavors of spiced red cherries with a savory herbal note on the finish. The most demure of the 2009 wines with plenty of charm and elegance and a refreshing riff of acidity running through. Offers a clear sense of cool Green Valley terroir. Very Good (+).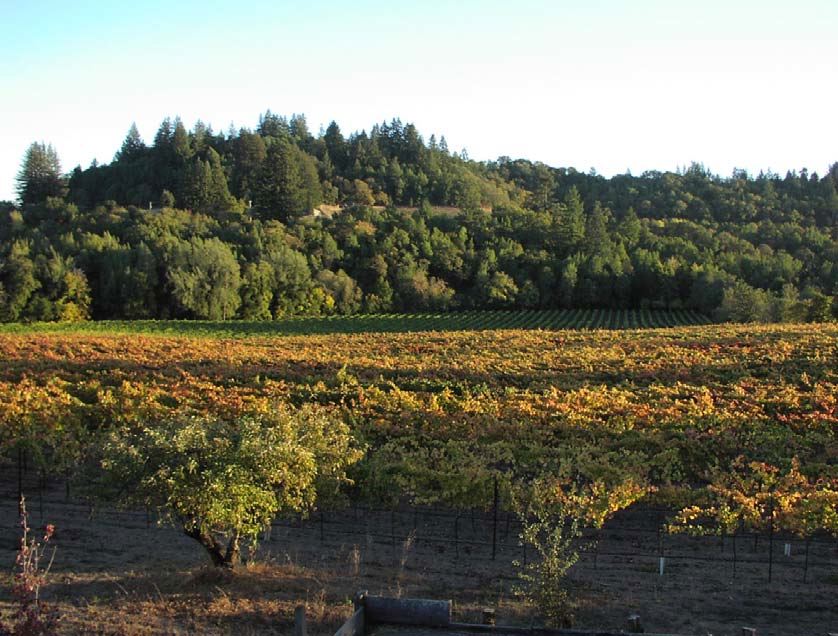 Keefer Ranch