Arista Winery: Now A Member of the Westside Road Elite
The Westside Road Pinot Noir blue bloods, including Rochioli Vineyards & Winery, Williams Selyem and Gary Farrell Winery, have been joined in recent years by upstarts, Arista Winery, Twomey and Thomas George Estates, who are producing wines that now rival those of the established elite. The 2009 Pinot Noirs crafted at Arista Winery are clearly in the upper echelon of this prestigious group.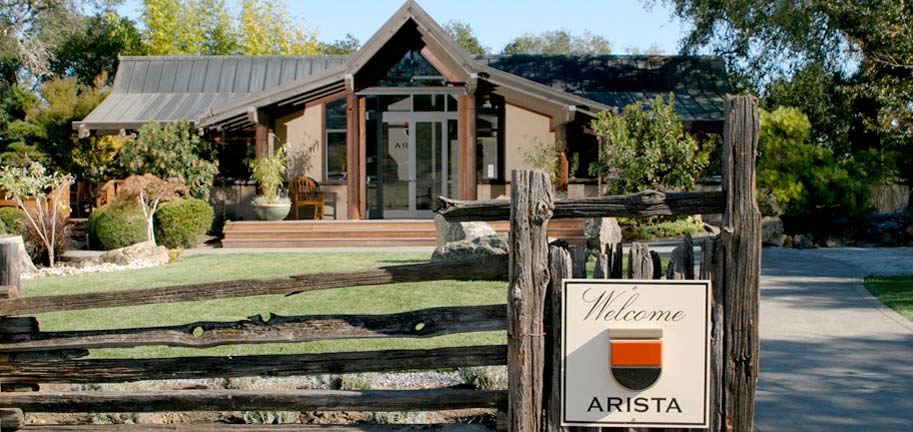 Al (an orthodontist) and Janis Copeland McWilliams along with Al's brother-in-law, John Copeland, purchased a family vineyard estate in 1996 called Pine Mountain Vineyards in Cloverdale. Over time, the McWilliams family developed an interest in producing their own wine. In 2004, Al and Janis acquired 36 acres of prime viticultural land on Westside Road in Healdsburg with the idea of producing their own wine. The Russian River Valley became the home of Arista Winery and its estate Pinot Noir vineyards, as well as a home for the McWilliams family. The property is adjacent the Williams Selyem Estate Vineyard and the Baker Ridge Vineyard of Thomas George Estates.
Arista originally focused on producing Russian River Valley Pinot Noir, but their reach has now extended to sourcing fruit from the Sonoma Coast, Anderson Valley, Mendocino Ridge and Santa Cruz Mountains appellations. Ten acres of Pinot Noir are planted on the estate and the first wines from here are just now being previewed. Arista's vineyard manager, Ulises Valdez, assisted in the planting and farming of the estate vineyard and directs the farming of several of Arista's non-estate sites.
Arista is a family affair with son Mark managing the day to day operations at the winery as well as assisting with the winemaking duties. Another son, Ben oversees the mailing list and works with special events and hospitality. The winery Maltese dog, Lucy, has been published in several winery dog books.
Winemaker Leslie Sisneros brings a wealth of experience to Arista. She received her degree in viticulture from University of California Davis and subsequently worked at Rodney Strong, Chateau St. Jean, Haywood and John Culbertson Wines. She joined Kendall Jackson Winery in 1993 when Vinwood was acquired and rose to Assistant Winemaker in charge of operations and Flavor Winemaker for Pinot Noir. At Kendall Jackson she crafted four tiers of Pinot Noir varying from 48 to 120,000 cases, focusing on cool climate vineyards of the Russian River Valley, Anderson Valley, Monterey County and Santa Maria Valley.
I tasted many of the Arista 2009 fall 2011 releases at the winery with Leslie and Mark and recently had the opportunity to taste the spring and fall release 2009 wines in depth after some bottle age. The style is elegant with soft textures, delicate use of oak with new oak usage matched to the fruit, bright acidity and long finishes. The wines are inoculated at fermentation and include small amounts of whole cluster. The ultimate goal is to bring out the uniqueness and full potential of each vineyard in the many single vineyard bottlings. My tasting indicated that they have clearly accomplished that goal. The appellation wines are not to be ignored, however, for they are superb in their own right. There is impressive consistency over the entire range of 2009 Pinot Noirs offered.
Arista wines are sold primarily through a mailing list with some retail distribution of the larger production wines. Some wines are sold through the website. The best way to acquire the small production wines is to add your name to the "A List." This allocation list is unfortunately closed at this time, but you can join the waiting list. Alisters can buy wines before the general public and are invited to special winery events. The winery also offers Zinfandel, Pinot Gris and Gewürztraminer. The tasting room is surrounded by a serene Japanese garden and is open daily from 11:00 to 5:00. Tours are available by appointment (707-473-0606). Visit the website at www.aristawinery.com. for more information.