Veranda Pinot Noir From Chile
Chile is well known for its inexpensive red wine imports to the United States included blended reds and singlevarietal wines of Carmenere, Cabernet Sauvignon, Merlot, Syrah, Sauvignon Blanc, Riesling and Chardonnay. About 75% of Chile's wine production is exported, primarily to the United States and the United Kingdom.
Chile is located on the western coast of South America and bordered by the Pacific Ocean to the West and the Andes Mountains to the East. The climate in most of Chile's winegrowing regions is similar to that of California's Napa Valley and France's Bordeaux region.
There are a small cadre of Pinot Noir producers located in the Bio Bio, Casablanca, Calchagua, Leyda and San Antonio Valleys focusing on small production, quality-driven Pinot Noir. Chile has followed the historical progression of California in that early plantings of Pinot Noir were in the wrong places such as the Casblanca Valley floor. The vines were over cropped and the wines vinified like Cabernet Sauvignon. Vintners eventually discovered the best cool climate sites and planted the proper clones in regions extremely close to the Pacific Ocean where ripening is challenging, similar to California's Sonoma Coast.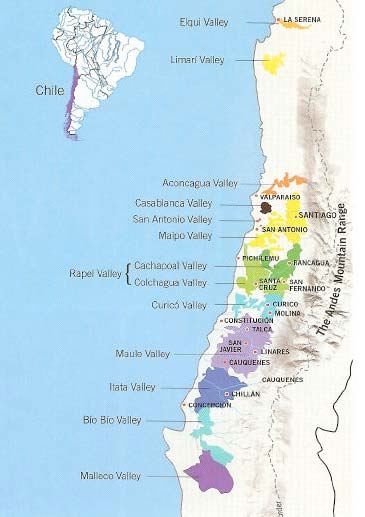 Producers to look for include Casa Marin, Cono Sur, Kingston Family Vineyards, Leyda Vineyards, Matetic Vineyards, Morandé, Piedra Feliz and Valdivieso, Veramonte, and Viña La Misión. A number of these wineries have had consulting winemakers from the United States and France.
Veranda Winery is a joint venture between VC Family Estates, owned by the Ibanez family of Chile, and Boisset, a large wine conglomerate in France and California. Veranda makes a range of varietals include Cabernet Sauvignon, Carmenere, Syrah, Sauvignon Blanc, Chardonnay and Pinot Noir. Since the 2007 harvest, Veranda sources its Pinot Noir grapes solely from its estate organic vineyards in the Bio Bio Valley.
The winemaker at Veranda is French-Canadian Pascal Marchand who assumed world wide recognition for the wines he crafted at Clos des Epeneux in Pommard, and later at Domaine de la Vougeraie. The wines sampled below were quite good, especially at their price point.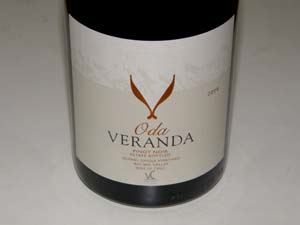 2009 Veranda Negrete Single Vineyard Bio Bio Valley Chile Pinot Noir
14.5% alc., $17. Imported by Saranty Imports, Harrison, NY · A savory aromatic profile featuring scents of black cherries, spice, oak and eucalyptus. Soft and elegant in style with tasty cherry fruit wrapped in muscular tannins. Comes together over time nicely in the glass. Will match up beautifully with a steak. Very Good.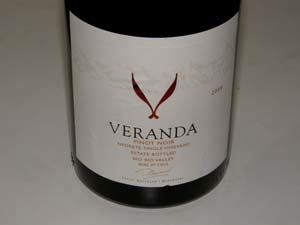 2008 Veranda Oda Quinel Single Vineyard Bio Bio Valley Chile Pinot Noir
14.0% alc., $20. · Moderately dark reddish-purple color in the glass. Vibrant aromas of dark stone fruits with hints of rose petal, raisins, currants and maple syrup. Flavors of modestly rich dark stone fruit are fine but veer toward over ripeness. Firm, vigorous tannins are evident. Good.