Pinot Briefs —Newsletter 8.42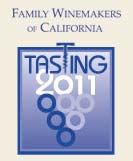 Family Winemakers of California Tasting 307 wineries will be pouring at this massive tasting on August 21 &22, 2011 at Fort Mason Center in San Francisco. Varietals being poured run the alphabet from Albarino to Zinfandel. A list of participating wineries and the varietal map is at www.familywinemakers.org. Annual production levels of participating wineries begin at 200 cases with prices ranging from $9 to $200 per bottle. The trade will be able to attend both days but the event is open to the public only Sunday, August 21, from 3:00-6:00. Tickets are $65 in advance.
New Anderson Valley Census The latest census reveals 2,244 bearing acres as of the 2010 harvest. More than half of the acreage is planted to Pinot Noir (1,453 acres on 76 properties, an increase of 255 acres since 2006), but seventeen different varieties are planted. 45% of the total acreage is Fish-Friendly Farming certified. Planted acreage has increased by 91 acres since the last census in 2006. Read the complete vineyard census, including a breakdown by variety and decade planted, at www.avwines.com. Twenty-four tasting rooms are now open to the public with regular hours or open by appointment in Anderson Valley. Breggo's second tasting room in the town of Mendocino and Jim Ball Vineyard's Philo tasting room have closed. Four tasting rooms (Foursight Wines, Londer Vineyards, Philo Ridge Vineyards and Zina Hyde Cunningham) have joined to form Wineries of Downtown Boonville, representing a full day of wine tasting within walking distance of each other. The group calls the walk, "Fratty Pike," a Boontling term for "Wine Walk." The group has a Facebook page (www.facebook.com/BoonvilleWineries.
Foursight Wines to List Ingredients Foursight Wines will be the first Anderson Valley winery to list ingredients on one of their wine labels, and among the first in the United States to include a statement for vegetarian and vegan wine drinkers. This August, the winery will bottle a 2010 Charles Vineyard Semillon that lists ingredients used (grapes and sulfur dioxide) on the back label, followed by a statement that reads, "This wine is suitable for vegetarians and vegans," indicating that no animal-derived ingredients were used in the winemaking process. The TTB did not allow Foursight to list "wild ML" on the 2010 Semillon label but the winery plans to pursue this further with the TTB's Regulations and Ruling Division. For more information about Foursight Wines, visit www.foursightwines.com or view the winery's blog at www.foursightwines.blogspot.com.
Burgundy Food and Wine Eleanor Garvin and Dennis Sherman of Elden Wine will launch Burgundy Country Cooking and Burgundy Wine Weekend Getaways in November, 2011. The pair will offer small group culinary tours and weekend getaways. They have lived in Burgundy for over 25 years and work with small domains "that make Burgundy the way Burgundians like it." Their cooking classes stem for their knowledge of the local markets, the farmers, the artisans and the winemakers. They also offer a range of intensive tastingbased courses for Burgundy lovers in collaboration with BIVB Ecole des Vines, the Burgundy Wine Institute based in Beaune. Visit www.eldenwine.com or www.burgundyfoodandwine.com.
Aubert Wines Has New Winery & New Pinots Mark Aubert and his wife have a new winery facility in Calistoga along the Silverado Trail. The winery is slated to open in January 2011 after a renovation of the previous winery and visitor's area. In the 2009 vintage, two new single vineyard Pinot Noirs are being released: 2009 Ritchie Vineyard and 2009 UV-SL Vineyard. Aubert planted 4 acres of Pinot Noir at the Ritchie Vineyard on a slope and site that has ideal terroir. At UV-SL, Aubert planted nearly 9 acres at this site located high above the town of Occidental. Both are planted to Aubert's favorite Pinot Noir clones matched with low vigor rootstocks. Aubert wines are only sold through an allocated mailing list (www.aubertwines.com).
Grape to Glass The 16th Annual Grape to Glass Weekend in the Russian River Valley will be held August 19-22, 2011. Two wine seminars and a vineyard tour at three of the Russian River Valley's premier vineyard properties (Dutton Ranch, Saralee's Vineyard and Leras Vineyard) will be held. Various wineries and vineyards are offering special deals and events at their tasting rooms throughout the weekend. The highlight of the weekend is the Hog in the Fog Pre-Harvest Party on Saturday, August 20 at Richard's Grove and Saralee's Vineyard in Windsor. The ultimate BBQ menu will be created by local chefs and growers with live and silent auctions, a farmer's market and live music. Many of the top Russian River Valley Pinot Noir producers will be pouring including Arista Winery, Benovia Winery, Dutton-Goldfield Winery, George Wine Company, Inman Family Wines, J Vineyards & Winery, Joseph Swan Vineyards, Martinelli Winery, Mueller Winery, Papapietro Perry Winery, Siduri Wines, Thomas George Estates, T.R. Elliot and Williams Selyem. For information and tickets, visit www.rrvw.org/grape-to-glass-2011/.
Drink Wine With Dinner Day On August 15, Julia child's birthday, the inaugural "Drink Wine With Dinner" Day is proposed nationwide and potentially worldwide by Rosina Wilson who writes the newsletter, WineFoodBUZZ (free subscription) at www.rosinawilson.com.
Sonoma Winemaker Second Best on 'Bachelorette' Ben Flajnik proposed to bachelorette Ashley Hebert on the television program's last episode but she spurned his offer, choosing instead the other finalist, J.P. Rosenbaum. Flajnik is the winemaker for Evolve Winery in Sonoma Valley, a partnership with friends Michael Benziger and Danny Fay. Evolve wine (Cabernet Sauvignon, Sauvignon Blanc and Russian River Valley Pinot Noir) has been selling like crazy, even nationally. Visit www.evolvewines.com.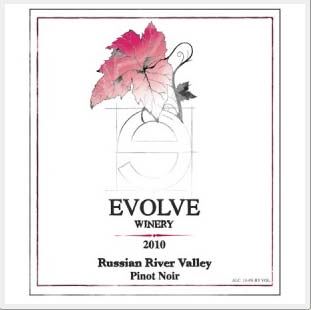 Direct-To-Consumer Market Thrives The pressdemocrat.com reported in July that small and midsize wineries that had strong direct sales programs outperformed the rest of the wine industry in the recent downturn. Daily wine shipments at wineshipping.com, a Sonoma business that assists wineries in filling orders, increased during the recession and continues to increase. 38 states now allow California wineries to ship directly to them. Shipments to states outside California have been increasing and now shipments to California only amount to 32% of direct shipments. The advantage of direct shipment to smaller wineries is obvious: better profit margins and no haggling with a dwindling number of distributors who prefer to distribute more profitable large quantities of wine.
The Wine Advocate's New Voice in California Antonio Galloni is assuming the responsibilities from Robert Parker, Jr., of reviewing California wines. Galloni, who comes from the asset management industry, also reviews wines from Italy and Champagne for the Wine Advocate. Galloni plans to expand coverage to under-reported regions of California such as the Santa Cruz Mountains. The big question is whether his palate will mimic Parker's and many previously highly reviewed wineries are a little anxious over this change.

Wine Scoring Backlash Scorevolution is a new movement created to bring people together who disdain the scoring of wine. Interested participants can visit and sign the online petition at www.scorevolution.com, agreeing that scores should not be used to buy or sell wine. The stated goal of the new movement is to encourage people to find wines based on writings and word of mouth. The power of scores is said to limit the discovery of numerous grower wines, encourage formula wines, and even influence the creation of brand icons and inflated price scenarios. Notable signers of the Scorevolution manifesto are Kermit Lynch of Kermit Lynch Wine Merchant, Randall Grahm of Bonny Doon Vineyard, Rajat Parr of Michael Mina Restaurants, Jonathan Nossiter, author of Liquid Memory and director of Mondevino, and Cameron Winery of Oregon. The movement is not against wine critics and wish to encourage people to read about wine and ask sommeliers and those behind counters for guidance. "What we are asking is that people go deeper than a score." Christophe Hedges of Hedges Family Estate says, "Wine can't be zipped up into a number any more than a painting by Cezanne can. Wine is about romance and individuality."
Multiple Terroirs of Russian River Valley Delineated Steve Heimoff wrote an excellent article titled, "Russian River Pinot Noir The Triumph of Terroir," published recently in the Wine Enthusiast (September 2011). Many wine consumers think of the Russian River Valley as a homogenous region with wines from different areas of the valley having uniformity. Heimoff correctly points out that the valley is so vast (126,000 acres) and diverse that the wines from different areas (terroirs) exhibit subtle differences. He says, "For PInotphiles with discerning palates, knowing these differences can help them zero in one the wines that are most likely to offer deep enjoyment." Most winemakers divide the Russian River Valley into the following sub areas: Middle Reach, Santa Rosa Plain Laguna Ridges and Green Valley and these are well known areas with names in common usage. Additional areas include Western River Road, South of Highway 12 and East of Highway 101. Heimoff points out that these represent seven distinct terroirs. The more southerly and westerly the vineyard is, the cooler it will be. An excellent map showing these seven terroirs is included in the article.
¡Salud! Sip on August 13 The Oregon Pinot Noir Auction launches its 20th Anniversary with ¡Salud! Sip, a day for collectors of ¡Salud! Cuvées to open their bottles and share their tasting experiences with the online social community. Top restaurants in Portland and the Willamette Valley are waving their corkage fees for patrons sharing their ¡Salud! Cuvée wines on Sip day. ¡Salud! supporters are encouraged to enjoy these unique bottlings at home or at partnering restaurants and share their tasting notes and photos through online social networks Facebook (www:facebook.com/saludauction) and Twitter (@saludauction.com). The 20th Anniversary ¡Salud! Pinot Noir Auction will be held November 11 and 12, 2011. Tickets are $395 which include the Big Board Auction at Domaine Drouhin Oregon and Saturday Dinner and Auction Gala at the Governor Hotel in Porland. Tickets are available through www.saludauction.org.
Sonoma's Landmark Vineyards Sold Fiji Water and parent company Roli Global are buying Sonoma's Landmark Vineyards, a top producer of Chardonnay, Pinot Noir and Syrah. The sale includes the winery, inventory and an 11-acre vineyard. Landmark buys most of its grapes from well-known Pinot Noir vineyards such as Kanzler, Sangiacomo and Bien Nacido. Production is about 20,000 cases annually.
Wine Now Preferred Equally To Beer for U.S. Drinkers The latest Gallup poll finds that there are now about the same number of U.S. wine drinkers (35%) as beer drinkers (36%) with liquor registering third at 23%. Younger adults show a declining preference for beer and a slight increase in preference for liquor and wine. Nearly 50% of male drinkers most often drink beer, while 51% of female drinkers choose wine. Older adults tend to prefer wine. Wine is most popular in the East, while beer is preferred in the Midwest, and liquor is most popular in the South and West. In 2005, wine popularity surged to 39%, but beer regained the top spot until this year. Wine Enthusiast (May 2011) published U.S. bureau of Labor statistics for 2009 revealed in 2010. 37% of Millennials drank wine at least every week in 2005, 57% in 2010. 41% of Gen X drank wine at least every week in 2005, 62% in 2010. 41% of Baby Boomers drank wine at least every week in 2005, 57% in 2010. Among those 65 and over, 48% drank wine at least once a week in 2005, 58% in 2010.
Wine License Plates for Oregon SB442 passed both Houses allowing Oregon drivers to display a license plate showing an Oregon vineyard and the words "Wine Country." The license plate will cost $30 above normal car registration fees. The DMV has yet to approve the design. The money collected from sales of the license plate will be used by Travel Oregon to promote Oregon culinary and wine travel. California, are you awake?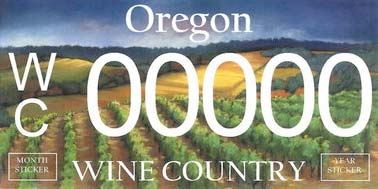 Peter Michael Releases First Estate Pinot Noir More than a decade in the making, Peter Michael has announced the first release of Estate Pinot Noirs from the Seaview Vineyard located on the rugged ridges of the true Sonoma Coast. Three wines will be offered from different parts of the vineyard: Ma Danseuse, Le Caprice, and Clos due Ciel. In 1998, the winery purchased a 400-acre parcel on the first ridge inland from the coast above the South Fork of the Gualala River. 30 acres have been developed as vineyards, with the remainder reserved as a wildlife corridor. 25 acres were planted in 2006 and an additional 5 acres were planted in 2007. The vines are located on moderate to very steep slopes at 1,000 to 1,500 feet above sea level. Soils are a patchwork of rocky alluvial sediments, decomposing volcanic material, and clay. All blocks have been planted to carefully selected Burgundian field selections on a mix of rootstocks. Peter Michael Winery made its first Pinot Noir, Le Moulin Rouge, 13 vintages ago with fruit sourced from the Pisoni Vineyard, and will continue to produce this wine. Peter Michael wines are sold through an allocated mailing list at www.petermichaelwinery.com. A classy newsletter is published twice yearly.
Oregon Wine Country Half Marathon The 2011 Oregon Wine Country Half Marathon features a scenic course through the heart of the Willamette Valley in Yamhill County, beginning at Stoller Winery and finishing in the town of Carlton for a post-race Wine & Music Festival. A Race Dinner will be held the night before at Evergreen Aviation & Space Museum and a Wrap Party will be held Sunday afternoon after the race at Stoller Vineyards. See the official 2010 race video here: www.run4oregonwine.com/photos-videos.aspx. Register at www.run4oregonwine.com.
Ceja Vineyards Plans New Winery Napa's Ceja Vineyards celebrated its 10th anniversary July 16 with a fiesta and unveiled plans for a new mission-style winery which will include a modern production facility, hospitality center, kitchen and landscaped grounds. Construction will begin later this summer. Amelia Ceja, owner and principal of Ceja Vineyards, located in Carneros, said, "The opening of our new winery has been a labor of love and hard work, and is a dream come true for our family."
Five Ways To Open Wine Without A Corkscrew This is a great article published at TheDailyMeal.com (July 20, 2011: www.thedailymeal.com/5-creative-ways-open-wine-without-corkscrew). Options include "With a coat hanger," "With a syringe," "With a phone book," "With an Ah-So tool," and "With a serrated knife."
Wineries Often Fall Short In Marketing I receive a fair amount of wine regularly and I am always amazed at how often wineries ignore this opportunity to market their wine and capture the interested consumer. Here are a few suggested enclosures that I have found in wine shipments that really increased my admiration for and interest in the winery: (1) A personal thank you note either hand written or printed and personally signed (2) Information on each wine, honest details about the winery and the winemaker including photos of the owner and or winemaker with bios. (3) Suggested drinking range from vintage. (4) Phone number or e-mail of winemaker or owner so they can be contacted if questions arise. (5) Forms for ordering more wine and perhaps a discount for a re-order. (6) A welcome note to see the winery with instructions on how to visit the winery for a tasting and tour. (7) Recipes with suggestions on what to eat with each wine and proper serving temperatures. (8) Copies of the labels so the consumer can remember the wines they liked. (9) Consider giving your best customers a free bottle of wine; you will be amazed at how much good will this accomplishes.