West Sonoma Coast
"There is no place I've ever heard of like it.
The coast is a laboratory for place-specific winemaking."
Ted Lemon, Littorai
A band of wineries and growers located on the westernmost, coastal part of the Sonoma Coast American Viticultural Area (AVA) have joined this year to form the West Sonoma Coast Vintners (WSCV) Association. These West County Pinot Noir producers have longed to distinguish themselves from the more inland portion of the vast Sonoma Coast region which is a distinctly different environ. The WSCV is composed of West Sonoma Coast vintners and growers as well as wineries outside the region that source grapes from the area.
The Sonoma Coast AVA is the largest of the thirteen AVAs in Sonoma County at 750 square miles or 517,000 acres, nearly half of Sonoma County. John Winthrop Haeger points out this is larger than the size of Burgundy including Chablis, the Côte d'Or, the Côte Chalonnaise, and the Maconnais. This cumbersome AVA was formed in 1987 primarily because of the wishes of Sonoma-Cutrer Vineyards, which wanted to include all their scattered major vineyards in one boundary so they could use the "estate bottled" designation on their wine labels. The Sonoma Coast AVA is denoted as the large western light green area on the map below.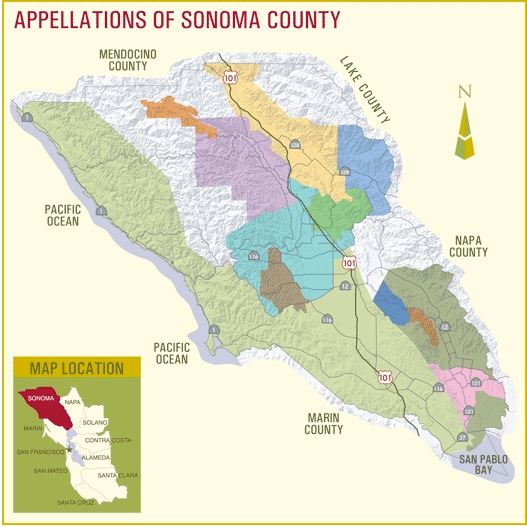 The vast Sonoma Coast AVA extends from the Sonoma County border with Napa in Carneros bordering on San Pablo Bay to Marin County and the Pacific Ocean 30 miles to the West, progressing north through Sonoma County and reaching its most northern limits at the Mendocino County border. It overlaps five other Sonoma County AVAs including the Sonoma part of Carneros, a sliver of Sonoma Valley, the western part of Chalk Hill, all of Green Valley (brown), and most of the Russian River Valley (turquoise).
The Sonoma Coast AVA is defined by its coolness, with no more than 2,800 degree days of heat during the growing season, and most areas classified as Region I with less than 2,500 degree-days to ripen grapes. The amount of "coolness" varies greatly within the AVA with the most northwesterly portion known as the West Sonoma Coast being significantly colder because the vineyards are located in close proximity to the Pacific Ocean. The growing season heat summation in degree days for major Pinot Noir growing regions in California, the Willamette Valley of Oregon, and Beaune in Burgundy are contrasted for the 2005 vintage in the graph below. Clearly, the areas of Fort Ross, Occidental, Freestone, and Annapolis in the West Sonoma Coast are significantly cooler.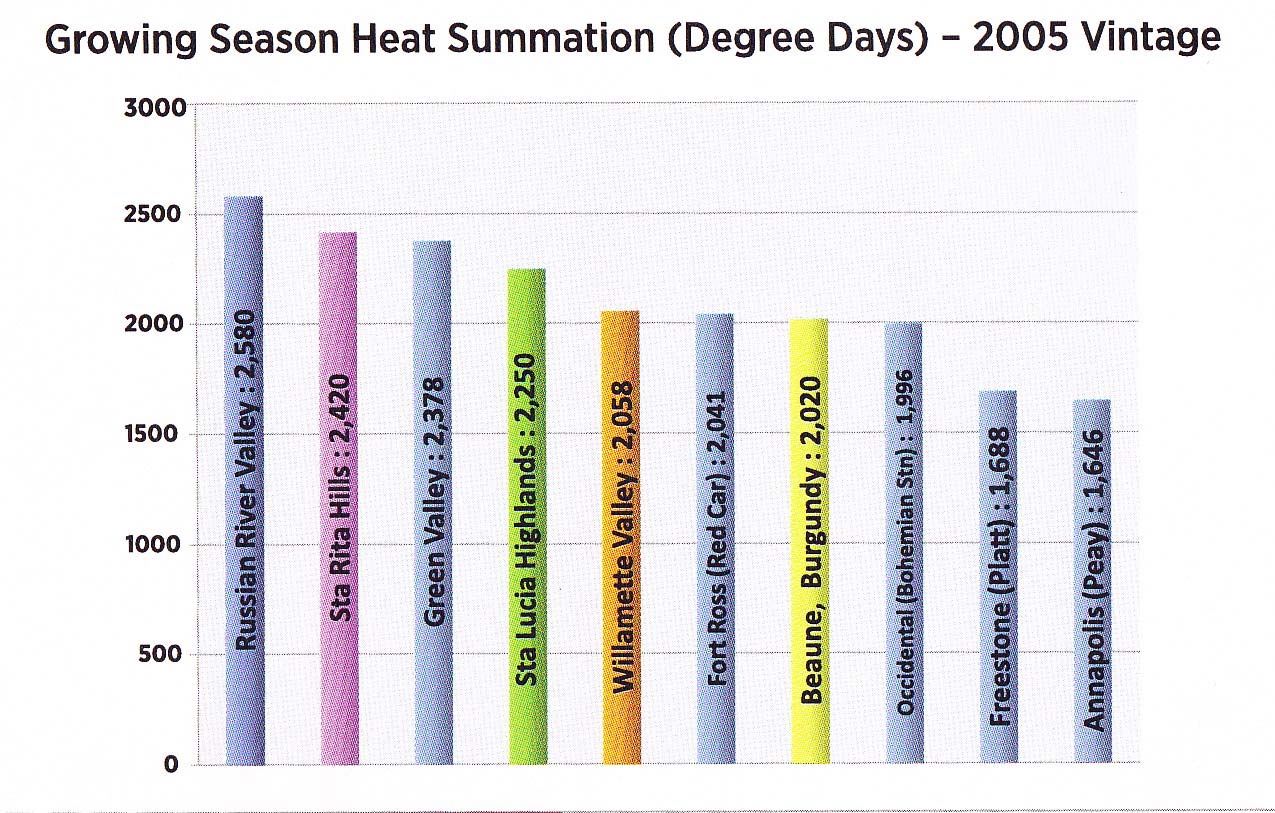 Because of the unwieldy immensity of the Sonoma Coast AVA, it has been unofficially subdivided into the West Sonoma Coast, which makes up about 10% of the entire AVA. A number of names have evolved in recent years including "far," "true" and "real." True Sonoma Coast is a term which Ted Lemon and others have adopted, but the members of the WSCV, including Ted, have wisely chosen not to continue to use this term. Preferably, the region should be addressed as West Sonoma Coast, Sonoma Coast West, or possibly, the "extreme" Sonoma Coast. The West Sonoma Coast subdivision extends roughly from Jenner in the South where the Russian River empties into the Pacific Ocean to Annapolis in the North and from the beaches to 5 to 12 miles inland including the first three ridges of the Coastal Range of mountains, extending more easterly in the South to include Freestone, Occidental, Green Valley and Sebastopol Hills where the coastal ridges flatten out (refer to map below).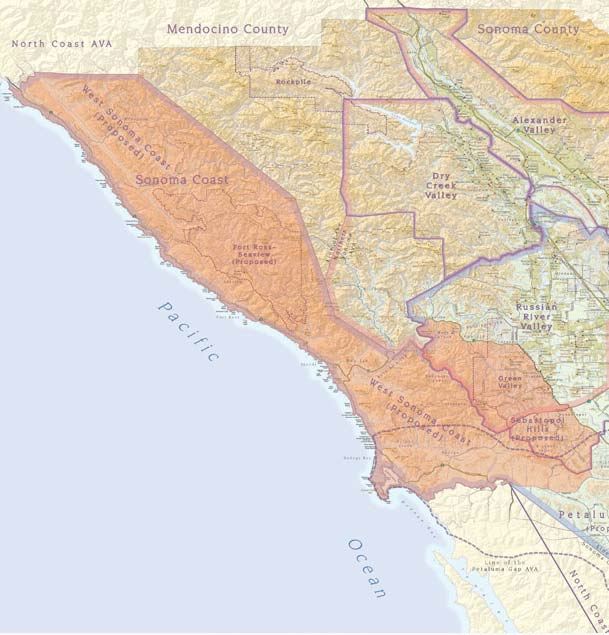 Sandwiched between the Pacific Ocean and the Coastal Range of mountains, West Sonoma Coast is an environment buffeted by high winds, daily fog, and significant rainfall. There are an endless number of mesoclimates and soil types in the West Sonoma Coast, but the common denominator is the extreme coolness. Some have characterized the West Sonoma Coast as follows: "You should be able to see the ocean" and "It's a long way from anywhere," to "Most Sonoma Coast vineyards are soaked with sun and waiting for the fog to come in; the "true" Sonoma Coast is in the fog waiting for the sun to come out."
The biggest challenge facing vintners and growers in West Sonoma County is unprofitably small yields. Crops can be very small depending on the vintage and farming is not for the faint of heart. In 2005, for example, some vineyards were devastated by rain during bloom leading to poor fruit set and yields in these vineyards was less than 1/2 ton per acre and in some cases no usable grapes were harvested.
Mike Bohan was the first to plant grapes in the West Sonoma Coast. In 1971, he developed a 1,400 foot ridge top vineyard in remote Cazadero on Bohan Dillon Road. Initially planted to Zinfandel, the vineyard came to include Chardonnay, Riesling and Pinot Noir. To this day, the Bohan Ranch sells all of its grapes. A number of others soon established Pinot Noir plantings in Cazadero including Donnie and Linden Schatzberg (Precious Mountain Vineyard), Daniel Schoenfeld (Wild Hog Vineyard), Dan Wiekham (Sea Ridge) and most notably, David Hirsch (Hirsch Vineyard).
David Hirsch was a visionary whose Hirsch Vineyard has become synonymous with the Sonoma Coast. His remote vineyard on a high ridge overlooking the Pacific Ocean was first planted in 1978. At the time, it was crazy to think that one could make a living growing Pinot Noir in this inhospitable region. In 1994, Ted Lemon (Littorai), Burt Williams (Williams Selyem) and Steve Kistler (Kistler Vineyards) visited Hirsch Vineyard and became the first and most important purchasers of Hirsch Vineyard fruit. Today, Hirsch's vines are among the few mature plantings of French clone Pinot Noir in California. Hirsch Vineyard is pictured from the air below.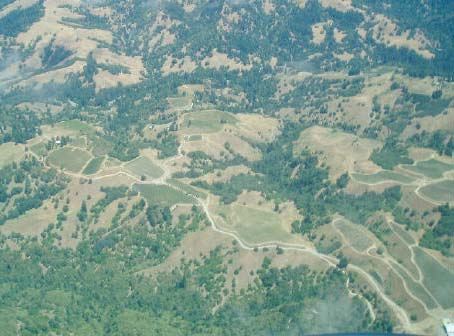 The list of ensuing vintners who flocked to the West Sonoma Coast reads like a who's who of California Pinot Noir. The names include Helen Turley and John Wetlaufer (Marcassin), Lee Martinelli (Martinelli), Bill Smith (W.H. Smith), Ted Lemon (Littorai), Walt and Joan Flowers (former owners of Flowers Winery), Mark Bixler and Steve Kistler (Kistler Vineyards), Jason Pahlmeyer (Pahlmeyer), Peter Michael (Peter Michael), Mike Benziger (Benziger), Anne-Marie Failla and Ehren Jordan (Failla), Joseph Phelps (Freestone Vineyards), Nick Peay and Vanessa Wong (Peay Vineyards), Carroll Kemp (Red Car), Dan Goldfield (Dutton-Goldfield), Thomas Brown (Rivers-Marie), Kent Humphrey (Eric Kent), Marimar Torres (Marimar Estate), Joseph Wagner (Belle Glos), Ross Cobb (Cobb Wines), Anthony Austin (Sonoma Coast Vineyards), Bryce Jones (Emeritus), Ken and Akiko Freeman (Freeman Vineyards), Greg La Follette (La Follette Wines) Ross Halleck (Halleck Vineyards) and Fort Ross Vineyards & Winery, Kendall-Jackson, Hartford Court, and Roessler Cellars.
Developing vineyards in the West Sonoma Coast presents a number of challenges including the remoteness of the region, the small areas suitable for planting, and the opposition from local residents and conservationists. The Preservation Ranch vineyard and timber conversion plan has been in the news of late. The project is the largest timberland conversion ever proposed in Sonoma County and would consist of 1,800 acres of vineyards on 20,000 acres of land in the Annapolis area. Premier Pacific Vineyards is the developer and is required to do an extensive environmental impact report including the determination of how much carbon is released into the atmosphere and stored in the soil, the generation of greenhouses gases, the water impact and public benefits and costs. The Sierra Club opposes the project, claiming that the land should remain a forest. Opponents have organized under the Friends of Gualala River banner which includes the local Pomo Indians. The final ruling by the Sonoma County Board of Supervisors is pending and will be closely watched as their decision will set a precedent for future large scale development in the West Sonoma Coast.
The entire Sonoma Coast AVA, with over 7,000 acres of vineyards, dwarfs the over 600 acres found in the West Sonoma Coast (I could not find current or recent vineyard acreage for West Sonoma Coast. John Winthrop Haeger in North American Pinot Noir reported the vineyard acreage as 600 acres in the 2004 edition of his book. Vineyard plantings have been ongoing since then so the number is probably a few hundred acres higher). Most of the West Sonoma Coast plantings are Pinot Noir. The West Sonoma Coast has few wineries (Annapolis, Flowers, Freeman, Freestone, Hirsch, Littorai, and Marimar Estate) but over fifty growers overseeing mostly small vineyard plantings except Kendall-Jackson which has a large planting, of 300 acres on a 600-acre parcel on Skaggs Springs Road near the hamlet of Annapolis.
West Sonoma Coast has been further subdivided into six subregions that are so dramatically different that they warrant further study. These include from north to south, Annapolis, Freestone, Occidental, Sebastopol Hills, Fort Ross-Seaview, and Green Valley. A Fort Ross-Seaview AVA proposal was spearheaded by David Hirsch in 2003 but defeated by opposition from Brice Jones of Emeritus and Hartford Family Winery, among others, who had vineyards outside the proposed smaller AVA.
Ted Lemon points out that this is a highly diverse and complex region and there is much to be learned about the proposed sub-regions. Ted has emphasized, "The entire area is too complex to speak in generalities." One of the stated purposes of the WSCV is to foster a learning process between the wineries and growers with regards the wines of the West Sonoma Coast. WSCV currently has no plans to pursue AVA designations for these six sub-regions.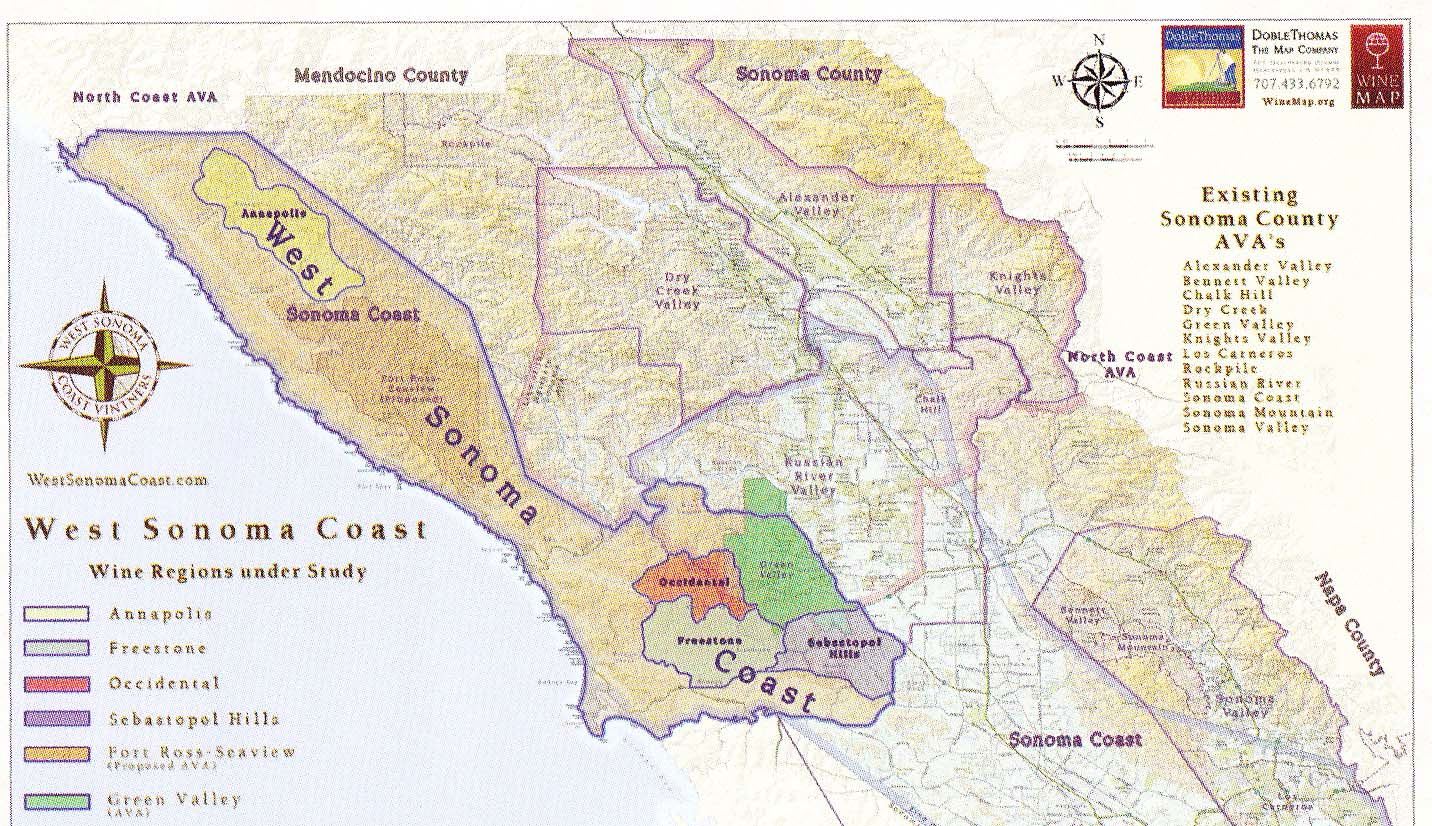 Annapolis
The hills here range from 600 to 1,700 feet, with some vineyards (such as Peay) located in the fog inversion layer. Temperatures are typically in the 60s and 70s but can be warmer at higher altitudes above the fog. Vineyards are close to the ocean, within 4 miles in several cases. Soils are nutritionally deprived Goldridge series like much of the vineyard soils in the Russian River Valley. Peay Vineyard is the most well-known vineyard in this region. Others include Aston, Campbell Ranch, Far Coast (Hartford Family Winery), and Ridges Estate (Roessler),
Fort Ross-Seaview
Warmer than the last four sub-regions listed here but the sub-region possesses less diurnal fluctuation with lower daytime temperatures and higher nighttime temperatures. The advantages of less diurnal swing has vintners drooling over the ability to pick grapes sooner at lower Brix while exhibiting full color, aroma and flavor development. Soils are well-drained but variable. Well-known vineyards here include Blue Slide Ridge and Three Sisters (Martinelli), Boar's View (next to Marcassin), Camp Meeting Ridge (Flowers), Fort Ross Vineyard, Hellenthal, Hirsch, Marcassin, and Seaview (Peter Michael).
Occidental
900 to 1,200 foot ridges west of the town of Occidental. Vineyards move farther inland in this sub-region. Narrow diurnal fluctuations in temperature are the rule. Well-known sites include Coastlands, Haven (Littorai), Jack Hill, Joy Road, Occidental, Occidental Ridge, Occidental Station, Seascape (Hartford Family Winery), Silver Eagle, Summa Vineyard (Rivers-Marie), Taylor Lane (Belle Glos) and B.A. Thieriot Vineyard.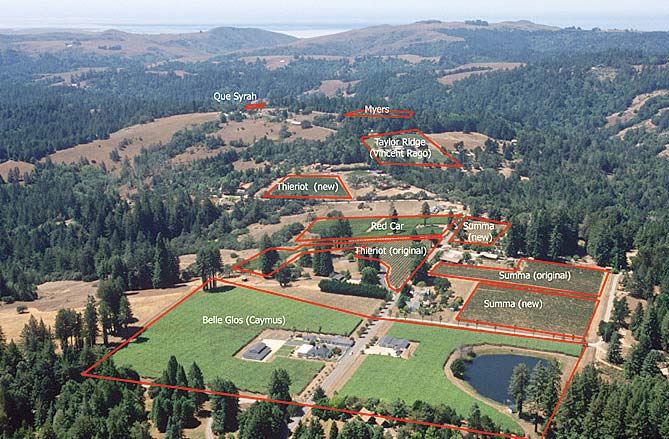 Freestone
Vineyards are planted on rolling hills of 200 to 800 feet elevation south of Occidental. Vineyard sites are heavily influenced by fog which rolls in through the Petaluma Gap at Bodega Bay and the Salmon Creek corridor, resulting in many vineyards being the coldest in the West Sonoma Coast. The vineyards are further from the coast than those in Occidental. Wide temperature swings are not unusual. Balistreri, de Coelo Estate (Benziger), Kistler and Pastorale and Quarter Moon (Freestone Vineyards) are notable vineyards.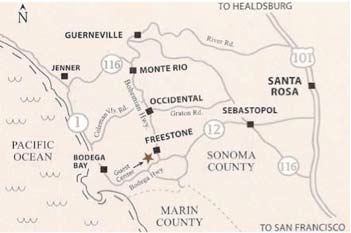 Sebastopol Hills
East of Freestone, this sub-region is the southernmost part of the Russian River Valley, added to the Russian River Valley AVA in 2005. The climate is cold with heavy fog intrusions from the adjacent Petaluma Gap although the more northern plantings are protected from the wind and fog that enters through the Gap. Soils are primarily Goldridge. According to John Winthrop Haeger, "Sebastopol Hills is a roughly triangular chunk of land consisting most of northeast and southwest oriented ridges on the lee side of a transverse ridge that separates the Russian River Valley from the Petaluma Gap. It is also the main watershed for Arastradero Creek." Noted vineyards include Burnside Road, DuNah, Freestone Hill (Dutton-Goldfield), Halleck Estate, Kanzler, Maboroshi, Meredith Estate (Merry Edwards), Pillow Rd., Pratt, Suacci-Carciere, Peters, Pivot (Littorai), Rayhill (Chasseur), and Umino.
Green Valley
Currently known officially as the "Green Valley of Russian River Valley," the small Green Valley AVA was approved in 1983 based on a submission by Joy and Barry Sterling, proprietors of Iron Horse Vineyards. Green Valley is the first place where maritime fog enters the Russian River Valley through the Petaluma Gap and the last place it burns off. As a result, Green Valley is substantially chillier than the remainder of the Russian River Valley. A 25 degree diurnal temperature swing is common. The predominant soil type is Goldridge sandy loam with a second less common type, Franciscan, also possessing good drainage. Vineyards to look for include Arrendell (Hartford Family Winery), Cresta Ridge (Thomas George Estates), Don Miguel (Marimar Estate), Dutton Widdoes, Dutton Hallberg and Dutton Sanchietti, Fog Dance (Hartford Family Winery), Graham Family, Hawk Hill, Heintz, and Keefer Ranch.
WSCV held their inaugural West of West Wine Festival in Occidental the weekend of August 5-7, 2011. Participating wineries included Anthill Farms Winery, Baker Lane Vineyards, Benovia Winery, Bohème Wines, Ceritas Wines, Chasseur Wines, Cobb Wines, Evening Land Vineyards, Failla Wines, Flowers Vineyard & Winery, Fort Ross Vineyards & Winery, Freeman Vineyards, Freestone Vineyards, Hartford Family Winery, Hirsch Vineyards, Lioco, Littorai, Marimar Estate Vineyards and Winery, Martinelli Winery, Patz & Hall, Peay Vineyards, Ramey Wine Cellars, Red Car Wine Company, Small Vines Wines, and Sojourn Cellars.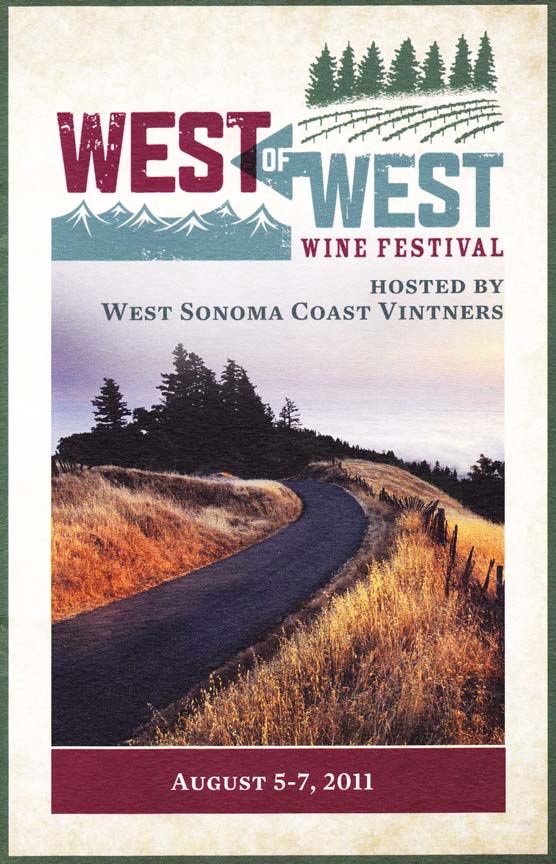 Winemaker welcome dinners were held Friday evening, August 5, at various locations. These intimate dinners for small groups offered way too much great wine and a number of attendees could not manage to rise for the morning seminars on Saturday. Too bad, for the first seminar featured Burt Williams, the former winemaker at Williams Selyem and Ted Lemon, the proprietor and winemaker at Littorai.
Seminar 1: Winemakers Studio
Because Williams Selyem started in 1981 in the Russian River Valley and many of the winery's most famous vineyard sources were in the Russian River Valley (Rochioli Vineyard, Allen Vineyard, Olivet Lane Vineyard), Williams and the Russian River Valley are inevitably linked. However, Williams was the first prominent winemaker to recognize the potential of the West Sonoma Coast. In 1980 and 1981, Williams sourced grapes from Iron Horse and from 1982 to 1986 from Dutton's Arrendell Vineyard, both in Green Valley. William Selyem's first venture into the chilly Occidental area came in 1988 when he obtained fruit from the Summa Vineyard. Summa Vineyard was in a very marginal location buffeted by wine and consumed by fog, often suffering poor fruit set, but produced very dense, complex wines when nature cooperated. The 1991 Williams Selyem Summa Vineyard Pinot Noir was the first California Pinot Noir to sell for $100. The price reflected the tiny yields of 1/2 ton per acre of fruit which produced two new barrels of wine. A total of 1 ton of usable grapes was harvested from 4 acres which worked out to a price of $5,000 per ton when you consider the farming costs for three years, from two of which (1989 and 1990), no usable grapes were harvested. This was a ridiculously high sum for Pinot Noir grapes back then. Williams figured that if people wouldn't buy it, he and Ed Selyem would take it all home and drink it. As Williams said, "C-note or c-none." The wine sold out in three days. Hirsch Vineyard (1994) Coastlands Vineyard (1994) and Precious Mountain Vineyard (1996) would follow. The eventual notoriety of wines from these vineyards led many others to pursue plantings in the West Sonoma Coast.
Ted Lemon was also an early proponent of the West Sonoma Coast. Before founding Littorai in 1993, he spent a summer with his wife Heidi exploring the Pacific Coast tasting local wines and learning about the soil and history of the local vineyards. Lemon had a firm belief in terroir inspired by his years in France. According to Lemon, "I believe soil is of major importance in a wine's character. It's clear there are tremendous differences between wines made from vineyards right next to each other even if they are vinified and treated exactly the same way." Lemon finally settled on sourcing grapes from vineyards in western Sonoma and western Mendocino counties. He believed that the finest Pinot Noir and Chardonnay were grown along the true coastal zone of the continent and was convinced that the geology and mesoclimates of the extreme western portion of the continent north of San Francisco were diverse enough to create a series of unique terroirs, each with its own distinctive characteristics. He named his winery Littorai, a pleural noun formed from the Latin word "litor," which means "the coasts." He eventually sourced grapes from Hirsch Vineyard (1994), Heintz Vineyard, Summa Vineyard, B.A. Thieriot Vineyard, Pratt Vineyard and The Haven Vineyard, all located on the West Sonoma Coast.
Lemon interviewed Williams during this morning seminar and each presented older vintages of their wines to sample. Williams offered the 1996 Williams Selyem Riverblock Russian River Valley Pinot Noir and the 1996 Williams Selyem Coastlands Vineyard Pinot Noir. Lemon shared his 1999 Littorai Theiriot Vineyard Sonoma Coast Pinot Noir and 2001 Littorai Hirsch Vineyard Sonoma Coast Pinot Noir. These wines had aged beautifully and Williams was to remark, "If the wine is balanced ... if you pick the fruit before it's really ripe ... I know Sonoma Coast Pinot Noir can age." View the video: www.youtube.com/watch?v=4anSnLmnn20.

Some interesting remarks from Williams at the seminar:

*Williams often used whole cluster when the vintage warranted it (when the stems were sufficiently brown and
dried), but never used more than 50%.
*Williams' first contract for a coastal vineyard stipulated that they would take the fruit at 21.5º Brix ("We
were just hoping that we would get there!"
*Coastal vineyards offer an interesting Asian spice-tangerine peel component that contrasts with the
Russian River Valley fruit.
*Williams' winemaking regimen was the same for every wine (same oak, same yeast, etc.) so that the
vineyard differences would shine through without compensation or augmentation.
*Williams plans to release a Pinot Noir from his Morning Dew Ranch Vineyard in Anderson Valley from
the 2008 and 2009 vintage. According to Bob Mosby, who has sampled the wines with Burt, the
2008 wine has a slight amount of smoke taint but is still very good and the 2009 is off the charts
great. No word yet about how the wines will be sold, but they will definitely be expensive.
Seminar 2: Terroir of the Sonoma Coast
Panelists Ken Freeman of Freeman Vineyards, Theresa Heredia of Freestone Vineyards, David Hirsch of Hirsch Vineyard, Ted Lemon of Littorai, Andy Peay of Peay Vineyards and Carroll Kemp of Red Car Wine Company led a discussion of the unique terroir of each of the six sub-regions of the West Sonoma Coast and presented two Pinot Noirs from each sub-region. All the wines offered were from the 2009 vintage. Since the wines were so young, many were relatively closed, making it difficult to distinguish characteristics in the wines that were distinctive for each sub-region. Nevertheless, an impressive lineup. The wines offered included:
Annapolis: 2009 Peay Vineyards Pomarium Pinot Noir and 2009 Ant Hill Farms Campbell Ranch Pinot Noir
Fort Ross-Seaview: 2009 Hirsch Vineyards "San Andreas Fault" Estate Pinot Noir and 2009 Flowers Camp Meeting Ridge Pinot Noir
Occidental: 2009 Red Car Heaven & Earth Pinot Noir and 2009 Ceritas Escarpa Vineyard Pinot Noir
Freestone: 2009 Freestone Pastorale Vineyard Pinot Noir and 2009 Cobb Emmaline Ann Vineyard Pinot Noir
Sebastopol Hills: 2009 Patz & Hall Burnside Vineyard Pinot Noir and 2009 Littorai Pivot Vineyard Pinot Noir
Green Valley: 2009 Freeman Keefer Ranch Pinot Noir and 2009 Small Vines MK Vineyard Pinot Noir
Seminar 3: Taste the Coast in Context
Panelists Rajat Parr of the Michael Mina Group, Jon Bonné of the San Francisco Chronicle and Ehren Jordan of Failla Winery moderated a comparative blind tasting of Pinot Noirs from the West Sonoma Coast, the Russian River Valley and the Willamette Valley of Oregon. This proved to be very challenging, with most attendees incapable of blindly identify the source of most wines. Given so many variables, it is almost impossible to succeed at identifying appellation-specific characteristics. That said, a number of wine critics and vintners have spoken about the unique features of Pinot Noir from the West Sonoma Coast. The cool climate on the coast leads to very small berry size with higher juice-to-skin and juice-to-seed ratios. This leads to more concentrated flavors and amplified tannins. Brisk acidity is also a consistent feature. When ripe, the Pinot Noirs are earthy, bold and dense. One thing is certain: because of the low temperatures, the grapes ripen slowly developing mature phenolics before acquiring sugar ripeness, allowing grapes to be picked at relatively low Brix (ie 23º or less). Here are a few comments:
"Muscle and sinew, grit, structure, more backbone and tannin that Russian River Valley Pinot Noir, peppery and spicy in leaner years, with sage and savory as the prominent spices and dark fruits in riper vintages." (Ted Lemon, Littorai)
"Flavors varying from tomato, rhubarb and beet unripeness through ripe fruitiness to super ripe in style close to Port." (Steve Heimoff, Wine Enthusiast)
"The mineral element and very focused tannins separate the Sonoma Coast from the Russian River Valley which has sweet berry fruit and floral elements. The wines are concentrated, texture-driven with spice generated by the small berries and low juice yields." Dan Goldfield (Dutton-Goldfield)
""Lean, lacy, with phenomenal phenolics." Ehren Jordan (Failla)
"Higher acidity, sturdier tannins, less 'gobs' of fruitiness, and more tertiary flavors like earth, minerals, tea and forest floor." Andy Peay (Peay Vineyards)
The West of West Wine Festival continued on Saturday with a walk-around tasting of wines from participating wineries capped off in the evening by a "Feast by the Prince & Princess of Pork" held at the Union Hotel Restaurant Ball Room. Open houses and barrel tastings were held throughout Sonoma County by members of WSCV on Sunday. The event was quite a success and its laid back, low key theme was appealing to those in attendance. Stuffy just doesn't work in Occidental.
For more information and to join the WSCV mailing list visit www.westsonomacoast.com.
Other sources of reading about the West Sonoma Coast:
"Sonoma Extreme," Randy Caparoso, Sommelier Journal, January 31, 2011 (Part 1) and March 10, 2011 (Part 2). "Pedaling the Coast - a terroir ride through western Sonoma," David Darlington, Wine & Spirits, August 2011.
"The True Sonoma Coast - Cool-climate winemaking in California," Jonathan Swinchatt, The World of Fine Wine, Issue 17, 2007.
"Pinot Noir's Promised Land - America's most Burgundian Pinot Noirs are born amid the epic landscape of the far Sonoma Coast," Richard Nalley, ForbesLife Magazine, www.forbes.com, March 15, 2010.
North American Pinot Noir, John Winthrop Haeger, University of California Press, 2004. For current articles published on the Sonoma Coast, visit this internet site: www.daylife.com/topic/sonoma_coast/overview/3?_site=daylife.

I highly recommend the wines below from the West Sonoma Coast (all tasted in 2010 and 2011). One side note: the horrendous forest fires in 2008 led to smoke taint in many Pinot Noirs from the Sonoma Coast. For this reason, choose carefully among the West Sonoma Coast wines that made it to the marketplace from the 2008 vintage.
2009 Drew McDougall Ranch Vineyard Sonoma Coast Pinot Noir
2009 Kutch McDougall Ranch Vineyard Sonoma Coast Pinot Noir
2008 and 2009 Red Car Heaven & Earth Bohemian Station (La Boheme) Vineyard Sonoma Coast Pinot Noir
2008 Red Car Dreamland Platt Vineyard Sonoma Coast Pinot Noir
2009 Bjørnstad Hellenthal Vineyard Sonoma Coast Pinot Noir
2009 Eric Kent Small Town Sonoma Coast Pinot Noir
2009 Kosta Browne Kanzler Vineyard Sonoma Coast Pinot Noir
2008 Kanzler Vineyards Sonoma Coast Pinot Noir
2008 Loring Wine Company Graham Family Vineyard Green Valley of Russian River Valley Pinot Noir
2008 Lioco Graham Family Vineyard Green Valley of Russian River Valley Pinot Noir
2008 Rivers-Marie Summa Vineyard and Summa Old Vines Sonoma Coast Pinot Noirs
2009 Rivers-Marie Summa Old Vines Sonoma Coast Pinot Noir
2008 de Coelo Terra Neuma Sonoma Coast Pinot Noir
2008 Kokomo Peters Vineyard Winemaker's Reserve Sonoma Coast Pinot Noir
2008 Littorai B.A. Thieriot Vineyard Sonoma Coast Pinot Noir
2008 Littorai Platt Vineyard Sonoma Coast Pinot Noir
2008 Freestone Quarter Moon Vineyard and Pastorale Vineyard Sonoma Coast Pinot Noirs
2008 Cobb Jack Hill Vineyard and Emmaline Ann Vineyard Sonoma Coast Pinot Noir
2007 Hirsch Vineyards San Andreas Sonoma Coast Pinot Noir