MacPhail: Get On the Wagon
James MacPhail began to produce Pinot Noir from North Coast appellations beginning in 2002 under the MacPhail Family Wines label. A native son of Marin County in a family with roots in the area dating to the 1880s, his background includes a broad range of interests including dairy farming near Tomales Bay and ventures into appliance retail, building materials and natural gas. He became an accomplished classical pianist and bagpiper. In 1983, MacPhail was the youngest to swim across the Golden Gate and remains a nationally ranked Masters Class competitive swimmer.
MacPhail developed his winemaking skills at Quivera, Pellegrini and Merry Edwards, and quickly focused on Pinot Noir. After making wine in rented space for six vintages, he built a 5,000 case winery and tasting room in Healdsburg in 2008 where he crafts about 4,000 cases annually of Pinot Noir sourced from the Sonoma Coast and Anderson Valley. The winery has a rural barn aesthetic and employs passive solar design and daylighting as well as a waste water wetland system for production waste to cleanse waste water that can later be used for irrigation.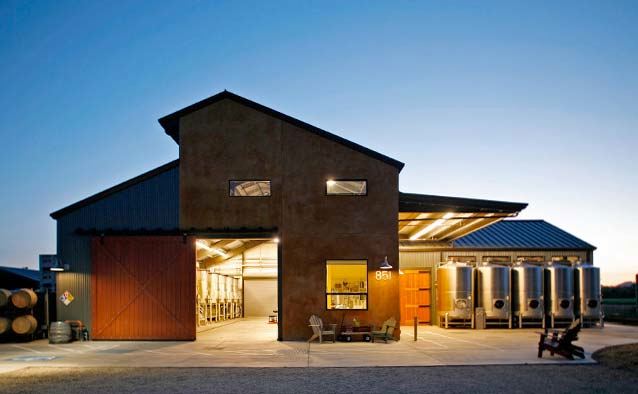 In 2007, MacPhail became the winemaker for Sequana Vineyards. These wines are crafted in much the same style as MacPhail Family wines but the focus is on sourcing grapes primarily from the Green Valley of Russian River Valley and the Santa Lucia Highlands. Production at Sequana Vineyards is 11,000 cases per year. Recently, MacPhail joined The Hess Collection bringing along MacPhail Family Wines while continuing his work as the founding winemaker for Sequana Vineyards. The Hess Collection has acquired the MacPhail Family Wines brand as well as existing inventory.
The colorful wine label of MacPhail Family Wines features a Radio Flyer wagon filled with grapes. This along with the winery's marketing program are very eye-catching, attracting my interest initially several years ago. Early on, I found the wines a little hit and miss and stylistically they were often a bit generous in alcohol, ripe and oaky. The wines did improve in the bottle over time because of bright acidity. Recently I had the opportunity to taste the 2009 vintage Pinot Noirs from MacPhail and I came away with renewed interest and a more favorable impression. Oak still plays a role in the wines but is more restrained and complimentary, and the wines all show admirable balance. The 2009 Pinot Noirs are all quite approachable now, although the vineyard designated Pinot Noirs will benefit from more time in the bottle. I think the wines will appeal to every Pinot Noir lover.
The winemaking regimen is as follows: grapes are hand picked and hand sorted, 100% de-stemmed and undergo a 5-day pre-fermentation cold soak. Fermentation is begun with indigenous yeast and then inoculated. Native malolactic fermentation occurs in barrel. Batonnage is performed weekly for 3 months. The wines are aged 11 months in 40% to 100% new French oak barrels and bottled unfined and unfiltered. All the 2009 wines reviewed here were released in the fall of 2010 except the Wightman House and Vagon Rouge which are scheduled for fall release in 2011 (the Home Girl Pinot Noir is a spring release).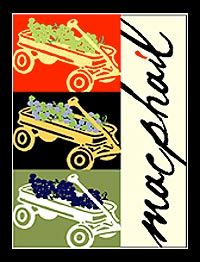 MacPhail Family Wines is open for tasting by invitation and appointment only and usually MacPhail makes himself available for these tasting sessions. Visit the website at www.macphailwine.com.