Davis Family Vineyards: On a Quest for "Perfect" Pinot Noir
"The pursuit of creating the perfect Pinot Noir is like the pursuit of the Holy Grail; only a few of us believe it exists and we wake up at dawn every day to move one step closer in our quest!"
Guy Davis, Founder/Farmer/Winemaker
The perfect Pinot Noir hasn't been produced yet, but some of the ephemeral Pinot Noirs crafted by Guy Davis of Davis Family Vineyards have come darn close. Guy's style matches bright, complex aromas and flavors with silky textures and impeccable balance, while capturing the essence of Russian River Valley terroir. I am not the only fan, for Davis Family Vineyards' wines have won praise from wine critics such as Robert Parker, Jr., and have been awarded many Best of Class and Gold Medal accolades in numerous major wine competitions.
Guy is a cerebral winemaker who clearly understands his quest. His "Top 5 Rules for Crafting Great Pinot" include the following: (1) Only grow on sites destined for greatness (Guy's estate hillside vineyard in the middle of the Russian River Valley is a site blessed with the cool microclimate, soils and exposures of sunlight to please the delicate nature of Pinot Noir.); (2) Precision viticulture (Guy does not farm his 7 acres of Pinot Noir - he farms 9,274 vines, striving to get twelve to fourteen touches for every vine during the growing season from pruning to harvest.); (3) Pick on the right day! (Guy is obsessive, focused and fanatical about picking the right day to harvest. He strives to find the point at which flavors are ripe and supple, yet not beyond that fine line that can jeopardize the elegance and beauty of the finished wine.); (4) Smell, taste, and talk to the wines every week (Meticulous attention to the wines in the cellar with as little handling as possible is his mantra.); and (5) Be an expert at blending (You have to know what true greatness requires to achieve it).
Guy came to wine as a teenager while working his way through college as a cook at a French restaurant. He was able to taste benchmark wines from all the famous regions of France, and became so knowledgeable, he was asked to buy the wine for the restaurant's wine list. Although he was educated in economics and began his working career as a stockbroker, the stock market crash of 1987 made him rethink his career goals. He picked up a job as a wine buyer in Sonoma in 1989, and soon was working in the cellars of several boutique wineries in the region. It was a stint with winemaker Lori Olds at Sky Vineyards a top Mt. Veeder that persuaded him to pursue a career in winemaking. While taking classes at Santa Rosa City College and University of California Davis, he searched for the perfectly situated site to grow Pinot Noir.
In 1996, Guy bought a hillside vineyard on Laguna Road in the Russian River Valley. The property featured an abandoned Zinfandel vineyard dating to 1896 that had been neglected for twenty years. He resurrected 2.8 acres of the original Zinfandel vines, and planted 7 acres of Pinot Noir, 2.5 acres of Syrah and 2 acres of Chardonnay (see vineyard map and vineyard photo below; photo is looking south with pinot noir at upper portion of the vineyard).
Guy's focus is on Pinot Noir but he produces a colorful and consistently stellar palate of wines including Russian River Valley Chardonnay (oaked and unoaked versions), Monterey County Riesling, Sierra Foothills Marsanne/Roussane/Viognier blend (Cuvée Luke), Russian River Valley Rosé (Cote Rosé), Syrah, Zinfandel, Napa Valley Cabernet Sauvignon, Old Vine Zinfandel Port, and Apply Brandy (APPLE-ATION). He has also produced wines from New Zealand and Argentina under the Gusto label. As a nod to his affection for artisan food production, he also offers a high-quality cold-pressed artisan olive oil from trees planted in 1906 in the Sierra Foothills.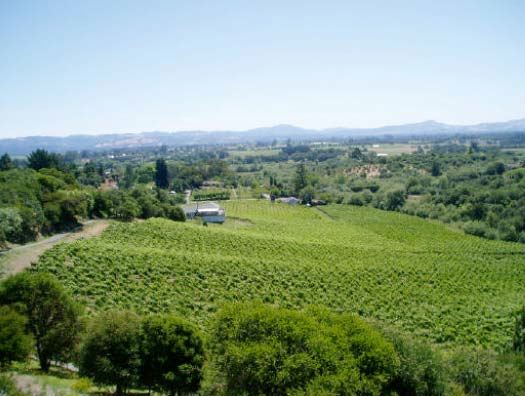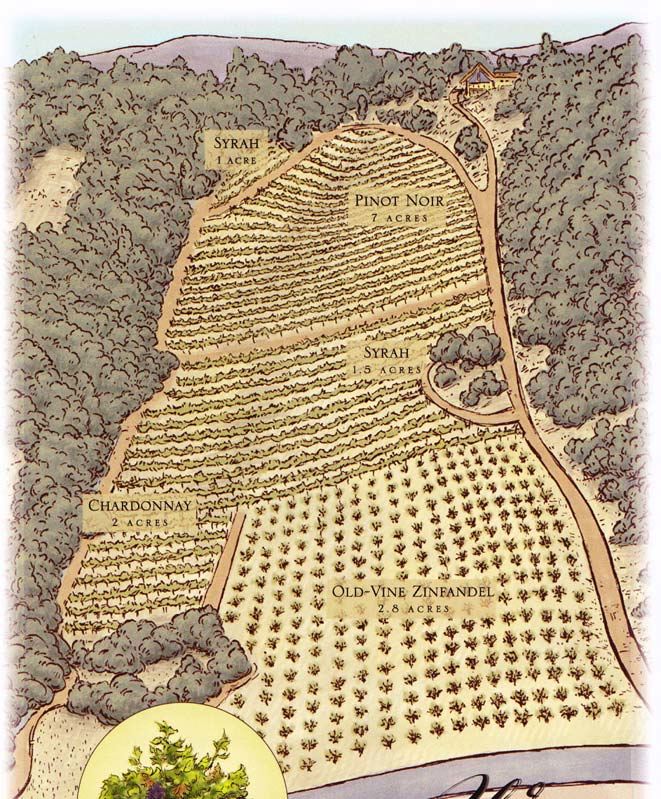 Guy's flagship wine is the Davis Family Vineyards Russian River Valley Pinot Noir, a blend of all the Pinot Noir grown on the estate vineyard. Beginning in 2006, favorite barrels of estate Pinot Noir have been set aside as a special wine that receives additional barrel aging, the PinnaCole. Starting in 2008, a special bottling, Soul Patch, has been offered that is sourced from a unique part of the estate vineyard with a steep, east-facing slope that basks in the morning sun but avoids the harsh afternoon sun. Two vineyard-designated Pinot Noirs are also part of the portfolio, including Horseshoe Bend Vineyard located on the western edge of the Russian River Valley AVA and first produced in 2008, and Starr Ridge Vineyard, a 24-acre vineyard located in the hills just east of the Russian River and southwest of the town of Windsor, first appearing in 2009. A Sonoma Coast Pinot Noir completes the lineup.
I recently sampled the 2009 Davis Family Vineyards Pinot Noirs as well as the recently released 2007 PinnaCole. These wines are very classy, among the upper echelon of Pinot Noirs currently being produced in the Russian River Valley. As a testament to the balance and age ability of these wines, all showed better the next day from previously opened and re-corked bottles. Although I may have liked a few of the wines slightly more than others, I would encourage you to try all these beauties and decide for yourself. The 2009 Pinot Noirs will be released in November 2011.
Visit the website www.daviswines.com to order wine, or better yet, visit the tasting room located in the winery at 52 Front St. in Healdsburg and talk Pinot with Guy Davis. He is a soft-spoken winemaker who has a trove of wine information that he proffers in an understandable manner. Guy's son, Cole, has quietly been assisting Guy in the estate vineyard and winery for seven years and has gradually assumed more winemaking responsibility. Guy has a soft spot for creative art and displays the work of local artists on his tasting room walls. The flamboyant artwork that guards the parking lot of his winery is a Healdsburg landmark.