More Russian River Valley Gems
Small Vines Wines
Paul and Kathryn Sloan are owners of Small Vines Viticulture, established in 1998 in Sonoma County to plant and farm ultra high density vineyards in the Russian River Valley and Sonoma Coast appellations. High density plantings are from 2722 to 3630 vines per acre. Tractor rows are typically 4 feet wide (the California average is 8 to 12 feet), and the plants are spaced anywhere from 3 to 4 feet apart depending on site and plant selection. Their underlying philosophy is that smaller vines produce diminutive and more intensely flavored grapes and by extension, higher quality wines. Their mantra is, "The smaller the vine, the better the wine."
Each vine is farmed individually using standards of only 8 shoots per meter, allowing each vine to carry only 1.5 to 3 pounds of fruit, with carefully monitoring of soil moisture, using water sparingly when necessary to improve wine quality and then only on specific vines.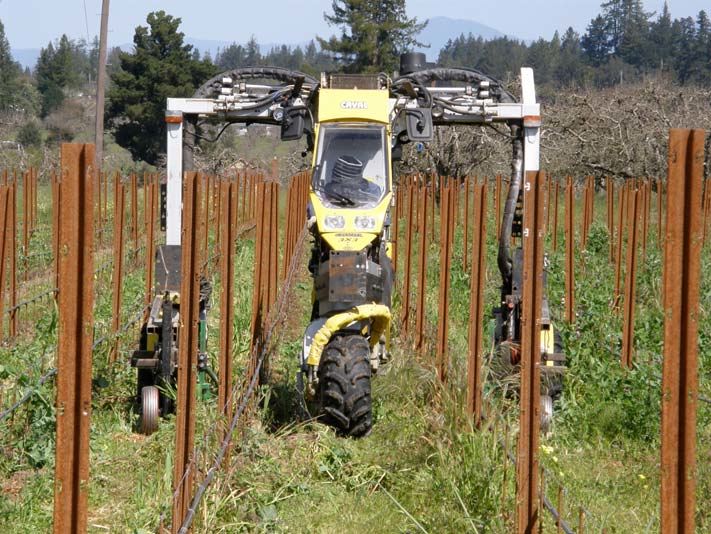 The Sloans also produce small lots of Pinot Noir, releasing their first wines in the 2005 vintage. The wines are crafted at Copain's Custom Crush facility in Santa Rosa. They source grapes primarily from their estate vineyard (12.5 acres outside of Sebastopol with 4.5 acres of Pinot Noir, 4.75 acres of chardonnay and two thousand vines of Pinot Gouges, the white mutation of Pinot Noir found in Henri Gouges' vineyard in Nuits-St.- Georges, all planted in 2009), MK Vineyard in the Sonoma Coast, and the Baranoff Vineyard in the Russian River Valley. Both appellation (Russian River Valley and Sonoma Coast) and vineyard-designated (MK Vineyard and Baranoff Vineyard) Pinot Noirs are offered. A minimalist in the winery, Paul Sloan believes that naturally made wines last longer and give more drinking pleasure so only natural yeasts are used and the wines are neither fined or filtered.
The Sloans are very passionate and innovative young winegrowers who also craft extraordinary wines. I would suggest you join their release mailing list to guarantee access to future releases. Follow the Small Vines Blog and videos at www.smallvines.com/blog. For a tour or more information, contact Paul or Kathryn at 707-823-0886, e-mail at info@smallvines.com, or visit the website at www.smallvines.com. The wines are sold on the website and through a mailing list. Magnums, etched magnums and jeroboams are offered. Future plans call for an estate Chardonnay from the 2011 vintage.
2009 Small Vines Wines Russian River Valley Pinot Noir
14.2% alc., 386 cases, $50. · Moderately dark reddish-purple color in the glass. Deep aromas of cherries, jam on toast, and vanillin. On the palate, medium weight flavors of black cherries and cola are featured with a slight tarry, smoky accent. The tannins are nicely managed, the mid palate and finish offer pleasing intensity and the wine finishes dry and fruity. Good (+).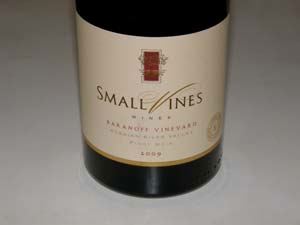 2009 Small Vines Baranoff Vineyard Russian River Valley Pinot Noir
13.9% alc., 75 cases, $65. Located on a hillside overlooking the Laguna de Santa Rosa, this vineyard also supplies grapes for the Small Vines Russian River Valley Cuvée. Mostly Calera clone with some Swan and Dijon 115 clone. 10% whole cluster. · Moderately dark reddish-purple color in the glass. Shy nose offering scents of berry jam, spice, oak cask and green garden. Tasty core of black cherry, black raspberry and plum fruit with slightly astringent tannins and a juicy, fruit-filled finish. Velvety on the palate, evolving slowly in the glass. Much more enticing the next day from a previously opened and re-corked bottle. Should be stellar in a few more years. Very good.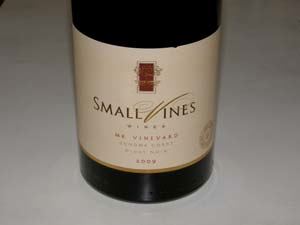 2009 Small Vines MK Vineyard Sonoma Coast Pinot Noir
13.9% alc., 150 cases, $65. 10.5 miles from the ocean, this temperate site was planted in 1999 and has been farmed organically since 2006 with added biodynamic practices since 2007. · Moderately dark reddish-purple hue in the glass. Appealing aromas of dark berry jam, black plums and oak. Lovely flavors of dark red and black Pinot fruits, building in intensity with time in the glass, and finishing with impressive grand cru persistence of aromatic black cherries. Still young, but the pedigree of the fruit really stands out and it is hard to resist now. More intensely flavored and expressive the next day from a previously opened and re-corked bottle.
Skewis Wines
Hank and Margie Skewis have a dedicated following for their small lots of vineyard-designated Pinot Noir from Sonoma and Mendocino counties that they have produced since 1994. Hank is a veteran of over 27 vintages, having honed his winemaking skills at Lambert Bridge in the Dry Creek region of Sonoma County before starting his namesake label. He crafts less than 1,000 cases of premium Pinot Noir from vineyard sources that have varied through the years, but have always been consistently superb.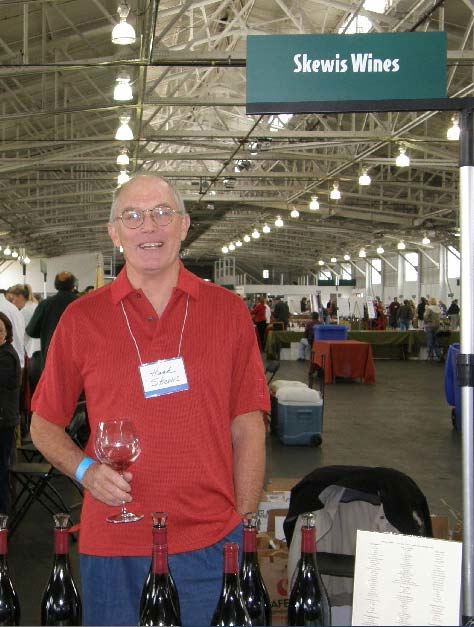 Winemaking is traditional with minimal intervention. Carefully sorted grapes are gently crushed into small bins, fermented warm, pressed into French oak barrels where primary and secondary fermentations are completed. The wines are typically aged in barrel for 18 months, racked for blending, and then racked a second time in preparation for bottling. The wines are then aged an additional 4 to 6 months in bottle before release.
Skewis Pinot Noirs offer enjoyable drinking upon release and by virtue of their balance and structure, dependable age ability. I recently visited their new tasting room in the historic Roma Station Winery complex in Healdsburg. The 1997 Skewis Montgomery Vineyard Russian River Valley Pinot Noir was lean with cherry fruit starting to fade and tannin and acid coming to the forefront. Still, the wine would work nicely with food and appease the most fastidious old wine enthusiasts. The 2002 Skewis Montgomery Vineyard Russian River Valley Pinot Noir still had good color, offered lovely fruit-filled, floral aromas and flavors, and still had plenty of life for several more years of enjoyment.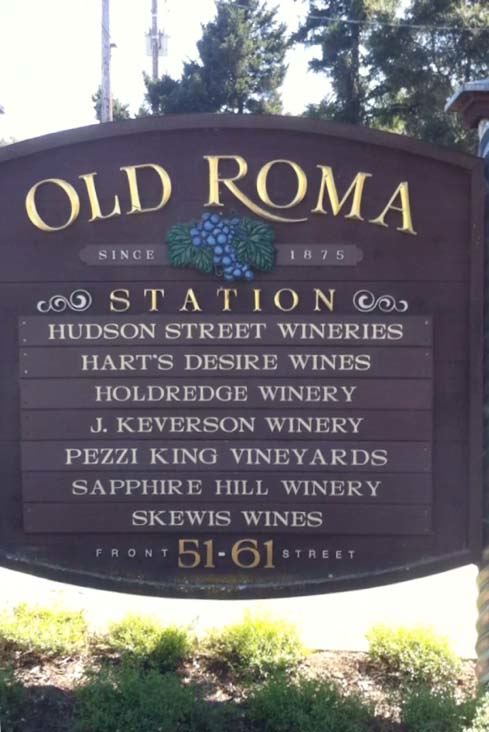 A unique feature of Skewis Wines is that the wines are offered in half-bottle sampler packs. Wines age quicker in this format, giving the taster an opportunity to taste the wines at a relatively mature stage. The wines are sold through the tasting room and a mailing list at www.skewis.com. The tasting room is open Friday - Monday 11:00-4:00 and by appointment. The website offers extensive tasting notes and an informative section on wine and food pairing. A small amount of some of the 2008 vintage wines are still available.
The 2009 vintage wines tasted below continue the theme, as they are all well-crafted, soft in the mouth, and approachable now with the balance to predict long term age ability. The Ridley Vineyard Pinot Noir is the most forward of the trio.
2009 Skewis Lingenfelder Vineyard Russian River Valley Pinot Noir
14.7% alc., 120 cases, $45. 3-acre vineyard west of the town of Fulton planted in 1996 and grafted to UCD 13 (Martini clone). · Moderately intense reddish-purple color in the glass. Very reserved nose offering little fruit and primarily aromas of oak-driven mocha java. Bing cherry fruit is featured with a strong presence of mocha java flavor and herbal oak that fades over time in the glass. Very soft and seductive in the mouth. This wine is very young and currently steeped in oak which will recede over time in the cellar. Patience is advised. Good.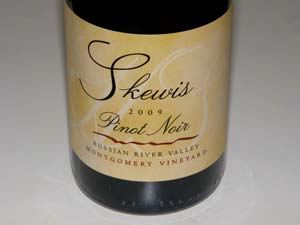 2009 Skewis Montgomery Vineyard Russian River Valley Pinot Noir
14.5% alc., 125 cases, $45. A small, 20(+)-year-old vineyard situated west of Santa Rosa in the Olivet Road area. The clone is undocumented. The area is characterized by poor clay soils and frequent summer fog. · Moderate reddish-purple color in the glass. Nicely perfumed with aromas of dark red berries and cherries, woodshed and spice. Moderately full-bodied core of black cherry flavor with a complimentary hint of oak, dusty tannins, and a dry finish. Although the nose trumps the flavors at this stage, the flavors grow on you over time in the glass. Very good.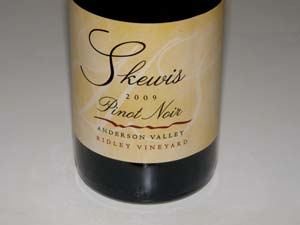 2009 Skewis Ridley Vineyard Anderson Valley Pinot Noir
14.8% alc., 125 cases, $42. 3 acres of clone 777 at a low elevation adjacent Boonville. · Moderate reddish-purple color in the glass. Nose-filling aromas of cherries, strawberries, baking spices and sandalwood. Delicious essence of red cherry and red berry fruits, nicely spiced and framed by sturdy tannins. The purity of the fruit really catches your attention, grabs hold, and clings through the finish which seems to last an eternity. A restrained, elegant wine that is smooth and seductive in the mouth. A winegasm.
Ketcham Estate
Mark Ketcham was a "greenhorn" farmer when he acquired 17 acres off Eastside Road in the upper neck region of the Russian River Valley. Born in Palo Alto, he had a small successful tech company, allowing him to spend two to four months each year over a seventeen year period racing vintage cars in Europe. Mark retired from the tech company in 1998 and began to seek a second home. He looked both at Del Monte Forest in Monterey County and Northern California wine country, and after considering over 120 properties, settled on a Russian River Valley estate that had a moderate size vineyard and a 5,000 square foot ranch house that Mark describes as "ugly and pedestrian." The site, however, was well situated for winegrowing, benefiting from cool mornings and evenings and a marine breeze each afternoon that moderated the heat.
Mark saw potential in the property. The previous owners had been selling their Chardonnay and Pinot Noir crop to Gloria Ferrer Winery for ten years and receiving $1,800 per ton for Chardonnay and $2,300 per ton for Pinot Noir that was cropped at 8 to 10 tons per acre and picked early for sparkling wine. When he assumed ownership of the property in 2000, the vineyard management company assured him that Gloria Ferrer Winery would continue to purchase the grapes despite the absence of a written contract. By August, Mark had not heard from Gloria Ferrer Winery, and when he finally contacted them, he was to discover that they had more estate fruit coming on line and had no further interest in Mark's grapes.
Mark was now panicky. A winegrowing friend in Sonoma told him that the demand for grapes was low and that wineries were not returning his inquiring phone attempts to sell grapes. Undaunted, Mark began calling around and found the wine community very collegial, referring him to others when they had no interest in the grapes. Finally, Kendall-Jackson (specifically La Crema) consented to take the crop. They agreed to pay $1,200 per ton for the Chardonnay and $1,800 per ton for the Pinot Noir, but demanded that he drop a significant amount of the crop. The favorable weather in 2000 allowed an extended hang time, and the grapes were finally harvested in October. For two years, Ketcham Estate grapes went into La Crema's ultra-premium 9-Barrel program.
Mark likes to say his rocky introduction to winegrowing benefited him ("When you close one door, another door opens."). In his search for suitors for his grapes, he made many contacts in the Sonoma County community that would serve him well over the ensuing years.
In 2002, Mark ripped out the 5 acres of planted Chardonnay and most of the vineyard's Pinot Noir, leaving 1.5 acres of relatively old (25 to 30 years) Pommard 4 clone Pinot Noir. He then planted 12 acres of Pinot Noir (Pommard and Dijon 115, 667, 777 and 828) on two rootstocks. His goal was to focus solely on Pinot Noir and produce his own wine from the property.
Together with initial partner Steve Rigisich (an organizer of Pinot Days), the first 50 cases of Ketcham Estate Pinot Noir were produced at Crushpad in 2004. The first real commercial wine appeared in 2005, when Mark's friend, noted winemaker Michael Browne, agreed to vinify the Ketcham Estate Pinot Noir. Browne was to remain in charge for three vintages. With the 2007 vintage, two Ketcham Estate Pinot Noirs were released: a Russian River Valley blend of all clones on the estate vineyard except the "old vine" Pommard combined with a small amount of purchased grapes, and a Ketcham Estate Vineyard Pinot Noir composed of all clones on the property including the "old vine" Pommard. In 2008, Scott Rich (owner and winemaker at Talisman) crafted the 2008 vintage of Ketcham Estate Russian River Valley Pinot Noir and the Ketcham Estate Vineyard Pinot Noir. In 2009 and 2010, Rich continued to make the Russian River Valley bottling and a "famous winemaker on Westside Road," whose name must remain anonymous, vinified the Ketcham Estate Vineyard Pinot Noir.
Mark has sought a style of Pinot Noir that is typical for California with moderate alcohols (14.0%-14.5%), early appeal, but with the balance and structure to age. Although he is not the winemaker, he takes a serious interest in the winemaking process and participates in all the blending decisions. The Ketcham Estate Vineyard Pinot Noir is aged 16 months in 100% new French oak and the Ketcham Estate Russian River Valley Pinot Noir is aged 16 months in 36% new and 30% 1-year-old French oak.
Happy with his life choice, Mark has settled into the life of a farmer in Healdsburg (or "Beverly Healdsburg" as some have called this bucolic community of many well-to-do winegrowers). He grows 26 kinds of heirloom tomatoes, two types of heirloom corn, walnuts, apples, tomatillos and peppers on his property. The original house was torn completely down leaving only the existing fireplace and reconstructed to his taste over three years.
Ketcham Estate Pinot Noirs are sold primarily through a mailing list at www.ketchamestate.com, but are also sold directly through the website store. There is some retail distribution in the United States. Future plans call for a Russian River Valley Chardonnay. Production of Pinot Noir has gradually increased, with 13 barrels of the Ketcham Estate Vineyard Pinot Noir available in 2010. Mark is now the sole owner of the winery.
The 2009 vintage Pinot Noirs reviewed below were bottled in May 2011. The wines were sampled both at Mark's home and the following day from previously opened and re-corked bottles.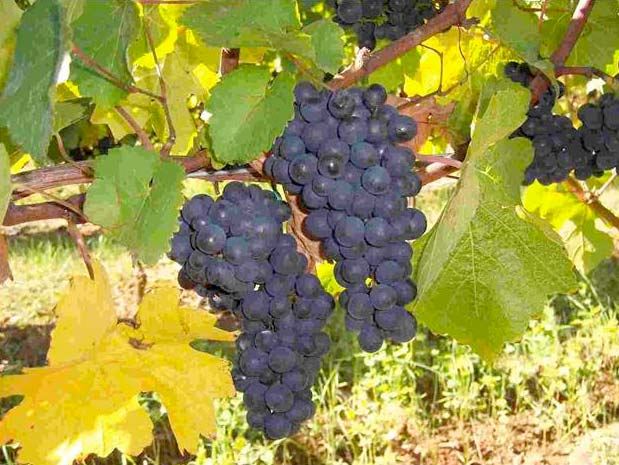 2009 Ketcham Estate Russian River Valley Pinot Noir
14.5% alc., 901 cases, $38. · Moderate reddish-purple color in the glass. Enticing aromas of well-spiced Bing cherries and rose petals. Soft and elegant on the palate, with moderately dense flavors of black cherries, Hoison sauce, and cola, enrobed in fine-grain tannins, leaving a little heat in its wake on the moderately long finish. Good.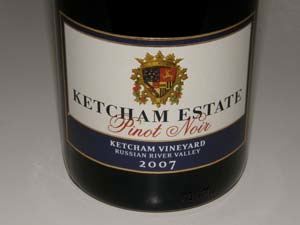 2009 Ketcham Estate Vineyard Russian River Valley Pinot Noir
14.1% alc., 189 cases, $48. Clones are Pommard, 777 and 828. Aged 16 months in 100% new French oak. · A shy nose initially that offers more cherry fruit intensity over time in the glass. Subtle aromas of seasoned oak and underbrush add interest. Impressive mid palate attack with striking black cherry and black raspberry fruit offering impressive persistence on the fruit-filled ending. More structure, tannin and intensity than the Russian River Valley bottling yet a very polished wine that is soft in the mouth. The oak is nicely integrated. Should improve with another year or two in bottle. Very good (+).