More Pinot Surprises
Chanin Wine Company
Gavin Chanin studied under Jim Clendenen at Au Bon Climat and Bob Lindquist at Qupé. He worked his first harvest at the age of eighteen at Au Bon Climat, and three years later made his first wine. After acquiring winemaking experience in New Zealand and South Africa, he started Chanin Wine Company, crafting wines in the same facility in Santa Maria that houses Au Bon Climat and Qupé, and, also working as the assistant winemaker for both labels.
Chanin wines reflect the influence of Gavin's uncle, Tony Chanin, as well as Jim Clendenen. Tony Chanin was one of the original founders of Zaca Mesa Winery in 1978 and Gavin grew up tasting the classic wines of Europe drawn from his uncle's extensive wine cellar. As a result, he looks to the more classic style of Pinot Noir in his own style. Grapes are pick relatively early to limit the alcohol and preserve the expression of terroir, and the resulting wines emphasize elegance and restraint.
Gavin graduated Phi Beta Kappa in 2009 from University of California Los Angeles with a major in art, and his artistic talents are on display on the Chanin labels which are impressive works of art.
Chanin Wine Company offerings are available through a mailing list with some retail distribution. Visit the website at www.chaninwine.com. A Pinot Noir and Chardonnay from Le Bon Climat Vineyard is also offered.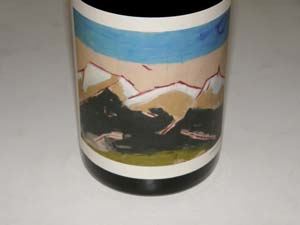 2009 Chanin Wine Company Los Alamos Vineyard Santa Barbara County Chardonnay
13.4% alc., 150 cases, $30. · Light straw color and clear in the glass. Fresh and vivid aromas of apples, baked pear, sawdust and fresh brioche. Bright, crisp and juicy flavors sing the same tune ending with a lively and refreshing citrus-imbued finish. The wine keeps pumping out charm over time in the glass. An excellent food wine that is all you can ask for in a California Chardonnay. I ran out and bought a half case.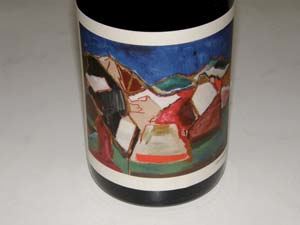 2008 Chanin Wine Company Bien Nacido Vineyard Santa Maria Valley Pinot Noir
12.9% alc., 200 cases,, $50. · Moderate reddish-purple color in the glass. Aromatically intense with well oaked, crushed cherry perfume. Lighter in weight and red fruited with supportive oak in the background. Simple and straightforward with soft tannins and a lingering cherry-driven finish. A wine for those that embrace oak and prefer delicacy and restraint. Good (+).
Castello di Amorosa
This winery offers surprisingly stellar Pinot Noir from a highly commercial, well-known tourist destination in the Napa Valley. Castello di Amorosa specializes in Super Tuscan blends, Cabernet Sauvignon, Pinot Nero (Italian for Pinot Noir), and other Italian style wines using red grapes grown in the Napa Valley adjacent the winery. Pinot Noir is sourced from the Santa Lucia Highlands, Sonoma Coast and Anderson Valley, and white grapes are grown in Napa Carneros and the Anderson Valley.
The spectacular Tuscan-style Castle and Winery in the hills above Napa Valley is owned by Dario Sattui, a fourth generation winemaker. The medieval inspired castle dates to the 13th century in architecture and offers imposing towers. Wine Club events, food and wine pairings, weddings and private promotional events are held in the Castle. Various tastings are available daily, tours are offered mornings on weekdays, and horse drawn vineyard tours are available.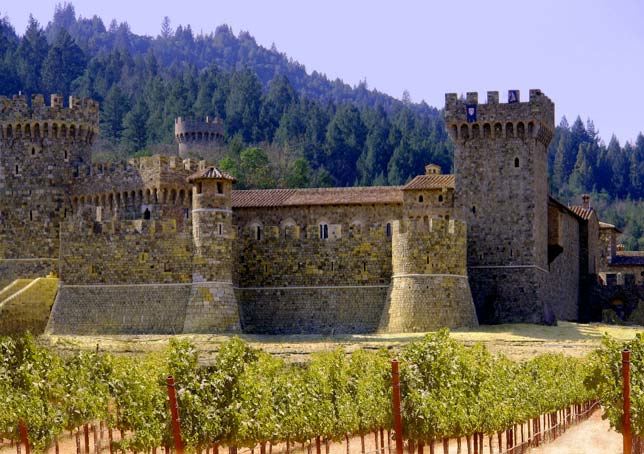 The Director of Winemaking (for both V. Sattui Winery and Castello di Amorosa) since 2005 is veteran Brooks Painter who is also a partner and winemaker for Coho, an excellent source of Russian River Valley and Los Carneros Pinot Noir. In the past, he has been the Winemaking Operations Manager at Robert Mondavi Winery in Oakville and Assistant Winemaker/Grower Relations Manager and Quality Control Manager at Stag's Leap Wine Cellars. His writings have been published in many prestigious wine journals.
The Castello di Amorosa Pinot Neros are bold expressions of Pinot Noir that are very well crafted, showing the structure and balance to last in the cellar. The wines are sold online at www.castellodiamorosa.com and at the Castle and Winery.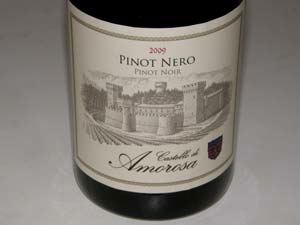 2009 Castello di Amorosa Pinot Nero
14.6% alc., $36. 65% Anderson Valley grapes and 35% Santa Lucia Highlands grapes. · Moderate reddish-purple color in the glass. Open and forward aromas of black cherries and humus. Tasty essence of black cherries with hints of praline and cola. Plenty of upfront charm with well proportioned, sturdy tannins and bright acidity on the uplifting finish. Solid the next day from a previously opened and re-corked bottle. Very good.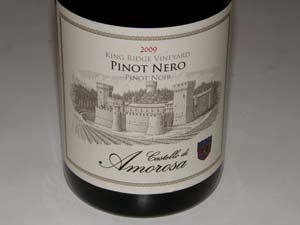 2009 Castello di Amorosa King Ridge Vineyard Sonoma Coast Pinot Nero
14.3% alc., $59. · Moderately dark reddish-purple color in the glass. Slight reduction upon opening, revealing aromas of black cherries, charcoal and oak over time. Lovely black raspberry and black cherry fruit with an earthy, loamy underpinning. A medium-weighted, richly flavored wine with serious intentions that still has some grippy tannins and toasty oak on board. Spectacular the next day from a previously opened and re-corked bottle. A superb candidate for the cellar.