Good Pinot for a Ten Spot?

It is a common saying in the wine community that good, cheap Pinot Noir is an oxymoron. I would agree in most instances, but the two wines below, priced at about ten bucks, are surprisingly good and cheap. In the one instance, Hahn Family Wines, has very large vineyard holdings (nearly 1,200 acres) to draw from, and in the other case, The Pinot Project, the producers are able to obtain some really good juice in the bulk marketplace.
The Pinot Project is a negociant bottling from Michael Skurnik Wines, a New York based importer and distributor of estate bottled wines from around the world. The excellence of The Pinot Project is a reflection of the soft economy which has made quality grapes and juice available at low prices. The vineyard and or winery sources are not disclosed. The inaugural vintage was 2009. The wines are in wide retail distribution. The label won't win any awards for style and class, but the wine inside is what is important.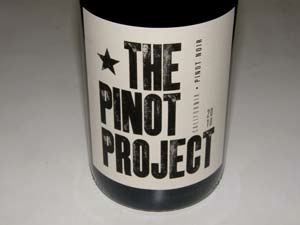 2010 The Pinot Project California Pinot Noir
13.5% alc., $9.99. · Moderately deep reddish-purple color in the glass. Complex and pleasant nose offering scents of black cherries, cut flowers, spice and Herbs de Provence. The flavors echo the nose with added notes of cranberries, Hoison sauce and a touch of citrus on the finish. Well-structured with appealing acidity. A solid wine intended for early and daily drinking. Good (+).
Hahn Winery is under the umbrella of Hahn Family Wines and is located on the Monterey Coast in the Santa Lucia Highlands. Grapes are sourced from estate and non-winery owned vineyards in the Santa Lucia Highlands and Arroyo Seco appellations of Monterey County. The winery did not have a single Pinot Noir vine in 2000, but is now a leading producer of Pinot Noir under the Hahn Winery, Hahn SLH, Lucienne and Cycles Gladiator labels. The wine below is widely distributed and available on the winery's website at www.hahnfamilywines.com. Hahn's vineyard holdings are shown on the map below.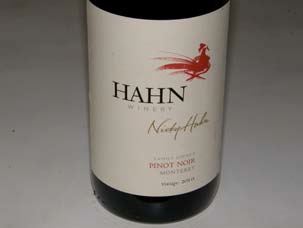 2010 Hahn Winery Monterey Pinot Noir
14.5% alc., pH 3.71, TA 0.58, $7.99 (full retail is $12). · Moderate reddish-purple color in the glass. Very enticing aromas of crushed black raspberries, black cherries, cardamom and Asian 5-spice, smoky oak, and a floral riff. Delicious sweet black cherry flavor with a hint of oak-derived flavors of vanilla and smoke in the background. Light in weight showing good finesse and a striking cherry-soaked finish. My wife is a cherry freak and loved this wine. The wine was still solid the next day from a previously opened and re-corked bottle. Amazing wine for this price. Imagine, a case for less than a C-note. Very good.