Pinot Briefs —Newsletter 8.45

Richard Sanford in Vintners Hall of Fame Richard Sanford has been named to the Culinary Institute of America (CIA) 2012 Vintners Hall of Fame along with six other inductees (Peter Mondavi Sr. of Charles Krug Winery, Professor Albert Winkler of UC Davis, Joe Heitz of Heitz Cellars, former Beringer winemaker Myron Nightingale, Mendocino County winemaker John Parducci, and one of the fathers of modern soil science, Dr. Eugene Hilgard). Sanford planted the Sanford & Benedict Vineyard in what is now known as the Santa Rita Hills in 1970, one of the first to see the potential of the region for Pinot Noir and Chardonnay. Along with his wife, Thekla, he founded Sanford Winery in the Sta. Rita Hills AVA in 1981, beginning a long history of premium wine production. A few years ago, Richard lost his namesake winery to his business partners, but retained ownership of the El Jabali Vineyard adjacent the tasting room, assumed a lease on the La Encantada Vineyard he had originally started, and began a new venture, Alma Rosa Vineyards & Winery. Richard has been a tireless supporter of wine events over the years, patiently answering questions with polite aplomb and enthusiasm. The official induction of the CIA honorees will take place February 20, 2012, at the CIA at Greystone, in St. Helena.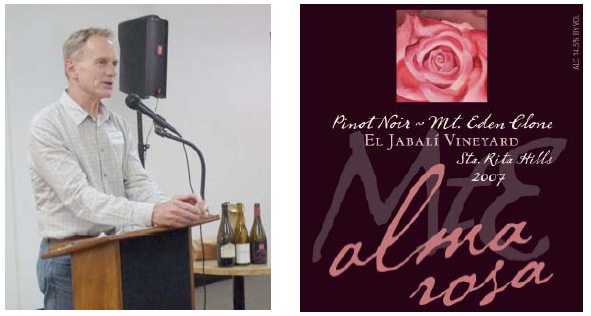 New Winemaker for Bien Nacido and Solomon Hills Brands The Miller Family, who own Bien Nacido, Solomon Hills and French Camp Vineyards, have named Trey Fletcher as winemaker for their two new labels. Before joining Miller family brands, Fletcher worked in the Napa Valley and Argentina, became the Assistant Winemaker at Domaine Alfred, and most recently, was the Assistant Winemaker at Littorai. This was a smart hiring, as Trey is a very talented winemaker who brings youth and enthusiasm as well as invaluable experience at Littorai to the Miller family brands program. Agronomist Pat Williams was also added to Miller Family's team.
Charge Your Car While Tasting Wine Inman Family Winery is the first Sonoma County winery to have a privately owned, solar-powered electric vehicle (EV) charging station for the public. The system was installed at the winery's tasting room at Olivet Grange Vineyard at 3900 Piner Road in Santa Rosa. Owners Kathleen and Simon Inman have embraced solar and sustainable practices at the winery. The solar panels, inverters and connections placed on the roof of the new winery, which was designed with the same roofline of the 19th century barn that it replaced, were placed in a 160-degree azimuth look angle to the sun which is close to the optimal 180-degree angle. Another bit of news from Inman Family Wines is the release of their first sparkling wine, the 2009 Inman Family OGV Brut Rosè Nature Endless Crush, what Kathleen calls, "The most delicious wine I have ever made." Commemorating her 25th wedding anniversary, the wine was vinified at Rack & Riddle in Hopland to make use of their specialized equipment for sparkling wines. 138 cases of the wine ($52 with discounts for multiple bottle purchases) were disgorged October 11, 2011. Visit www.inmanfamilywines.com.
Latest Statistics from Wine Institute & US Gov As of 2010, there were 3,364 bonded wineries in California and 7,626 bonded wineries in the United States. California wine grape acreage totaled 476,377 (reported bearing and non bearing) and 535,000 estimated total when unreported acres are included. California Pinot Noir acreage was 37,290 acres in 2010. Oregon Pinot Noir acreage, in comparison, was 12,265 acres, or 60.4 percent of the state's 20,300 acres of wine grapes. The full Grape Acreage Report for 2010 is available at www.nasss.usda.gov.
Vinosum Vinosum is a valuable resource for those seeking to geo-tag single vineyard wines. Data is personally researched and hand entered for California wines and the single vineyards from which they originate. Wine Advocate scores for single vineyard wines are in the geocatalog as well as soil types, varieties planted and average bottle price. A tremendous amount of work went into this site, yet it is currently offered free of charge.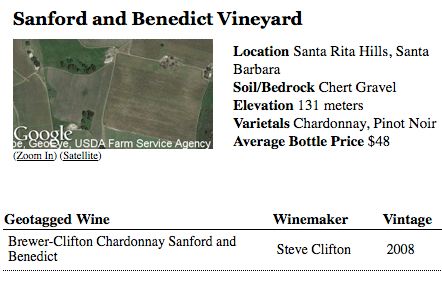 Noted Bay Area Wine Critic Robert Finigan I never had the opportunity to meet Robert Finigan who shared his birth year with me (1943). He toiled in relative obscurity compared to Robert Parker, Jr., but was nevertheless a significant early contributor to wine reviewing. He began publishing Robert Finigan's Private Guide to Wines in 1972, and according to his obituary in the Los Angeles Times (October 20, 2011), was an early champion of offering "bracingly honest evaluations of fine European and emerging California wines." Matt Kramer said, "He was arguably the first hard-core critic who clearly took the gloves off and he was the first great consumer advocate for wine lovers." He was known to be a very good taster of Pinot Noir and Burgundy. He later began reviewing restaurants and started publishing Robert Finigan's Private Guide to Restaurants, and became an influential restaurant critic in the San Francisco Bay Area. He used a simple rating system for wines: Outstanding, Above Average, Average, or Below Average, arriving at his ratings by purchasing wines in retail stores and evaluating them blind. Finigan stopped publication of his newsletter in 1990.
Treasure Island Wines Jim Mirowski started Treasure Island Wines in 2007, creating a 10,000-squarefoot urban winery (Winery SF) on San Francisco Bay's diminutive Treasure Island which is less than one square mile in size. The Winery SF is an events venue offering holiday parties, weddings, private tastings and wine-themed events (www.winery-sf). The winery is in a former aircraft hangar where Steven Spielberg filmed "Indiana Jones and the Last Crusade." The hanger and event space is also home to a separate enterprise run by winemaker Bryan Kane who crafts wine under several labels including Vie Winery, Sol Rouge Vineyard & Winery, and Winery SF. For more information and to view a listing of events, visit www.winery-sf. In a separate building on the island, winemaker Patrick Bowen produces red wines with no added sulfites under the Fat Grape label. Another winery on the island is Bottega Wine Estates which hosts multiple producers and offers a cooperative tasting room, offering a tasting of a diverse range of wines for $5. A fifth separate winery facility will open soon, Kendric Vineyards, where owner Stewart Johnson plans to open a tasting room and crush there next Fall. All the wineries are separate entities that occupy different buildings scattered around the island. The ultimate goal is to turn Treasure Island into a wine tasting destination of San Francisco Bay wine enthusiasts.
Preservation Ranch Future Threatened The California Public Employees' Retirement System (CalPERS) has withdrawn its ties with the vineyard management firm, Premier Pacific Vineyards (PPV). PPV was planning Preservation Ranch, a 1,769-acre conversion of forest land to vineyards on 20,000 acres in Annapolis on the Sonoma coast. CalPERS has a majority investment in Preservation Ranch. The project has caused a national stir because of widespread opposition from environmentalists including the Sierra Club's Redwood Chapter. An environmental impact report will be out at the end of 2011. Wine Industry Insight reported that Premier Pacific Vineyards 130+ employees (tractor drivers to executives) were left in limbo, all of them fearing their jobs would be gone by January 1, 2012.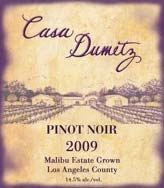 Casa Dumetz Actor, writer and producer Emilio Estevez started Casa Dumetz in Malibu in 2004, planting a 1-acre Pinot Noir vineyard. The first crop in 2008 made about 50 cases of wine. Estevez's fiancee, Sonja Magdevksi, is the winemaker. The Malibu Estate Grown Los Angeles County Pinot Noir is 80% Pinot Noir and 20% Grenache. Understandably, the wine sells out quickly. In addition, the winery produces Viognier, Syrah, Grenache and a Sparkling Syrah Rosè from Tierra Alta Vineyard in the Santa Ynez Valley (all priced under $30). The website is www.casadumetz.com. Estevez wrote and directed a new film, "The Way," starring his father, Martin Sheen. The film is about a wine and food fueled journey along the Camino de Santiago (Way of St. James) in Spain. Highly recommended viewing.
Contemporary Fine Art Wine-Themed Murals on Stone Tile Beyond Wow offers fine art murals on stone marble including the whimsical wine art of Frenchman Gèrard Puvis. Perfect for wine cellars, dining rooms and patios. Visit www.beyondwowtileart.com.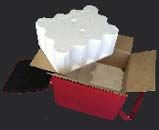 Take Your Wine On Flight The Wine Check is a lightweight piece of baggage that holds a case of wine, insulated and protected by a foam insert. The Wine Check has wheels making it easy to transport to and from the airport. FAA approved, the package allows you to stay under the 50 pound airline weight limit for luggage. The Wine Check is collapsible and reusable. Cost is $59 with the foam insert. Visit www.thewinecheck.com.
Australian Pinot Noir Vintner Wins Nobel Prize Three astrophysicists, including Brian Schmidt of Australian National University, were awarded a Nobel Prize for their revolutionary work that demonstrated that the universe is accelerating rather than slowing down as Albert Einstein had theorized. Schmidt owns a property in Canberra where he planted 2.5 acres of Pinot Noir in 2000 and produces wines that are attracting attention. The region is not known for Pinot Noir, but Schmidt's goal is to craft a Pinot Noir that makes the region proud. Last year, James Halliday gave Schmidt's label, Maipenraim, four-star status, and local wine critics have been generous in their praise for his 2008 Pinot Noir. His wines are sealed with Vino-Lok glass stoppers.
New Willamette Valley Mobile Wine Tour Willamette Valley Mobile Wine Tour makes it easy to explore wine country, giving you information on over 180 wineries. You can search for nearby wineries and get turn-by-turn directions instantly. Scan the QR code at www.willamettewinemap.com to take you directly to the Mobile Wine Tour.
Wine Historian Lecture by John Winthrop Haeger On Tuesday, November 15, 2011, noted author and wine historian, John Winthrop Haeger, will present a conversation, "Solving Mysteries: Evidence in Wine History," at 7:30 P.M. in 222 T.J. Day Hall at Linfield College, where he has previously taught. The program is free and open to the public. For information, call 503-883-2498.
Heart of Healdsburg Celebration Hotel Healdsburg and Charlie Palmer's Dry Creek Kitchen are hosting the Heart of Healdsburg Celebration November 11-13 in honor of the hotel's and restaurant's 10-year anniversary. Chefs Charlie Palmer and Dustin Valette will kick off the weekend Friday night with a Gala Dinner at Dry Creek Kitchen. The menu will be paired with ten wines from noted Sonoma County wineries including J, Ramey, Martinelli, Rochioli, Williams Selyem, Rafanelli and Rodney Strong. Special wine and culinary experiences will follow that weekend including Farmers' Market Tour and Cooking Demonstration, Quivera Winery and Vineyards Winemaker for a Day, Williams Selyem Winery Barrel Tasting, and Mauritson Winery Excursion. For information and Weekend Packages visit www.hotelhealdsburg/heart-of-headsburg/
J Vineyards & Winery new Sparkling Clear Bottle J has always led the way with stylish marketing and the new stunning package for their Brut Rosè continues the trend. A sexy new makeover has resulted in a sleek clear bottle displaying the wine's seductive color. The grapes for the Brut Rosè are hand-harvested into small quarter ton bins and placed as whole clusters, without de-stemming, into a special Coquard press for a gentle pressing cycle in the traditional saignèe method. Retail is $28. Visit www.jwine.com.

San Luis Obispo Vintners Association Harvest Celebration Weekend The 21st Rockin' Harvest Celebration will be held November 4-6, 2011. The Grand Tasting and Auction will take place on Saturday, November 5, at the Avila Beach Golf Resort with over 60 wineries and restaurants from the San Luis Obispo region featured. Many other events are planned all weekend such as the Sinor-LaVallee Winemaker Dinner with Mike Sinor at Et Voila Restaurant in San Luis Obispo. A four course meal will be paired with a selection of Mike's library wines ($85 pp, cheri@sinorlavellee.com). For more information and tickets, visit www.slowine.com.
Alder Yarrow Teams With Jancis Robinson JancisRobinson.com has a very large following in the United States and as a result, has decided to recruit noted wine blogger, Alder Yarrow, to add an American presence on her website. Yarrow founded Vinography.com in 2004 and has garnered more awards than any other wine blogger. He will write a provocative monthly column, titled Alder on America, focusing on what is currently preoccupying American wine enthusiasts. His first article, published October 19, was a consideration of the effects of Robert Parker's ceding coverage of California wine to his heir-apparent Antonio Galloni. Alder's column will be available to Purple pages subscribers only at www.JancisRobinson.com.
Sunset Magazine Western Wine Awards Sunset magazine editors, celebrity guests, and winemakers gathered at the Sunset Western Wine Awards Gala in Pismo Beach as part of the Sunset Savor the Central Coast food and wine event. More than 500 nominated wines were tasted before narrowing the field to 32 finalists. Steal of the Year Award ($15 and under): Gruet Nonvintage Blanc de Noirs, New Mexico, $15. Connoisseur Award went to 2009 St. Innocent Zenith Vineyard Eola-Amity Hills Pinot Noir. Winemaker of the Year was presented to Isabelle Meunier of Evening Land Vineyards in Oregon.
Low Alcohol Wines a Hit in UK Low (up to 5.5% abv) and no-alcohol wines are growing in popularity in the UK and approaching 1 million cases in sales. The sector has appeal because consumers are looking for lower-alcohol alternatives to their regular wine and the low-alcohol wines offer lower prices than full strength wines.
Alcohol Associated with Better Survival after Heart Attack Women who drank anywhere from a few alcoholic drinks a month to more than three a week in the year leading up to a heart attack ended up living longer than women who never drank alcohol, according to a recent study published in the American Journal of Cardiology. The study indicated a 35 percent lower chance of dying during the follow up period for women who drank compared to those who didn't. There were no differences observed between the different drink types suggesting it is the alcohol itself that is beneficial. Other studies have found that people who continued to drink moderately after having a heart attack had better health than those who abstained.
GM Grape Vines An Australian scientist in Adelaide has developed genetically modified grape vines that are resistant to mildew. The research scientist, Ian Dry, says the vines have not been tested in the field because Australia's wine industry, and Europe where a large portion of Australian wine is exported, are not supportive of GM technology. Dry said that he was able to identify two genes from North American grape vines that confer resistance to downy and powdery mildew and then transfer those into a number of wine grape cultivars, including Shiraz, creating transgenic vines.
NW Wine Company Opens in Dundee The huge 44,000-square-foot, 500,000-gallon-capacity facility is owned by winemaker Laurent Montalieu and his wife, Danielle Andrus Montalieu in partnership with investor John Niemeyer and his son-in-law Jeff Meader. Plans are in place to process 2,000 tons of grapes during the 2011 harvest, making the facility number two in Oregon wine production behind King Estate. Approximately 30 brands including the new Hyland Estates label will be produced at the new winery along with several lots vinified separately for custom crush clients. Hyland Estates wines will be featured at a tasting room adjacent the winery housed in a former private home.
Brooks Wines Celebrates 10-Year Anniversary To commemorate the ten-year anniversary of Brooks Wines and honor the life of founder, Jimi Brooks, the 2008 Brooks Red-Letter Day Pinot Noir will be released. Although its founder is deceased, Brooks Wines continues to produce award winning Pinot Noir and Riesling through a strong commitment to organic and biodynamic farming, a gentle approach to winemaking and a celebratory approach to both winemaking and life. The 2008 Brooks Red-Letter Pinot noir is priced at $75 and only 200 cases were produced at Brooks' new winery in the heart of the Eola-Amity Hills of the Willamette Valley. The fruit is from WillaKenzie, Momtazi and Brooks Estate Vineyards. To obtain the wine or for more information, visit www.brookswine.com.
Pinot Days Chicago Pinot Days returns to the Navy Pier in Chicago for its fifth year on November 12, 2011, showcasing over 70 winemakers and over 300 Pinot Noirs from California, Oregon and New Zealand. For more information and to purchase tickets, visit www.pinotdays.com. Use my code, PINOTFILECH11 for a 10% discount.
Drink Leucadia Red on Veteran's Day Leucadia Red is a boutique wine company founded in the coastal community of Leucadia, combining Sonoma County wines, the surreal artwork of local artist Jami Goddess, and a note of positive, spiritual inspiration on its wine labels. According to Leucadia Red founder Dave Archinal, Leucadia Red is donating a portion of profits from the sale of it's 2008 Red Blend Bordeaux-style California wine named "The General" to organizations like The Wounded Warrior Project. The winery also offers a Sonoma County Pinot Noir and a Russian River Valley Pinot Noir. Visit www.leucadiared.com for more information.