2011 California Value Priced Pinot Noir All-Americans

Wines that received both my highest accolade (Pinot Geek icon) and were $35 or less (Value icon) are indicated by • and listed first.
• 2010 Ellipsis Wine Co Russian River Valley Rosé $15
• 2010 La Rochelle Santa Lucia Highlands Rosé $22
• 2009 La Crema Monterey $24
• 2008 Briceland Vineyards Phelps Vineyard Humboldt County $27
• 2009 Briceland Vineyards Elk Prarie Vineyard Humboldt County $27
• 2007 Sheldon Marin County $28
• 2010 Inman Family OGV "Endless Crush" Russian River Valley Rosé $30
• 2009 Waxwing Sonoma Coast $30
• 2009 Saracina Klindt Vineyard Anderson Valley $30
• 2007 Mahoney Vineyards Mahoney Ranch Vineyard Carneros $32
• 2007 Scherrer Russian River Valley $32
• 2008 Calera de Villiers Vineyard $35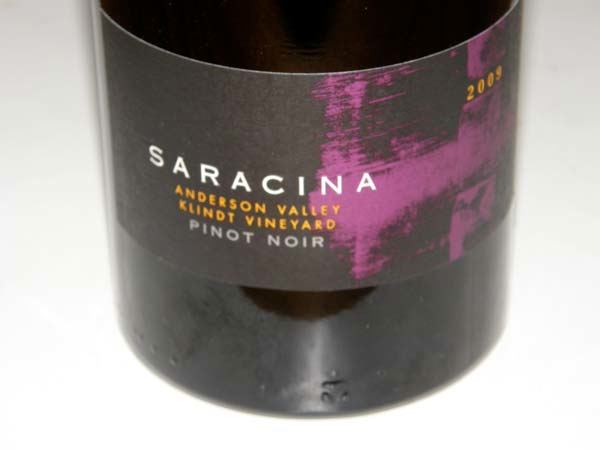 Many of the following wines are widely distributed in wine retail and supermarket stores and most are currently available. They are often discounted below the listed prices. Pinot Noirs priced at $60 and more have been decried as the "dead zone" because the poor economy in recent years has made it difficult to sell wines in this price category. The wines below, however, can be considered to be in the "fun zone," and scoring these wines can make you feel good about skirting a punishing economy.
2009 Redtree California $5.99
2009 Mark West California $8.50
2009 Castle Rock Mendocino $10
2010 The Pinot Project California $10
2009 Jargon California $10
2010 Hahn Winery Monterey $12
2009 Carmenet Vintner's Collection Reserve $12
2009 It's A Headsnapper $13
2009 The Other Guys Moobuzz Monterey $15
2008 Ventana Arroyo Seco $16.50
2009 Fleur de California Carneros $17
2009 Kendall-Jackson Vintner's Reserve $18
2009 Mary Elke Anderson Valley $18
2009 Au Bon Climat Santa Barbara County $19
2009 Patianna Organic Vineyards Mendocino $20
2008 Carmel Road Monterey $20
2009 Carmel Road Monterey $20
2007 Mahoney Vineyards Carneros $22
2007 Steele Santa Barbara County $22
2009 Calera Central Coast $24
2009 Balletto Russian River Valley $24
2009 Alta Maria Santa Maria Valley $24
2009 Thomas Fogarty Santa Cruz Mountains $24
2008 Willowbrook Sonoma County $24
2009 Laetitia Estate Arroyo Grande $25
2009 Nuggucciet Cellars Santa Maria Valley $25
2009 Byron Santa Maria Valley $25
2009 The Bohan-Dillon Hirsch Vineyard Sonoma Coast $26
2009 Cartha Sonoma Coast $26
2009 Lutea Los Carneros $26
2008 Briceland Vineyards Elk Prarie Vineyard $27
2009 Straight Line Anderson Valley $28
2007 Selby Russian River Valley $28
2008 Montage Vineyards Flocchini Vineyard Sonoma Coast $28
2008 Pellegrini Family Vineyards Olivet Lane $28
2008 Sinor-La Valle San Luis Obispo County $29
2009 Pali Wine Co Summit Central Coast $29
2009 Windsor Sonoma Russian River Valley $30
2009 Siduri Russian River Valley $30
2009 Siduri Santa Lucia Highlands $30
2009 Siduri Sonoma Coast $30
2009 Jus Soli Bennett Valley $30
2007 Macrae Family Vineyards Bacigalupi Vineyard $30
2007 Mahoney Vineyards Las Brisas Vineyard Carneros $32
2007 Kendric Marin County $34
2008 Bonneau Sangiacomo Vineyards Los Carneros $34
2009 Bonneau Sangiacomo Vineyards Sonoma Coast $35
2008 Kendric Marin County $35
2009 Fogdog Sonoma Coast $35
2009 Carmel Road Arroyo Seco Clark Ranch $35
2008 Trecini Vincini Vineyard Russian River Valley $35