Pinot Briefs —Newsletter 8.47
No Sulfites in "Organic Wine" The United States National Organic Standards Board recently passed a ruling that prohibits sulfites from being added to "organic wine." A subcommittee had previously advised to allow inclusion of sulfites in "organic wine." "Biodynamic wines" are unaffected by the ruling and can contain sulfites. The decision on "organic wines" falls in line with other foods that display the preservative-free USDA organic seal.
Czar Foods Pinot Noir Sauces Jack and Stefan Czarnecki, chefs at the Joel Palmer House Restaurant in the Willamette Valley, have released four new Pinot Noir sauces made from fruit from Resonance Vineyard. The sauces include The Czar's Pinot-Pepper Sauce, The Czar's Pinot-Chipotle Sauce, The Czar's Pinot-Habanero Sauce, and The Czar's Pinot Szechuan Sauce. Contact Michael Alberty at www.StoretellerWine.com located in Portland, Oregon for more information and to buy ($7.95 a bottle).
Winemaking and Surgery I am a retired eye surgeon and the comparison of winemaking to surgery in Dutton-Goldfield Winery's latest newsletter caught my interest. Winemaker Dan Goldfield's spouse is a surgeon and Dan himself originally started out to be a doctor. He points out a few similarities and differences between the two crafts. Why being a winemaker is like a surgeon: (1) The best craftspeople know when to wait, or do nothing, (2) A clean and organized workplace gives a superior outcome, (3) Sometimes our mistakes smell bad, (4) People who love to talk about their last 100 experiences with our professions bore us, (5) One long night at a crucial time can avoid endless unsuccessful efforts later, (6) It's about the customer, not the provider, and (7) One person gets all the credit, though it takes many who care to do the work. Ways in which winemaking is different: (1) Nobody dies when a winemaker screws up, (2) Winemakers don't get paid if they screw up, (3) Wine is a great barter product but few want to trade for surgery, (4) There are far more home winemakers than home surgeons, and (5) Harvest only lasts a month or two. Dutton-Goldfield Winery is located in Sebastopol and produces an outstanding range of wines including Pinot Noir, Syrah, Zinfandel, Chardonnay and Pinot Blanc. Visit the website at www.duttongoldfield.com.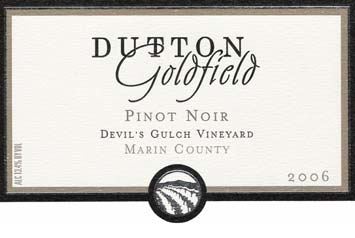 Mobile App to Assist Wine Shoppers The Northern California retail chain of 124 supermarkets known as Raley's Family of Fine Stores is offering shoppers a free mobile app for iPhone and Android devices that assists shoppers in choosing wine from the bewildering number of offerings in a market's wine aisles. Created by Hello Vino, Inc., the mobile app will direct shoppers to the proper wine from the supermarket's inventory that matches personal taste preferences, price point, and suitability for certain foods. For more information, visit www.HelloVino.com.
Vancouver Microbiologist Aims at Making Wine Healthier The story of Hennie van Vuuren's research is profiled in Macleans.ca by Ken MacQueen (November 17, 2011). At the Wine Research Center at the University of British Columbia, Vuuren has invested seven years of research to create a GMO malolactic yeast (ML01) that eliminates the biomine allergens in finished wines that cause headaches. Vuuren himself is a wine lover and suffers from wine-induced headaches. The commercially available yeast is approved for use by Canadian and American authorities. Vuuren and his fellow researchers have also developed a group of yeasts that almost eliminate ethyl carbamate, a suspected carcinogen found in trace levels in wine, distilled alcoholic beverages, and bread. 80 wineries in the United States tried the yeast last year and found no differences in quality between wines made with and without the new yeast. Vuuren is also researching a yeast to reduce high levels of alcohol. Stay tuned. Visit www.macleans.ca/.
Study Suggests Beer as Good as Wine for Health Italian researchers reported in the European Journal of Epidemiology that a moderate daily intake of beer (about a pint a day) cuts the risk of heart disease by 31 percent. The researchers also found that beer was as good as wine for heart health. The results are not surprising since a pint of beer and a glass of red wine contain about the same percentage of alcohol, and most studies in this field have found alcohol to be the ingredient in both beverages most responsible for reduction in heart disease. The authors caution that excessive beer or wine intake leads to a loss of the advantage that moderate alcohol consumption confers, greatly increasing the risk of heart disease.
107-year-old Australian Woman Believes in Red Wine and Chocolate The Herald Sun reported that a 107-year-old woman recently celebrated another birthday and attributes her longevity to red wine, chocolate, fresh air, sunlight and a good cup of tea. No word about how much red wine she drinks, but it is well known that moderate amounts of wine in the elderly can have multiple health benefits including the preservation of cognitive function as well as promoting longevity.
Electronic Nose The Swiss government's federal research station at Wädenswil has announced that their electronic nose, termed SMart Nose, is, well, smart, and threatens to replace human noses that currently do much of the work in the food industry. As reported at www.genevalunch.com (November 15, 2011), "In theory, verifying the technical aspects of a fine bottle of Pinot Noir and quantifying these, as well as being able to describe the nose, could be done by a machine." At first glance this may threaten the livelihood of wine writers, but the machine cannot give a subjective impression or a score, at least not yet.
More Clarification on Chalone Vineyard Clones In the last issue of the PinotFile, I wrote about the presumed source of some clones planted at Calera, quoting John Haeger who said in North American Pinot Noir, "There are persistent rumors that budwood brought at various times from France found a home at Chalone. In some versions, the home was permanent and MacWood Vineyard is said to be planted to a suitcase clone. In other versions, Chalone was only a way station for the imported budwood, which was subsequently transported to other California vineyards. At this point, none of these stories can be confirmed with certainty." In the book, "Heartbreak Grape," Marq De Villiers, who knew Josh Jensen intimately, states, "Everyone cheerfully believes the rumors that Jensen's Pinot Noir stock came directly from DRC itself, bypassing Customs...Or, if not directly, via Chalone. Or possibly Chalone got its cuttings from Jensen, who got them, somehow, from DRC....which he propagated on a patch of Chalone vineyard when he got to California. Jensen's "suitcase" clones have become legend in California and have subsequently mutated into the 'Calera clone' in the minds of the state's high-end pinot growers." Dan Karlsen, the General Manager and Winemaker at Talbott Vineyards, held the same position at Chalone from 1997 to 2006 contacted me recently to clarify. He said Dick Graff's brother told him that the Pinot Noir clone from Chalone was Martini, probably obtained from Wente in the late 1940s. He believes there were no suitcase clones at Chalone. Karlsen was at Chalone when the original 1946 plantings were pulled out and he supervised all the Pinot Noir replanting at Chalone which is 100% Dijon clones. Karlsen points out that it is true that Chalone "harbored" some plant material for various wineries through the years, but it was all in very small patches which were never sold, never expanded into production blocks at Chalone, and now are long gone. His observation is that the Martini/Beaulieu/ Chalone clones are very similar plant material to that he has seen in Carneros, the Russian River Valley, Chalone and the Santa Lucia Highlands. Where did this original material come from? Probably Burgundy and was selected for higher vigor and crop production and its ability to make great wine in great sites.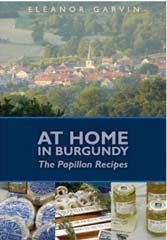 At Home in Burgundy: The Papillon Recipes Eleanor Garvin is a professional chef who has published a selection of over 100 of her most popular recipes she collected while living in France for 25 years. She has worked with Papillon cruises (along with her husband, Denis Sherman, they bought an antique barge "Le Papillon" in 1988 and began offering catered cruises of Burgundy's canals) and other tours and collaborated with Elden Wine. Her home is in Burgundy and the inventive recipes reflect the abundance of indigenous ingredients available there and the author's extensive background in Burgundy's culinary world. Early reviews on Amazon are 5-star. $19.95 (paperback). For additional information on estate bottled Burgundy wine visit www.eldenwine.com, and news about upcoming cruises visit www.papillionselect.com.
Lompoc Wine Ghetto Website I recently discovered this website (www.lompocghetto.com) and can recommend it to you for guidance in your tasting trips to the Sta. Rita Hills region. With the recent addition of Arcadian, Joseph Blair Wines and Stolpman, there are now 16 tasting rooms in the Lompoc Wine Ghetto. Evening Land Vineyards is moving its tasting room to a new, larger location. Notable Pinot Noir winery tasting rooms besides Arcadian in the Ghetto include Ampelos Cellars, Fiddlehead Cellars, Flying Goat Cellars, La Vie Vineyards, Longoria Wines, Loring Wine Company, Samsara and Zotovich Cellars. A number of articles in the news about the Lompoc Wine Ghetto are posted on the website. One of the tasting room, Taste of Sta. Rita Hills, which was created and is owned by Antonio Moretti of Moretti Wines, includes 11 wineries with prominent Pinot Noir producers such as Brewer-Clifton, Clos Pepe, Gypsy Canyon, Huber, Ken Brown, Sea Smoke, Seagrape and Thorne. This tasting room is open Thursday through Sunday 11:00-5:00 or by appointment.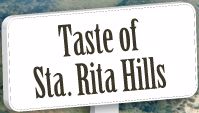 Historic Vineyard Society (HVS) A group of winemakers and winegrowers have banded together to start the Historic Vineyard Society to establish a registry and promote the historic vineyards of California. For inclusion in the registry, the vineyard must be currently producing, date to 1960 or before, and have at least one-third of existing producing vines traceable to the original planting date. The Society has cataloged 202 historic vineyards in California with most in Sonoma County (100 vineyards), but the registry is a work in progress. Most of the existing historic vineyards, some of which are over 100 years old, are planted to Zinfandel, but unfortunately, the registry listing on the website does not specify the varieties planted in each vineyard.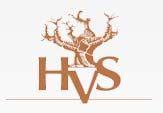 Finally, A Good Laugh Chris Erskine writing in a recent edition of the Los Angeles Times, notes that his wife worries that his lowbrow understanding of wines will one day get them evicted from California for not being cool enough. In particular, he said, "She objects to me intentionally looking at wine lists upside down, then sniffing to the waiter, 'Never heard of any of these.'" Another humorous quote comes from Rafa Ibarra of Mexico speaking about wine bloggers. "I don't know in the USA, but here in Mexico we have a lot of wine bloggers ass kissers that only want a free glass of wine and a picture with the winemaker of the moment, like a rock star. We call them enorockstars and enogroupies. It's sad, but it's so true."