Maggy Hawk: Anderson Valley Pinot Noir to Covet
Maggy Hawk is the name of Barbara Banke's favorite thoroughbred horse and one of California's newest and most exciting Pinot Noir labels. Banke was a former lawyer and wine connoisseur who married Jess Jackson and played a major role in the growth of Jackson Family Wines, the owner of many well-known wineries including Arrowood, Matanzas Creek, Hartford Court, La Crema, Freemark Abbey, La Jota and Carmel Road.
Banke is quite an entrepreneur and has recently founded SonomaCeuticals with friend and Peggy Furth, the former co-proprietor of Chalk Hill Estates & Vineyards. The new company plans to produce culinary oils, flours and artisan cookies from the byproducts of grapes vinified at Kendall-Jackson vineyards (see www.pressdemocrat.com/article/20111110/BUSINESS/111119912?p=2&tc=pg). Moreover, in 2006 Banke and Furth launched the Wind Racer brand of Anderson Valley and Russian River Valley Chardonnay and Pinot Noir (Banke loves the precision and focus of Anderson Valley Pinot Noir and Chardonnay and Peggy prefers the opulence and exotic aromas of their Russian River counterparts.) The wines are highly allocated. Visit www.windracerwines.com for more information. I look forward to sampling the Wind Racer wines in the future.

Banke established the Maggy Hawk label with an inaugural release in 2007. The new label is devoted to block-designated Pinot Noir from the Maggy Hawk Vineyard in the Anderson Valley, one of the Jackson Family Wines estate vineyards. This 58-acre vineyard was planted entirely to Pinot Noir in 2000 in the "deep end" of the Anderson Valley. Flanked by coastal redwoods, and lying in a remote far west location (west of the Rock Shop on Highway 128), Maggy Hawk is a fog-cloaked and wind-swept vineyard at 300 to 500 feet elevation consisting of a complex array of steep slopes and facings, most of which are oriented south. The soil is well-drained decomposed sandstone. Pinot Noir clones planted here are Pommard, Wädenswil, and Dijon 115, 667 and 777 with 7' x 5' spacing.
The site holds special reverence for Maggy Hawk winemaker Elizabeth Grant-Douglas who is also the winemaker for La Crema Winery. She calls it her "favorite place on earth," and simply "heavenly." Because of its remoteness, the vineyard has no neighbor issues to impact the farming of the vineyard. Elizabeth raves about the beautiful fruit that develops naturally in this vineyard from highly self-controlled small vines ("like Bonsai," she says). No intensive viticultural techniques are required as the vines are largely self-regulating and typically produce yields of less than two tons per acre. Yields can be heavily influenced by early rains and frosts, since ripening at this site is typically very late in the growing season. The vineyard manager, Dennis Winchester, lives on the property.
The Maggie Hawk Vineyard became an important component of the La Crema Anderson Valley Pinot Noir bottling beginning in 2003. In 2006 there was a bumper crop of more than three tons per acre from the vineyard and two La Crema Maggy Hawk Pinot Noirs were vinified (No. 5 Block and Blend) by the La Crema winemaker at the time, Melissa Stackhouse. The following year, Banke launched the Maggy Hawk label and three wines were produced each named after horses born to the mare Maggy Hawk: Jolie, Afleet, and Stormin'. Afleet, the Preakness and Belmont Stakes winner, is pictured below.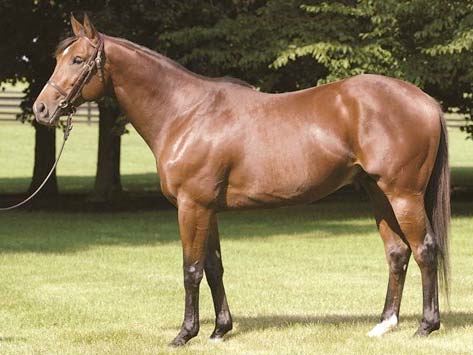 The 2007 "Afleet" bottling is based entirely on the Pommard clone from a 1.23-acre block, the "Jolie" Pinot Noir is sourced from a 10.03-acre block planted to Dijon 115 clone, and the Stormin' Pinot Noir is from a 3.47-acre block of 667 clone. Yields were quite low in 2007: 1.58 tons per acre for Afleet, 1.38 tons per acre for Jolie, and 1.24 tons per acre for Stormin'. Each of the three wines were vinified in the same manner to bring out the distinct identity of the different blocks in the Maggy Hawk Vineyard. The wines were originally to be designated Block 7 (Jolie), Block 4 (Afleet), and Block 6 (Stormin'), and you may find images of labels on the internet showing block designations rather than the names of horses.
Winemaking was as follows. After a 5 day cold soak, fermentations were carried out with natural and inoculate (Assmanhausen) yeasts. Punch downs were carried out up to three times a day. The wines were aged in 50% new French oak barrels for 14-15 months.
The trio of 2007 Maggy Hawk Pinot Noirs are vinous treasures of uncommon pedigree much like their namesakes. They are truly special connoisseur's wines that defy appropriate description. I could suggest terms like sensual, distinctive, complex, and nuanced but superlatives don't do the wines justice. Clearly, Maggy Hawk is an extraordinary site possessing an unidentifiable somethingness that sets it apart.
Maggy Hawk currently has no website (one is planned for the near future) and no tasting facility. The wines are in limited distribution, available from Sherry-Lehmann in New York City (www.sherry-lehmann.com). There were no wines released from the 2008 vintage due to the smoke taint from the extensive forest fires in the region. The 2009 vintage Pinot Noirs will be release in the spring of 2012.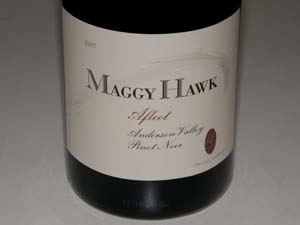 2007 Maggy Hawk Afleet Anderson Valley Pinot Noir
14.8% alc., pH 3.72, TA 0.56, 91 cases, $70. · Moderate reddish-purple color in the glass. Beguiling aromas of brandied cherries, rose hips tea, violets and seasoned oak. Delicious black raspberry and cherry sappy flavors on a medium weight frame complimented by hints of exotic spice and fruit leather. The most intense, deeply fruited and structured wine of the three, more opaque than see-through lingerie. The aromatic peacock tail on the finish is notable for its length. Even better the following day from a previously opened and re-corked bottle. A very special wine.

2007 Maggy Hawk Jolie Anderson Valley Pinot Noir
14.4% alc., pH 3.66, TA 0.53, 89 cases, $70. · Moderate reddish-purple hue in the glass. Exotic and intriguing nose featuring aromas of black cherries, dark berries, Moroccan spices and a hint of coffee broadening over time to even deeper autumnal notes. Beautifully complex array of dark red Pinot fruits robed in mild dusty tannins, ever-expanding in the mouth, and finishing with amazing persistence and length. The fruit really sings in this seamless and classy wine. Still great the next day from a previously opened and re-corked bottle.
2007 Maggy Hawk Stormin' Anderson Valley Pinot Noir
14.3% alc., pH 3.69, TA 0.54, 77 cases, $70. · Moderate reddish-purple color in the glass. Shy aromas of black raspberry, dried cherries, and brioche. Discreetly concentrated flavors of black cherries, blueberries and bramble caressed by ripe, fine-grain tannins, persisting on the slightly tart cherry pie finish. Sleek, elegant and refined, weaving a stylish dance ever so lightly on the palate. Very good (+).