DuMOL: Sublime in '09
DuMOL has an established list of estate and other premium vineyard sources, a talented winemaker and viticulturist in Andy Smith at the helm since 2000, and a modern winery in Windsor, California. The winery, which is named after the first winemaker's children, Duncan and Molly, has developed a dedicated cadre of followers who relish the consistently superb Pinot Noirs and Chardonnays. Partners Michael Verlander, Kerry Murphy and Andy Smith lead a low profile with discrete participation in public tastings and minimal emphasis on wine critics' scores which they do not heavily tout. This attitude does not reflect any smugness from the proprietors, but rather an emphasis on investment in the quality of wines and a preference for letting the wines speak for themselves.
As you can see from the reviews below, the wines speak loud and clear of their California pedigree. That said, these are not California fruit bomb styled Pinot Noirs. DuMOL acquired somewhat of an undeserved reputation for making "over sized" wines because of the 2003 and 2004 vintages that were very hot years. Smith notes, "I don't know anyone in the Russian River Valley that picks earlier than us, except Kistler, since 2009. It's just that we do much more vineyard work so the grapes are naturally more concentrated, something for which I will not apologize for!"
Smith (pictured below at the winery) considers the 2009 DuMOL Pinot Noirs to be the finest set of red wines to date (the winery was started in 1996), although he thinks that 2010 will be at least as good (a bit leaner, but with great purity), and 2011 will also be very, very good as all vineyards were picked except one before the rains came. "2009 was as near a perfect growing season as one could script with plenty of sunshine without excessive heat, culminating in a moderately paced harvest. Across the board the wines strike an effortless balance between coastal fruit purity and lingering vineyard-derived complexity. They are absolutely our most naturally grown and vinified group of wines yet. As with all our wines, you can enjoy their freshness and zesty fruit on release, but far greater rewards await with 3 to 6+ years of patience."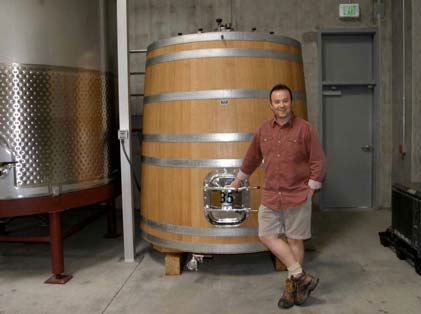 DuMOL features both Russian River Valley appellation and vineyard-specific or limited production (two to three vineyards in combination) Pinot Noirs. Most of the vineyard sources are in the cooler reaches of the Russian River Valley, and the Green Valley and Sonoma Coast appellations. The Russian River Valley appellation Pinot Noir is made in the largest quantity, offered first to those jumping from the wait list to the Pre-Release Member list, and is the only Pinot Noir in significant retail and restaurant distribution. The appellation blend is crafted with care and should not be taken as an inferior wine. The 2009 DuMOL Russian River Valley Pinot Noir made my 2011 Second Team North American All-American list. Smith described his winemaking regimen for this wine (much of which carries over to the more limited Pinot Noir bottlings) to me recently.
"This 3,900 case appellation blend is composed of seven vineyards (30% is DuMOL Estate) and 21 separate fermentation lots, and contains free run wine only. Clones are Old Beringer, Dijon 114, 115, 667, 777, Calera, Swan and Pommard. Average yield is 2.75 tons per acre. Vine age varies from 5 to 24 years. All lots are harvested, fermented and barreled individually. A selection is made in July, and racked from barrel immediately pre-harvest in early September to holding tanks. The final blend settles naturally in these tanks for 3 months before bottling in December. It is during these 3 months that the wine really harmonizes and achieves microbial stability. The wine contains our more fruit-driven and concentrated lots while the more backward and structured lots go to our vineyard-designate wines. The wine spends 11 months in barrel (40% new French oak), 34 months in tank, and 6 months in bottle before release in June." Fermentations are native and the wines are bottled unfined and unfiltered.
I found all the wines to be bold and richly flavored, yet offering easy drink ability by virtue of their caressing textures and crispness. Oak is nicely supportive and well-integrated, tannins are tame, the finishing acidities are refreshing, and the wines offer early approachability, yet display the type of impeccable balance that predicts age ability. DuMOL wines are highly flavorful and seductive when young, but benefit from at least a few years of aging and have the potential for successful midterm aging of 7 to 15 years. I found it very difficult to choose favorites among this superb lineup of wines.
The vineyard-specific or small-production (two or three vineyards) Pinot Noirs are not named after the vineyard source(s) but with Gaelic names including "eoin," "aiden," "ryan" and "finn." The DuMOL Chardonnays should not be missed for they are among my favorites crafted in California today. The 2009 DuMOL isobel Russian River Valley Chardonnay sourced from old vines in the Heintz Vineyard is stunning. The Syrahs have many fans as well. The winery sells most of its production through a Pre-Release Member list which currently has a wait list at www.dumol.com. There is limited retail and restaurant distribution. The winery is not open to the public.