Loma Prieta Stakes a Claim for California Pinotage
Paul Kemp is a successful personal injury lawyer who many years ago purchased a magnificent property high in the Santa Cruz Mountains with sweeping views of the entire Monterey Bay to the west and the majestic Mount Loma Prieta to the east. With spouse Amy, Paul has built a beautiful home on the property and an adjacent Tuscan-styled 4,000 square foot winery and tasting room which was completed in 2009.
Paul began producing his own wine in 2003 in his garage with the help of a winemaker consultant. He was startled when two early wines were awarded gold medals including his 2004 Loma Prieta Pinot Noir made from purchased grapes. Several of his subsequent Pinot Noirs (and other varietals) have won gold medals in wine competitions.
He planted a 3-acre vineyard with the assistance of noted viticulturist Prudy Foxx which is laid out in front of his home. The vineyard is primarily planted to Dijon clones of Pinot Noir and allows him to offer a small amount of estate grown Pinot Noir as well as Santa Cruz Mountain Pinot Noir obtained from nearby sources.
The Loma Prieta label is striking with artwork depicting a whimsical magician holding a glass of wine and flying over Mount Loma Prieta with an earthquake fault clearly visible. The artwork was specially commissioned by the Kemps and displays the work of Martin LaBorde from New Orleans, Louisiana.
In 2008, Paul obtained 1 ton of Pinotage grapes from Vino Con Brio Estate in Lodi and made his first Pinotage. The wine sold out in a couple of days and won 3 gold medals and a double gold medal in wine competitions. Beginning in 2009, he attempted to purchase every Pinotage grape available in California and he is now the largest producer of Pinotage in North America. The 2009 vintage won several gold medals in competitions as well. The grapes currently come from two vineyards in Lodi and one in the Sierra Nevada area near Jackson, California. There are only about 25 acres of Pinotage planted in California according to Paul, including a small planting on his estate. In 2011, he produced one barrel of Estate Pinotage and has planted an additional 500 vines.
According to Peter F May, the author of Pinotage: Behind the Legends of South Africa's Own Wine, there are at least 20 wineries making California Pinotage, the first being (he believes) Steltzner in the Napa Valley in the 1970s. Pinotage is also commercially grown and made in Oregon, Virginia and the Okanagen Valley of British Columbia, Canada. I am familiar with Pinotage from Vino Con Brio Estate, Fort Ross (Sonoma Coast), and I believe J Winery produced a Pinotage at one time. My tasting experiences have been very limited and not memorable other than the few I have had from Fort Ross which is owned by South African ex-patriots.
I must confess that I know little about Pinotage. A comprehensive, and for me, a very timely article appeared in a recent issue of the Wine Enthusiast ("The Power of Pinotage," by Lauren Buzzeo, December 15, 2011). Pinotage is South Africa's wine of national identity, somewhat analogous to Zinfandel in this country. According to Buzzeo, "Pinotage is a grape variety that was created in 1925 by Abrahan Izak Perold, a chemist tasked by the Cape government to venture overseas and find grape varieties that could be cultivated in the region. He decided to crossbreed two of them to hopefully evoke the best qualities of both; the robust nature and growing ease of Cinsault (known locally as Hermitage) and the delicious refinement of Pinot Noir. The first commercial planting of the grape was in 1943 and the earliest wines were deep in color with a strong vinous character." The problem with early Pinotage wines was that they tasted flawed, often of burnt matchsticks or chemicals, and many bad examples were sold in the local and international marketplace for years giving the grape a bad reputation.
There was a learning curve and today vintners are more attuned to how and where to grow it properly and how to make it. It is now the fastest growing red variety in bottle for South African wine exports. That said, there are some South African winemakers who don't like Pinotage. Buzzeo quotes South African consulting winemaker Brett Rightford. "Pinotage is the new heartbreak grape. We have a legacy of winemaking with other varieties that stretches hundreds of years. Pinotage is a relatively new focus (80-plus years old) that takes time to understand, and those who make the effort are well rewarded."
Pinotage is typically a full-bodied, intense, darkly colored and fruited (black currant, black plum) wine with a muscular tannic structure suitable for cellaring. The wines may age for at least 20 years at which time they often show Pinot Noir characters, much like aged Zinfandel. Coffee or mocha accents are commonplace but there are a wide range of styles.
Paul sent me the 2008 and 2009 vintages of Loma Prieta Amorosa Lodi Pinotage to sample and I compared them to a highly rated South African version from producer Kanonkop. The wines are produced and bottled for Loma Preita Winery by Lodi Vino Co.. Take my reviews with a grain of salt and explore on your own, because I have no credible reference point for Pinotage wines.
The wines are sold through the winery's online store at www.lomaprietawinery.com. The Loma Prieta tasting room is usually open weekends (check at 408-353-2950 in advance) and download the detailed directions to the winery from the website (not recommended in bad weather and remember that cell phones don't work on this route!). The adventurous travel experience is definitely worth the effort.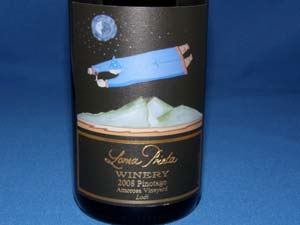 2008 Loma Prieta Winery Amorosa Vineyard Lodi Pinotage
14.3% alc., $45. · Dark purple color in the glass. Aromas of black fruits, tobacco, earth, beet root, jam on toast and oil can (from oak). Tasty core of black raspberry and blackberry fruit with a little red fruit and tea flavors chiming in. The fruit is really vivid and charming and reminds of Pinot Noir. Silky with mild fine-grain tannins. Very good.
2009 Loma Prieta Winery Amorosa Vineyard Lodi Pinotage
15.1% alc., $45. · Dark purple color in the glass. Aromas of dark red berries and eucalyptus. Earthy and rustic with a full monty of dark red and black fruit flavors highlighted with a note of dark chocolate, all swathed in firm tannins. Better the following day from a previously opened and re-corked bottle showing less tannin, more fruit and more persistence on the finish. Needs a couple of years in bottle. Good (+).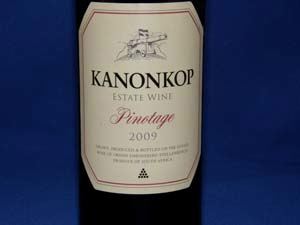 2009 Kanonkop Estate South Africa Pinotage
14.0% alc., $36.95. Imported by Cape Classics, New York, New York. Crafted from Kanonkop's oldest vines up to 57 years old. Non-irrigated, bush vines in decomposed granite soil. 3-day cold soak in open-top fermenters, punch downs every 2 hours, aged 16 months in 70% new and 30% second fill French oak. · Deep purple color in the glass. Aromas of ripe dark red berries, damp wine cellar, loamy earth and dirty boot - like enjoying fresh berries with a person who hasn't showered in a couple of days - fruity, earthy and a little stinky. Full-bodied, dense and rustic with black currant and black plum flavors. The fruit is tightly compressed in the wine's prodigious tannins. Oak is evident but not overbearing. I would imagine that this wine would benefit from several years in the cellar. Good.
For more information on Pinotage: www.pinotage.org (The Pinotage Club), and www.pinotage.co.za (Pinotage Association of South Africa)