Ed Kurtzman: Impressive Pinot Resume
My name is August West
and I love my Pearly Baker best
more than my wine
...more than My wine
more than my maker
though he's no friend of mine
Half of my life
I spent doin' time for
some other fucker's crime
Other half found me stumbling around
drunk on burgundy wine
"Wharf Rat"
Words by Robert Hunter, music by Jerry Garcia (Grateful Dead)*
There are a number of winemakers in California that have a hand in more than one label, but no Pinot Noir vintner that I know of can match the resume of winemaker Ed Kurtzman. Ed is one of the most laid back winemakers you will ever come across, belying his accomplished skills with Pinot Noir.
Ed's interest in wine began as an undergraduate at the University of Massachusetts in the late 1980s when he worked at a large retail wine store. He later moved to California wine country to work as a wine wholesaler. Realizing his calling, he enrolled in the enology program at California State University at Fresno. Following graduation in 1994, he had winemaking stints at Bernardus (under Don Blackburn), Chalone (along side Dick Graff and Michael Michaud), Fort Ross and Testarossa before settling in San Francisco as the winemaker behind the August West, Freeman, Roar and Sandler Wine Co. labels, and consulting for Von Holt wines.
Through the years, Ed has mentored several other young winemakers including Eric Buffington (Freeman), Augie Hug (Hug Cellars), Jamie Kutch (Kutch Wines), John Fones (Von Holt Wines), Mark Weiner (Twin Oak Cellars), Ray Walker (Maison Ilan), Kyle Loudon (Coterie Cellars), Amy Butler (Edward Sellers Vineyards & Wines), and Andrew P. Vingiello (A.P. Vin).
August West is a partnership between winegrower Gary Franscioni, businessperson Howard Graham and winemaker Ed Kurtzman. Founded in 2002, the name, as noted in the lyrics above, is from a Grateful Dead song that Ed is well familiar with. Vineyard designated Pinot Noirs are produced from Rosella's Vineyard and Sierra Mar Vineyard in the Santa Lucia Highlands (farmed by Gary Franscioni, inaugural vintage in 2010, all clone 23 - Mariafeld), and Graham Family Vineyard in the Russian River Valley. There is also a 2010 Russian River Valley appellation Pinot Noir (sourced from Treehouse Vineyard and Graham Family Vineyard, 209 cases, $30) and a 2010 Santa Lucia Highlands appellation Pinot Noir (a blend of Rosella's and Garys' vineyards, first introduced in 2008, 306 cases, $30). Chardonnay and Syrah are also offered. The August West wines are sold through an allocation list at www.augustwestwine.com and through limited retail distribution. An updated label appeared with the 2010 vintage (previous label on left, new label on right).

Sandler Wine Co. is Ed's personal label (Sandler is Ed's middle name) launched in 2003 with 29 cases of 2003 Dry Creek Zinfandel. Today, Ed crafts small lots of vineyard designated Pinot Noir, Syrah and Zinfandel. The wines are sold through a mailing list at www.sandlerwine.com.
August West, Sandler Wine Co. and Roar wines are produced at an urban winery in San Francisco where tasting is available by appointment (415-225-2891).
I recently reviewed the current 2010 releases of Pinot Noir from August West and Sandler Wine Co.. Ed has a real touch with Pinot Noir. The wines are not shy, sporting luscious ripe fruit flavors and moderately high alcohols, but they display dreamy textural qualities and consistently impeccable balance. All the wines tasted were better a day or two after opening indicating they need more time in bottle to fully evolve (1 to 3 years), as well as displaying the potential for longer term aging (10 years).

*Garcia's only known artwork titled after a Grateful Dead song lyric was "August West," offered on eBay for $55,000 in November, 2001. It has been speculated that August West is a Garcia personality since Garcia's birth date was in August. August West may also be symbolic of a derelict's life since August marks the end of summer and the sun sets in the West, marking the end of a day. August West may be a man whose life is ending. From The Annotated "Wharf Rat," www.ucsc.edu.
2010 August West Graham Family Vineyard Russian River Valley Pinot Noir
14.8% alc., 162 cases, $45. Yields 1-1.5 tons per acre. Picked October 1, the latest ever for this vineyard in this cool growing season. · Medium reddish-purple color in the glass. Very fragrant with aromas of fresh cherries, red berries, spice and toasty oak. Engaging flavors of black cherries, cola and dark chocolate in a middleweight style. Very smooth on the palate, finishing with respectable fruit intensity on the finish. The very ripe flavor profile reflects a warmer Russian River Valley site. Very good.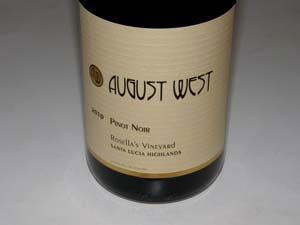 2010 August West Rosella's Vineyard Santa Lucia Highlands Pinot Noir
14.8% alc., 373 cases, $45. Picked October 16, latest picking date in 9 vintages. · Moderately dark reddish-purple hue in the glass. The nose is both fruity and savory offering herb-imbued, pie cherry aromas. This wine is a stand out with its tasty core of dark, perfectly ripe red berries caressed by soft tannins, displaying a seductive and satiny mouth feel, and finishing with a bright cut of acidity. Intensely flavored, yet light on its feet. The whole package.
2010 August West Sierra Mar Vineyard Santa Lucia Highlands Pinot Noir
14.5% alc., 122 cases, $45. Vineyard planted in 2007 making this the first bottling. Swiss clone Mariafeld 23. · Dark reddish-purple color in the glass. Shy aromas of black plum jam and black currents with a bit of stem. Full-bodied and rugged, with a luscious core of dark raspberry and Hoison flavors and an earthy undertone. The fruit is impressive, but currently tightly compressed in tannins. Lacks expression and refinement now and will benefit from more time in the bottle. Good.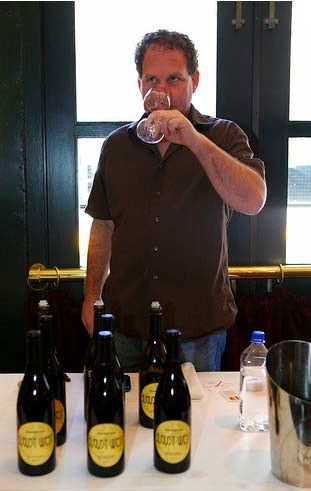 2010 Sandler Wine Co. Clos Pepe Vineyard Sta. Rita Hills Pinot Noir
14.8% alc., · Medium reddish-purple color in the glass. Aromas of oak-kissed black cherries, brier and a hint of alcohol. Silky smooth on the palate with a moderate heft, offering flavors of dark red cherries and berries with a hint of citrus peel in the background. Mild tannins make for easy drinking now, but best to wait. Much better two days later from a previously opened and re-corked bottle. Very good.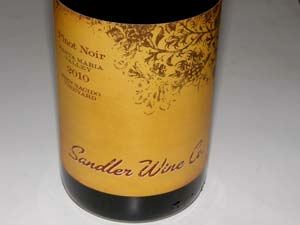 2010 Sandler Wine Co. Bien Nacido Vineyard Santa Maria Valley Pinot Noir
14.6% alc., 2nd bottling from this vineyard. Pommard clone. · Medium reddish-purple hue in the glass. Beguiling array of dark stone fruits and berries on the nose accented with cardamom spice. Broad flavors of fresh dark berries with enough tannin to keep the wine in line. A toasty oak accent is complimentary. A seamless wine showing presence without weight. Still terrific two days later from a previously opened and re-corked bottle demonstrating potential age worthiness.

2010 Sandler Wine Co. Keefer Ranch Vineyard Russian River Valley Pinot Noir
14.7% alc., From 1 acre budded over to clone 23, a favorite of winemaker Ed Kurtzman. · Moderately light reddish-purple color in the glass. Very appealing hi-tone aromas of fresh-picked cherries, baking spice and sawdust. A cherry bombast with gossamer tannins, and a refreshing citrus-kissed cherry note on the finish. This wine really grows on you over time in the glass. Still stellar two days later from a previously opened and re-corked bottle. A striking contrast to the Bien Nacido bottling, displaying more vibrancy and acidity, and equally appealing.