LaRue Wines
Katy Wilson's first job in the wine industry was during the summer of her college days at Cal Poly San Luis Obispo. She worked on a large Central Valley vineyard near where she grew up, and recalls, "It was a back breaking experience to say the least! Working in the 100+ degree heat everyday really makes you appreciate working in the Sonoma/Napa area." While still in college, she staffed the tasting room at Eberle Winery in Paso Robles, a very busy spot where she gained sales experience and a knack for dealing with very drunk people!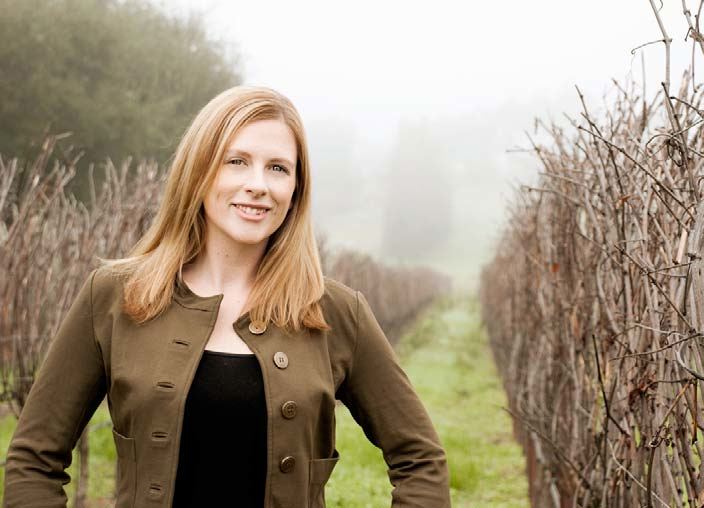 Katy graduated in 2005 with a double major in Agricultural Business (emphasis on Marketing and International Management) and Enology & Viticulture (concentrating on Wine Business). She then embarked on her winemaking journey. Her first harvest was at Testarossa in Los Gatos with Bill Brousseau who taught her the importance of winery cleanliness. During that harvest, she learned that her younger sister, Courtney, was diagnosed with bone cancer requiring immediate chemotherapy. Coincidentally, Katy was scheduled to leave for a harvest position at Torbreck Wines in the Barrosa Valley of Australia. Although she was reluctant to leave her sister, Katy's family encouraged her to follow her path. She did leave, and although her sister lost her leg to cancer, thankfully she is in remission. Courtney is a professional photographer and contributed all the photographs on Katy's website and assisted in designing her label.
After the harvest in Australia, Katy returned to work at Joseph Phelps in the Napa Valley, and later was off to Craggy Range in Hawkes Bay, New Zealand. Upon returning to California, she interviewed for a harvest enologist position with Ross Cobb at Flowers Winery & Vineyards. Katy was reluctant at first to accept the position, given the desolate location of Flowers, but she was soon to fall in love with the true Sonoma Coast. She spent two years at Flowers and became the assistant winemaker just before the 2008 harvest.
To broaden her knowledge and challenge herself, she left Flowers to make wine at Kamen, working under Mark Herold. Comfortable with the "hands-off" approach to winemaking at Flowers, the "interventionist" style of winemaking employed at Kamen furthered her knowledge. When she started at Kamen, Robert Kamen offered her the option of making her own wine at the winery's facility in Sonoma. Soon thereafter, Ross Cobb asked her to share some fruit from the special vineyards he sources for his Cobb Pinot Noirs. Fortuitously, she found an investor among her friends to support her endeavor, and launched the LaRue label with the 2009 harvest. Katy was already familiar with the West Sonoma County vineyards (Rice-Spivak, Emmaline and Joy Road) used in her inaugural LaRue Pinot Noir which contributed to her success.
The name of Katy's label, LaRue, is a tribute to Katy's great-grandmother, Veona LaRue Newell. Veona was a special woman who lived through the Depression and raised four small children. Her middle name, LaRue, is curious and its origin a mystery to Veona.
Katy's winemaking regimen is as follows. The fruit is 100% de-stemmed. After a 5-day cold soak, fermentation begins, and is supplemented by inoculation of cultivated yeast. The wine remains on the skins from 12 to 18 days, depending on the vintage. In 2009, the wine was aged 18 months in 30% new French oak barrels (40% in 2010). All decisions depend on the vintage and the wine and no two wines are crafted in exactly the same way. There are similarities in her style to the wines of Ross Cobb's Cobb Pinot Noirs, with both vinified using minimal intervention. If you enjoy Cobb Pinot Noir, you will like LaRue Pinot Noir.
Tastings are by appointment at the Kamen winemaking facility at 21682 8th Street East, Suite 300, in Sonoma (707-933-8355). Katy has joined the West Sonoma Coast Vintners and will be pouring at this year's West of West Festival. The 2009 LaRue Pinot Noir is sold on the website (www.laruewines.com) and through limited retail distribution. Magnums are available.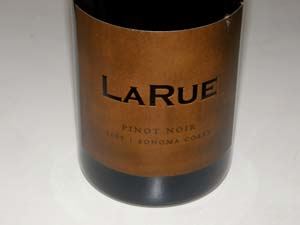 2009 LaRue Sonoma Coast Pinot Noir
13.5% alc., 300 cases, $60. A blend of three coastal vineyards near the towns of Occidental and Sebastopol. · Medium reddish-purple color in the glass. Demure aromas of black cherries, plum sauce, violets, hay barn and spice. Intense presence on the palate without weight, offering flavors of black cherries and red and dark berries with an underpinning of savory herbs, finishing with a hint of citrus peel and impressive fruit presence. Very soft and seductive in the mouth with supportive tannins and lively acidity, all in balance. Very good.