School House Vineyard "Cult Before Cult Was Cool"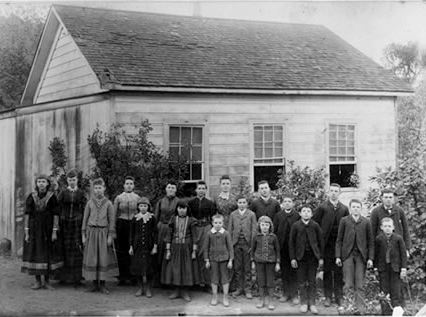 School House Vineyard is situated at an unlikely location for Pinot Noir, high on Spring Mountain above St. Helena at the intersection of Langtry and Spring Mountain Roads. It is not easy to find because of the lack of signage, and on my recent visit, owner John M. Gartner came to my rescue and guided me onto the School House Vineyard property with his ATV. The vineyard is named after a one-room 1890s schoolhouse previously on the property as shown in the photo above which was destroyed by fire in the mid-1980s.
The original vines, a mixed field blend, were planted in the 1880s by the Sheehan family, and all the grapes were blended into a single red table wine, jokingly referred to as "California Burgundy." Today, some of the vines have been replanted and School House Mescolanza is a modern interpretation of the original field blend containing Zinfandel, Petite Sirah and Carignane. In 2006, several Rhone varieties were planted in a joint venture with Pride Mountain Vineyards and a second School House Mescolanza blend is offered composed of Syrah, Grenache and Mourvedre. Mescolanza is Spanish for "mixture or medley." Pinot Noir and Chardonnay are also planted here and the Pinot Noir story, of most interest to me, follows.
John O. Gartner acquired 160 acres on Spring Mountain in 1938. He loved Burgundy and decided to plant Pinot Noir in the School House Vineyard in 1953, acquiring the budwood (rumored to be from Domaine Romanee-Conti) from his friend, John Daniel, the owner of Inglenook Estate. John O. Gartner and John Daniel had been fraternity brothers at Stanford. André Tchelistcheff advised Daniel to pull out his Pinot Noir plantings, believing that the Napa Valley floor soils were too vigorous for Pinot Noir. At the time, many people considered John O. Gartner crazy for planting Pinot Noir on Spring Mountain, but the wines that resulted through the years have vindicated him.
The 1953 School House Vineyard original plantings of Pinot Noir are the oldest in California along with the Ambassador Block at Hanzell which was also planted in 1953 (see photo of School House Vineyard old vines below). The Zellerbachs, who owned Hanzell, and the winemaker at Hanzell, Bob Sessions, were friends of John O. Gartner and traded cases of wine with each other every year.
Chardonnay was planted in the School House Vineyard in the late 1960s, using budwood from Fred McCrea's Stony Hill Vineyard. The dry-farmed School House Vineyard is located in a unique, moderately cool microclimate at 1,500 foot elevation with well-drained soils, allowing the successful coexistence of both cool climate grapes such as Chardonnay and Pinot Noir and warm climate Rhone grape varieties.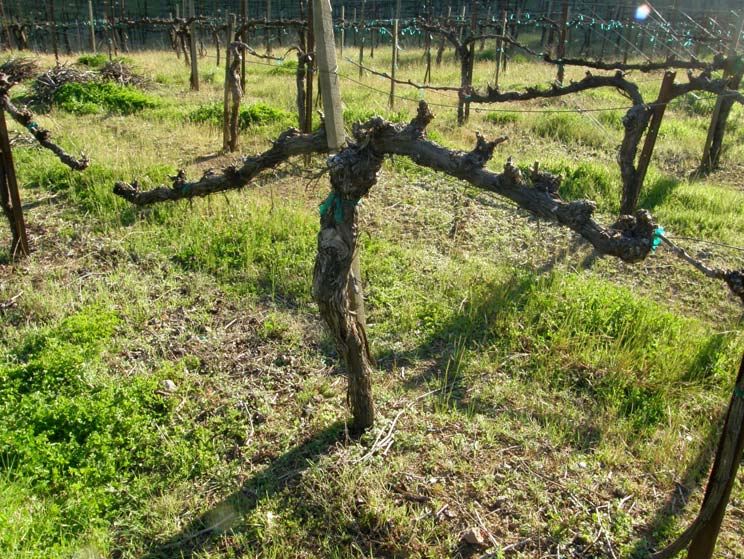 Since 1992, the second generation winegrowers, John M. Gartner and Nancy Walker, have farmed the School House Vineyard. They live on the property and John does all the vineyard work by hand. John had been coming to his father's property on practically every weekend since he was born and his viticulture knowledge has come through years of experience and interaction with neighboring winegrowers on Spring Mountain. He had a variety of wines growing up, and recalls his family tasting the wines of Martin Ray as a comparison to their own Pinot Noir. The family was struck but the variability of Ray's wines, and John told me, "They could be very good or very bad, but you could never tell him that." John attended Stanford University like his father, and practiced law in San Francisco for 35 years before retiring to the School House Vineyard property.
When John and Nancy took over the property, it had been neglected for years and the vineyard was overgrown with poison oak, wild roses and brush. Together they managed to take back the property from the woods, working together over ten years to restore its former glory as a viticultural oasis.
John recalls that he was thirteen years old when his father planted Pinot Noir at School House Vineyard. At the time, their were no operating wineries on Spring Mountain and the spotting of an automobile on the roads was a rarity. To this day, he is very fond of the tranquility at School House Vineyard, although road traffic and noise have perceptibly changed for the worse in recent years. He hasn't been back to San Francisco in a few years.
12 acres of vineyard are farmed including six acres of Pinot Noir, 3.5 acres of Chardonnay, and the remainder a red field blend mix. The original 4 acres of Pinot Noir have been supplemented with 1 acre of now 10-yearold vines and 1 acre of now 6-year-old vines. The original Pinot Noir vines are planted on St. George rootstock, but additional plantings added (often interplanted) within the last 10 years are most on 110R rootstock. John is continuously planting new vines to replace others lost to disease and age (currently 100 vines per year), and there is enough vineyard work to keep him busy year round. Although he notes his work is "never finished," it's obvious he relishes the farming of wine grapes.
The School House Pinot Noir was vinified at Stony Hill from 1957 to 1959, at Buena Vista Sonoma from 1960 to 1968, and over the subsequent years at various wineries where several winemakers were involved including Bo Barrett at Chateau Montelena. The School Mountain Vineyard wines have been crafted at Pride Mountain Vineyards since 1997, initially under the direction of winemaker Bob Foley and now custom crushed by the current Pride winemaking team.
The wines are sold only through a mailing list and the website (www.schoolhousevineyard.com). Tasting is by appointment at the vineyard property (707-963-4240). The hosts are very congenial and welcome visitors to sit on their patio while sampling the wines, enjoying the vista of vines which surround their home. These are not California mainstream Pinot Noirs. There is nothing quite like them and they may not appeal to those who are not experienced Pinot Noir enthusiasts. They are connoisseur's wines that can only be understood and valued in the context of their origin from this historical vineyard. They are terroir-driven and vintage-expressive wines. To truly appreciate them, I would highly recommend visiting the School House Vineyard.
The first School House Vineyard Pinot Noir was released from the 1957 vintage and the 2007 bottling, now sold out, was the 50th from School House Vineyard. John showed me a bottle from his cellar of the 1959 bottling (see photo below) and said that the wine had been opened recently and was drinking amazingly well. A 22 vintage vertical of School House Pinot Noir was conducted in 2006. Despite the variety of wineries and winemakers involved in its production through the years, the wines were found to be remarkably consistent, a testament to the unique terroir of this site, its dry-farmed vines and the lack of nod to modernization. One example of the owners' old school approach would be that John chooses to harvest grapes the old fashioned way: by taste rather than measurement. An excellent history of School House Vineyard is offered by Diana H. Stockton through the Napa Wine Library Association at www.napawinelibrary.com/reports/2009/summer/gantner.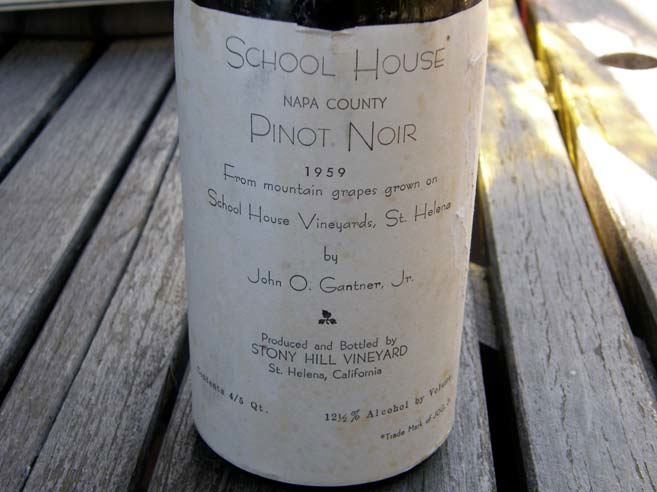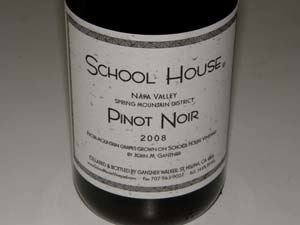 2008 School House Vineyard Spring Mountain District Napa Valley Pinot Noir
14.6% 275 cases, $80. Magnums available. This vintage yielded 3.5 tons picked at about 25.5º Brix. Fermented in open top bins after a light pressing. Matured 18 months in new French oak barrels and hand-bottled. · Moderately light reddish-purple color in the glass. Aromas dance in and out over time in the glass, but the emphasis is on cherry fruit with hints of tea leaf and oak. Lighter in weight than the 2006 vintage, yet impressively flavorful, featuring intense cherry compote, baking spice and green leaf, with notes of raisin, herbs and minerality. The wine sports a moderately firm tannic backbone and offers an unbelievably long finish that lasts at least a minute. Very good.
2006 School House Vineyard Spring Mountain District Napa Valley Pinot Noir
15.1% alc., 200 cases, $80. · Moderately dark reddish-purple color with very slight yellowing of the rim in the glass. The bouquet of secondary characters includes raisin, black olive, old cask and old boot leather. A delicious wine with many layers of flavor including dried cherries, black raspberries, black currants, cola, sassafras and spice. Very ripe in fruit character with grainy, supportive tannins and some length on the finish. Very good.