Recent California Pinot Noir Releases
Alysian

I often get asked, "Who are your favorite California Pinot Noir producers?" I often mention Alysian and I have often received a blank stare in return. Few know the label and know that Gary Farrell is the proprietor and winemaker. Farrell is one of the longest tenured Pinot Noir winemakers in the Russian River Valley. He became the winemaker at Davis Bynum in 1978 but had assisted Davis Bynum with the Pinot Noirs produced at that winery for a few years prior. Farrell crafted the inaugural Pinot Noir for Rochioli Vineyard & Winery, trading winemaking for grapes for his own inaugural release in 1982 of 50 cases of Rochioli Vineyard Russian River Valley Pinot Noir. Farrell gradually built the reputation of his eponymous brand and in 1998 joined with business partner William Hambrecht to build his own winery on Westside Road. Gary Farrell Vineyards & Winery was sold in 2004, passed through several hands and is now owned by the Vincraft Group. The rigors of producing wine in large quantity under corporate ownership took its toll on Farrell and he felt he was losing the close connection to all phases of winemaking. He left Gary Farrell Vineyards & Winery permanently in 2006 to produce small lots of Pinot Noir and Chardonnay from select Russian River Valley vineyards. Gary Farrell Vineyards & Winery still produces excellent Pinot Noir and Chardonnay under the direction of Susan Reed who trained under Gary Farrell, but the winery's offerings carry his name only.
Farrell partnered again with William Hambrecht to found Alysian (ah-liss-ee-uhn), a Greek word referring to an endeavor arising from intuitive creativity and artistic resolution. Alysian, which specializes in Russian River Valley Pinot Noir and Chardonnay was quietly launched with the 2007 vintage due to non compete agreements but these expired in 2011 and Farrell has become more of a spokesperson for his label. I met with him for the first time in 2011 to taste his 2008 Pinot Noirs. He is soft spoken, calm and polite with an attractive smile and a golf tan. Farrell has always been shy and never enjoyed a highly visible marketing campaign to attract attention to his wines and he never will. He prefers to let the wines speak for themselves. If you are interested in wines of elegance and balance, wines that exemplify intense flavors at modest extraction levels and lower alcohols, it is time for you to become acquainted with Alysian wines. Farrell's goal is well summarized in a quote from a recent Alysian newsletter: "Thankfully, many consumers and winemakers are beginning to favor a more elegant and refined style of wine. It is not that we seek less flavor, texture or depth; it's simply that we understand abundance and generosity in wine is achievable without excessive extract and alcohol." Visit the website at www.alysianwines.com to join the mailing list and obtain current releases.
The 2009 vintage was stellar in California with generous flavors at modest alcohol levels. The growing season was relatively cool and the ripening process was steady delivering very good levels of flavors and acidity at lower sugar levels. The excellent acidities are reflected in the pH and TA readings for the three wines reviewed below. Yields were modest but quality was very high. Farrell feels that 2009 was the most enjoyable grape harvest of his long career. The Alysian appellation blend offering, the Russian River Selection, is unique in that Farrel assembles this wine before he creates the vineyard designate wines and is not an afterthought. A number of wineries create appellation blends with poorer quality barrels deemed unacceptable for the winery's finest wines. In contrast, Farrell says, "Our appellation blends are nearly always among our most exciting and alluring wines."
These are wines of pedigree and impeccable balance that scream for food. The ultimate table wines.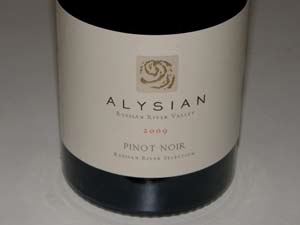 2009 Alysian Russian River Selection Pinot Noir
13.8% alc., pH 3.41, TA 0.73, 2,231 cases, $40. Fruit from Rochioli (Pommard). Allen (777), Starr Ridge (115 and 777), Floodgate (Martini and Dijon clones), and Hallberg (Cruz clone and 828). 100% de-stemmed, aged 10 months in 40% new (Francois Frères and Rousseau) and 60% one and two year old French oak barrels. · Medium reddish-purple color in the glass. Bright aromas of Bing cherries, cola and baking spice rise out of the glass, persisting over time. Moderately concentrated flavors of cherries wrapped in supple tannins and framed by bright acidity. Fat in the mouth with a richness only Russian River Valley Pinot Noir can deliver. I love this wine for its pure exuberance. Like cherry pie day at cooking school: cherries, baking spice and very interesting results.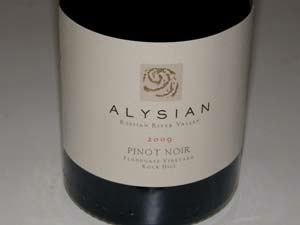 2009 Alysian Floodgate Vineyard Rock Hill Russian River Valley Pinot Noir
13.9% alc., pH 3.40, TA 0.705, 159 cases, $55. Floodgate is located in the heart of the Middle Reach. Rock Hill (Block 16) was planted in 2000 on one of the rockiest knolls on the property resulting in low vigor). Dijon 777. 100% de-stemmed. Wild and cultured yeast fermentation following a 5-day cold soak. Aged 13 months in 45% new (Francois Frères and Rousseau) and 55% one and two year old French oak barrels. · Medium reddish-purple color in the glass. Aromas of underbrush, dark red cherries and berries and dark red rose petals. Think wild cherries sprinkled with herbs and flowers. Discreetly concentrated core of dark cherry and cranberry flavors strike an impression on the mid palate and linger with a pleasing citrus-flavored berry finish. Great cut and vibrancy. Not as luscious as the Russian River Selection, but more nuanced, offering a different experience with each sip.

2009 Alysian Rochioli Vineyard Edgewater Russian River Valley Pinot Noir
14.3% alc., pH 3.37, TA 0.71, 240 cases, $65. Only Williams Selyem and Alysian receive allocations from this vineyard. Clones 115, 777 and Pommard. 100% de-stemmed. Wild and cultured fermentation lasting 11 days with manual punch downs daily. Aged 13 months in 45% new (Francois Frères and Rousseau) and 55% one and two year old French oak barrels. · Medium reddish-purple color in the glass. Riper, darker fruited aromatic profile consisting of a complex melange of deep red and purple stone fruits with a hint of potpourri. Mouth filling presence with well-proportioned tannins and acidity keep the wine in line. Reasonably assertive but light on its feet. Impressive persistence on the finish highlighted by citrus-flavored cranberries. Unlimited long-term potential.
Anaba Wines
Proprietor John Sweazey developed a passion for wine as a Stanford University undergraduate, pursued a successful career in real estate finance, and sold his business in 2003 to found Anaba, a winery in western Carneros. The name, Anaba, refers to the anabatic wind that blows in Sonoma. The Pinot Noir and Chardonnay wines are sourced from cool vineyards in Carneros and other properties in Sonoma County (a Soberanes Vineyard Santa Lucia Highlands Pinot Noir is new for the 2010 vintage).
The winemaker is University of California at Davis graduate Jennifer Marion. All fruit is de-stemmed, fermented in one ton open top vessels and aged 11 months. The Pinot Noirs are all very similar in aroma and taste. They are solid and well-crafted fruit-driven examples of Pinot Noir. If you like Kosta Browne Pinot Noir, you will probably enjoy Anaba Pinot Noir which are similar stylistically.
A tasting room is located at 60 Bonneau Road at the intersection of Highways 121 and 116 (photo below). Visit www.anabawines.com. Anaba Chardonnays are reviewed later in this issue.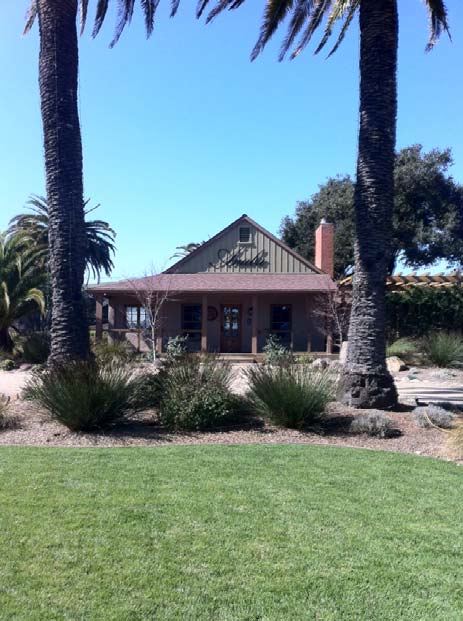 Frank Family Vineyards
This Napa Valley winery is located at the historic Larkmead Winery site in Calistoga, and is well known for its Cabernets, Chardonnays and sparkling wines. A Pinot Noir program was launched with the 2007 vintage, using grapes from the 138-acre Lewis Vineyard in Napa Carneros, and other vineyards in the Carneros region. The winemaker is Todd Graff. The tasting room, housed in a 1930s Craftsman home in Calistoga, is very popular, having won the San Francisco Chronicle reader's choice for Best Tasting Room in Napa in 2010 and 2011. The 2009 vintage Pinot Noir was previously reviewed favorably and these two 2010 releases are commendable followup releases. Visit www.frankfamilyvineyards.com.
2010 Frank Family Vineyards Napa Valley Pinot Noir
14.5% alc., pH 3.75, TA 0.64, $35. Aged 12 months in 35% new and 65% once and twice filled oak barrels. · Moderately dark reddish-purple color in the glass. Aromas of plum, black currant and rose petal. Plentiful flavors of plum and black raspberry with herbs in the background. Relatively light in weight with soft tannins, leaving a little heat in its wake on the finish. Good.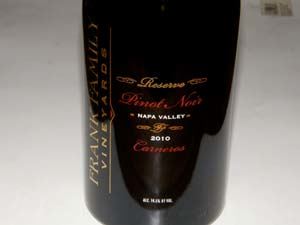 2010 Frank Family Vineyards Napa Valley Reserve Pinot Noir
14.5% alc., pH 3.87, TA 0.59, $57.50. Aged 9 months in 35% new and 65% once and twice filled French oak barrels. · Dark reddish-purple color in the glass. Richly perfumed with aromas of darker red and black Pinot fruits and spice cabinet. Delicious core of ripe black plum, black cherry and black raspberry flavors offering impressive mid palate intensity and finishing strength. Soft and velvety in the mouth with supple tannins. Well-integrated oak. Only nit would be the lack of uplifting acidity but this wine aims to seduce with its luscious fruit core. Very good.
Graton Ridge Cellars
The Paul Family were originally Russian River Valley apple growers, but like many Gravenstein apple operations in this region, the apple bins gave way to grape bins and the rustic farm stand that offered apples and apple juice was transformed into a modern tasting room facility open daily at 3561 Gravenstein Hwy (118) N, in Sebastopol. The Paul Family Vineyard is planted to Pinot Noir, Chardonnay and Sauvignon Blanc. The winemaker is Nick Legg. Both a Russian River Valley Pinot Noir and a Russian River Valley Estate Pinot Noir are offered. Visit www.gratonridge.com for wines and check out the great collections of recipes.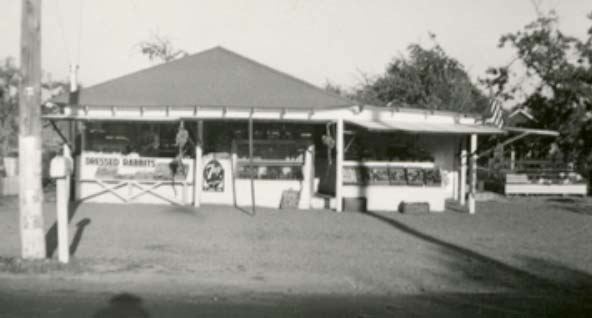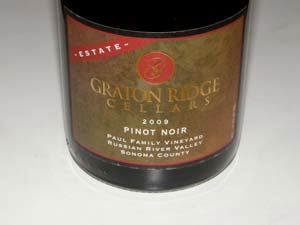 2009 Graton Ridge Cellars Estate Paul Family Vineyard Russian River Valley Pinot Noir
14.5% alc., $50. · Medium reddish-purple color in the glass. Appealing aromas of fresh dark berries and cherries with hints of oak, coffee and peppercorn. Flavored with oak-kissed dark Bing cherries and dark red berries with a moderately fat, silken richness that only Russian River Valley Pinot Noirs can offer. Smooth and seamless on the palate with supple tannins and impressive cherry-driven finish. Very good.
george wine company
George Levkoff has a thing about lower case but his Pinot Noirs are nothing but upper class. Trained and inspired by Burt Williams of Williams Selyem, he launched his eponymous label in 2003 with 150 cases of Hirsch Vineyard Pinot Noir. His Pinot Noirs quickly caught the attention of top sommeliers at restaurants in Las Vegas and New York, and his wines have quickly achieved cult status. I have been a fan from the beginning, entranced by the elegance and sensuality that his wines deliver. George is a one-man operation, performing every step of wine production from sorting grapes to hand bottling and numbering each bottle, personally marketing the wines, and even delivering. The wines are highly allocated to a mailing list with very limited fine restaurant distribution (a number of the restaurants are noted on the website). The 2010 wines are sold out. Visit www.georgewine.com and get on the mailing list.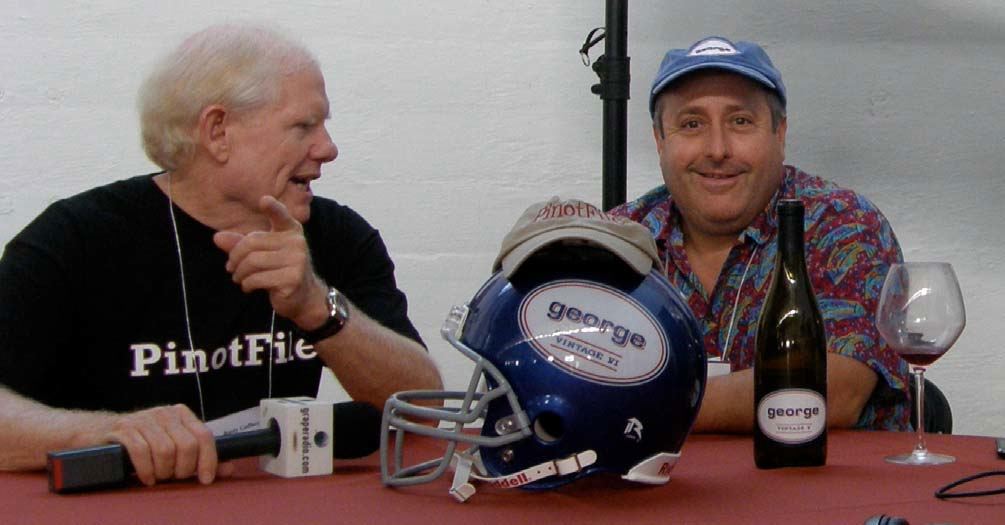 Loring Wine Company
Proprietor and winemaker Brian Loring has come a long way. Inspired by the Pinot Noirs of Calera Wine Company, he developed his winemaking skills working under winemaker Norm Beko of Cottonwood Canyon Winery in Santa Maria Valley in the late 1990s. A software engineer by trade, Brian was one of the first boutique Pinot Noir producers to enter the wine production game cold, a path that many have subsequently followed in California. Unimpressed by his good fortune and success, he has shared his enthusiasm and knowledge freely, and inspired a number of others to venture into the Pinot race including Jamie Kutch of Kutch Wines, Andrew Vingiello of A.P. Vin, and the partnership group at Pali Wine Company.
Loring's success has been predicated in part on his ability to acquire first-rate Pinot Noir grapes from prestigious vineyards. His philosophy is, " The fruit is EVERYTHING." His wines have caught the attention of the consumer and wine press with their hard-to-ignore deep colors, ripe, showy, sappy fruit, and generous oak character. Over the years, Loring has moderated his style, choosing to pick at somewhat lower sugar levels to reduce the alcohol levels, and although the wines remain intensely fruit-driven, they have better acidity, less oak notes, are less boozy and better balanced. My reviews of the 2010 vintage wines below reflect this. He continues to have a solid following and sparkling press reviews and remains firmly committed to his vision for Pinot Noir. He has gradually increased production, pursuing an ultimate goal of 3,000 cases annually. He crafts his wines in a leased facility in the Lompoc "Wine Ghetto," while still employed in a day job as an independent software contractor. Chardonnay (see review later in this issue) is also offered and occasionally other varietals appear.
The 2010 Pinot Noirs reviewed here are all full-bodied, fruit-driven and very similar in flavor profile. The wines exhibit noticeable but not intrusive oak support, moderately high alcohols, relatively mild tannins, soft textures, and reasonable finishing lengths. It is a style of wine that has been criticized by some winemakers in California who profess that balance can only come through lowered extraction, ripeness and alcohol levels, yet the Loring Pinot Noirs are nicely balanced and in the case of the Durell bottling, impeccably balanced.
Additional 2010 Loring Wine Company Pinot Noirs not reviewed here include: Russell Family Vineyard Paso Robles, Aubaine Vineyard (San Luis Obispo County), Cargasacchi Vineyard (Sta. Rita Hills), Rancho La Vina Vineyard (Sta. Rita Hills), Clos Pepe Vineyard (Sta. Rita Hills), and three appellation blends from the Central Coast, Russian River Valley and Santa Lucia Highlands.
The winery's tasting room is open Friday through Sunday from 12:00 to 5:00 and Monday through Thursday by appointment (805-742-0478). Brian's sister, Kimberly, is involved in the winery as well. Visit the website at www.loringwinecompany.com. The wines are sold through a mailing list with limited retail distribution. Prices include shipping.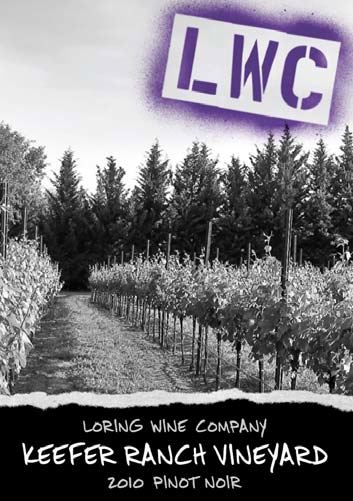 Olivia Brion
This is a very interesting wine project headed by David Mahaffey who planted Heron Lake Vineyard in 1980 in the Wild Horse Valley east of Napa Valley. A boutique grower and producer of Pinot Noir and Chardonnay, Olivia Brion is a partnership between Mahaffey, vineyardist John Newmeyer who lives on the isolated property, and physician and epidemiologist Mark Oberle, M.D.. The Wild Horse Valley appellation (approved in 1988) is the coolest region in the Napa area and the Heron Lake Winery is the only winery in the appellation. The vineyard is planted to Chardonnay and Pinot Noir on very rocky soils rich in minerals. The vines struggle to survive and yields are low which translates to intensity of flavor. The vineyard will be fully organic in the spring of 2013.
Mahaffey has been making wines in the Napa Valley for 30 years and has been the winemaker for Heron Lake Vineyard since its first vintage in 1985. Olivia Brion is the epitome of an estate winery where the vineyard and winery are located on the same site, and the wine is produced exclusively from estate fruit and bottled on site. Until recently, nearly all the Chardonnay was sold to Newton for their premium bottlings, but the fruit is now all retained for the Olivia Brion Chardonnay.
Both Pinot Noir and Chardonnay are held for 17-18 months before release as Mahaffey believes the wines need the extra time for full development.
The story of Olivia Brion, the inspiration for the winery's label, is well detailed on the website at www.heronlakewinery.com. The wines are sold primarily direct to consumers through an order form on the website. Current production is 800-900 cases of estate Pinot Noir and 1,000 cases of estate Chardonnay. The Chardonnay is reviewed elsewhere in this issue.
I visited Heron Lake Vineyard & Winery recently and the photos of Heron Lake and the Heron Lake Vineyard follow. Only a thirty minute drive from Napa, but a whole different world redolent of beauty and serenity.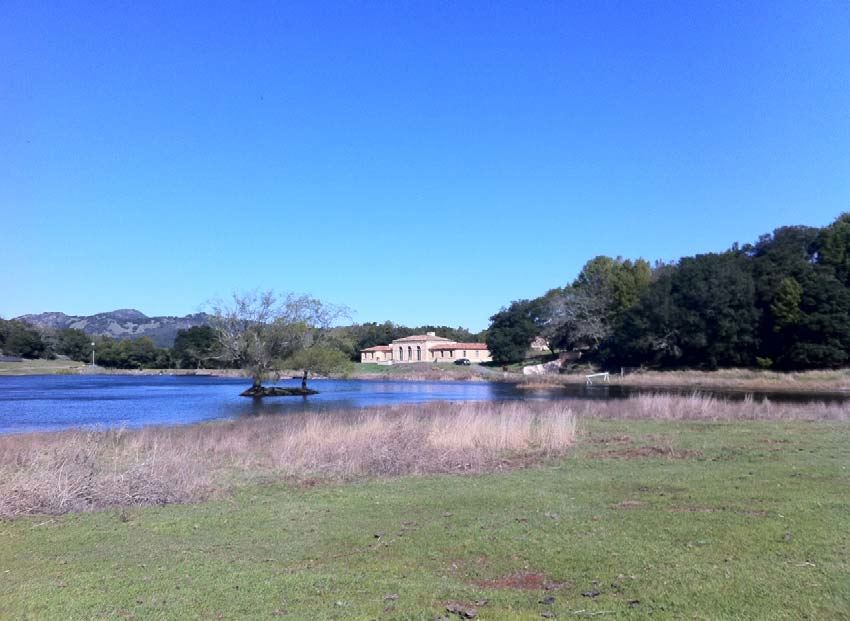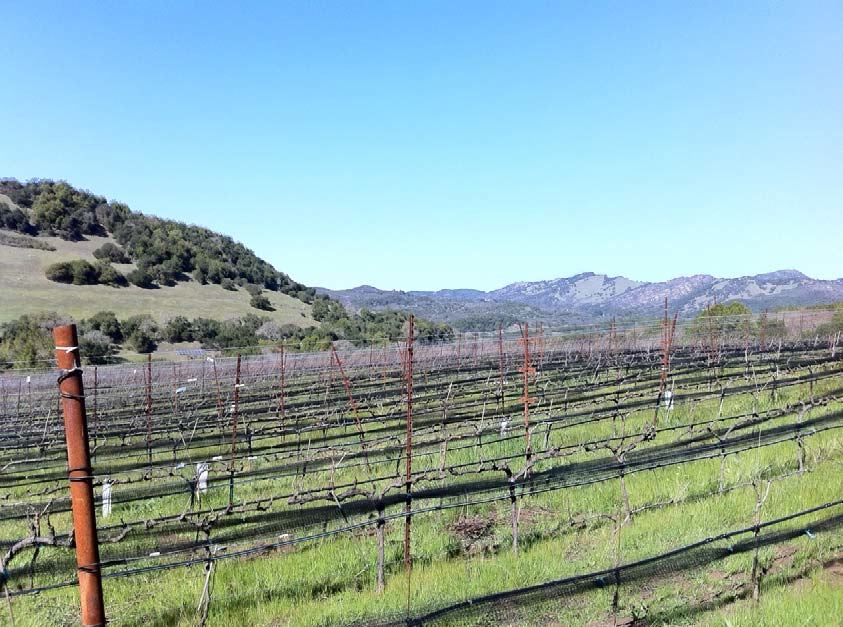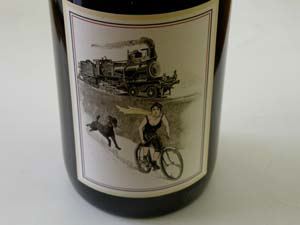 2009 Olivia Brion Heron Lake Vineyard Wild Horse Valley Pinot Noir
13.9% alc., 400 cases, $40. Released April, 2012. · Moderately dark reddish-purple color in the glass. Aromas of dark red berries, seasoned oak and floral bouquet. More savory than fruity, with a core of dark red cherries and berries, offering interesting riffs of red bell pepper, herbs and spice. A unique wine that unfolds slowly in the glass, offering well-honed ripe, fine-grain tannins and an uplifting cut of acidity on the finish. This wine will appeal to those who do not relish overtly fruity wines. Very good.
Olson Ogden
John Ogden and winemaker Tim Olson started this boutique winery in Sonoma County in 2002, offering about 1,000 cases a year of Pinot Noir and Rhone varietals. Tim Olson began crafting wine in his home garage well over 20 years ago. Influenced by Charlie Wagner (Caymus) for whom he worked, and Burt Williams (Williams Selyem) whom he admired, he crafted some excellent wines at Tarius Wines in Santa Rosa before launching the Olsen Ogden label. Olson Ogden wines have garnered numerous awards in wine competitions and received considerable raves from the wine press. Olson Ogden wines are sold through a mailing list with limited retail distribution (www.olsonogdenwines.com). Tasting is available at the co-op tasting room, Vinteca, in Santa Rosa. Manchester Ridge Vineyard is pictured below.
2009 Olson Ogden Alder Springs Vineyard Mendocino Pinot Noir
14.4% alc., pH 3.56, TA 0.53, 143 cases, $65. This vineyard, farmed by Stu Bewley, is located an hour north of Ukiah, sitting on a mountain slope between 1700 and 2700 feet elevation. It is sustainably farmed with low yields ranging from 1.5 to 2 tons per acre. Clones are Wädenswil, 115, 459 and 777. Aged 17 months in 65% new French oak barrels. · Aromas of ripe, herb-dusted berries with particular notes of bay leaf. Discreetly concentrated core of perfectly ripened black cherries and dark red berries with an earthbound tone. A hint of wood spice adds interest. Firm, very slightly astringent tannic backbone. Memorable finish that you hate to end. Very good (+).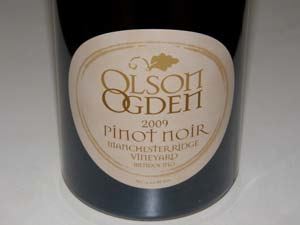 2009 Olson Ogden Manchester Ridge Vineyard Mendocino Pinot Noir
14.2% alc., pH 3.53, TA 0.57, 148 cases, $55. This vineyard is located in the Mendocino Ridge AVA 2000 feet above the Anderson Valley. Clones 114, 115 and 777. Aged 17 months in 50% new French oak barrels. · Moderately light reddish-purple color in the glass. Shy aromas of red cherries and berries with a hint of balsam and herb garden. Flavors of luscious pie cherries accented by notes of exotic tea, cola, cassis sandalwood and spice. Layers of interest with seductively soft tannins and incredible length on the exit. An interesting contrast to the Alder Springs bottling with this wine being less structured, but more fruity and flirty. Take your pick.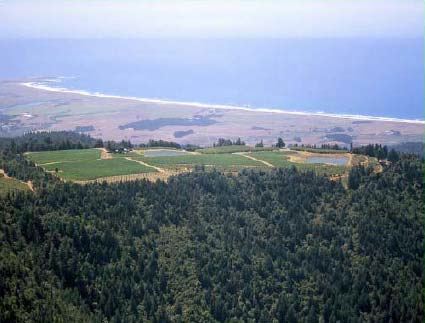 Pfendler Vineyards
Kimberly Pfendler keeps her deceased spouse's memory alive through this label that offers Pinot Noir and Chardonnay from four estate vineyards in the Petaluma Gap region of the Sonoma Coast. Noted winemaker and viticulturist, Greg Bjornstad, was the initial winemaker and vineyard manager, replaced for by John Raytek in 2010, with Greg returning in late 2011. The 2010 Pinot Noir reviewed here was finished by Greg. Visit the website at www.pfendlervineyards to purchase the wine.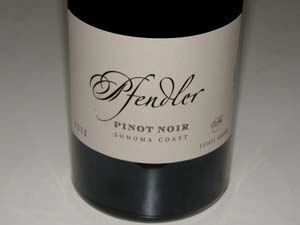 2010 Pfendler Vineyards Sonoma Coast Pinot Noir
14.4% alc., $42. · Medium reddish-purple color in the glass. Nicely perfumed with an array of spiced, dark red fruits. Opens nicely over time in the glass, revealing a medium weight core of red and dark red Pinot fruits with a notable hint of pomegranate, spice and oak char. Mild tannins, bright acidity and some length on the finish. A charming wine that aims to please. Very good.
Talisman
I have written extensively about winemaker Scott Rich and his consistently stellar Pinot Noir lineup. He started his label in 1993, sourcing fruit from unique terroirs that are challenging and expressive. I caught up with him at the recent World of Pinot Noir to talk about his latest releases. He has been crafting Pinot Noir from Red Dog Vineyard on Sonoma Mountain and Adastra Vineyard in Carneros for several vintages now and he has a good handle on the fruit from these two sources. Both wines are very good, but the Adastra Vineyard Pinot Noir is the best he has made from this vineyard. All Talisman wines are held for at least a year in bottle before release. Talisman wines are available through a mailing list and the website store at www.talismanwine.com. The winery is not open to the public and does not have a tasting room but four times a year the doors are open for open houses. Occasionally a private tour and tasting is possible (707-996-9050). The wines are made in a warehouse complex known as Eighth Street Wineries in Sonoma (visit www.eighthstreetwineries.com).
2008 Talisman Red Dog Vineyard Sonoma Mountain Pinot Noir
14.3% alc., 335 cases, $48. This vineyard is located high above Bennett Valley at 1200 feet elevation on the northwestern side of Sonoma Mountain. 100% Pommard 4 clone. · Moderately dark reddish-purple hue in the glass. An array of perfectly ripe purple and black fruits rise from the glass. Savory and earthy, edgy and raunchy, with a subtle tarry note in the background. Moderately dense with ripe, well-proportioned tannins and a dreamy finish. A wine of character that shows its individuality in each vintage. Very good (+).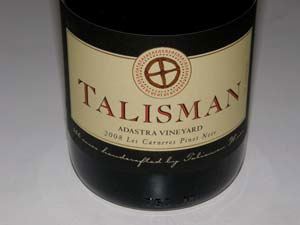 2008 Talisman Adastra Vineyard Los Carneros Pinot Noir
14.3% alc., 266 cases, $50. This vineyard is organically farmed by Chris Thorpe and his son-in-law Edwin Richards. Clones are Wädenswil, Dijon 113 and Pommard. · Moderately dark in color. Appealing aromas of blackberries, boysenberries and exotic woods. Delicious core of black plum and blackberry fruit that cloaks the firm structure producing a sleek mouth feel and impressive finishing strength. A man's wine that is yet condescending and soft on the palate. Still alluring the following day from a previously opened and re-corked bottle. I wanted to hug this wine.
Tessier
Owner and winemaker Kristie Tacey specializes in Russian River Valley Pinot Noir. Her initial career path was biotechnology and in 2000 worked on the Human Genome Project. While living in the San Francisco Bay area, she become intrigued by wine and winemaking. After working as an assistant winemaker at the former East Bay winery, Lost Canyon, and later as part of the winemaking team at JC Cellars, she launched her own label in 2009. She now has a Certificate in Winemaking from University of California at Davis. Her husband, Jason Wilinski, is her Brand Manager, support and mind behind. The Tessier wines are available by e-mailing Kristie at kristie@tessierwinery.com and can be found at several San Francisco Bay retailers and restaurants. Tasting is by appointment. Visit www.tessierwinery.com. I was particularly impressed by the appealing textures of all three of the 2010 Pinot Noirs.
The name, Tessier, is the original French version of Kristie's last name, Tacey. The Tessier label depicts a photograph through a microscope of yeasts budding (a clever depiction since yeasts are the work horses in winemaking). The winery's tag line is catchy: "Science as Art."

2010 Tessier Russian River Valley Pinot Noir
13.5% alc., pH 3.58, 122 cases, $28. Aged in 33% new French oak barrels. · Moderate reddish-purple color in the glass. Aromas of Bing cherries, cherry syrup and sandalwood. Middleweight flavors of fresh cherries caressed by soft tannins complimented by subtle oak. A solid wine that is very open and approachable with an appealing Elvis on velvet mouth feel. Good (+).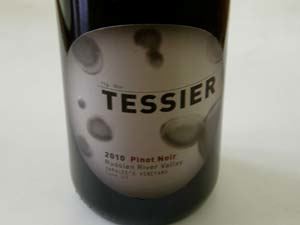 2010 Tessier Saralee's Vineyard Clone 115 Russian River Valley Pinot Noir
14.2% alc., pH 3.57, 21 cases, $40, sold out. Aged in 50% new French oak barrels. · Moderately light reddish-purple color in the glass. Shy but pleasing aromas of darker red cherries and raspberries with a subtle hint of rose petal. Appealing array of flavorful cherry, red currant, marionberry and strawberry fruit with a sidecar of herbal oak. Firmly structured with a pillowy soft texture, finishing with a tangy red berry flourish. A step up from the Russian River Valley bottling and very approachable at this early stage. Very good.
2010 Tessier Las Brisas Vineyard Carneros Pinot Noir
14.1% alc., pH 3.67, 51 cases, $35. Aged in 50% new French oak barrels. · Light reddish-purple color in the glass. The nose offers bright aromas of red plum and red berries with notes of pine needle and grass. Light on its feet and soft in the mouth, this wine has some character with primarily cherry flavor underpinned with a resin-pine riff which I assume is oak in origin. Firm, ripe tannins and bright acidity. Much better the next day from a previously opened and re-corked bottle with more expressive fruit and resolution of the oak intrusion. Good (+).
Three Sticks Wines
Founded by Bill Price in 2002, offering Pinot Noir, Chardonnay and Cabernet Sauvignon from the 130 acres of Durell Vineyard that he owns (his former spouse, Ellie Phipps Price, owns 60 acres of Durell Vineyard and makes wine under the Dunstan label). Three Sticks is a teenage nickname given to him by surfing friends who teased him about being named William S. Price III. The winemaker is Don Van Staaveren assisted by Tracey Bledsoe. Three Sticks Wines is one of the few California wineries to succeed with Pinot Noir, Chardonnay and Cabernet Sauvignon. Due to the limited production, the wines are sold through an allocation list at www.threestickswines.com. Most of the fruit from Durell Vineyard is sold to numerous prestigious wineries.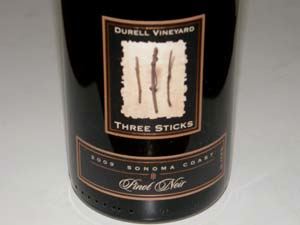 2009 Three Sticks Durell Vineyard Sonoma Coast Pinot Noir
14.7% alc., pH 3.70, TA 0.63, 253 cases, $60. Released March 20, 2012. A selection from the finest blocks in the vineyard and the best barrels in the cellar. Clones 667, 115 and 777. 10% whole cluster. Aged 15 months in 50% new French oak barrels. · Moderately dark reddish-purple color in the glass. Ripe dark berry and plum aromas explode from the glass accented by the slightest note of herbs and spice. An "Oh my God!" nose. Delicious essence of fresh black raspberries, black currants and dark plums, accented with Middle Eastern spices and cola. Amazing mid palate presence, soft tannins, and a finish that would make Hollywood proud. Crafted for early accessibility and not a long term ager. You will need a cold shower after drinking this one.
Toretti's Family Vineyard
Robert Torres, a restaurateur and rancher, planted 5 acres of Pinot Noir in 2000 on his family's 10-acre estate in the Santa Maria Valley and began producing wine under the Casa Torres Vineyard label in 2006. He subsequently changed the label to Toretti's Family Vineyard. The name is a combination of Robert's spouse Marlene's maiden name, Maretti, with the surname Torres. The Maretti family is one of many Swiss families that left Europe to settle on the Central Coast in the early 1900s. The initial winemaker was Lane Tanner, later replaced by Paul Wilkins (Alta Maria, Native9), who has worked magic with the fruit from this vineyard. The wines are available by mail, fax or phone through the website at www.toretti.com. I first encountered the wines at the recent Pasadena PinotFest and came away very impressed. Total production is 950 cases annually of Pinot Noir, Syrah and Chardonnay. A tasting room is planned. 805-714-0622.
2009 Toretti Santa Maria Valley Pinot Noir
14.7% alc., $44. · Light reddish-purple color in the glass. Attractive aromas of ripe cherries, strawberries, sandalwood and balsam. Delicious core of exotically flavored red cherries and berries with a slight confected tone. Light in weight and exuding plenty of finesse and charm, this wine is drinking beautifully now. Very good.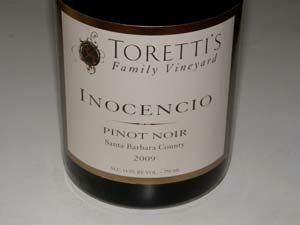 2009 Toretti's Family Vineyard Inocencio Santa Barbara County Pinot Noir
14.5% alc., $44. · Light reddish-purple color in the glass. Aromas of cherry compote, freshly macerated strawberries and sandalwood rise up from the glass. A strawberry and cherry wonderland on the palate with a sidecar of spice and malt. A little more body and structure than the Santa Maria Valley bottling, this wine is an immensely satisfying one that caresses the taste buds with generous flavor without being overstuffed. Dude, this wine is great.
Williams Selyem
This winery needs no introduction. Director of Winemaking, Bob Cabral, and his winemaking staff have Williams Selyem headed up and up fifteen years after the winery's acquisition from Burt Williams and Ed Selyem. The wines continue to pile up the awards and scores and Cabral received a "Winemaker of the Year" award from Wine Enthusiast magazine recently. The estate vineyard wines are superb and the non-estate vineyard sources such as Rochioli, Hirsch, Peay, and Ferrington would be the envy of any winery. This is a large operation, with multiple individual bottlings of Pinot Noir, Chardonnay and Zinfandel each vintage. A new winery is a testament to the label's success, seemingly way too modern and "Napaesque" along side this venerable strip of legendary Westside Road wineries, but visual exciting nevertheless. The winery is not open to the public, but tasting is available for mailing list members. Visit the website at www.williamsselyem.com. A mobile app has been launched that features a cellaring guide with Drink or Hold recommendations, aging windows, original winery tasting notes, and a community notes section to add your own comments. Point your smart phone to www.williamsselyem.mobi.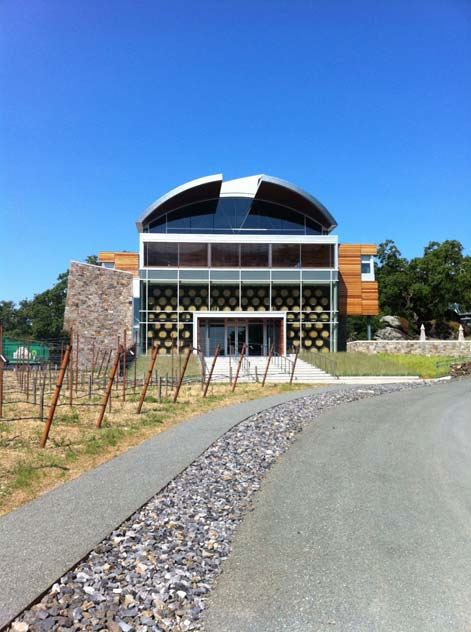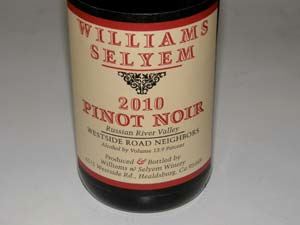 2010 Williams Selyem Westside Road Neighbors Russian River Valley Pinot Noir
13.9% alc., $69. · Medium reddish-purple color in the glass. Slow to open, becoming more complex over time, offering aromas of black cherry liquor, spice, new leather, and cedar. Moderately rich essence of fresh Bing cherries with hints of cola, oak and spice. Beautifully crafted and very polished with a well-proportioned tannic backbone and an appealing finish of some length and good cut. Will benefit from another year in bottle. A special occasion wine.
2010 Williams Selyem Russian River Valley Pinot Noir
14.1% alc., $49. Over 95% estate fruit. · Medium garnet color in the glass. A typical Middle Reach Russian River Valley offering with aromas and flavors of Bing cherries, dark red raspberries, and baking spice. Nicely crafted with moderate tannins, pleasing tension, and admirable balance. Good.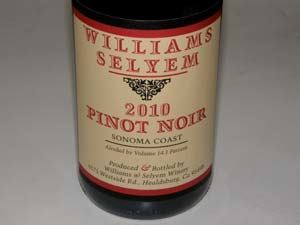 2010 Williams Selyem Sonoma Coast Pinot Noir
14.1% alc., $49. Mostly Dijon clones (a rarity for Williams Selyem). · Medium reddish-purple color in the glass. Exotic aroma of wild berries, spice and woodshed. Moderately rich and impressively vivid black raspberry and plum core with an undertone of earth and minerals. Juicy and silky on the palate, with a well-honed backbone of acidity and tannins, finishing with generous persistence. Very good.