Recommended Chardonnays
Soberanes Vineyard
This is the newest vineyard from the Gary Pisoni and Gary Franscioni families, consisting of 40 acres of Chardonnay, Pinot Noir and Syrah on the Santa Lucia Highlands bench about 9 miles north of Pisoni Vineyards.
The vineyard is named after José Maria Soberanes, who pitched a tent on this site when trekking from Mexico with the Portola expedition of 1769. His son, Feliciano, acquired the rancho as repayment for forty horses, fifty head of cattle, four oxen, and some sheep. The area was then called El Camp Real del Chocolate or Chocolate Camp.
The vineyard is blanketed by fog every morning at about 450 feet elevation, conditions that allow low temperatures for slow ripening of grapes. The rocky soils are ideal for wine grapes.
Row direction runs from north to south to have more uniform sun exposure with tight spacing of vines. Multiple clonal material was used for the Chardonnay block.
Wineries sourcing Chardonnay from Soberanes Vineyard include Bernardus, Black Kite, Brack Mountain, Lucia (Pisoni Family), ROAR (Franscioni family) and Testarossa.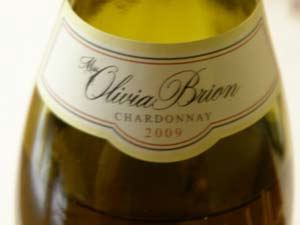 2010 Olivia Brion Heron Lake Vineyard Wild Horse Valley Chardonnay
14.3% alc., 300 cases, $40. Native yeast ferments. Aged 16 months in Latour and Francois Frères oak barrels. · Light straw color and very slight haze in the glass. Demure aromas of lemon, green apple, petrichor and ocean spray. Delicious core of baked Bosq pear, caramel, honey and very subtle oak. Reserved but seductive with a creamy, spirited finish. A very classy, black tie wine that keeps everything in perspective.