The Holy Trinity of Santa Lucia Highlands Pinot Noir
The name Pisoni is synonymous with Santa Lucia Highlands Pinot Noir and the three Santa Lucia Highlands vineyards that the Pisoni family farms including Pisoni Vineyard, Garys' Vineyard, and Rosella's Vineyard (the latter two in partnership with Gary Franscioni) have become the Holy Trinity of Pinot Noir vineyards in this region. Like the Trinity doctrine, these three vineyards yield Pinot Noir which is often thought of as one whole, but the vineyards are clearly distinct from one another. Think of them as the Father (Pisoni Vineyard), the Son (Garys' Vineyard) and the Holy Spirit (Rosella's Vineyard). The Christian analogy may be a bit far-fetched, but if you are a lover of Pinot Noir, you know that wines from these vineyards can be a revelation.
After years of tasting Pinot Noir from these three vineyards, I decided to try to define each vineyard's distinct character using representative wines from the 2009 vintage. I have acquired a good idea of the differences in the Pinot Noirs from these three sites, but had never sampled a large number of wines side-by-side at one sitting. I gathered winemakers Jeff Pisoni (Pisoni, Lucia) and Jeff Fink (Tantara), and some of my wine loving friends together one day in February 2012, at the Pacific Club in Newport Beach, California, and the following report details the group's consensus after the tasting. Before presenting the tasting notes and the group's general impressions, some background is in order.
Monterey County is a very large wine region with 42,000 acres planted, only slightly less vineyard acreage than Napa Valley's 43,000 acres. 75% of Monterey County grapes are sent out of the county to be incorporated into wines from Napa and Sonoma counties that often state the wine origin as "California" on the label. This trend is slowly changing as Monterey County gains more cachet among consumers, and leading this charge is the Santa Lucia Highlands, an appellation within the larger Monterey County appellation, where more grower-producers have emerged. The Santa Lucia Highlands takes its name from the Santa Lucia Mountains which stretch more than 100 miles from Monterey south to San Luis Obispo.
Pinot Noir thrives in the northern parts of Monterey County including the Carmel Valley, Chalone, Arroyo Seco and Santa Lucia Highlands appellations. The plum of Monterey County is the Santa Lucia Highlands, which sits directly west of the low-lying vegetable growing plains of the Salinas Valley. The maritime climate resulting from the nearby Monterey Bay is well suited for Pinot Noir and Chardonnay, which together represent 78% of the Santa Lucia Highlands appellation's approximate 6,100 acres of plantings. Pinot Noir accounts for about 47 percent of vineyard acreage (2,800 acres) in the Santa Lucia Highlands. Pinot Noir from the Santa Lucia Highlands is both appellation and vineyard designated.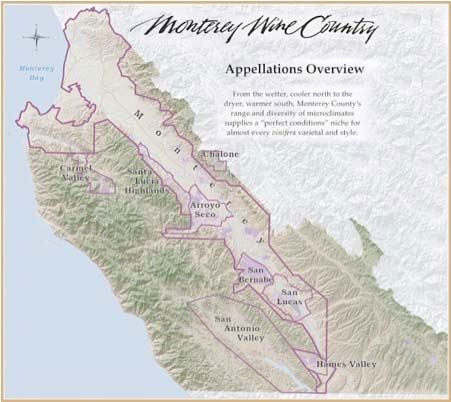 Winegrower Gary Pisoni is the ambassador for the Santa Lucia Highlands and for good reason. Not only is he a colorful character, his Pisoni Vineyard was the first to bring notoriety to the region. He comes from a generation of farmers who tended row crops in the Salinas Valley long before he was born. Gary enjoyed drinking and collecting French wines, especially those from Bordeaux, during his college days at San Jose State. When he graduated, he was eager to find a way into the wine business. When he told his father, Eddie Pisoni, he wanted to plant grapevines on the family cattle ranch in the Santa Lucia Highlands, he was met with several objections, not the least of which was the cost. Gary countered to his father, "Have you ever been to a $250 lettuce tasting?" Gary's father relented and a legendary vineyard was born in 1982.
Gary planted his vines in virgin decomposed granite, gravelly loam soil at 1,300 feet above the Salinas Valley at the southern end of the Santa Lucia Highlands appellation. The ranch land had been acquired by Eddie and his spouse Jane in 1979, a 280-acre plot in a region the Spaniards called Eternidad Pariso. The region is very dry (12 to 18 inches of rainfall per year), and it was a challenge to find water. Gary had to dig five wells before discovering a water source in 1991. The previous ten years, he had trucked in water from the valley floor for irrigation. The original 5 acres of vines have been rumored to be Samsonite cuttings from a famous domaine in Vosne-Romanee (? La Tache), and are now called the Pisoni clone or selection. Dijon clones 828, 777 and 115 were added to Pisoni Vineyard over time.
In the mid 1990s, Gary teamed with boyhood friend, Gary Franscioni, a lifelong resident of Gonzales in the Salinas Valley who has been farming crops in the region since graduating from Cal Poly San Luis Obispo. The pair were born but five weeks apart and shared toy tractors as toddlers. Together, they planted and now farm Garys' Vineyard, Rosella's Vineyard, and the newest vineyard, Soberanes, which was established in 2006 and is adjacent Garys' Vineyard. Gary Franscioni also has a new Santa Lucia Highlands vineyard that was planted in 2007-2008, Sierra Mar, one of the highest altitude vineyards in the Santa Lucia Highlands. Gary Franscioni also has his own wine label, Roar, in partnership with winemaker Ed Kurtzman.
Gary Pisoni's son, Mark, who has a B.S. degree in Agricultural Economics from University of Calfornia at Davis and a Master's Degree in Farm Business Management from Cornell University, now directs the farming of Pisoni Vineyard as well as the Pisoni vegetable growing operation which dates to 1946. Mark presides over the same 15-person crew that has hand-tended the vines at Pisoni Vineyard for over ten years. He also manages Garys' and Soberanes vineyards in conjunction with Gary Franscioni. All three vineyards that Mark farms are SIP (Sustainability in Practice) certified by the Central Coast Vineyard Team.
A second son, Jeff, is a graduate of California State University Fresno in enology, and took over the winemaker duties for the Pisoni family labels, Pisoni and Lucia, in 2002. Jeff and Mark created the Pisoni label, releasing the first estate Pinot Noir in 1998. The second label, Lucia, debuted in 2000. The photo below shows the Pisoni clan taken for their 2012 calender.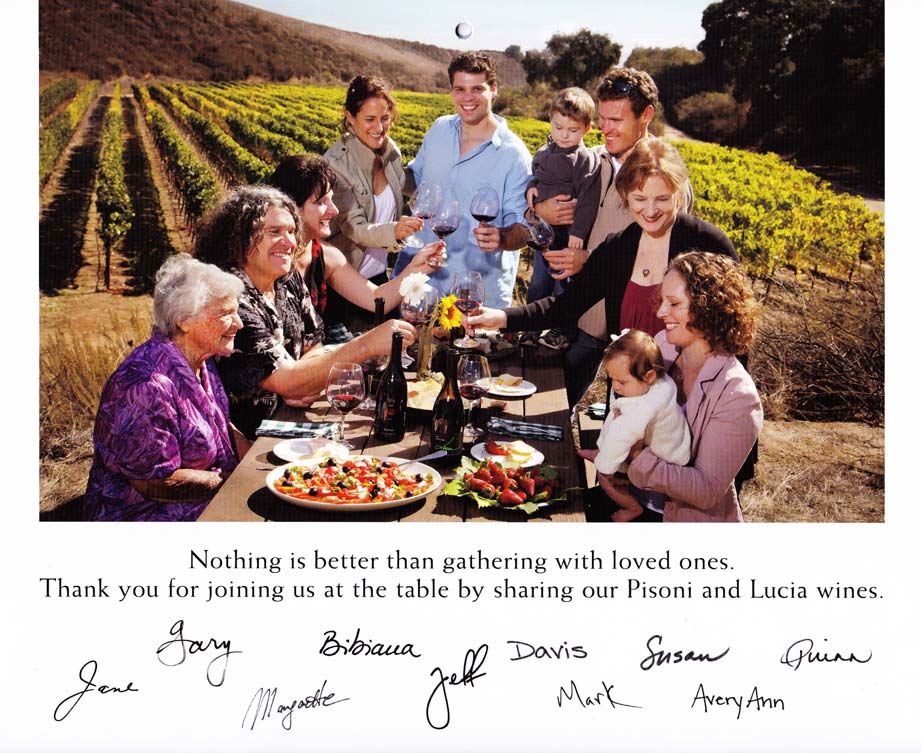 The success of the Santa Lucia Highlands winegrowing region is a result of three weather related factors that lead to proper ripening of Pinot Noir and Chardonnay. Nearly every day in the summer, fog from the Monterey Bay rolls in and blankets the entire Salinas Valley and Santa Lucia Highlands. The fog stays until late morning and returns late in the day. Monterey Bay acts like a large funnel for the prevailing winds off the Pacific Ocean and by mid afternoon there are strong winds rushing down the Salinas Valley, cooling the vines. The winds not only cool, they dry the clusters and help to reduce disease pressure. Bright, mild sunshine appears in the late morning and because the entire appellation faces towards the East, the vineyards are bathed in this gentle sun. Hot afternoon sun is largely avoided due to the protection afforded by the Santa Lucia Mountain range which blocks the setting sun. This geography in combination with the fog and cooling winds means that temperatures rarely exceed 90ºF. Daily afternoon temperatures are lower on the northern end of the appellation, and slightly warmer on the southern end. Diurnal swings in temperature are more extreme for vineyards at higher elevations.
The two photos below are views of the Santa Lucia Highlands. The upper photo shows a dense blanket of fog in the evening. The lower photo was taken at noon and shows how the fog has receded.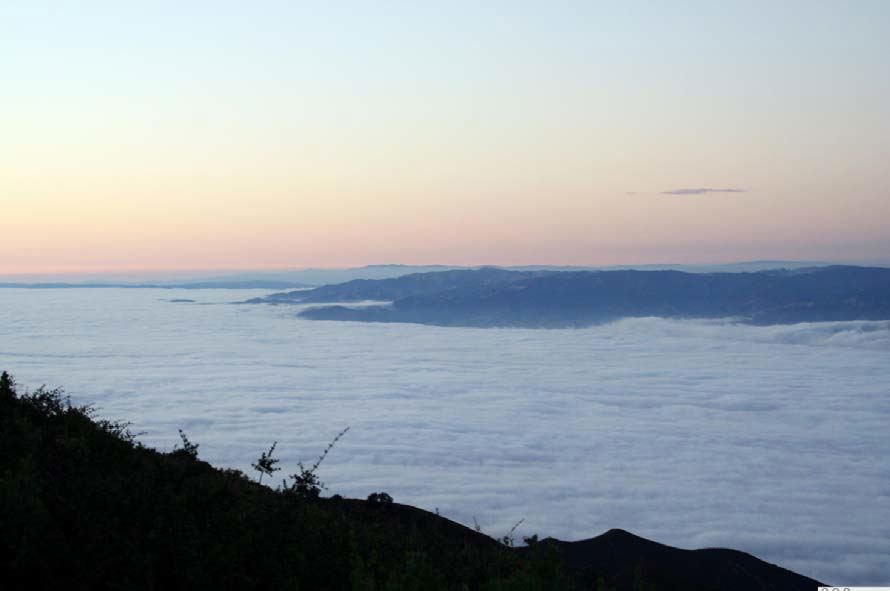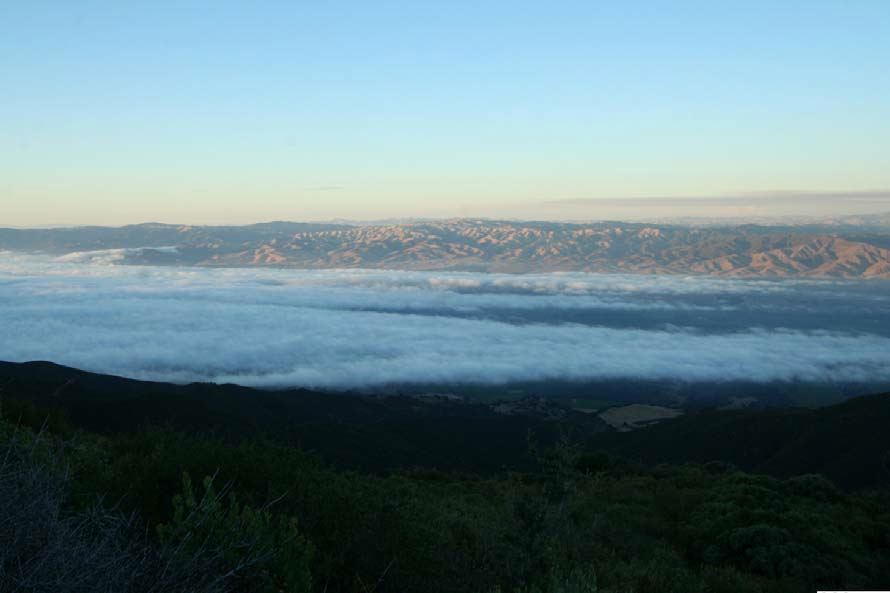 Vineyard Profiles
The vineyards in the Santa Lucia Highlands are planted on the southeastern slopes of the highlands overlooking the Salinas Valley. The vineyards are highly visible as one drives along Highway 101 south of Salinas. A vineyard map of the appellation follows the vineyard profiles.
Rosella's Vineyard

Initial planting date: 1996; planted over 7 years (1996-2003).
Acres: 50.
Elevation: 400'.
Soil: Deep Arroyo Seco sandy loam.
Varieties: Pinot Noir, Chardonnay, Syrah.
Pinot Noir clones: 667, 777, Pisoni, Pommard, 828. VSP Unilateral trellising.
Chardonnay clones: 76, 95, 96.
Spacing 5' x 8'.
Owners: Gary and Rosella Franscioni who live at the vineyard with sons Adam and Nick, Gary Pisoni, August West.
Wineries sourcing fruit: A.P. Vin, August West, Kosta Browne, Loring Wine Co., Miner, Morgan, Pelerin, Roar, Siduri, Testarossa, Vision Cellars.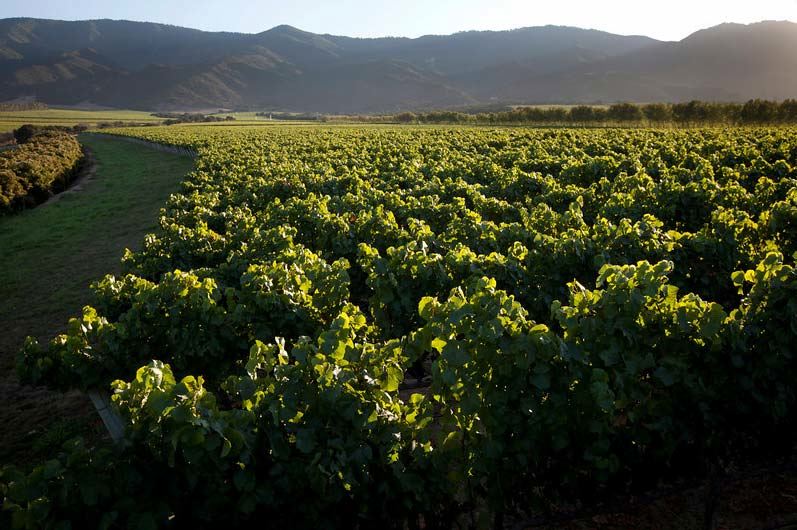 Garys' Vineyard

Initial planting date: 1997.
Acres: 50.
Elevation: 400'-500'.
Soil: Arroyo Seco sandy loam with sub surface rock in certain sections. Rocky soils contribute more acidity which dictates picking beyond 24º Brix.
Varieties: Pinot Noir, Syrah. North-south configuration.
Pinot Noir clones: Pisoni, Swan. VSP Bilateral trellising.
Spacing 5' x 8', 6' x 8'.
Owners: Gary Pisoni, Gary Franscioni.
Wineries sourcing fruit: A.P. Vin, Capiaux, Kosta Browne, Lucia, Loring Wine Co., Miner, Morgan, Miura, Roar, Siduri, Surh Luchtel, Tantara, Truckee River, Vision Cellars.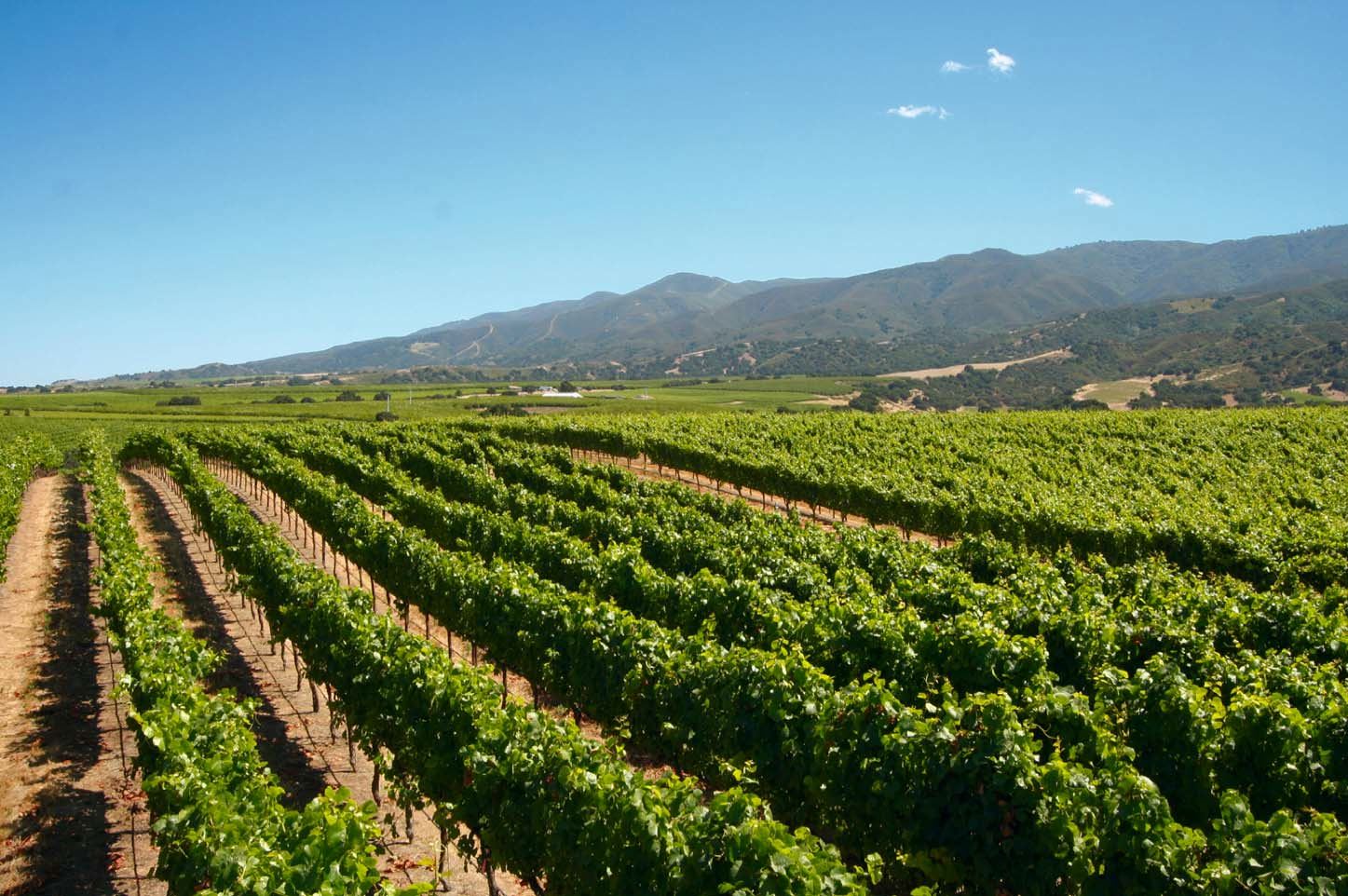 Pisoni Vineyard

Initial planting date: 1982.
Acres: 45, 11 individual blocks curve to the contours of the mountain.
Elevation: 1,300'. Much higher than a majority of vineyards in the AVA; more protected from fog and winds. Occasionally above the fog line entirely. A wilderness area teaming with mountain lions, coyotes, wild pigs, rabbits, gophers, rattlesnakes and birds.
Soil: Decomposed granite, gravelly loam. Very lean soil and vines struggle to reach full canopy size.
Varieties: Pinot Noir, Chardonnay, Syrah.
Pinot Noir clones, Pisoni, 828, 777, 115; VSP Unilateral trellising. Spacing: 6' x 10', 5' x 8', 4' x 6'.
Owners: Pisoni family.
Wineries sourcing fruit: Arcadian, Bernardus, Capiaux, Kosta Browne, Miura, Patz & Hall, Paul Lato, Peter Michael, Roar, Siduri, Tantara, Testarossa.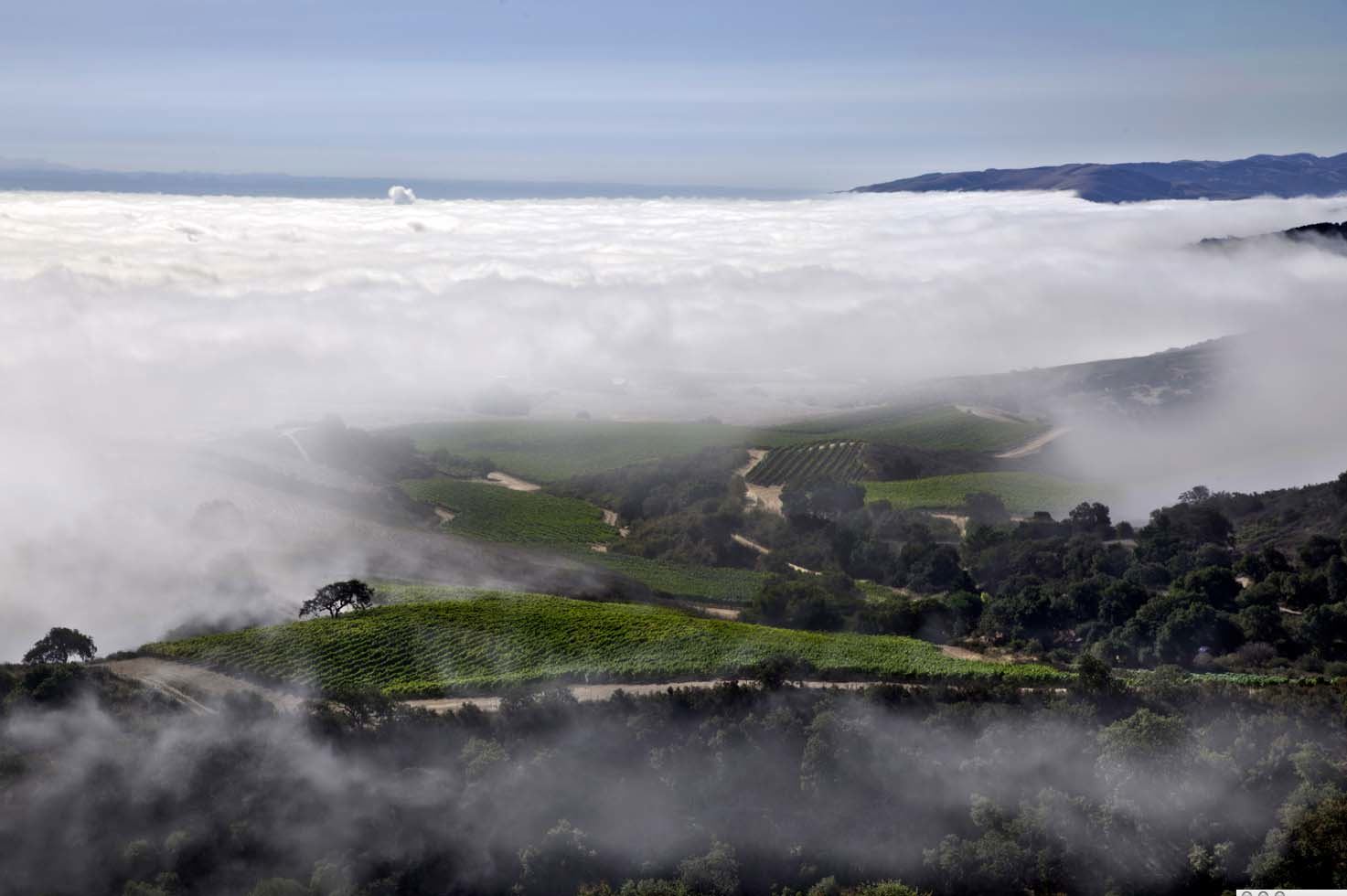 A vineyard map of the Santa Lucia Highlands is below. To view a larger image of this map, visit www.santaluciahighlands.com and go to the Trade & Press section. Zoom to actual size for best visibility. Pisoni Vineyard is on the far left (south), with Garys' Vineyard and Rosella's Vineyard in the more northerly part of the highlands at less elevation.