Latest Winegasm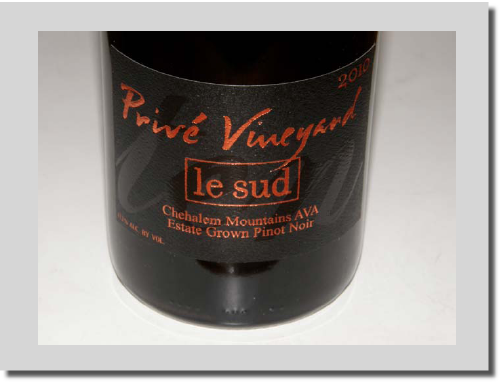 In the Chehalem Mountains sits a small Pinot Noir estate, Privé Vineyard, very French in name and character, but owned by Americans Mark and Tina Hammond. Straddled behind an entrance gate marked by the sign, "Rue de Privé," are two well-groomed one-acre Pinot Noir vineyards visible on the northern and southern side of a home, flanked by a tiny winery, a sport court, a boules (pétanque) court, and lavish plantings of lavender.
Privé Vineyard is essentially a private winery for those lucky enough to be members of the allocation list. Mark is the vineyard steward and Tina is the winemaker, and together they have been producing one of Oregon's few cult Pinot Noirs since 2001. Mark scoffs at the suggestion that he may have to get a real job if a bad vintage severely hampers their income, but muses that he would probably seek employment pumping gas since he loves outdoor jobs. Tina is a self-taught winemaker with a knack for Pinot Noir.
The original Müller-Thurgau vines on the property date to 1980 and are planted in Jory soil. The vines were grafted over to Pinot Noir by the Hammonds in 1995 using Pommard cuttings taken from Patricia Green at Autumn Wind Vineyard. Precision organic viticulture is the rule. Three wines are produced exclusively from estate fruit: le nord, from the upper, northern one acre; le sud, from the lower, southern one acre; a reserve, Joie de Vivre (joy of life) crafted in half-barrel quantities and offered in etched bottles.
Beginning in 2010, the Hammonds decided to pull back the vigor of the vines which had been yielding about 1.5 to 2 tons per acre. This resulted in more forward fruit in the wines in 2010 and 2011. Also in 2010, they rolled the dice and delayed harvest until October 27, despite the rains. Tina said, "We would rather miss the vintage than bring in green fruit and try to correct it in the winery." The result is a magnificent wine.

2010 Privé Vineyard le sud Chehalem Mountains AVA Oregon Pinot Noir
13.2% alc., $65. 100% Pommard, 100% de-stemmed, whole berry fermented in 100% new French oak barrels. · Strikingly aromatic featuring scents of ripe black cherries, black raspberries, black plums, and dark rose petals. Retains aromatic intensity over time in the glass and I am wondering if it is possible to capture this aroma in a perfume. Very polished with moderately rich and glorious black cherry, black raspberry, cassis, and cola flavors with perfect integration of oak, complimentary acidity and soft, ripe tannins. The fruit hangs on like a 3 hour movie you don't want to end. Very plush for a 2010 Oregon Pinot Noir. Still great the following day from a previously opened and re-corked bottle. A sensual pleasure that will persuade you to make Pommard your paramour.
Look for more reviews of Privé Vineyard Pinot Noir and other great Oregon 2009 and 2010 Pinot Noirs in the next issue of the PinotFile.