Anderson Noir Valley: The Festival
The 15th Anderson Valley Pinot Noir Festival was held on June 18-20, 2012. Sponsored by the Anderson Valley Winegrowers Association, this event originated 20 years ago with winery open houses, but was formalized into a festival in 1997. The popularity of the festival has paralleled the rise in quality and notoriety of Anderson Valley Pinot Noir, and offers a casual, country fair atmosphere accompanied by a cadre of enthusiastic Pinot Noir winegrowers and winemakers. All Pinot Noir is from grapes grown exclusively in the Anderson Valley.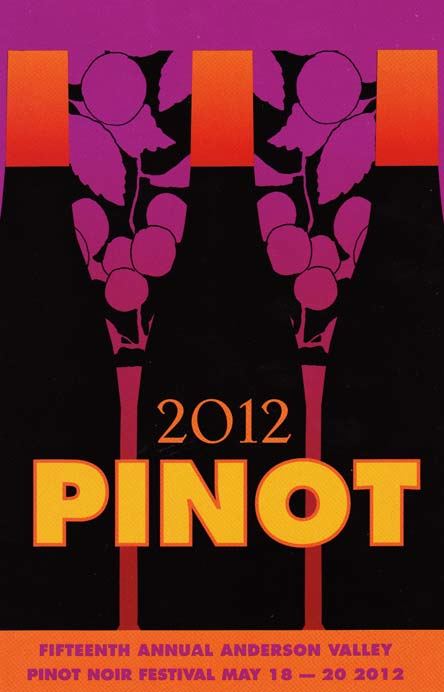 Excerpts from Technical Conference
State of the Pinot Noir Union
Glenn McGourty, Winegrowing & Plant Science Advisor, University of California Cooperative Extension

The first table shows total Pinot Noir acreage, 1997-2011, for Mendocino and California: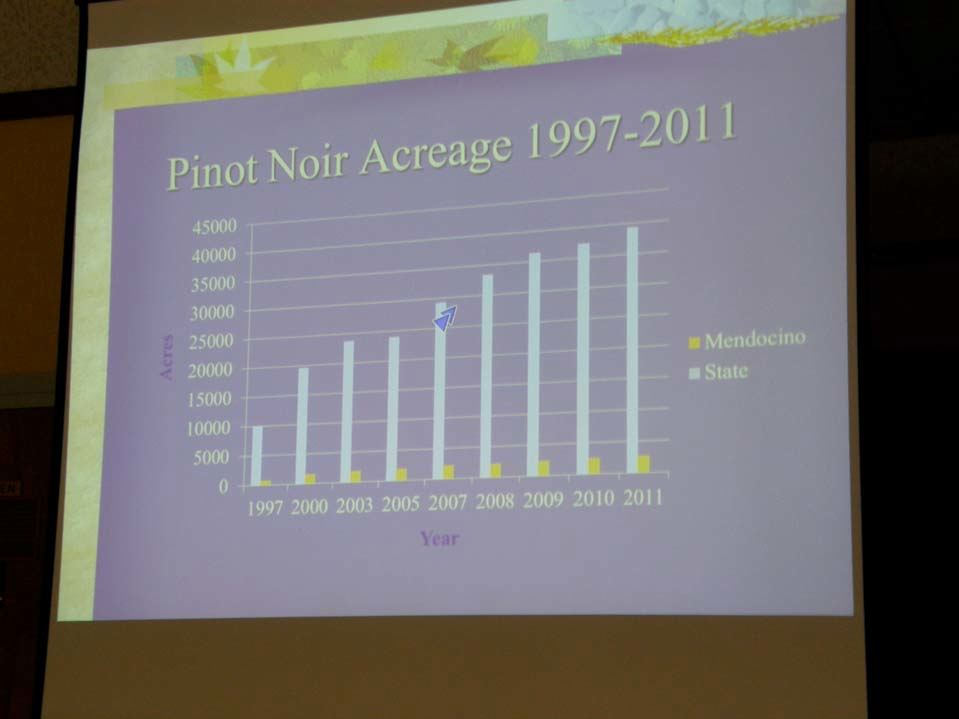 The second table shows total Pinot Noir Acreage for Mendocino County Subregions (3-year-old data):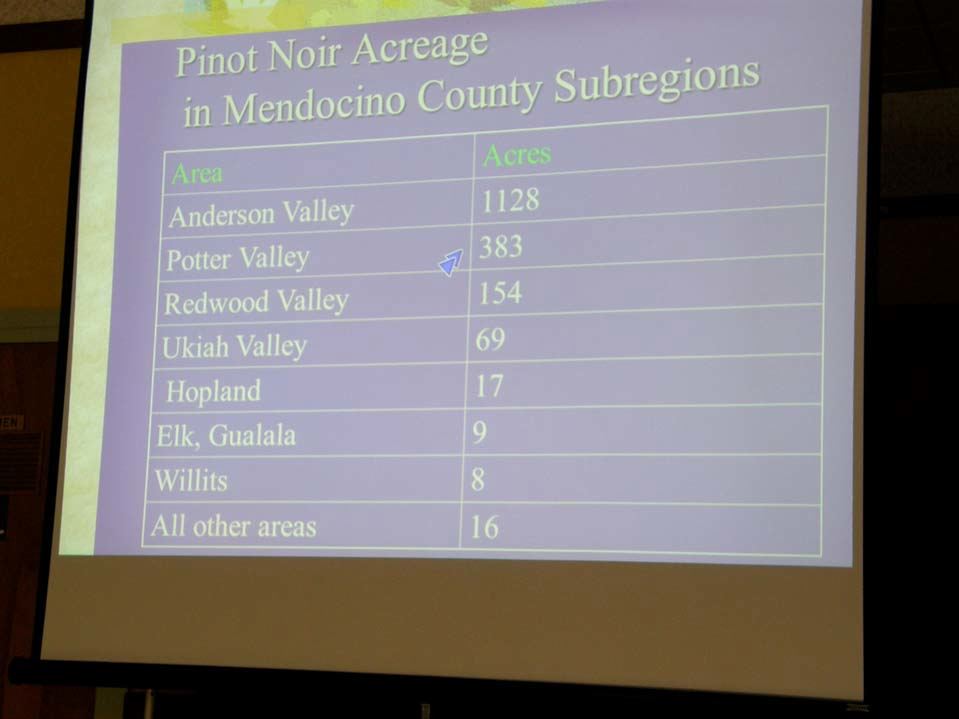 The third table shows the top Pinot Noir Producing Counties in California in 2011: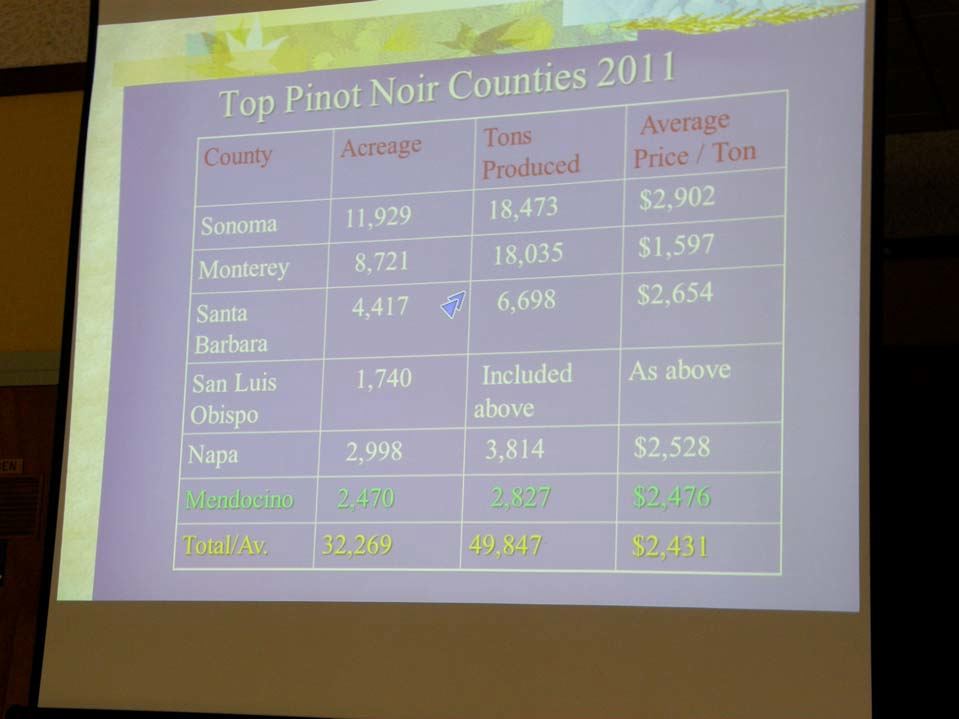 The fourth table shows other Pinot Noir Producing Counties 2011: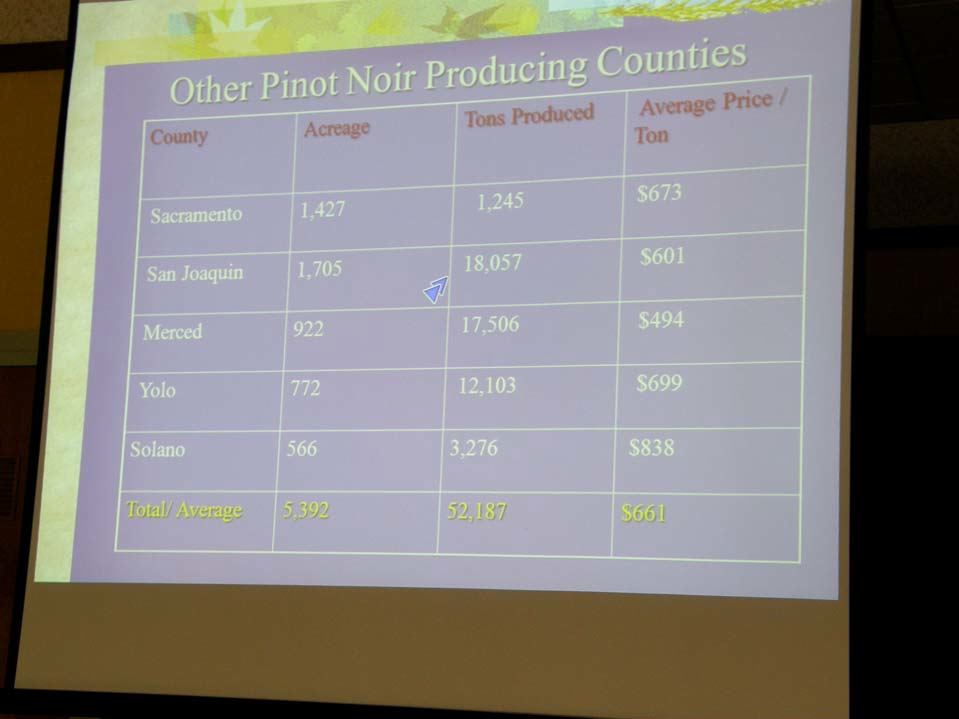 The fifth table shows that currently there is more tons of Pinot Noir produced in the Interior regions of California than in the Coastal region of California, although the Coastal region has over six times as much acreage. The difference is attributable to yields: <2 tons per acre for Coastal region compared to 10 tons per acre for the Interior region due to heavy watering and fertilizing leading to increased bud development. These startling figures show the rise of inexpensive Pinot Noir in California.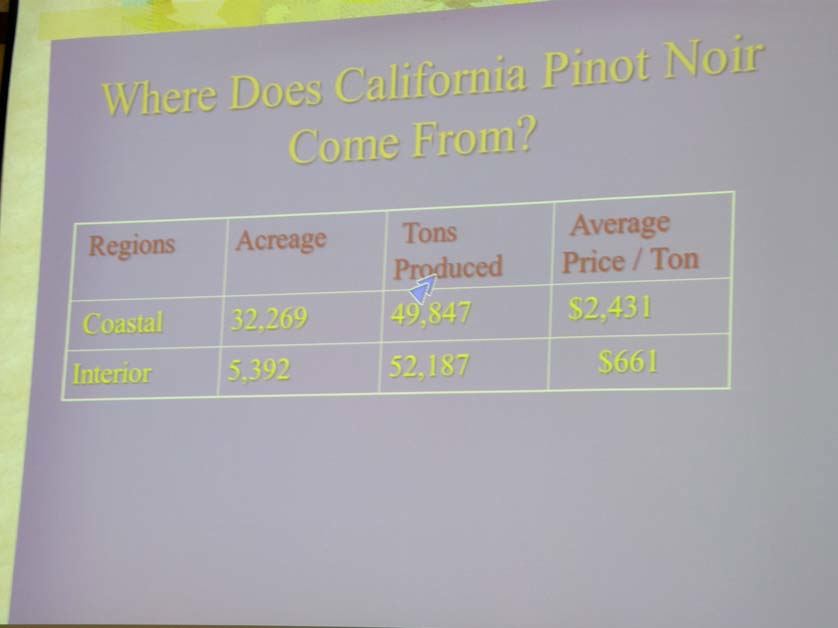 Summary of Pinot Noir Wine Sales

Jim Gordon, Editor, Wines & Vines
Table one shows there are 21 wineries in Anderson Valley as of April 2012.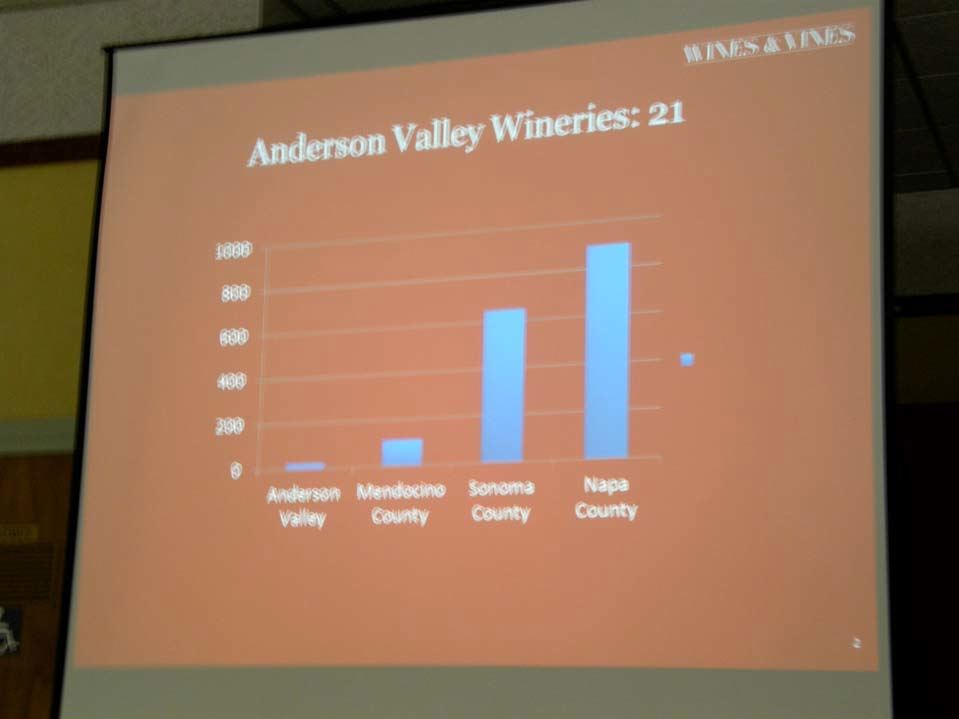 Table two shows winery average bottle price for Anderson Valley and other regions: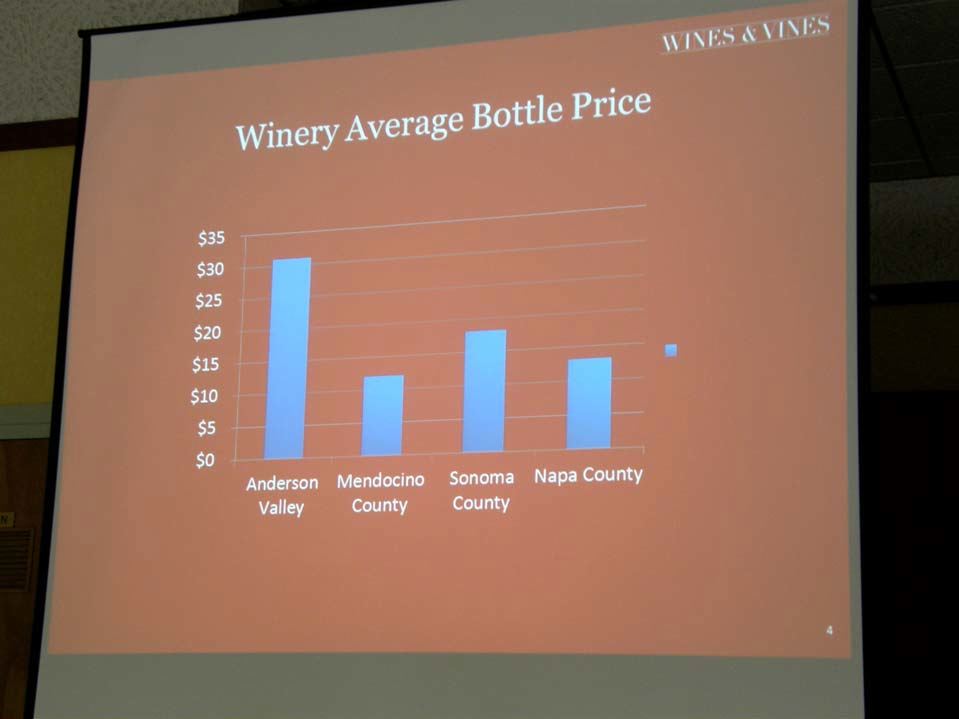 Table three displays the average winery size by case production for Anderson Valley and other regions: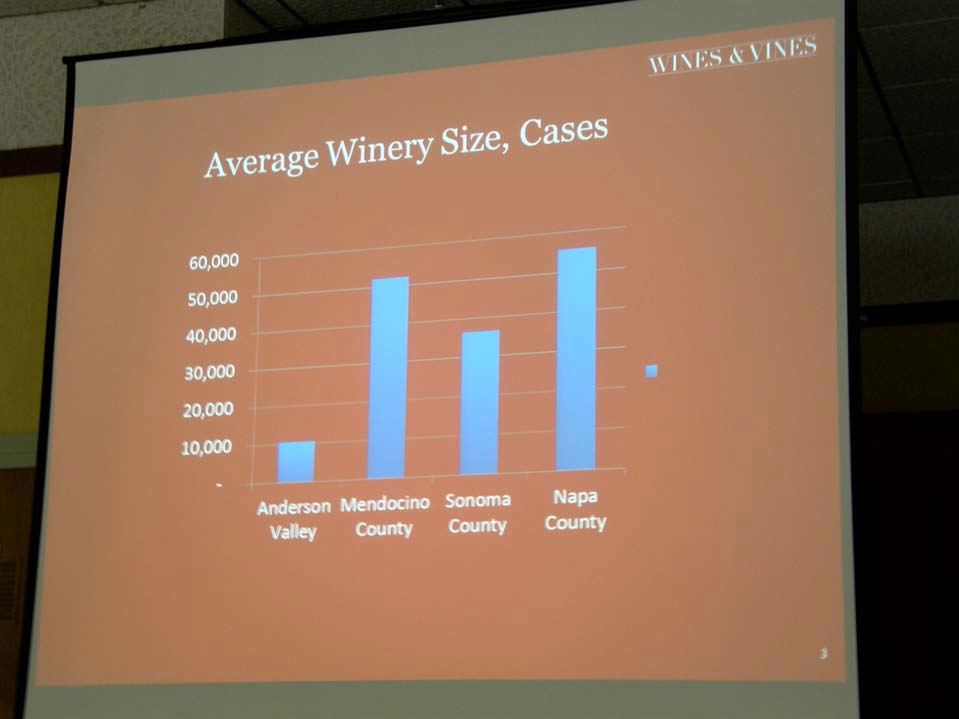 Table four shows Pinot Noir Sales for large retailers and supermarkets, and includes imports: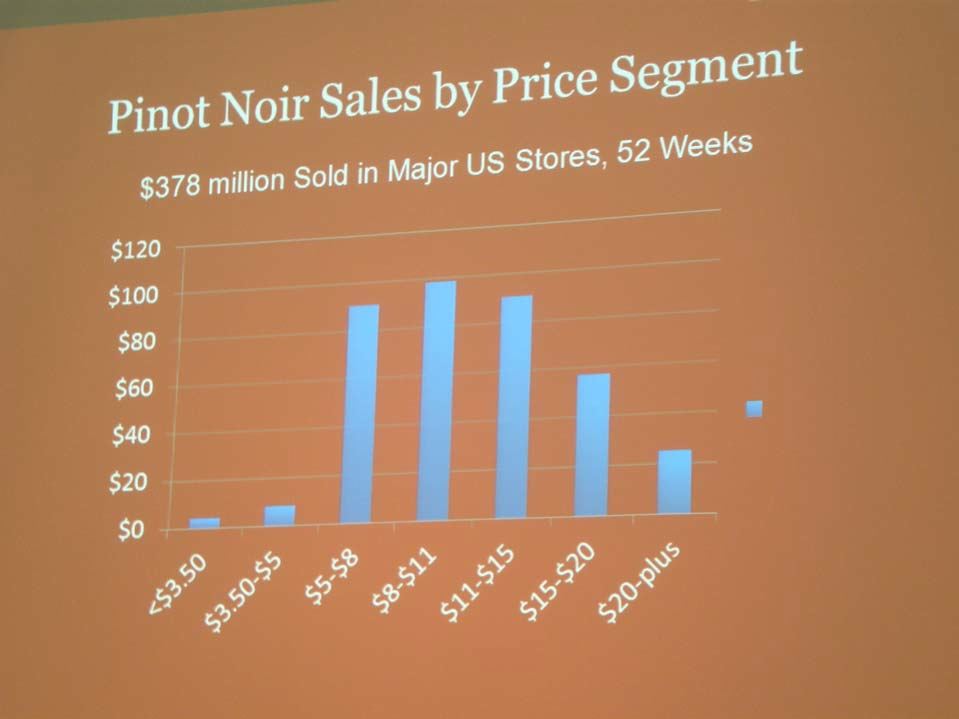 Table five reveals that Pinot Noir sales are still hot!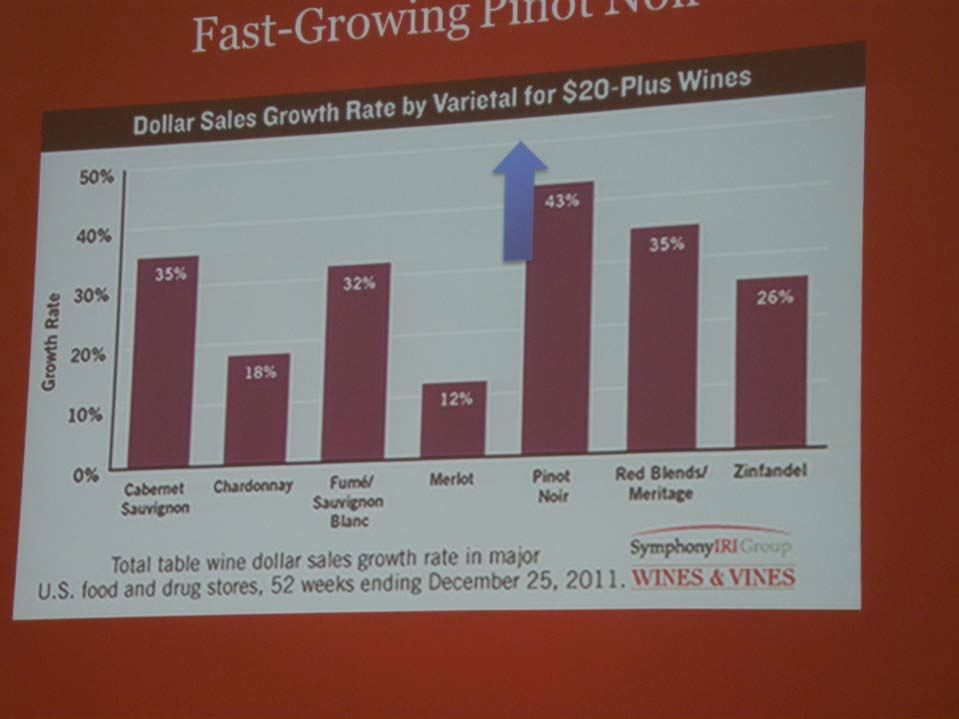 Table six shows Off-Premise Sales of major varietals: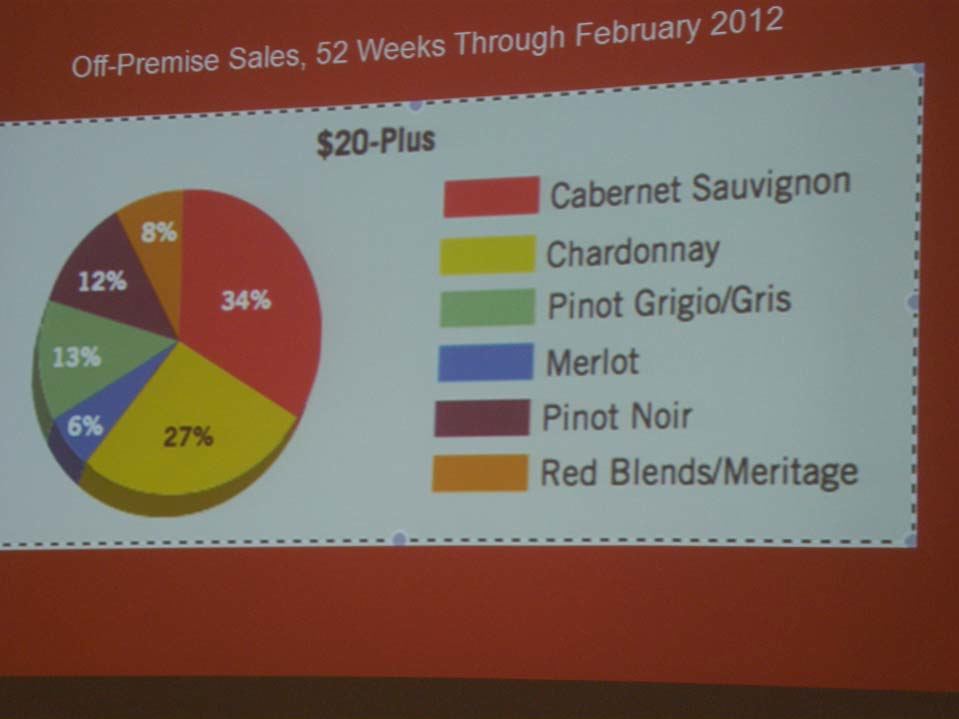 Cerise Vineyard Focus and Panel Discussion
Ryan McAllister (Vineyard Manager and Anthony Filiberti (Winemaker) of Knez ("Kay-nez") Winery, and
Jerome Chery of Saintsbury Winery
Moderated by Greg Walter, The Pinot Report
The 40-acre Cerise Vineyard is located between 550 and 1180 feet above the floor of the Anderson Valley, looking down on the town of Boonville. The vineyard is like a "puzzle," with disparate terrain, different aspects, and three different soil profiles. Each small, clonal block is no larger than a few acres (see Google vineyard map below). The vines, planted between 1996 and 1999, are located on steep slopes facing south and southwest. Farming has been organic for two years and the use of biodynamic preps has been instituted.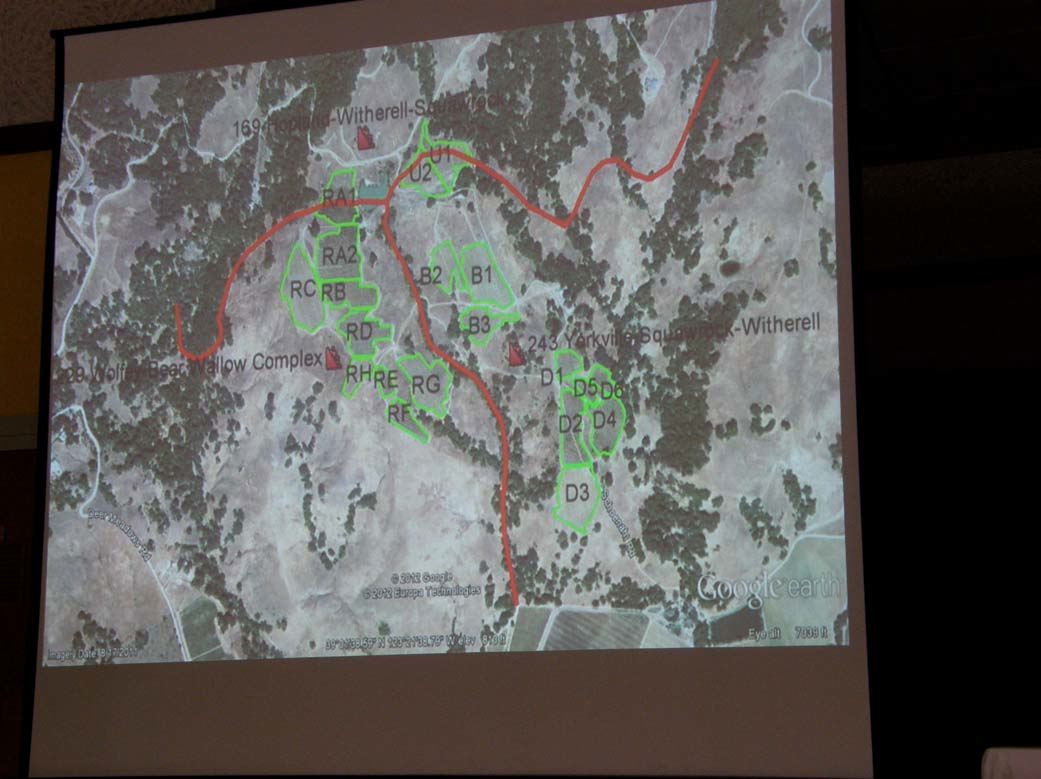 There are ten clones of Pinot Noir planted on seven rootstocks: Dijon 114, 115 (two types), 667, 777 and 828, Pommard 5, Martini, David Bruce, Wädenswil, and a La Tache selection. Yields are low (1.1 tons per acre in 2011) as the soils are thin, hard and marginal. A concentrated effort is underway to revitalize the soils with composting and other measures.
David Bruce Clone
When I heard mention of the David Bruce Clone at the Cerise Vineyard Seminar, I realized that I knew little about this Pinot Noir selection. I did a bit of research, but found the only reliable and informed source of information to be John Haeger, author of North American Pinot Noir. Beside the information I gained from this thoroughly researched book, John passed along the following information to me.
There is no such thing as a David Bruce Clone per se, as it represents any number of Pinot Noir selections of undetermined clonal origins. There is no FPMS certified David Bruce Clone. The term, "David Bruce Clone," has become common parlance among winegrowers for selections taken from David Bruce's plantings in the Santa Cruz Mountains, or cuttings from other vineyards planted with David Bruce's estate vineyard budwood.
David Bruce was determined to produce Pinot Noir when he acquired 40 acres of vineyard land in the Santa Cruz Mountains in 1961. Only Martin Ray was making Pinot Noir in that region. Bruce obtained the cuttings used to plant his vineyard on Bear Creek Road in the Santa Cruz Mountains in 1962 from two sources: (1) The increase block at Wente's Arroyo Seco vineyard which only contained certified clonal stock including Pommard, Martini and Wädenswil, and (2) Martin Ray's vineyard at what is now known as Mount Eden (the exact origin of these vines is unclear except that apparently they were a field selection from Burgundy brought into the United States in the 1890s by Paul Masson). At the time, winegrowers were not clone conscious, so Bruce would not have chosen a particular clonal type, but rather some "Pinot Noir vines."
The vines Bruce obtained from Martin Ray are probably different from the vines selected in the early 1970s by Merry Edwards, sent to Davis for clean up and FPMS certification, and eventually became the Mount Eden clone. At least one of the so-called Swan clones also came from Mount Eden.
Pierce's Disease destroyed Bruce's vineyard in the early 1990s, and the last Estate Pinot Noir produced from the original vines was 1992. The Estate Pinot Noir program was resumed in 1996 after the new plantings matured. The newer plantings cam from Noble Hill Vineyard in the Santa Cruz Mountains, which had originally been planted with cuttings from Bruce's original vines. So, in essence, Bruce got his own vine selection back (albeit some of it could have mutated) when he replanted.
Vines in California planted with cuttings taken from Bruce's estate vineyard therefore represent a field selection and the vines should properly be referred to as David Bruce selections.
In 2008, Knez Winery owner Peter Knez bought Cerise Vineyard (and Demuth Vineyard) and hired Anthony Filiberti (Anthill Farms) as winemaker.
Four Cerise Vineyard designated Pinot Noirs were tasted at the seminar: Saintsbury, Littorai, Knez and Gros Ventre Cellars. My brief tasting notes and comments from the panel are included. Other producers sourcing fruit from Cerise Vineyard include Chronicle Wines, Drew, Phillips Hill, Anthill Farms (included in their Anderson Valley blend) and Onward Wines.
There was an interesting discussion of whole cluster inclusion at the end of this seminar. Several comments by the panel are of note:
* Can override fruit purity
* Can be more challenging to control aromatics
* Can overwhelm flavor and produce a green note
* Can influence acidity; may have to add acid since stem brings potassium to the wine decreasing natural acidity
* Can offer bright, pretty, and spicy aromatics
* Can add flavors of chai tea, tobacco
The Grand Tasting

Under the big tent at Goldeneye Winery, Anderson Valley Pinot Noir was poured by 40 producers including wineries located in the Anderson Valley and outside wineries sourcing grapes from Anderson Valley growers. This is one of my favorite walk-around tastings, because the venue is not too crowded, there is an upbeat casual vibe, plenty of great food, and live music. Many of the producers provided current releases for review by the trade in the morning preceding The Grand Tasting (my results follow).
A few impressions at The Grand Tasting:
** The 2009 vintage of Maggy Hawk Pinot Noir (unreleased) was being poured. The promotional literature was right on: "There are those who exclaim that adversity is tantamount to greatness in Pinot Noir. This is certainly true of the Maggy Hawk site in Anderson Valley, a steeply sloped vineyard situated adjacent the dark, cool underbelly of the coastal Redwoods." The name, Maggy Hawk, is a tribute to proprietor Barbara Banke's favorite thoroughbred horse Maggy Hawk and her offspring. Four wines, all single clone, were produced in 2009: "Jolie," 14.6% alc., 237 cases; clone 115 - flat-out spectacular and the wine of the event for me; "Afleet," 14.6% alc., 234 cases, Pommard clone; "Hawkster," 15.4% alc., 240 cases, clone 2A - the ripest and my least favorite; and "Unforgettable," 14.5% alc., 235 cases, clone 667. The wines are scheduled for release in June 2012. A website is forthcoming. The wines will be sold primarily through a mailing list and are expensive (about $70). I previously reviewed the three spectacular 2007 Maggy Hawk wines. Serious pinotphiles should saddle up.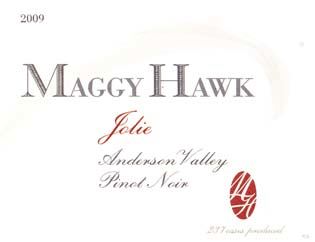 ** I continue to enjoy the wines crafted by Jeff Hansen at Lula Cellars based in Mendocino. The 2010 Anderson Valley Pinot Noir displayed copious, luscious dark raspberry, boysenberry, and blueberry fruit. Still young, with healthy tannins, this is a wine to covet. 200 cases, about $39. A tasting room is located at 9000 Highway 128 in Philo. Visit www.lulacellars.com.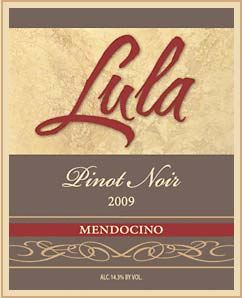 ** A new discovery was the second release from Frati Horn Wines. This new project was launched by proprietors George and Anne Coughlin in close partnership with Jon Phillips at Inspiration Vineyards and Winery. The 2010 Anderson Valley Pinot Noir ($29) is sourced from three vineyards (Ridley, Balo and Londer). Clones 777, 115 and Pommard. Aged 12 months in 25% new French oak. Light, but flavorful, with alluring strawberry and blueberry fruit and a refreshing cut of acidity, this wine is very food friendly. Frati Horn is boontling for "glass of wine." Visit www.fratihorn.com.
** David Rossi continues to offer well-crafted Pinot Noir from multiple vineyard sources under the Fulcrum label. His 2009 Londer Vineyard Anderson Valley Pinot Noir ($52) was previously reviewed in the PinotFile in July 2011. 14.1% alc., clones 115 and Swan, aged 15 months in 30% new French oak barrels. I tasted the wine again at the Grand Tasting, and found it had benefitted significantly from additional time in the bottle. Bright and crisp, with delicious dark red fruits and mellow fine-grain tannins. This wine is drinking beautifully now and is still available. Visit www.fulcrumwines.com.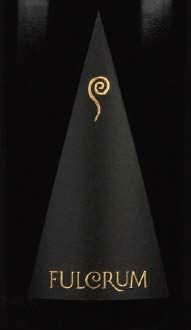 ** I visited Tim Mullins who was proudly pouring at the grand opening of his new winery and tasting room in Philo, across the street from Goldeneye Winery. This beautiful facility on 14 acres is a fitting venue for offering the outstanding 2010 Balo Vineyards Anderson Valley Pinot Noir ($39.95). The wine is crafted by talented winemaker Jason Drew (Drew Cellars in Elk) and was one of the top Pinot Noirs I tasted at the Trade Tasting. A complete review of this wine can be found later in this issue. Phone 707-895-3655 for tasting room hours. Stop by for great Pinot and bocce. Tim is relocating from North Carolina and hopefully you will run into him in the tasting room. He also loves to talk cars.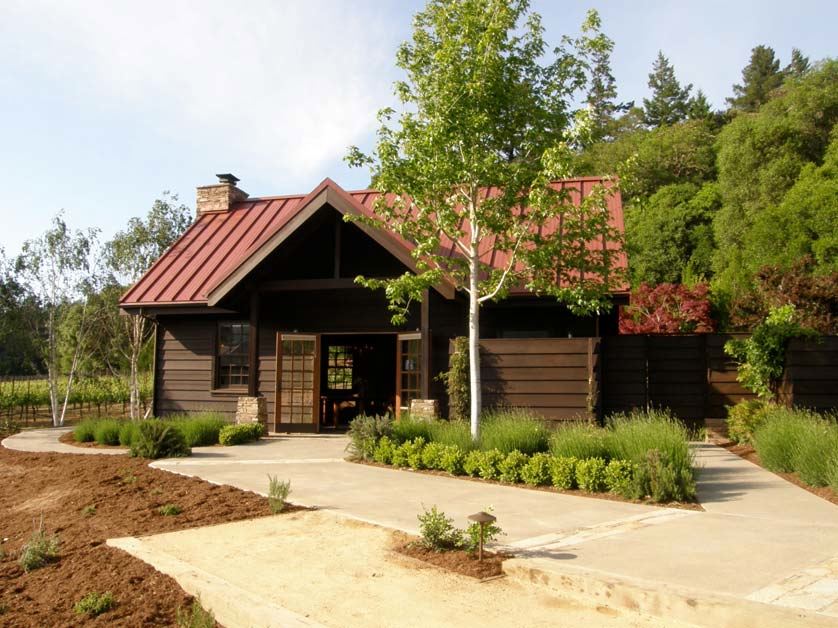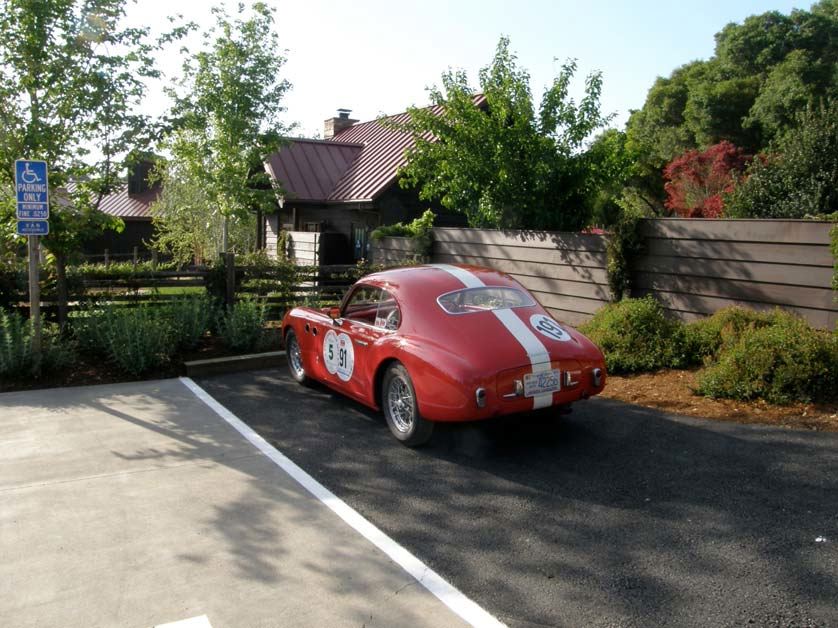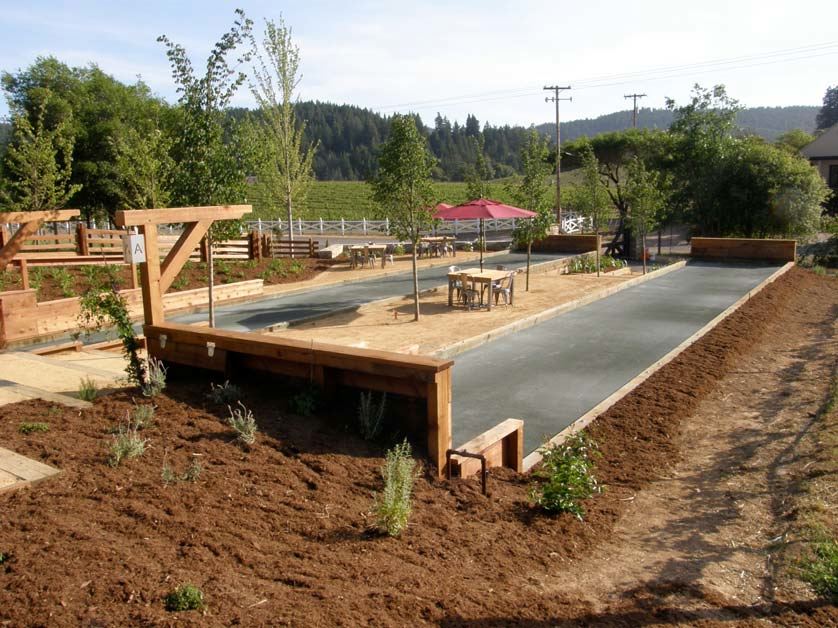 ** Champ de Rêves had its Grand Opening on Sunday May 20. Anderson Valley's newest Pinot Noir-centric winery held an open house at the historic winery and tasting room at Edmeades. The winery, owned by Barbara Banke, produces Pinot Noir exclusively from the Boon Ridge Vineyard situated 1,300-2,000 feet above Boonville. The Boon Ridge Vineyard was formerly part of the now shuttered Edmeades Winery and had not been developed for years. It was planted to clones 667, 777 and Pommard 5 in 2006. The winemaker, Eric Johannsen, has over a decade of experience in Pinot Noir Noir winemaking in California. The wine is sold through a mailing list at www.champderevesvineyards.com.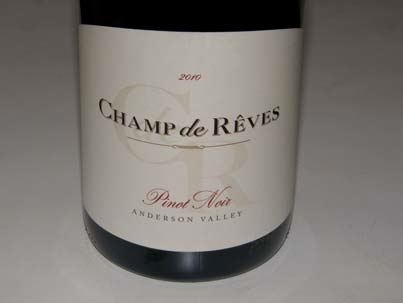 ** Navarro Vineyards has been developing its Pennyroyal Farm in Boonville on Highway 128. The owner's daughter, Sarah, is opening a goat cheese creamery, and a winery is planned for the future at the site. Pinot Noir, Sauvignon Blanc, and a few other varieties in small amounts have been planted there.
** The Madrones, adjacent Goldeneye tasting room on Highway 128 in Philo has recently been featured in Food & Wine, Sunset, and Departures magazines. The Madrones hosts four tasting rooms: Lula Cellars, Drew Family Cellars, Bink Wines and Berridge Wines, and has two stylishly appointed guest quarters for rent. An eatery is planned for later in 2012. Visit www.themadrones.com.
** Steve Ledson, proprietor of Ledson Winery in Sonoma Valley and Zina Hyde Cunningham Winery in Anderson Valley, both of which produce Pinot Noir in addition to many other varietals, invited me to tour his 6,000-acre Bald Hills Ranch high above Boonville. He originally acquired the property as a getaway, but soil and climate studies over a two year period indicated the property had significant potential for growing first-rate Pinot Noir. He has planted a total of 15 acres of Pinot Noir divided among two vineyards perched at 1,500 and 2,300 feet above the Anderson Valley floor. He has the potential to plant 100 acres of vineyards on the property without removing timber. Fans of Zina Hyde Cunningham can purchase individual rows in the Bald Hills vineyards and receive four cases of Pinot Noir each year. The rows carry nameplates identifying the owner. The highest vineyard is pictured below. Visit www.zinawinery.com.