Mendocino Ridge: California's Best Kept Secret Source of Spectacular Wines
I recently have had some spectacular Pinot Noir and Chardonnay from Mendocino Ridge. While in Anderson Valley for the recent Anderson Valley Pinot Noir Festival, I spent an afternoon with winemaker Jason Drew of Drew Family Cellars whose vineyard and winery are located in Elk in the Mendocino Ridge appellation. We toured two of the region's vineyards, Valenti and Signal Ridge, and this took a few hours as many of the vineyards in this appellation are spread out and difficult to reach. As we drove around, Jason filled me in on the geography, the vineyards and the potential of this emerging region for fine wine.
Mendocino Ridge was approved as an American Viticultural Area in 1997, yet it has some of the oldest producing vineyards in Mendocino County. The first modern plantings were established by Italian immigrants and date to the late 1800s. Field blends of red varieties, primarily Zinfandel, were planted, and Zinfandels produced from old vines in this region have been legendary. In 1988, Kendall-Jackson proclaimed that the Mendocino Ridge was one of the world's greatest regions for Zinfandel. Today, Zinfandel is still prized from this AVA, but the region now holds considerable promise as California's newest frontier for premium Pinot Noir and Chardonnay.
The Mendocino Ridge AVA is a non contiguous trio of ridges that is defined by vineyards at least 1,200 feet or more in elevation, and within 10 miles of the Pacific Ocean. It is California's first and only non contiguous AVA. Because of the hilly terrain of the AVA, lower elevations are not included. The ridges are above and surrounded by coastal fog, fostering the name "Islands in the Sky." This catchy name is trademarked by Dan Dooling, owner of Mariah Vineyards, a producer of Mendocino Ridge Zinfandel and Syrah, and one of the winegrowers along with Steve Alden of Perli Vineyard to successfully achieve appellation status for the region.
The first map below is from the website, www.everyvine.com, where an extensive map of the Manchester Ridge is under construction. When completed, the map will be a 24" x 36" map poster similar to other regional maps available for Sonoma, Napa, Idaho and Oregon.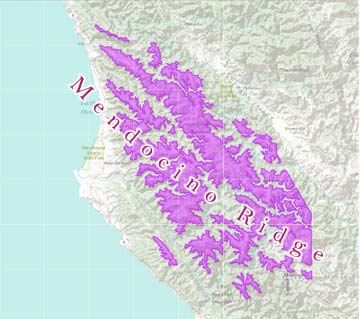 The second map below shows the wineries and vineyards of Anderson Valley relative to Manchester Ridge which is noted to the west of Anderson Valley by the patchy, pale, designated ridge top areas extending to Highway 1.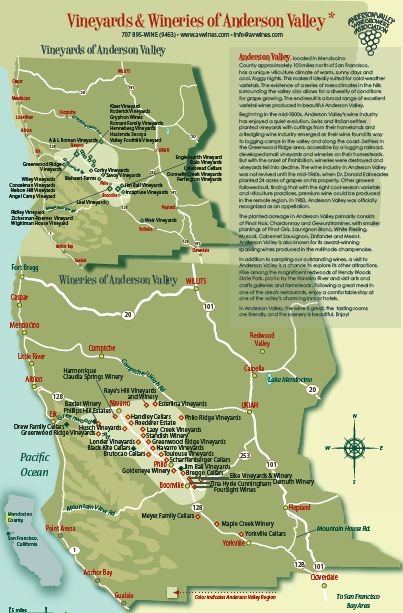 There are 262,400 acres (410 square miles, 36 miles in length from north to south) within the outer boundaries of the Mendocino Ridge AVA, but the actual viticultural area encompasses only 87,466 acres, all lying above 1,200 feet elevation. Of these 87,466 acres, approximately 2,000 acres (2% of the total acreage) of ridge tops are suitable for vineyards. The side slopes are very steep, with grades approaching 70%, and are covered with timber, making them unfit for planting. The Mendocino Ridge is a twisting 12-mile uphill westward drive from the Anderson Valley floor along Greenwood Road from Highway 128. The Mendocino Ridge AVA is essentially a northern extension of the true Sonoma Coast AVA.
The following photographs give a feeling for the ridge top location of the vineyards and the surrounding timberland. The first aerial photo shows Mariah Vineyard and the coastal fog bank. The second aerial photo shows Manchester Ridge Vineyard and its proximity to the Pacific Ocean shoreline. The third photo is of Valenti Vineyard and the fourth photo is of Signal Ridge Vineyard, both of which I visited.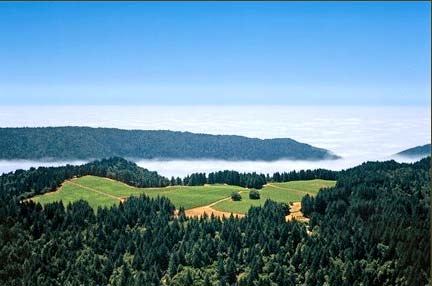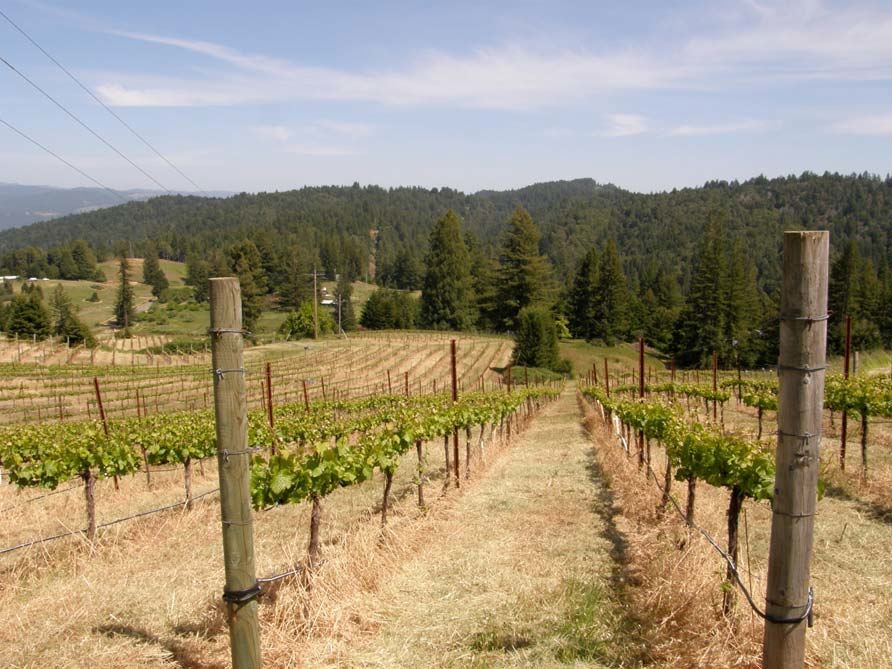 The climate of the Mendocino Ridge AVA is different from the Anderson Valley below. Perched above the fog and frost threat, the vineyards bask in the early morning sun, and early afternoon maritime breezes cool down the fruit, never allowing temperatures to rise as high as the Anderson Valley floor. The winds have an added plus of drying out the soils after rains. The diurnal variation during the growing season is significantly less than the Anderson Valley (20 degrees versus 40-50 degrees for Anderson Valley), and daytime high temperatures are often 10 degrees cooler than in the Anderson Valley. There is enough rainfall (40" or more annually) and ground water to dry farm vineyards. Like the true Sonoma Coast, yields are small in large part due to the extremes of spring weather. Bud break tends to be early, but the shoots grow very slowly due to the consistent coolness, and harvest arrives at the end of September or later.
The soils of the Mendocino Ridge are unique "timber" type, and since the vineyards are located at the top of ridges, they are well drained. In contrast, the soils of the Anderson Valley are deep alluvial in type and in the nearby Yorkville AVA, upland range type. Because of the high elevations of Mendocino Ridge vineyards, soils are of meager depth leading to smaller berries, thicker skins, and lower yields compared to Anderson Valley. In general, the tannins are more prominent in wines from the higher elevations in the Mendocino Ridge. Jason Drew told me that the wines from Mendocino Ridge typically have a noticeable minerality which he referred to as a character analogous to "chewing on granite." I have found an exotic flower component among the aromatic profiles in the Pinot Noirs from this AVA. Bright acidity is a common feature.
The first winery in the Mendocino Ridge AVA was Greenwood Ridge Vineyards, founded in 1980. The original Greenwood Ridge Vineyard was planted by Tony Husch in 1972, and was acquired in 1973 by Greenwood Ridge owner Allen Green. There is a small amount of Pinot Noir now planted there. There are 15 vineyards in the Mendocino Ridge AVA, the majority of which are planted to Pinot Noir (a little over 100 acres), all located on four large ridges: Fish Rock Ridge, Greenwood Ridge, Signal Ridge, and Manchester Ridge.
Noteworthy Pinot Noir plantings in the Mendocino Ridge AVA include the following: (1) Jason Drew's 7 acres on his estate in Elk, planted in 2011. The vineyard is still unnamed. Multiple clones including Dijon 115, 667, and 828, Pommard, Swan, Calera and Mount Eden. The vineyard is extremely close to the Pacific Ocean (a little over 3 miles as the crow flies) so it will be interesting to see how it progresses; (2) DuPratt Vineyard includes 1 acre of head-trained Pinot Noir; (3) Manchester Ridge Vineyard has 161 plantable mountaintop acres at 2,000 feet with currently 19 acres of Pinot Noir and 11 acres of Chardonnay in production under the direction of vineyard manager Martin Mochizuki. Grapes are sold to Auteur, Berridge Wines, B. Kosuge, La Follette, B. Kosuge, J. Jacomon, Lattanzio Wines, Marguerite Ryan Cellars, Olson Ogden, Russian River Vineyards, Taft Street and Tom Eddy; (4) Mariah Vineyard has some vines grafted over to Pinot Noir and farmed by owner Dan Dooling; (5) Perli Vineyard located at 2,200 feet has 6.5 acres of Pinot Noir. Grapes are sold to Drew and Arista; (6) Signal Ridge Vineyard lis located at 2,300 feet. Originally planted to Zinfandel in 1998, it now has 15 acres of Pinot Noir planted in 2005 in production, with additional plantings of Pinot Noir in 2011. All grapes are under contract to Failla; (7) Valenti Vineyard is located at 1,400 feet and currently has 12 acres of Pinot Noir, Syrah, Zinfandel, and Viognier under production. 6 acres of Pinot Noir, clone 667, were planted in 1999, and 3 acres of Zinfandel were budded over to clone 115 and Rochioli selection in 2007. Grapes are sold to Baxter, Drew and Phillips Hill; and (8) Sky High Ranch owned by Ferrari-Carano, located at 1,600 feet, planted in 2003 to clones 667, 777, 828 and Pommard. The name "Sky High" is ironic as the vineyard site was previously occupied by hippies who farmed another crop of some repute.
There are 4 wineries in the Mendocino Ridge AVA, all located on Greenwood Ridge: Baxter Winery, Drew Family Cellars, Greenwood Ridge, and Phillips Hill. The Manchester Ridge AVA Winegrowers Association consists of 17 members (Baxter and Phillips Hill have no vineyards).
A number of current releases from the Mendocino Ridge AVA follow. Several Mendocino Ridge wines have been reviewed previously in the PinotFile (http://www.princeofpinot.com/article/835/).