More Anderson Noir Valley Pinot
2009: A year of redemption after the disastrous fires in 2008 which cast a pall over the vineyards, 2009 was a more typical growing season in the Anderson Valley. Winter rains were lighter than usual, and a mid-May heat wave brought high temperatures. Bud break was late and spring was generally cool but not accompanied by frost. The summer was moderate and relatively cool allowing slow ripening and a prolonged harvest that began in mid-September and finished the last week of October. A later September heat wave brought grapes quickly to optimum ripeness and a large October storm provided a challenge that most vintners avoided. In summary, the quality of the vintage parallels the 2007 vintage, and probably surpasses it.
2010: Fruit set was good. Mild and cool growing season with heavy cloud cover and fog during most of the summer. Unseasonably cool in late summer, delaying grape maturation by a few weeks. A moderate heat wave in August pushed ripeness. Another moderate heat wave the last week of September was followed by mild weather the first weeks of October. The long, cool growing season produced wines of good fruit intensity and excellent acid balance.
Yorkville Highlands is a small appellation located just south and inland of the Anderson Valley in Mendocino County. It stretches along Highway 128, flanked by Alexander Valley to the southeast and the Anderson Valley to the northwest. Most of the vineyards are planted to warm weather varieties such as Zinfandel, Syrah and Petite Sirah. There are small plantings of Pinot Noir in strategically placed areas (Vidmar Vineyards, Walsh Ranch Vineyards, and Weir Vineyard) with Weir Vineyard clearly the most noteworthy. For more information, visit www.yorkvillehighlands.org.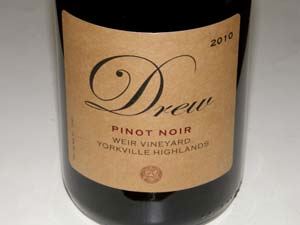 2010 Drew Weir Vineyard Yorkville Highlands Pinot Noir
14.5% alc., pH 3.67, TA 0.62, 98 cases, $42. First planted in 1992 under the guidance of Burt Williams (Williams Selyem). 15 acres planted to Wädenswil 2A, a DRC selection and a Rochioli field selection (1/3 each in this wine). Owner Bill Weir strives to achieve old world character from his vineyard. 30% whole cluster. Native fermentation. Aged 11 months in 25% new and 75% seasoned French oak barrels. · Medium reddish-purple color in the glass. Enticing aromas of berry jam on toast, forest floor and floral notes. A wine with character, featuring flavors of dark berries, plums, and subtle oak, clothed in balanced, ripe, dry tannins, finishing crisp with a good cut of acidity. Silky in the mouth with a long, dramatic finish Hollywood would envy. Not as tannic as some previous vintages. I love wines from this vineyard!
2009 Spell Weir Vineyard Yorkville Highlands Pinot Noir
14.3% alc., 175 cases, $39. Crafted by Shane Finley. · Moderately dark reddish-purple color in the glass. Intensely aromatic featuring a perfume of dark raspberries and blackberries with a lovely accent of spice. Infused with vivid flavors of black raspberry jam and tea leaf, currently dominated by firm, dry tannins. Impressive length on the well-endowed finish. This is a remarkable vineyard. Very good.