Pinot Briefs —Newsletter 9.8
Theresa Heredia New Winemaker at Gary Farrell Winery After a 10-year successful stint as winemaker at Freestone Vineyards, Theresa has been appointed winemaker at Gary Farrell Winery. Theresa has a bachelor's degree in biochemistry from Cal Poly San Luis Obispo, and three years of study in the chemistry and viticulture and enology program at University of California at Davis. Her winemaking experience includes Burgundy (Domaine de Montille and Domaine Comte Armand) and Saintsbury in Carneros. Upon leaving Saintsbury, she trained with winemaker Cdraig Williams at Joseph Phelps Vineyards in the Napa Valley. She replaces Susan Reed as winemaker. She told me recently she is excited to work with the vineyard sources at Gary Farrell Winery such as the famed Rochioli Vineyard.
Oregon Pursues the UK Wine Market Harpers Wine & Spirits Trade Review recently (May 24, 2012) reported that the executive director of the Oregon Wine Board, Tom Danowski, is trying to double sales of Oregon premium wines in the UK over the next three years. The key, he said, is getting the export market to realize the high quality of premium Oregon wines that justifies the added expense. The challenge for Oregon is that their is considerable climatic variation in vintages, vineyard yields can be quite low, grape prices are high to support farming costs and this in turn forces bottle prices to be high. Currently the UK is the number two export market for Oregon wines behind Canada. Oregon now has 450 wineries, each typically producing less than 5,000 cases a year, with 12,560 planted acres of Pinot Noir. Pinot Gris (2,590 acres), Chardonnay, Riesling and Cabernet Sauvignon follow in much smaller acreage. According to Wine Business Monthly (April 2012), on a volume basis, Oregon accounts for 0.4% of California-Washington-Oregon wine sales, but shows the strongest rate of growth of the three states and has the highest average wine price-point.
Chilled Pinot Noir Campaign Cono Sur Winery in Chile is launching a summer campaign to encourage consumers to drink chilled Pinot Noir. As reported in Harpers Wine & Spirits Trade Review (May 15, 2012), Cono Sur has developed promotional posters, wine cooler bags and tee shirts featuring the slogans, "Lighter, fresher, cooler," and "Keep cool and drink chilled Pinot Noir." Cono Sur is one of Chile's top Pinot Noir producers.
Baccarat Launches New Wine Glass The Chateau Baccarat line of professional wine glasses, which began sales in France this year, has developed a wine glass shaped like a closed tulip blossom. The company says that the narrow lip at the end of the vertical "chimney" prevents alcohol in the wine from overpowering other delicate aromas since it collects down in the glass after swirling and the aromas are trapped at the top. The design is very similar to Riedel's Oregon Pinot Noir glass which I have used for several years in my tastings. US price is about $80 per stem.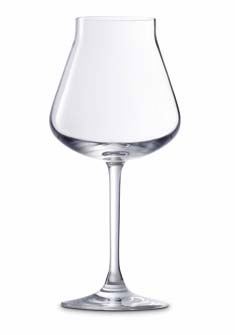 Screw-capped Champagne next? Wine writer Tyson Stelzer has claimed that about 5 to 6 percent of the Champagne he tastes is corked, equating to 18 million bottles of flawed wine. Australia's DeBortoli is the first to introduce the Viiva closure, a screw cap for use in their sparkling wines. The problem with this alternative closure is it removes the dramatic pomp and circumstance of the "pop" when a sparkling wine bottle is opened. Diam Bouchage, based in the town of Ceret in Roussillon, offers another closure option for sparkling wines. Diam is made with natural cork but it undergoes a patented process called the Diamond process, which effectively kills TCA.
Oregon Wine Country License Plates Available Oregon drivers can now obtain a wine country license plate. Oregon is the first in the nation to offer a license plate promoting the state's wine industry. The new license plate will cost $30 more than a standard one with the additional cost benefit tourism marketing. The Oregon wine industry contributes more than $2.7 billion dollars a year to the state's economy.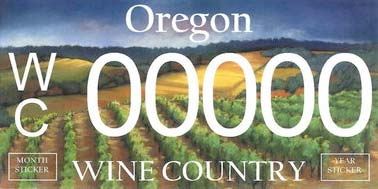 Dick Erath Funds Training of Oregon Taste Testers The Erath Family Foundation has underwritten a program at Oregon State University that will train Oregon winemakers to taste using a sensory method called free-choice profiling that will allow them to use consistent vocabulary to describe color, aroma, taste and mouth feel of wines. The 60 winemakers will then meet periodically to evaluate experimental wines made by Oregon State University and Oregon's commercial wine industry. The process will allow a reliable evaluation of whether certain winemaking and viticulture practices are truly beneficial to the consumer's wine drinking experience. This summer, the tasters are evaluating Pinot Noir made from grapes harvested at Stoller Vineyards in Dayton and Maple Ranch Vineyard in Cave Junction. The grapes used are part of a study to determine how much fruit should be left on a vine and when it should be thinned to produce the highest quality wine.
Winemaker Kathleen Inman a Rising Star Kathleen Inman, the founder and winemaker of Inman Family Wines in Santa Rosa, California, received the Rising Star Award at The Women for WineSense Grand Event held May 6, 2012, at the Culinary Institute of America in St. Helena. The Rising Star Award is given annually to women with 12 or fewer years in the wine industry. Inman had a summer job at Napa Creek Winery where she met her future husband, Simon, and moved to his native England to work in finance. She and her husband explored France's wines and wine country while in England and decided to return to the United States and launch their own winery. She acquired a 10.45-acre property on Olivet Road in the heart of the Russian River Valley and began planting and farming organically in 2000. Inman currently offers an excellent lineup of wines including estate Olivet Grange Pinot Noir, estate Pinot Gris, Chardonnay, Rosé ("Endless Crush") and a brut rosé sparkling wine.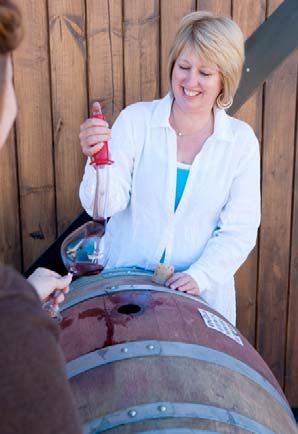 U.S. Post Office to Ship Wine and Beer Senate Bill 1789 was passed in April 2012 that allows the U.S. Postal Service to compete with Fed Ex and UPS in the shipping of wine to consumers. The bill must still be passed by the House of Representatives to become law. The bill allows the U.S. Postal Service to ship wine from wineries and wine retailers to consumers.
John Falcone New Winemaker at Gainey Gainey Vineyard, located in the Santa Ynez Valley appellation, is a long time producer of Pinot Noir and Chardonnay from Sta. Rita Hills (including estate vineyards) as well as Bordeaux-driven varietals from estate vineyards in the Santa Ynez Valley. Falcone began his winemaking career in Napa Valley, arriving in Santa Barbara County nearly ten years ago. He has been the winemaker, along with his spouse Helen, at Rusack Vineyards located in the hills above Solvang.
OPB's "Grapes of Place" Oregon Public Broadcasting produced a video, "Oregon Wine: Grapes of Place" which aired on television May 8, 2012. The video tells the history of the Oregon wine industry through the words of those who lived it. Executive producer Nadine Helsing worked with the Oregon Historical Society to incorporate rare film footage and photographs. Get your copy online at www.shoppbs.org.
Westside Road Wineries Association Launched A group of wineries on famed Westside Road in the Russian River Valley has formed the Westside Road Wineries Association (WRWA) to publicize the distinctive wineries of the 12-mile drive known as the "Rodeo Drive" of Pinot Noir. Founding members include; Alderbrook Winery, Armida Winery, Gary Farrell Winery, HGK Estate Wines at Hop Kiln Winery, Mill Creek Vineyards & Winery, Thomas George Estates and VML Winery.
8th Annual Pinot Family Reunion This year's event will be held at John Ash & Co and the Vintners Inn Event Center on Sunday, July 22, 2012, with wine and food tasting from 1-5pm, and a family style dinner at John Ash & Co at 5pm. Over 40 all-star Pinot Noir producers are featured including Benovia, Dutton-Goldfield, Hartford Court, Kosta-Browne, Littorai, MacPhail, Merry Edwards, Siduri, Small Vines, Thomas George Estates, and Twomey. A silent and live auction will include large format wines, verticals, overnight stays, and more. The event benefits the Sutter North Bay Women's Breast Care Center. Tickets are available at www.brownpapertickets.com or call 707-527-7687.
Judgment of Princeton At the Annual Conference in Princeton, New Jersey, the American Association of Wine Economists AAWE organized a wine tasting called "The Judgment of Princeton." It was modeled after the 1976 "Judgment of Paris." The Princeton tasting was led by George Taber and included 9 wine judges from France, Belgium and the United States who tasted French against New Jersey wines. The French wines selected were from the same producers as in 1976 including Chateau Mouton-Rothschild and Haut Brion, priced up to $650 a bottle. The results were surprising. Although the winner in each category was a French wine (Beaune Clos des Mouches for the whites and Chateau Mouton-Rothschild for the reds), New Jersey wines barely differed in their average rank from those of France. Three of the top four white wines were from New jersey. The best New Jersey red wine was ranked in third place. Prices for the New Jersey wines are typically one-third to one-twentieth of their French competitors. A statistical evaluation of the tasting showed that the rank order of the wines was mostly insignificant. That is, if the tasting were repeated, the results would most likely be different. From a statistical viewpoint, most wines were therefore undistinguishable. At the Princeton blind tasting, both French judges preferred New Jersey red wines over their counterparts from Bordeaux. After disclosing the wines' identity, the French judges were surprised but did not complain. In contrast, several tasters from the United States did not want their wine ratings to be published. Visit www.wineeconomics. org for the full results.
Bill Price and Winemaker Gavin Chanin Announce Partnership Bill Price, owner of Classic Wines, LLC, has formed a partnership with 26-year-old winemaker Gavin Chanin with the creation of Price Chanin Vineyards. Gavin was previously an assistant winemaker at Au Bon Climat and Qupé wineries. The new, yet-to-be-named wine brand, will focus on small-production, single-vineyard wines and will be crafted at their new winery located at Bien Nacido Vineyard in Santa Maria, California. Price has been impressed with Gavin's touch and lower alcohol approach to California Burgundian varieties. The 2011 vintage will be released early next year featuring a small amount of Durell Vineyard Pinot Noir and a Pinot Noir from La Rinconada Vineyard in the Sta. Rita Hills. Chardonnay will be added to the lineup beginning with the 2012 vintage. Chanin was named one of Forbes "30 under 30" in food and wine and a "winemaker to watch" by the San Francisco Chronicle. he will continue to produce wines under the Chanin Wine Co. label at the new winery.
Russian River Valley Single Vineyard Night The Russian River Valley Winegrowers Association and Uncorked Events are sponsoring the Russian River Valley Single Vineyard Night in San Francisco, Thursday, July 19. More than 25 winemakers and winegrowers will be pouring small-lot, single vineyard wines at San Francisco's Sloane Square. Unique silent auction items will also be on display to benefit the Russian River Valley Winegrowers. For tickets, visit www.singlevineyard.eventbrite.com.
Alysian Wine Tastings in Southern California Alysian Wines by winemaker Gary Farrell will be the featured winery at 'Sideways The Play' in Santa Monica. The 2009 Russian River Valley Selection Pinot Noir will be poured before curtain call and during intermission. For tickets, call 310-397-3244. A winemaker dinner with vintner Debbie Farrell will be held at the Montage Resort Beverly Hills on Saturday, July 14 and at the Montage Resort Laguna Beach on Sunday, July 15. Contact the hotels' websites for more information.
New Name for AOC Bourgogne Grand Ordinaire (BGO) The new name of the appellation is Coteaux Bourguignons and the first bottles so labeled will appear this spring with vintage 2011. The appellation extends from Beaujolais in the South to Auxerre in the North. Red (Pinot Noir, Gamay and César), white and rosé wines are included. The appellation serves as a source of introductory wines to Burgundy.
Willamette Valley Vineyards 2008 Clonal Blending Kit A 4-Pack 2008 Clonal Blending kit is available that includes one bottle each of 667 clone, 777 clone, Pommard clone and Wädenswil clone. A great way to liven up a gathering or dinner party. Visit www.willamettevalleyvineyards.com. 25% off until June 30.
Wine Tourism versus Farmland Preservation in Oregon There is concern in Oregon that wineries are becoming tourist traps. Oregon lawmakers recently passed H.B. 3280 that states that vineyards may not make more than 25% of their income from incidentals like food and gift shop merchandise. Existing vineyards making more than 25% of their income from incidentals were given a grandfather clause, allowing them to continue to attract tourists for events. It is a delicate issue, as many wineries believe that the focus of farmland should be to sell farm products and not run event centers or restaurants. On the other hand, consumers like to sample food with wine to receive the full wine experience. In California, there has been an increasing number of wineries hiring full-time chefs to offer visitors wine-food matching experiences.
Coastlands Vineyard For Sale The Coastlands Occidental Sonoma Coast Pinot Noir estate at 18100 Fitzpatrick Lane is for sale. 2 parcels totaling 38 acres are being sold together including 14+ acres of old Pinot Noir plantings. $4,250,000. The vineyard was a source for Pinot Noir under the Williams Selyem and Cobb labels. Visit www.18100FitzpatrickLane.com.
Tickets Still Available for 2012 IPNC There will be approximately 700 attendees for the 2012 IPNC weekend, including 140 representatives from the 70 featured wineries. In addition, a new audience of 550 guests will attend the IPNC's Sunday Walkabout at the end of the weekend. Approximately 70 Pinot Noir producers will be featured this year, hailing from Burgundy, Champagne, California, Canada, Chile, New Zealand, Oregon and Washington. Guests will have the opportunity to taste more than 250 wines at IPNC! Approximately 50 guest chefs will create the meals served throughout the Celebration. Chefs will travel from all parts of the United States, France, Canada, Japan and New Zealand to cook for IPNC participants. For more information and to purchase tickets, visit www.ipnc.org.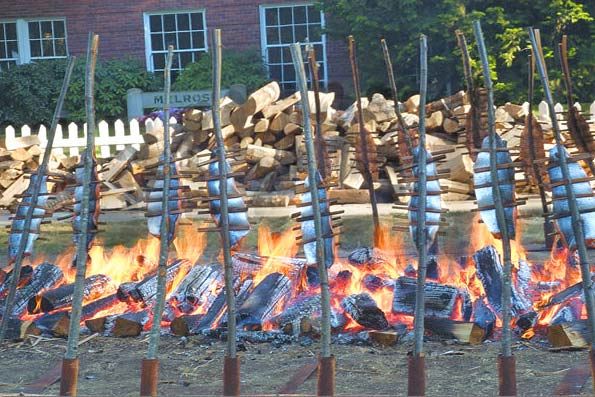 New Champagne Dispenser