Summa Vineyard
"Perhaps the finest California Pinot I have ever had the pleasure of drinking."
Allen Meadows (Burghound) on 2004 Rivers-Marie Summa Vineyard Old Vines Pinot Noir

Summa Vineyard was first planted in 1979 by Steve Young on a beautiful ridge top site on Taylor Lane west of the town of Occidental six miles inland from the Pacific coastline on the true Sonoma Coast. Various published sources have incorrectly dated the original plantings to 1975, 1978 (preparation of the Summa Vineyard site for planting occurred in 1978), or 1980. As a reference in time, David Hirsch planted his first vines at Hirsch Vineyard in Cazedero located in the more northerly Sonoma Coast about the same time (1980).
The original approximately 2 acres of vines, which included Pinot Noir, Chardonnay and Gewürztraminer, were planted to 8' x 12' spacing. The first vines were soon all grafted over to Pinot Noir. Scott and Joan Zeller acquired the vineyard in 1982, live on the property, and have dry-farmed the vineyard to the present time.
The original clones of Pinot Noir planted at Summa Vineyard have been a source of conjecture through the years, as the Zellers either do not know or decline to disclose the plant material origins. Burt Williams, who crafted Summa Vineyard Pinot Noirs from the 1988 to 1997, suspects the old vines are original Swan clone (selection).
In 1998, an additional 3 acres of Pinot Noir were added on resistant rootstock from old vine cuttings and these plantings are referred to as young vines. In 2000, more Pinot Noir vines (again old vine cuttings) were interplanted among the old vines. In 2005 and 2009, an additional 1.5 acres of Pinot Noir was established (also old vine cuttings), known as the Driveway Block, located on Zeller's current residence property and now leased back to Thomas Rivers Brown, who bought the 1979-2000 Summa Vineyard plantings in September 2010. The recent photo below shows Thomas Brown (leaf pulling) and Scott Zeller in the Summa Vineyard.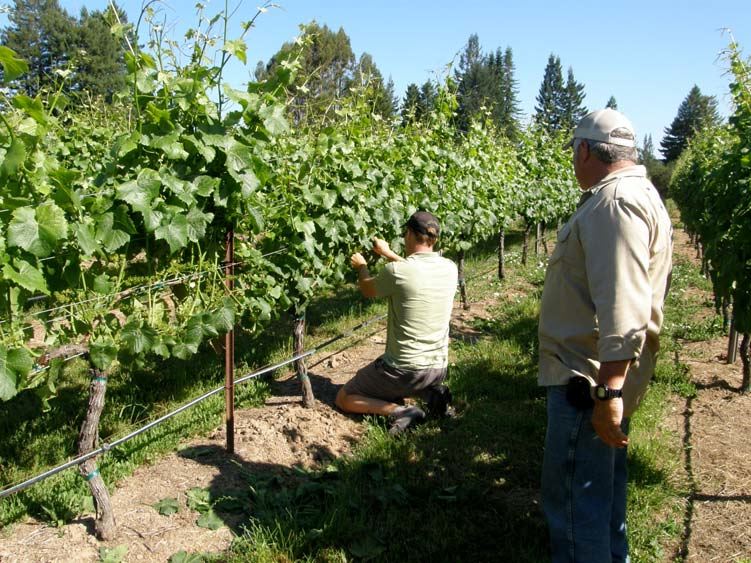 This second photo shows a row of original old vines with a row of newer young vine interplantings on the right.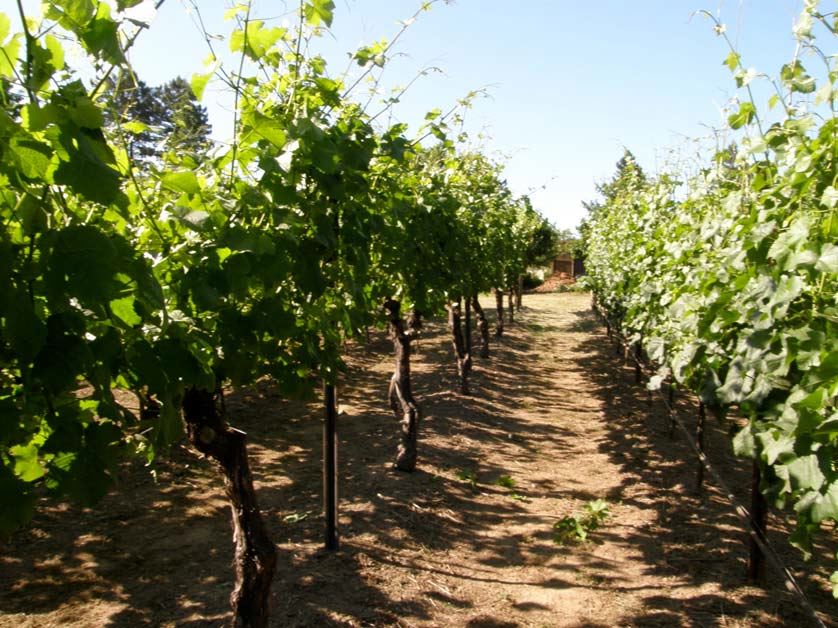 Thomas Rivers Brown, who has become a successful winemaker for numerous prestigious Cabernet Sauvignon producers at the Black Sears and Outpost facilities on Howell Mountain, was given his first winemaking job by Ehren Jordan at Turley Wine Cellars. In 2002, Ehren fortuitously introduced Thomas to Scott and Joan Zeller. Ehren had made his first two barrels of vineyard-designated Pinot Noir from Summa Vineyard in 1999, but was not able to rely on that source and had subsequently turned to other sites in the Sonoma Coast region for grapes by 2002.
After meeting Thomas, the Zellers offered him some grapes, but Thomas had no money in 2002 to launch a new Pinot Noir label, and jokes, "Genevieve Marie Walsh (his spouse) and I didn't have two nickels to rub together." However, Thomas knew the reputation of the Summa Vineyard, could not pass on the opportunity to make wine from this legendary source. He relented and crafted his first Rivers-Marie Summa Vineyard Pinot Noir in 2002. Thomas's propitious decision was to be confirmed two years later when he tasted the 1988 Williams Selyem Summa Vineyard Pinot Noir. Thomas was to remark, "I never tasted anything like it before from California."
The first wines from Summa Vineyard were produced by the tiny Sea Ridge Winery (now defunct). In the late 1980s, Burt Williams and Ed Selyem were riding their motorcycles in the hills west of Occidental looking for suitable grape sources when they came upon Scott Zeller and Summa Vineyard. Zeller agree to sell them fruit and the first Williams Selyem Summa Vineyard Pinot Noir was released in 1988. The wine was highly lauded and brought Summa Vineyard instant recognition. Yields were typically miniscule and in 1989 and 1990 no usable grapes were harvested. In 1991, a total of one ton of grapes was harvested from the two acres which produced two barrels of wine. The cost of the grapes worked out to be $5,000 per ton when the farming costs for three years (two of which - 1989 and 1990 - yielded no grapes) were considered.
The Williams Selyem 1991 Summa Vineyard Pinot Noir was offered to the mailing list at $100 a bottle, the first California Pinot Noir to sell for this lofty price. Williams figured that if people wouldn't buy it, he and Ed would take it all home and drink it. Williams said about the wine's price, "C-note or c-none." The wine sold out in three days. This wine, along with the 1995 Williams Selyem Summa Vineyard Pinot Noir, were among the personal favorites among the many wines that Williams produced over the years at Williams Selyem.
Williams Selyem released a Summa Vineyard Pinot Noir in 1988, 1991, 1993 (a combined Summa Vineyard- Coastlands Vineyard bottling was also produced in this vintage) 1995 and 1997. In 1988-1990 and 1993-1995, declassified lots of Summa Vineyard grapes were sometimes a component of the Williams Selyem Sonoma Coast bottling. The 1995 Summa Vineyard Pinot Noir sold for $125, and sold out again within days. The 1995 Summa Vineyard Pinot Noir was a prodigious wine. In the 1997 Williams Selyem Fall Mailer, Ed Selyem's tasting notes were compelling: "Need a dictionary for adjectives. In the last four years, I've re-tasted practically all the best producers' grand cru red Burgundies for vintages well over a decade including 1985s and 1990s. I'm sorry, without prejudice, there has been nothing close to this wine."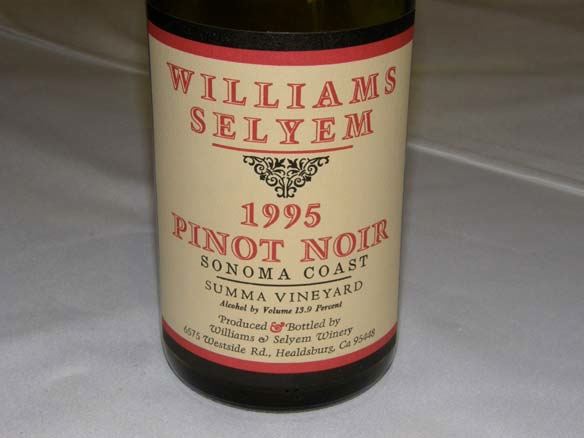 After Williams Selyem was sold in 1997, grapes from Summa Vineyard went to Mueller Winery (1998-2000), Brogan Cellars (1998-2006), and Littorai (2002-2008). With the acquisition of Summa Vineyard by Rivers-Marie in 2010, the vineyard became a monopole exclusive to Rivers-Marie. Thomas now produces a Summa Vineyard "Young Vines" and "Old Vines" Summa Vineyard Pinot Noir in most vintages. Declassified lots are blended into the Rivers-Marie Sonoma Coast bottling.
A number of prominent vineyards have been planted on Taylor Lane near or adjacent Summa Vineyard including Taylor Lane (Pinot Noir to Boèhme and Belle Glos), B. Theiriot (Chardonnay to Littorai and Rivers- Marie, Pinot Noir to Littorai), La Boèhme (a monopole for Red Car Wine Co.), Carl Meyer and Occidental (Pinot Noir to Evening Land), Taylor Ridge, Que Syrah and Maybach.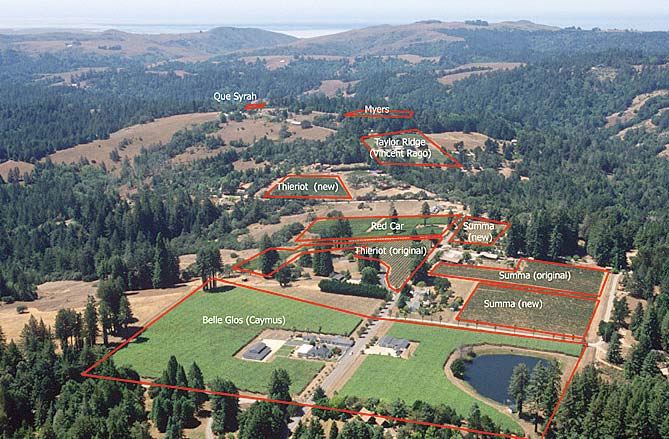 On June 13, 2012, I organized a retrospective tasting of Summa Vineyard Pinot Noirs. The event was held at Healdsburg's Dry Creek Kitchen, and a number of notable winemakers attended including Thomas Rivers Brown, Burt Williams, Nikolai Stez (Woodenhead), Ben and Yolanda Papapietro (Papapietro-Perry), Ross Cobb (Cobb Wines & Hirsch Vineyards), and Kerith Overstreet (Bruliam Wines).
There were a number of stunning wines in the 18 bottle lineup including the 2004, 2007, 2009 and 2010 Old Vines from Rivers-Marie, the 2002 Summa Vineyard and 2006 Michaela's Reserve from Brogan Cellars, the 2003 and 2005 Littorai wines (a combination of old vines and new vines), and the 1995 from Williams Selyem, which Burt generously donated (one of his last two 750 ml bottles). It was one of the most spectacular Pinot Noir tastings I have ever attended.
The 1995 Williams Selyem Summa Vineyard Pinot Noir was the consensus favorite of those in attendance. Now 17 years old, the wine was incredibly fresh, in part attributable to its remarkable acidity. Burt noted that at harvest the grapes had the following readings: 24.5º Brix, pH 3.09 and TA 0.99. The wine at bottling (Burt never acidified) showed the following: 13.9% alc., pH 3.29 and TA 0.964. There was no stem inclusion and the wine spent 16 months in 100% new Francois Frères French oak. The price upon release as noted previously was $125 and total production was 52 cases.
Since Margi Weirenga-Williams and Ted Lemon could not attend, I do not have winemaking details for the Brogan Cellars and Littorai wines. The Brogan Cellars wines tended to be bold and richly structured, the Littorai wines (a combination of fruit from both old vines and new vines) more restrained and savory. The winemaking regimen for Rivers-Marie was detailed by Thomas as follows. Grapes undergo a cold soak, light punchdowns and spend 18 days on the skins. No acid bumps or additions. No whole cluster (10% in 2010). Aged 10 months in 80%-100% new oak (Remond in 2002 and 2003, Remond and Francois Frères in 2004-2010). Production in 2002 and 2003 was 2 barrels from 0.7 tons of fruit. The wines are unfined and unfiltered (and show a very slight resulting cloudiness). The Young Vines and Old Vines bottlings share some similarities, but the Old Vines has a broader palate and more depth due to vine age. It is always a wine to contemplate.
Thomas is quite taken by the Old Vines wines from Summa Vineyard. He noted in his newsletter offering the 2009 vintage: "We've run out of original things to say about this wine. Every year we try to figure out where the current bottling ranks among previous editions and this year I am at a loss. I finally have to admit I simply love this vineyard and the wine it produces and leave it at that. There's really nothing we've come across that tastes like it."
My tasting notes of Summa Vineyard wines are summarized below.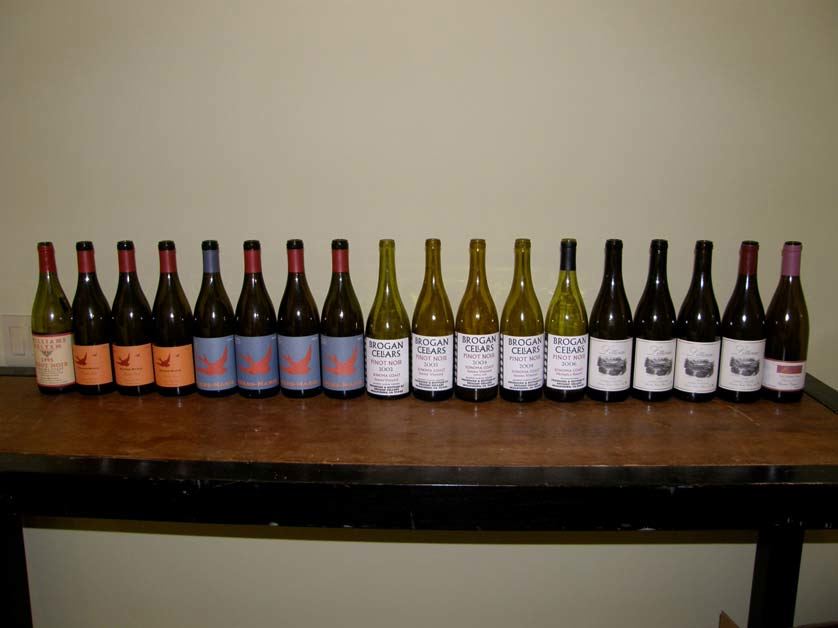 2002 Rivers-Marie Old Vines Summa Vineyard Sonoma Coast Pinot Noir
14.1% alc., 44 cases. Aged in 100% new French oak. · Very light garnet color in the glass. Aromas of cherry, red berry, orange peel, leather and oak. Light and elegant flavors of red strawberries, blood oranges and a hint of oak with slight tannin and bright acidity. Holding, but fruit is beginning the downslope.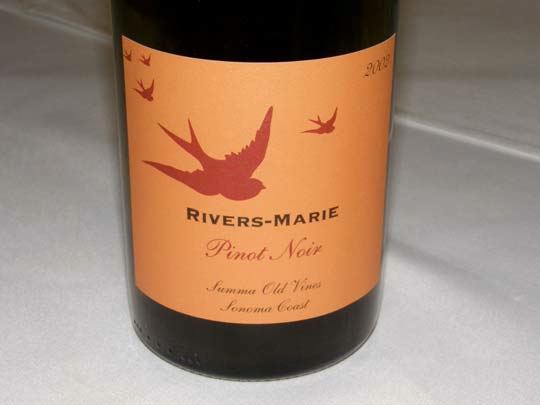 2003 Rivers-Marie Old Vines Summa Vineyard Sonoma Coast Pinot Noir
13.5% alc., 44 cases. Aged in 100% new French oak. · Very light garnet color in the glass. Brighter aromas of dark cherries and sandalwood. Elegant, but more body than the 2002 vintage, with pleasing flavors of red berries, cherries, pomegranates, and subtle oak. Fine-grain tannins and some length. Has peaked but will hold a few more years.
2004 Rivers-Marie Old Vines Summa Vineyard Sonoma Coast Pinot Noir
14.1% alc., 60 cases. Aged in 100% new French oak. · Moderately light reddish-purple color in the glass. Aromas of oak spice, wood shavings and conifer. Tasty core of black cherry fruit with a complimentary hint of oak. Well-structured and still showing some fine-grain tannin, finishing dry with a tart cherry flourish.
2005 Rivers-Marie Old Vines Summa Vineyard Sonoma Coast Pinot Noir 14.1% alc., 1 new quarter barrel, 54 bottles. Not tasted.
2006 Rivers-Marie Old Vines Summa Vineyard Sonoma Coast Pinot Noir 13.7% alc., 62 cases. Aged in 100% new French oak. Not tasted.
2007 Rivers-Marie Old Vines Summa Vineyard Sonoma Coast Pinot Noir
13.4% alc., 100 cases, $60. Aged in 100% new French oak. · Moderately light reddish-purple color in the glass. Beguiling aromas of fresh black cherries and spice. Very soft in the mouth, with a delicious core of medium-weight flavors of perfectly ripe cherries and baking spices. Really impresses with depth of flavor which seems to expand into every crevice in the mouth. Well-proportioned tannins and acidity with amazing length on the glorious finish. Poised for many years of exceptional drinking ahead.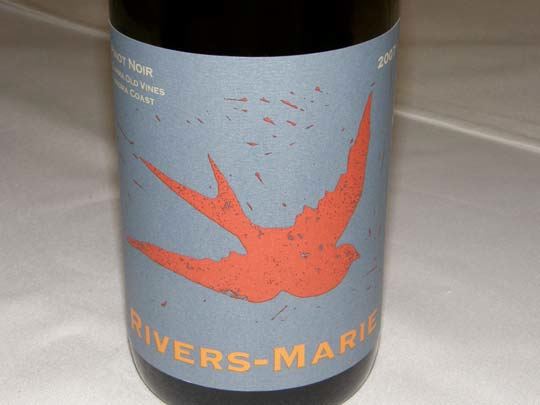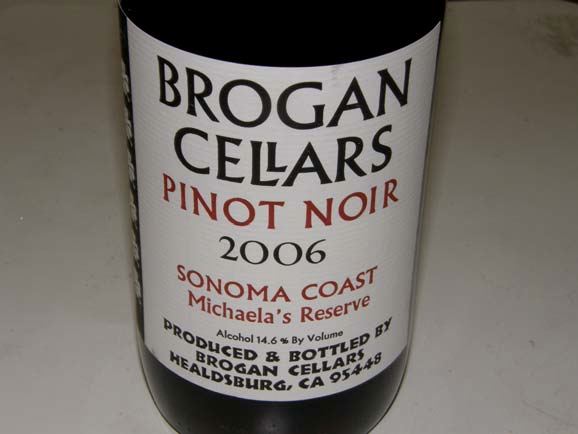 2002 Littorai Summa Vineyard Sonoma Coast Pinot Noir
14.4% alc., $65. Sampled a week after the tasting (the wine was misplaced in my cellar and I found it after the tasting). · Nicely perfumed with aromas of exotic dark berries, old book, pipe smoke, oak and dried rose petals. Very intensely flavored with waves of wild red berries, caressed by notable but balanced tannins, finishing strong and long with a hint of smoky, herbal oak and a touch of heat. Still fresh and alive and will last several more years. Very good.
2003 Littorai Summa Vineyard Sonoma Coast Pinot Noir
13.9% alc., 85 cases, $65. · Medium reddishpurple color in the glass. Very fragrant with scents of dark berries and cherries, spice, and conifer. Delicious core of dark red raspberries and blueberries with a hint of baking spice and herbs. Soft tannins and velvety on the palate. Outstanding, showing the balance to last another 10 years.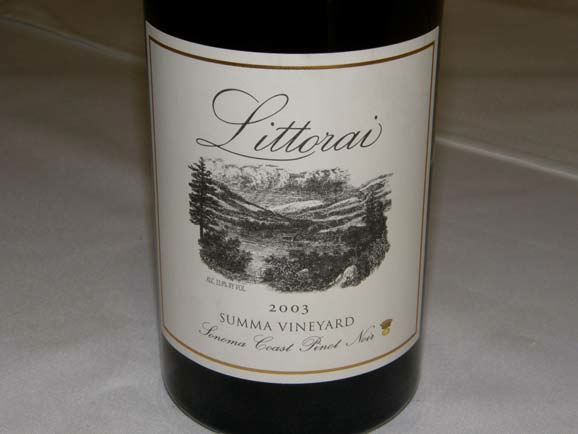 Shortly before the tasting, Margi (Brogan Cellars) notified me of her inability to attend due to family commitments. At the last minute, I contacted my friend, Kerith Overstreet, M.D., who has been crafting Pinot Noir and Zinfandel under the Bruliam label for a few years, and she was able to fill in. A relatively new and humble winemaker who recently moved to Healdsburg, she wrote a very humorous piece about her experience at the tasting on her blog titled "The Luckiest Girl in the World." I have reproduced her blog entry here for your enjoyment:
The Luckiest Girl in the World
Posted: 17 Jun 2012 10:14 AM PDT
If you live in Los Angeles, you'll eventually come across a celebrity. You may find yourself cross legged beside Gisele Bundchen during Mommy & Me class at the kinder gym. Perhaps you've indulged in a manicure alongside Jessica Simpson or sidled past Pam Anderson at the plastic surgeon's office. It's a law of averages. Here in Sonoma County the currency is less reality TV diva and more celebrity vintner. (Notwithstanding a purported Giada de Laurentiis sighting at the last summer Farmer's Market; apparently I missed her phone message.) I have heard winemaker Merry Edwards is a devoted yogi, but I'm too lazy to drive to the studio in her neighborhood. I doubt either the Kosta or Browne contingency buys wine at Costco. But, it's bound to happen here too- that elusive celebrity winemaker sighting. It may even emerge from the most mundane and inauspicious of circumstances, like an 11th hour Hail Mary phone call.
I fielded a call last Wednesday at 8:58 am, as I was rushing to drop the kids at summer camp. It was a good friend and well known wine reviewer asking if I wanted to join him at a high end pinot noir tasting starting at 10 am. Some last minute cancellation relinquished a vacancy at the tasting table. Might I enjoy a morning of fine wine? High end, single vineyard pinot at 10 am? Hell yeah, count me in. I asked if I should bring wine or something to share. He said to just show up. So I did, about 15 minutes late (I had to stop at the post office). Then my head exploded.
It turns out I had Forrest Gumped into a private tasting of verticals from Summa Vineyard, a legendary Sonoma Coast property way out in West County. The tasting featured five different wineries each using pinot noir fruit from the same 6 acre site, with wines dating back to 1995. I arrived, fashionable late and took the only open seat behind a forlorn, phalanx of empty stemware. The phase one tasting included 7 wines from the same producer, spanning 2002-2010. Eleven additional Summa Vineyard wines rounded out phase two. I am not one to name drop, but this was a serious who's who of Sonoma Coast pinot noir. Imagine an Academy Awards of Superstar Celebrity Vintners kind of event. I was totally star struck. I used every ounce of professional restraint to keep my camera phone stashed in my purse.
To my right was a lovely older gentleman in a Hawaiian shirt. He smiled, stuck out his hand, and said, "I'm Burt. Good to meet you." I looked at him and said, "I know exactly who you are, sir." The company was as awe inspiring as the wines. You cannot pay any amount of money to taste such rare stuff side by side. I'd stumbled into a carefully curated private tasting. I was a lucky interloper. One winemaking celebrity mistook me for a sales rep for another winery. At least he didn't ask me to serve him some crackers. Now for the wines. Allow me to preface this by reminding you that I am not an amateur wine reviewer. I'm worse. I pride myself on my failure to identify a Rioja from left-bank Bordeaux blind. But, I will share my notes from my three favorites, in descending order of jaw-dropping awesomeness.
#3) 2007 Rivers-Marie Summa Old Vines Sonoma Coast Pinot Noir "Color is more red and less brick than '02/'03, nose with integrated baking spice, allspice, clove, exotic spice, cherry, raspberry, blood orange, tastes of fruit and spice, still quite bright with nice acid."
#2) 2006 Brogan Michaela's Reserve Pinot Noir Sonoma Coast Pinot Noir "Love it! Sexy and seductive nose with floral notes, red cherry, cherry candy and some oak flavors on the finish; nice spice on a long finish. This wine is plush and giving."
Now to blow your mind, no friggin' joke:
#1) 1995 Williams-Selyem Winery Sonoma Coast Summa Vineyard Pinot Noir "Holy crap! Color is still red; no brown tinge. Nose is plummy and perfumed, cherry, tea, fresh sage, and thyme. Wow! Still has crazy structure and tannin. Vibrant."
Like I said, I don't like to drop names, but Burt Williams borrowed my pen.