Russian River Valley Immersion Trip for the ¡Salud! Oregon Wine Auction
¡Salud! is uniquely Oregon and represents a collaboration between Oregon winemakers and healthcare professionals to provide access to health care for Oregon's seasonal vineyard and winery workers and their families. A dedicated group of vintners and Tuality Healthcare physicians created ¡Salud!, named for the traditional Spanish toast, "To your health!" As a retired physician, this charity is close to my heart.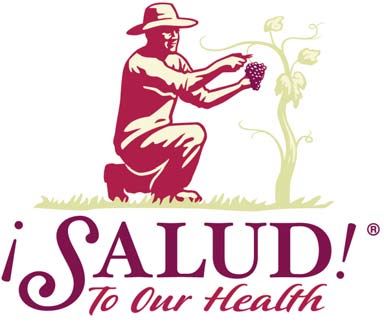 Each year, the two day ¡Salud! Oregon Wine Auction is held in the Willamette Valley and Portland, Oregon, in November. For the past three years, I have donated a Russian River Valley Immersion Trip for two couples, where I host the auction winners for four days for special winery visits and tastings, meals, and lodging. This year's winners were Russ and Carol Paine (left in photo below) who were accompanied by their friends, Mike and Mary Hoag.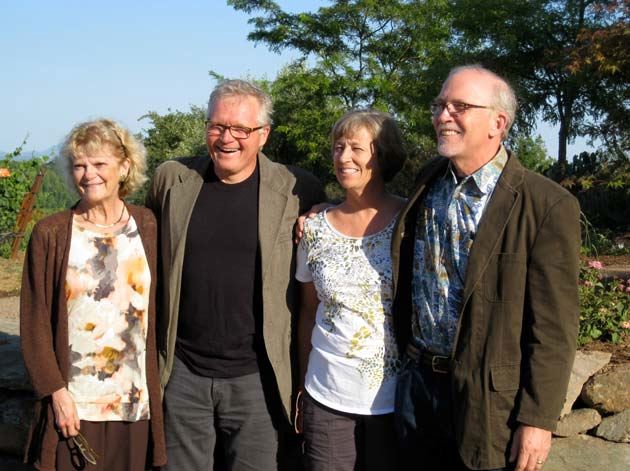 I want to give a shout out to the wineries that were so instrumental in the success of this trip, held May 29 to June 1, 2012. All the wineries involved are very successful, and most of them sell out their wines annually to eager wine enthusiasts, but they generously gave of their time and resources to support this charity. The charity does not benefit them directly, but the wineries participate as a goodwill nod to others in the wine industry.
Benovia Winery, Santa Rosa, California
Benovia Winery donated their vineyard hideaway three-bedroom cottage, situated adjacent the 41-acre estate Martaella Vineyard, as lodging for the auction winners. Partner and winemaker, Michael Sullivan (the big guy with the hat), hosted a tour of the winery's vineyards and an extensive tasting of Benovia wines.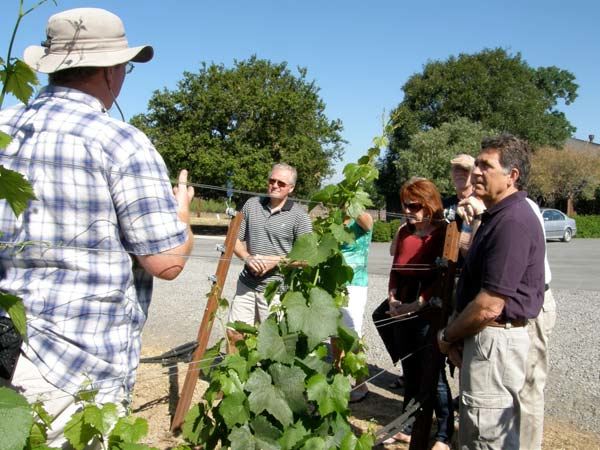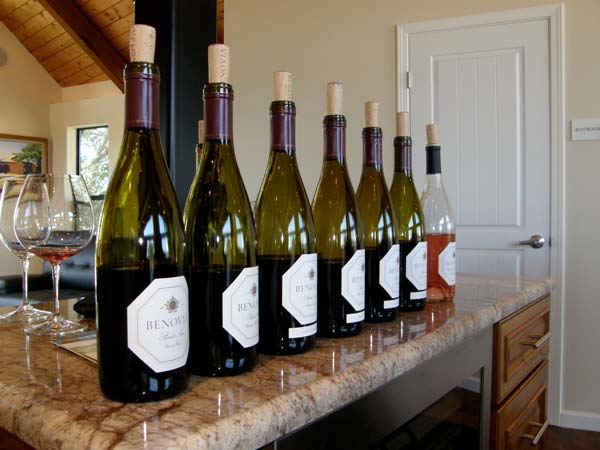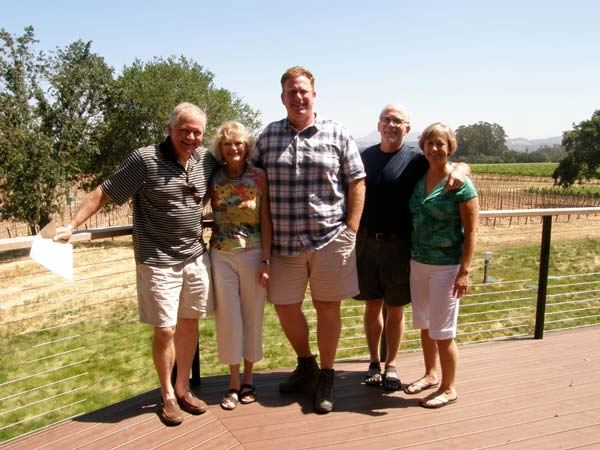 Benovia Winery produces Chardonnay, Pinot Noir and Zinfandel from both estate vineyards and premium fruit sources. The estate vineyards include Martaella, located in the Laguna de Santa Rosa region of the Russian River Valley AVA adjacent the winery , planted primarily to Pinot Noir and Chardonnay under the expertise of "Dr. Dirt," Daniel Roberts, PhD, Cohn, located in the western reaches of the Russian River Valley, just outside the AVA and planted to Pinot Noir and Zinfandel, and Falstaff Road, 12 acres of Pinot Noir located in the Sonoma Coast near the town of Freestone.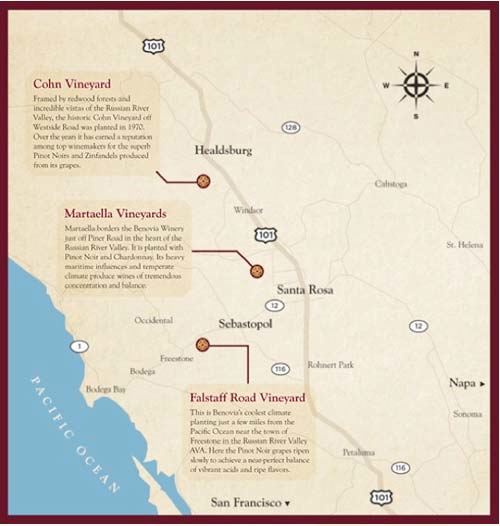 Annual production is 4,000 cases at Benovia at an estate winery with a 10,000 case capacity.
My tasting notes of the 2010 vintage (all wines recently bottled and several scheduled for fall release) follow. Michael has backed off the percentage of new oak to 30-35% which has resulted in noticeably softer textures. The wines are not as rich as the 2008 and 2009 vintage wines, possessing more femininity and charm. I believe these are the finest Benovia wines to date.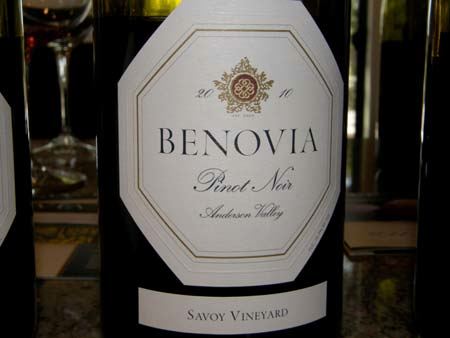 2010 Benovia Bella Una Russian River Valley Pinot Noir
Primarily Pommard clone from Martaella Estate Vineyard. More whole cluster. · Darker in color. Very aromatic, even stunning in intensity of dark fruits. Smooth and sexy on the palate with a well-mannered load of dark berry and plum fruit flavors, backed by restrained fine-grain tannins. An exceptional offering. Very good (+).
2010 Benovia Cohn Vineyard Sonoma County Pinot Noir
40-year-old vines from a 6.5-acre vineyard offering very low yields. A monopole for Benovia. Volcanic soils. · Aromas of wild berries, cassis and sauvage. Soft and smooth on the palate with generous raspberry and blackberry flavor, supported by ripe, soft tannins and lively acidity. The wine has a mineral-laden and animale quality that makes it quite unique. Another exceptional wine from this vintage. Very good (+).
2010 Benovia La Pommeraie Russian River Valley Pinot Noir
From the dry-farmed Zio Tony Vineyard including clones 828 and 777. Tends to be a big wine. · Demure aromas of dark berries and exotic spices. Luxurious and soft on the palate, with generous and bold flavors of perfectly ripe blackberries, wrapped in firm tannins. Very young and unevolved. Very good.
Benovia Winery offers tasting by appointment (707-526-441). The wines are also offered on the website at www.benoviawinery.com. The winery's Vineyard Hideaway Cottage is available for rent.
Thomas George Estates, Healdsburg, California
The Baker Family has done a remarkable job in upgrading the former Davis Bynum Winery and estate vineyards. Winemaker Chris Rossi has brought the lineup of wines up to a lofty level shared by more veteran Healdsburg wineries such as Williams Selyem and Rochioli. The winery has four cottages on the estate for rent, and offered one for me to stay in while hosting the Russian River Valley Immersion. They say fog makes the Pinot Noir in the Russian River Valley and one can see the striking difference between the upper photo taken on a sunny afternoon at Thomas George Estates, and the next day in the early, foggy morning.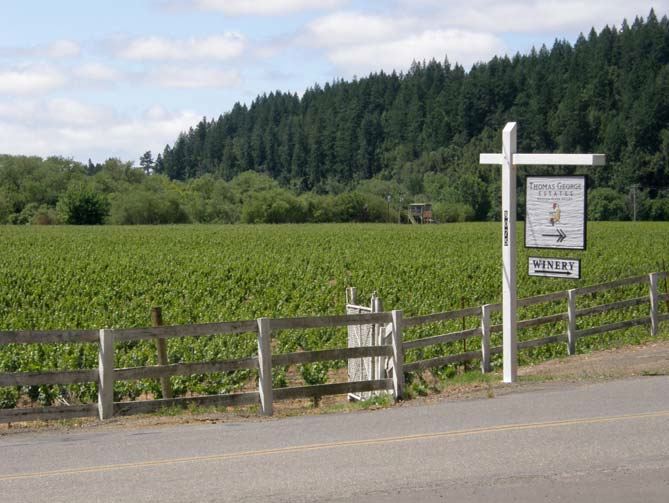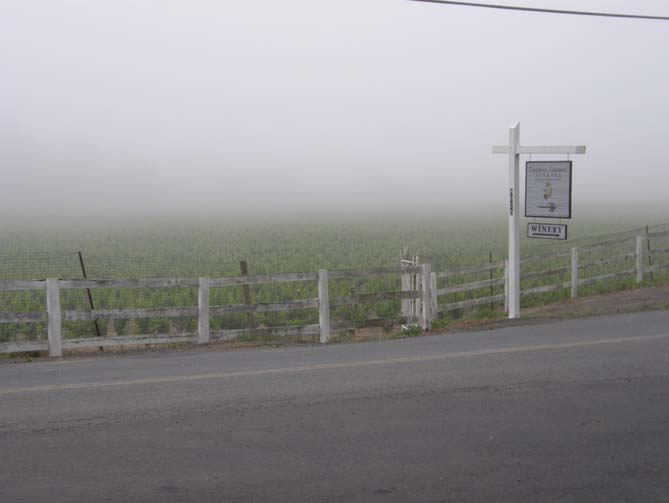 We had a gourmet al fresco dinner in the park-like setting adjacent the tasting room at Thomas George Estates. The meal was catered by Chef Krista of Boon Eat + Drink in Guerneville and served alongside Thomas George Estates wines. The menu:
MENU
Liberty Farms duck rillette over crispy polenta squares with cherry-habanero glaze Organic beef tartar over goat cheese crostini, mint, hazelnut dust
2010 Thomas George Estates Amber Block, Starr Ridge Vineyard Russian River Valley Sparkling Pinot Noir
Pan seared scallops over corn puree, brown butter, mushroom-corn confetti
2009 Thomas George Estates Brian & Janice Schmidt Vineyard Dry Creek Valley Viognier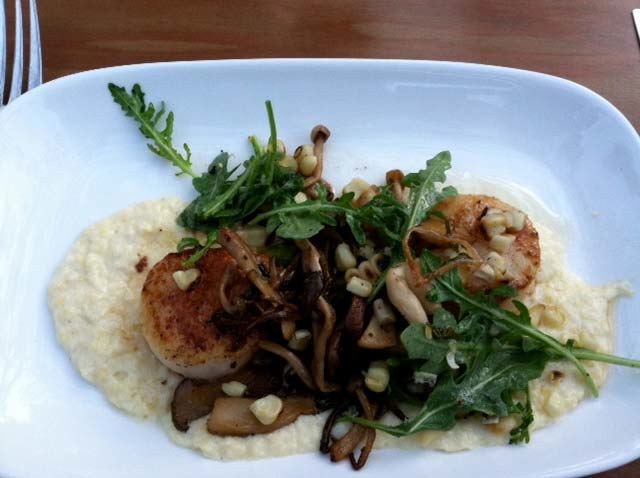 Chili braised Niman pork shoulder over creamy polenta, sauteed rainbow chard with chili and lemon, finished with ricotta salata
2009 Thomas George Estates Baker Ridge Backbone Block Russian River Valley Pinot Noir
Vanilla bean panna cotta, blueberry-thyme compote, lavender shortbread cookies

I tasted some of the unreleased 2010 Thomas George Estates Pinot Noirs in the winery's cave with winemaker Chris Rossi and manager Sean Tevik. The Pinots were vinified with more whole cluster in 2010, up to 37% in some lots, employing native yeasts fermentations and aging in 40% or less new French oak.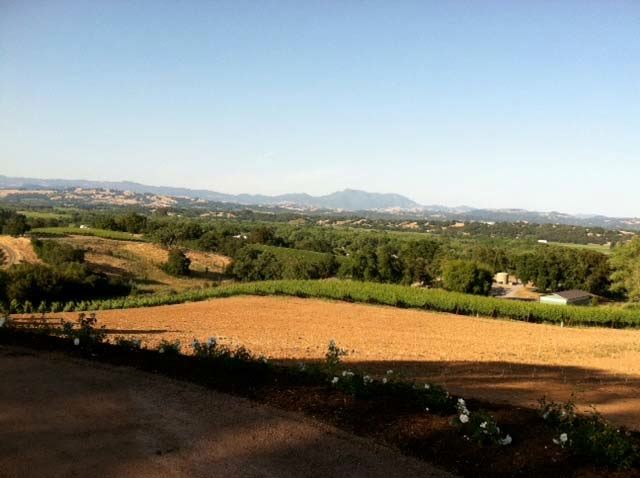 View of Russian River Valley from Baker Ridge Vineyard
2010 Thomas George Estates Estate Blend Russian River Valley Pinot Noir
40% Cresta Ridge Vineyard, less Baker Ridge Vineyard. · Dark in color, with effusive aromas of Bing cherries, cola, oak spice and baking spice. Solid core of fresh cherry fruit, moderately rich in energy, with balanced tannins and noticeable oak. Flavors of rhubarb and red raspberry add interest. Still young but very promising. Good.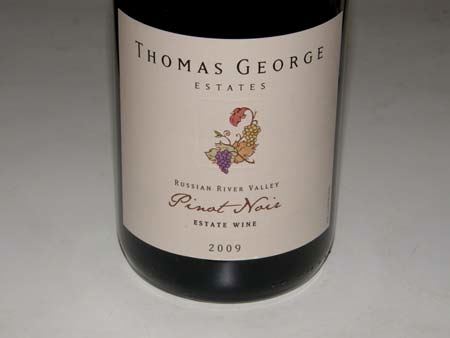 Thomas George Estates' tasting room is open daily at 8075 Westside Road. The wines are sold on the website at www.thomasgeorgeestates.com. This is a special winery to visit with a very welcoming tasting room, a park perfect for picnicking, and the only caves on Westside Road.
Twomey Cellars, Healdsburg, California
Our gracious hosts for a tour, barrel tasting, bottle tasting and luncheon were owner Raymond Twomey Duncan (foreground with hat below) and winemaker Ben Cane (in background below). This winery has made remarkable strides since Cane came on board in 2008 to work with senior winemaker Daniel Baron. The emphasis here is on appellation wines from the Anderson Valley, Russian River Valley, Sonoma Coast and a vineyard-designate from Bien Nacido Vineyard in the Santa Maria Valley. The 2010 Twomey Anderson Valley Pinot Noir and 2010 Twomey Russian River Pinot Noir were reviewed and highly lauded in the last issue of the PinotFile (www.princeofpinot.com/winery/69/). The 2010 Twomey Sonoma Coast Pinot Noir and 2010 Twomey Bien Nacido Pinot Noir have not been released, but were tasted at a luncheon at the winery and both were stellar. The Bien Nacido bottling in particular excited me. An excellent Napa Valley Sauvignon Blanc rounds out the lineup.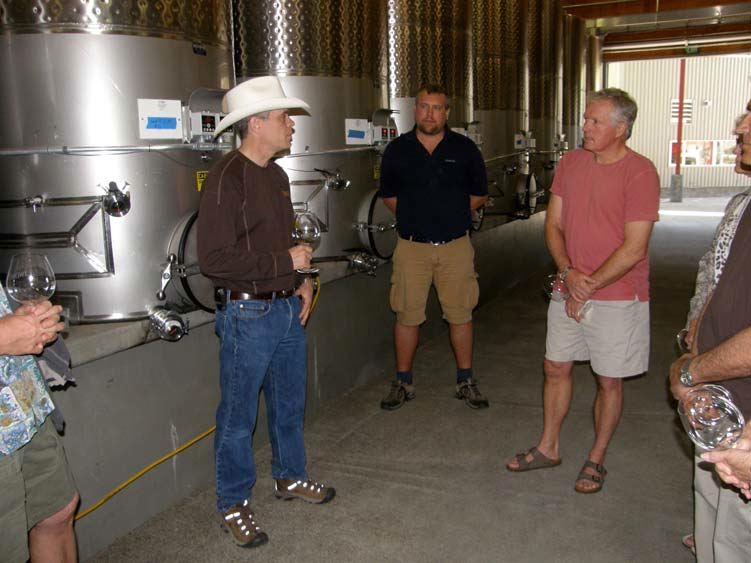 The Twomey Pinot Noirs have a style that emphasizes food friendliness. They are moderately extracted with bright acidity and silky textures. The wines have a quality that Raymond Duncan likes to call "Yummy." I am a big fan of the wines.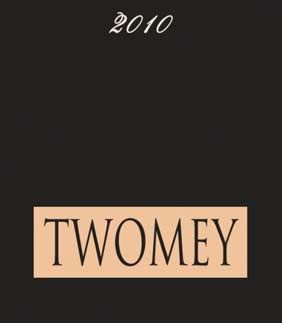 The Twomey Cellars tasting room has a very informed and friendly staff and the tasting room views across the Russian River are more spectacular than at any other winery on Westside Road. The wines are sold on the website at www.twomeycellars.com.
Kosta Browne Winery, Sebastopol, California
Winemaker Michael Browne (far right in photo below) and Public Relations Director Toni Lombardi were our hosts for a barrel tasting of 2011 Pinot Noirs and a bottle tasting of 2010 releases. The superb lineup of 2010 Kosta Browne releases are reviewed later in this issue.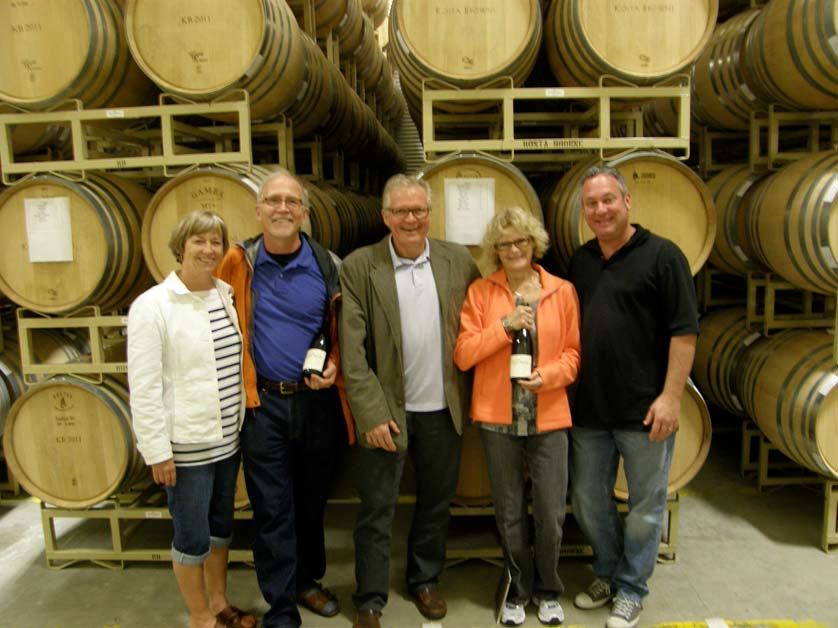 Kosta Browne is building a 40,000-square-foot modern winery as part of the new Barlow complex in downtown Sebastopol, with a grand opening slated for fall 2012. The Barlow was the former site of an apple processing plant and warehouses. The new Barlow complex is modeled after the Ferry Building Marketplace in San Francisco and will include artisan food and beverage purveyors such as Woodfour Brewing Co., Bliss Bakery, Village Bakery, Mama Tina's Ravioli, Taylor Maid Coffee, Guayaki Tea, and Rosso Pizzeria. Several boutique stores, such as Lynn's Lavender and The Uncarved Block will be included as well as the Sebastopol Center for the Arts, bocce ball courts and space for the Sebastopol Farmer's Market. Tasting rooms will be open for La Follette Wines, Marimar Estate Vineyards & Winery, and Wind Gap Winery.
Kosta Browne now produces about 14,000 case of wine annually, but is increasing Chardonnay and Pinot Noir production over the next five years. Projected future Chardonnay production is 1,800 cases, up from 500 cases in 2010. The new Kosta Browne winery will not have a tasting room open to the public, but will welcome occasional mailing list guests, and will work closely with the other food producers and artisans in The Barlow.
Kosta Browne wines are sold through an allocated mailing list (which currently has a waiting list for new joiners). For information, visit www.kostabrowne.com.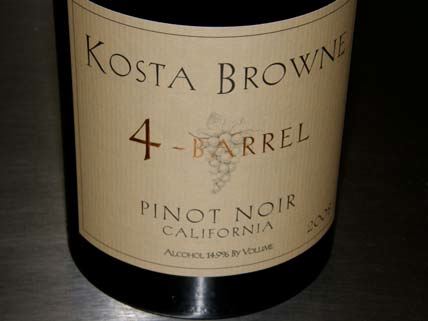 DuMOL Wines, Windsor, California
Winemaker and co-proprietor, Andy Smith (pictured second from right), hosted our group for a barrel tasting (2011 Chardonnay and Pinot Noir), and 2010 bottled wines. Andy has been the winemaker and viticulturist at DuMOL since 2000 and he crafts a remarkably consistent lineup of the highest quality premium wines including Pinot Noir, Syrah, Chardonnay and Viognier. His training under Neil McCallum at Dry River (Martinborough, New Zealand), Ted Lemon at Littorai, and Paul Hobbs has served him well. Most of the DuMOL wines are sourced from the cool Green Valley appellation where DuMOL also has an estate vineyard.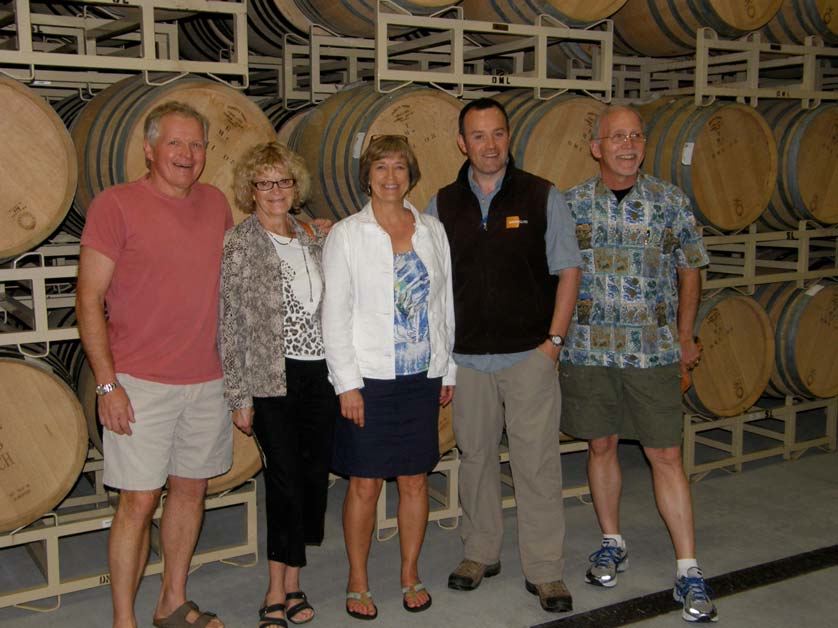 I will be reviewing the 2010 DuMOL releases in an upcoming issue. The 2011 wines we sampled from barrel were remarkable and bode well for this vintage. The Pinots are delicate and elegant, full of nuance. What stood out in my mind was tasting a barrel sample of a 2011 Pinot Noir made from a new Dijon clone, 943.
I recall John Kelley, the cerebral winemaker for Westwood Winery in Sonoma, wrote in his blog that clone 943 came out at the top of the periodic tastings conducted by Dr. Bernard at the Lycée Viticole in Dijon every year. Clusters are smaller than clones 115 or 777, but more numerous. The berries are very small with less than average seed count. Reportedly, wines made from 943 have ethereal aromatics and low tannins. Clone 943 is now licensed by ENTAV to a limited number of nurseries in the United States.
DuMOL wines are sold through an allocated mailing list. The winery, located in Windsor, is not open to the public. Visit www.dumol.com to join the list and for more information.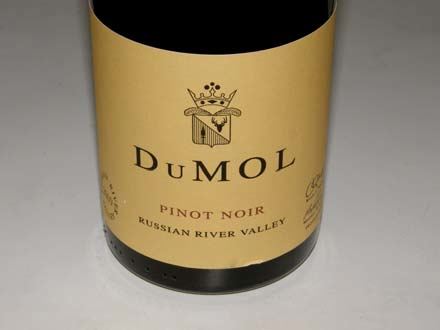 Arista Winery
Our host was proprietor Mark McWilliams, who gave us a tour of the property and treated us to a tasting and luncheon in their new cozy event facility. Arista has hired a full-time talented chef, William Oliver, and now offers visitors sit down tastings with appropriate wine and food pairings.
Founded in 2002 by the McWilliams Family, the estate is located on 36 acres along Westside Road next door to Williams Selyem Winery. Winemaker Leslie Sisneros crafts several Pinot Noirs from widely disparate regions including the Williamette Valley of Oregon, Mendocino Ridge, Anderson Valley, Sonoma Coast, Russian River Valley, and Santa Cruz Mountains, as well as estate vineyards which have just come into significant production with the 2010 vintage. The Pinot Noirs are polished, balanced, and enticing when young, but many of them possess long term age ability.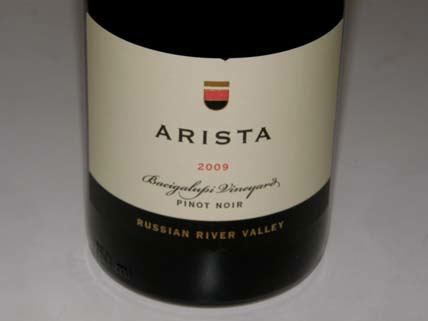 We tasted the 2010 Arista Bacigalupi Vineyard Russian River Valley Pinot Noir, 2010 Arista Harper's Rest Estate Vineyard Pinot Noir, 2010 Two Birds Estate Russian River Valley Pinot Noir, and 2010 Arista Perli Vineyard Mendocino Ridge Pinot Noir. The wines are still young but offer exciting potential. I will be reviewing the wines when they are released this year. Our luncheon consisted of three courses and three Arista wines.
MENU
Dayboat scallop, wild grain salad, little gem lettuce, chevre, filberts

2011 Arista Ferrington Vineyard Anderson Valley Gewürztraminer

Braised wild boar, infant vegetables, spiced parsnip puree, demi glace

2010 Arista Toboni Vineyard Russian River Valley Pinot Noir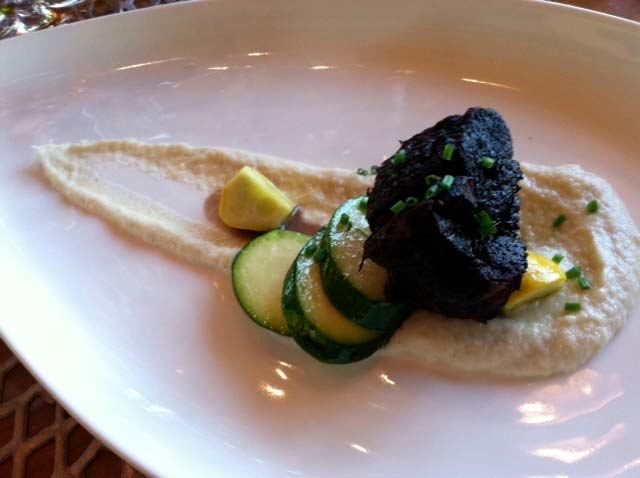 Summer berry cobbler, sugar cookie crumble, vanilla whipped cream, strawberry
2010 Arista Smokey Ridge Vineyard Dry Creek Valley Zinfandel

Arista's tasting room is surrounded by a serene Japanese garden. Located at 7015 Westside Road, Arista is open for tasting daily from 11-5. The wines are only offered through the tasting room and the website. The more limited production wines are only available to wine club and mailing list members. Visit www.aristawinery.com. (Mark McWilliams is center in photo below)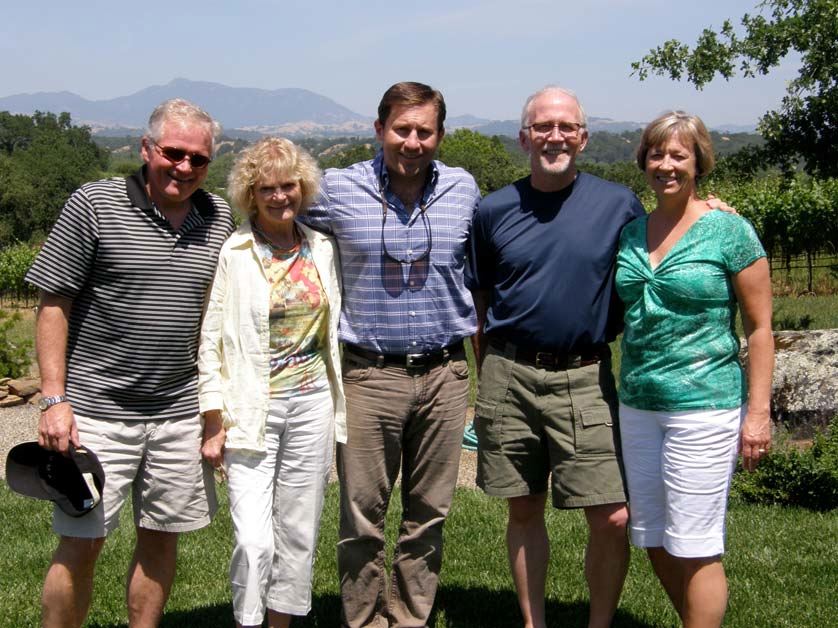 Williams Selyem Winery, Healdsburg, California
Hospitality Manager Michael Traverso was our gracious host for a tour and tasting at the new Williams Selyem Winery on Westside Road. Winemaker Bob Cabral and a supporting cast produce Pinot Noir, Chardonnay, Zinfandel, and occasionally other varietals that continue to gather praise from the wine press and gang of wine aficionados. About 40% of the wines are now produced from estate vineyards while 60% are sourced.
Some glimpses of Williams Selyem: From top to bottom, front of winery, on the winery deck with Michael, the estate vineyard, milk tank used for fermentations.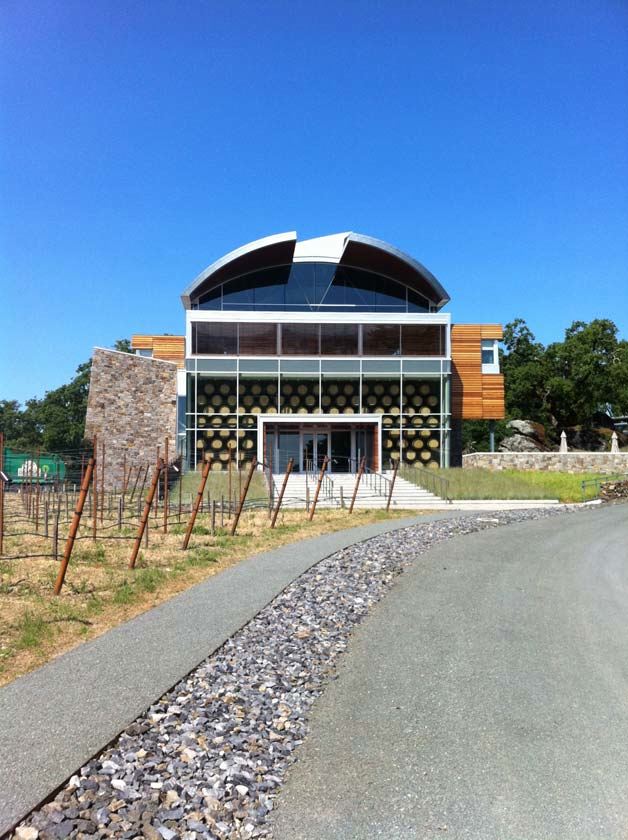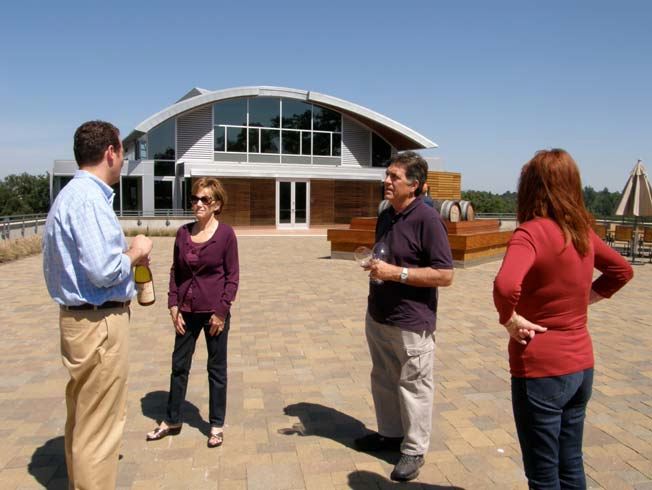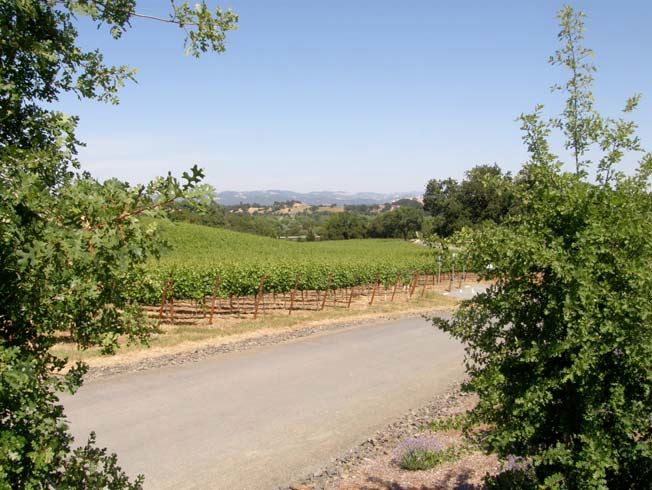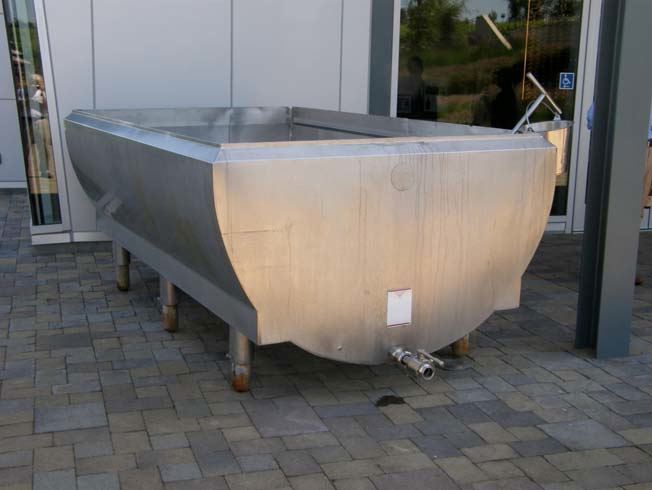 Williams Selyem wines are sold exclusively through a mailing list. There is reportedly a waiting list to join, but small amounts of wine are made available to those who call the winery and purchase. Once you buy at least one bottle, you become a friend of the winery and stay on the mailing list. You are then entitled to visit the winery by appointment, stage a patio party, receive tours of the property, picnic, and have access to some of the small production wines only available at the winery. Visit www.williamsselyem.com.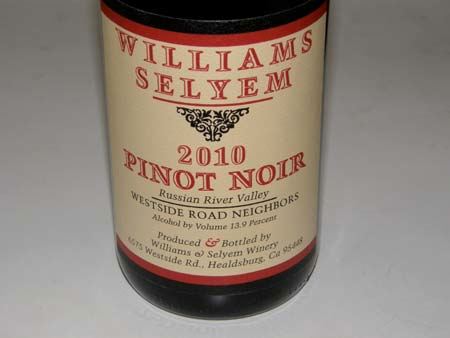 J Vineyards & Winery, Healdsburg, California
Our Russian River Valley Immersion journey ended in fine style, with a sit down food and wine pairing in The Bubble Room at J Winery. J has embarked on a new era with the departure of veteran winemaker George Bursick, who brought the winery's still wine program into prominence, and the arrival of winemaker Melissa Stackhouse, who previously was the winemaker at La Crema and Pinot Noir Winemaster for all Jackson Family Wines. Her first complete vintage at J will be 2010.
The two Pinot Noirs sampled at this pairing have been very favorably reviewed previously in the PinotFile (www.princeofpinot.com/winery/164/). An outstanding 2009 J Nicole's Vineyard Russian River Valley Pinot Noir is also currently available. The executive chef is Mark E. Caldwell.
MENU
2010 J Vineyards "STRATA" Russian River Valley Chardonnay
Chilled zucchini soup, white truffle oil, croutons
2011 J Vineyards Hoot Owl Vineyard Alexander Valley Viognier
Pan-seared day boat scallop, English pea puree, salsa verde
2009 J Vineyards "Barrel 16" Russian River Valley Pinot Noir
Pork Milanese, roasted asparagus, royal trumpet mushrooms, Dijon sauce
2009 J Vineyards Sonoma Coast Pinot Noir
Slow-roasted spring lamb medallion, Yukon Gold potato fondant, green garlic soubise dried Bing cherry compote
J Brut Rosé Russian River Valley
Rhubarb pavlova, rosé-raspberry gélee, almond crunch
2003 J Vintage Brut, Late Disgorged, Russian River Valley
Mignardises ricciarelli, croccante, amaretti, strawberry marscapone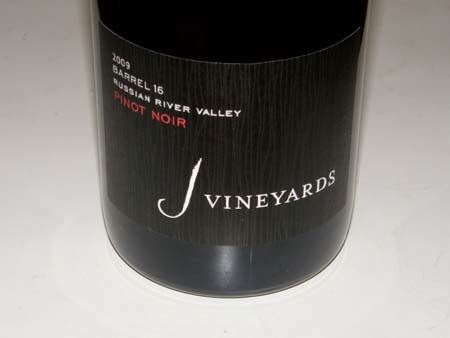 J Vineyards & Winery offers a beautiful and sophisticated tasting experience both indoors and outdoors at the winery located at 11447 Old Redwood Highway in Healdsburg. A number of different tasting experiences are offered, some requiring an appointment. A number of Club J tiers and benefits are offered to wine club members. Visit www.jwine.com.
No trip to the Russian River Valley would be complete without a departing visit to my favorite bakery in Freestone (Wild Flour Bread) for a biscotti fix, and my favorite stop on the long drive home to Southern California.