Tasting Pinot with Plenty of Noir
"Come over to the dark side. Together we can rule the universe."
Darth Vader

Alice Feiring, who writes for the Wall Street Journal and other publications, recently posted an article in Newsweek Magazine that was reported on the internet (http://www.thedailybeast.com/newsweek/2012/06/10/big-jammy-not-anymore-california-s-wine-takes-new-direction.html). The title of the article was "Big? Jammy? Not Anymore!" Despite her claims (and others) that there is a significant movement away from the "California" style of Pinot Noir of moderately high to high alcohols and power toward a style of Pinot Noir that emphasizes restraint and nuance, my recent tastings found that the "California" style is very much alive.
The average alcohol percentage of the 2010 vintage California Pinot Noirs reviewed in this section was 14.5% with a range of 13.9% (two wines below 14.0%) to 15.7%.** Many of these wines are incredibly appealing for their hedonistic fruit flavors. There are a significant group of wine consumers who cherish these wines and no quarter to the alcohol percentage or heft of the wines. Let me give you an example. I taste Pinot Noir most days of the week. Obviously I have plenty of left over wine. I gas the wines with argon after I am finished tasting and distribute them to wine lovers in my neighborhood. I then seek comments about the wines whenever possible. I often find that the wines that are most favored are those that have rich, bold flavors and accompanying moderately high alcohols. The American palate has always preferred some sweetness in their wines; the type of sweetness offered by mature fruit flavors as they merge with sweet oak components. These are not always wines that I have rated highly but I can appreciate them in the style they are crafted.
The point here is that there are plenty of stylistic choices for the consumer interested in Pinot Noir. No wine critic can be an arbitrator of personal taste. There is always room for differences in wine. It's not the label, not the alcohol, and not the style. If you like it, then it is a good wine.
** Adam Lee, proprietor and winemaker for Siduri Wines in Santa Rosa, California, shared some relevant insight into the 2010 vintage after I published this article. He provided statistics from the California Grape Crush Report that show a surprisingly high average Brix at harvest for the cool growing season of 2010 in California. For Sonoma County the average Brix was 24.5º in 2010, the highest average since 2004. Similarly, for Monterey County, the average Brix was 25.4º, also the highest average since 2004. Adam points out, "The heat spikes in August and September had a profound effect on Brix resulting in higher Brix fruit than many would have expected." Adam also notes that in 2011, which was also a very cool growing season, the average Brix levels at harvest were comparatively low (23.7º for Sonoma County, 23.9º for Monterey County, and 23.6º for Mendocino County.

Arista Winery
Profiled previously in this issue, Arista produces both appellation series and single-vineyard and estate wines. The wines profiled below are part of the spring release lineup and are available through national distribution and the winery's mailing list at www.aristawinery.com.
Try the Arista Gewrüztraminer with the following delicious recipe from Arista's Executive Chef William Oliver.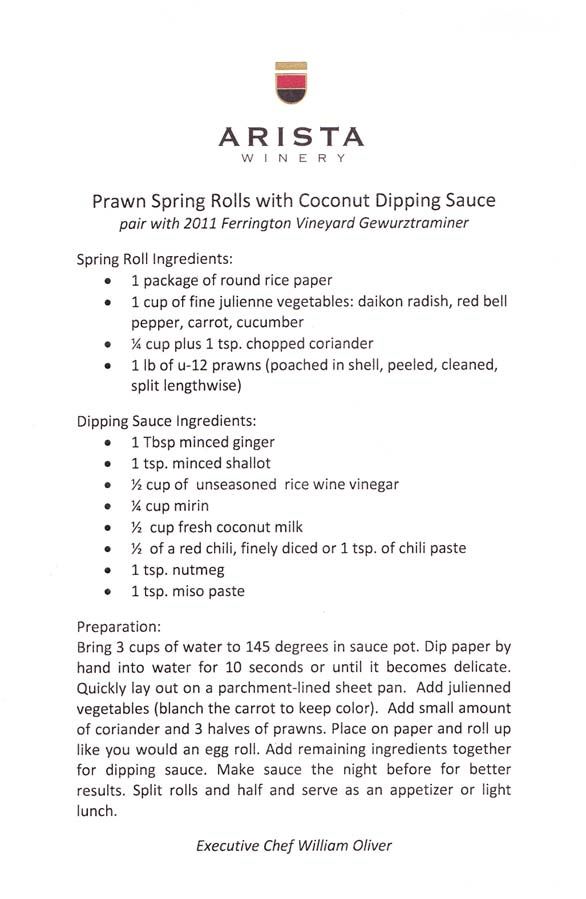 Belle Glos
The Pinot Noirs from Belle Glos (" BELL GLOS") carry on the tradition of excellence of the Wagner Family of Wine. The wines are produced by winemaker and viticulturist Joseph Wagner, sourced from cool Region 1 single-vineyard sites. The name Belle Glos pays homage to Joseph Wagner's 96-year-old grandmother, Lorna Belle Glos Wagner, who co-founded Caymus Vineyards with Joseph's grandfather Charlie Wagner and father Chuck Wagner in 1972. Joseph divides his times between his home in St. Helena and the winery's three vineyard sites. The 2010 wines benefited from a cool growing season throughout California, with record hang time on the vines. All three wines spent 9 months in 60% new French oak. I find the 2010 vintage wines significantly better than their 2009 counterparts.
The bottles are among the most charming in the wine business, offering a long neck dipped in generous wax. A strip tab allows removal of the wax on top exposing the cork (removal of the strip takes some muscle and should not be attempted at home by women with kept nails). The labels are also very classy.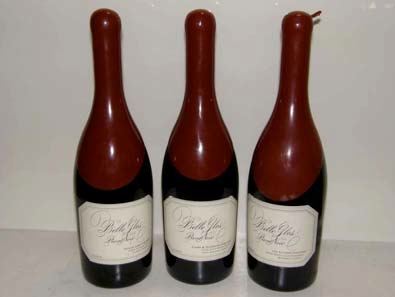 The 2010 Belle Glos Pinot Noirs are very darkly colored and upon approaching the wines, the expectation is that these are full-bodied, bruiser wines. Nothing could be farther from the truth. The wines are very light on their feet with admirable finesse. All three wines are surprisingly similar given their disparate origins and clonal makeup. The wines are widely distributed in the retail marketplace.
2010 Belle Glos Taylor Lane Vineyard Sonoma Coast Pinot Noir
14.3% alc., $44. Released March 2012. Located less than 6 miles from the Pacific Ocean on Taylor Lane, adjacent Summa Vineyard. 10 acres of Dijon clones 113, 114, 115 and 777 are paired with an adapted Italian trellis system creating a horizontal canopy, geared to bringing more dappled sunlight to the vines throughout the day. The vines are at an elevated height, allowing sheep to graze the vineyard for natural weed control. 2010 was cooler than normal and the vineyard was battered by early October storms, but the fruit hung in until harvest finished on October 25. Yields 2.38 tons per acre. 100% de-stemmed, inoculation of yeasts tailored to each lot, punchdown and punch-over techniques. · Dark purple color in the glass. Aromas of berry jam on brioche and spice draw you into the glass. Delicious flavors of black cap raspberries and black plums with an earthy, compost undertone. Moderately rich with restrained tannins and some length on the fruit-filled finish. Approachable now, but the least giving of the three 2010 wines at this time. Very good.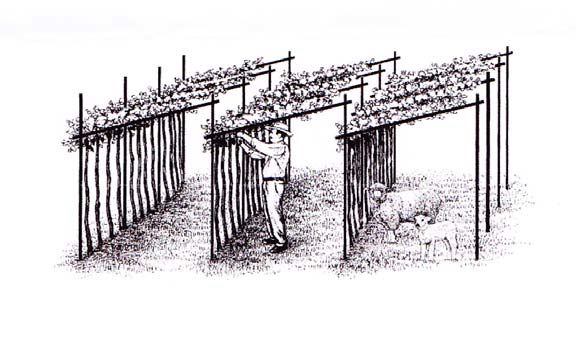 2010 Belle Glos Las Alturas Vineyard Santa Lucia Highlands Pinot Noir
14.6% alc., $44. Released December 2011. The vineyard is located in one of the highest plantable sites in the Santa Lucia Highlands AVA (540 to 1200 feet). The southern locale is warmer by day and cooler by night with less wind than the northern portion of the AVA. Yields 1.76 tons per acre. 100% de-stemmed, cold soaked, punchdown and punch-over techniques. · Dark purple color in the glass. Scents of black fruits, tea and wine cave. Striking flavor of perfectly ripe black raspberries which coats the palate and expands in the mouth, finishing with a long, intense flourish and a bright cut of acidity. Subtle notes of spice and vanillin add interest. Seductively smooth with supple tannins. Powerful, but light on its feet. Not quite as big as the Clark & Telephone but equally satisfying.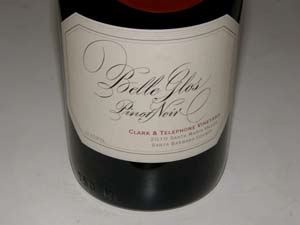 2010 Belle Glos Clark & Telephone Vineyard Santa Maria Valley Pinot Noir
14.3% alc., 3,475 cases, $44. Released December 2011. Established in 1972, this vineyard is planted own rooted to the Martini clone. 100% de-stemmed, inoculation of yeasts to match each lot, punch down and punch-over techniques. Yields 1.67 tons per acre. · Deep, dark purple robe in the glass. The nose is remarkably intense and persistent, pumping out aromas of dark berry jam, black currants, spice and vanillin over extended time in the glass. Flat-out stunning flavors of fresh black raspberries and blackberries with a complimentary exotic spice bent. Some refined tannins lead to a silky mouth feel. Astonishing length on the fruit-laden finish. I have rarely experienced a California Pinot Noir with such an incredibly long finish.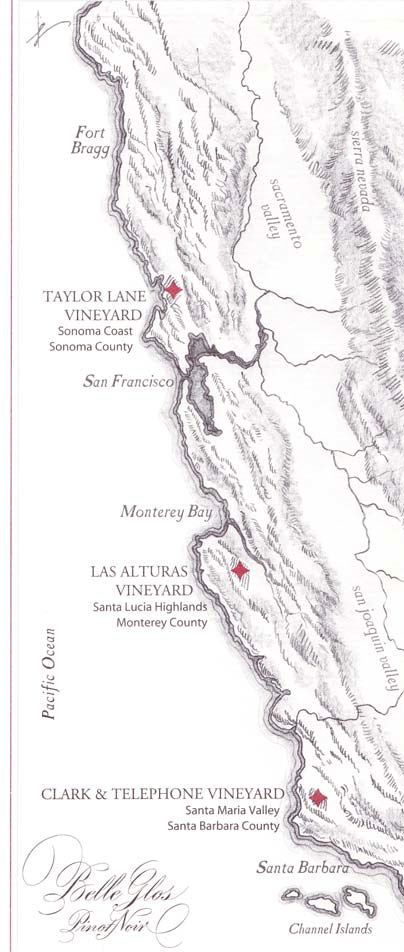 Brophy Clark Cellars
This is my first meeting with the Pinot Noirs of Brophy Clark. Husband and wife team of John and Kelly Clark have been crafting small lots of Pinot Noir since 1996 from vineyards in Santa Barbara County. Between her time as a viticulturist and his as a winemaker, the two have more than fifty years of combined experience making Central Coast wines. Annual production is about 10,000 cases spread amongst Pinot Noir, Chardonnay, and a few other varietals. The wines are solid and represent good value. Visit the website at www.brophyclarkcellars.com.

2009 Brophy Clark Santa Maria Valley Pinot Noir
14.7% alc., pH 3.61, TA 0.62, 300 cases, $24. Sourced from the Garey Vineyard originally planted by Robert Mondavi Winery in 1998 (Dijon 115, 667 and Pommard clones), and the Goodchild Vineyard (clone 667). Aged 18 months in French oak. · Moderately light reddish-purple color in the glass. Nicely perfumed with aromas of dark cherries, brier and spice. Middleweight flavors of dark red cherries and berries with soft tannins and a tart cherry finish. Good (+).
2009 Brophy Clark Santa Barbara County Pinot Noir
13.5% alc., pH 3.66, TA 0.61, 1,000 cases, $16. Sourced from several vineyards (80% from Loma Verde Vineyard in Los Alamos). Clones 667, 115 and 777. Aged 16 months in oak. · Pleasant aromas of cherry pie, spice and subtle oak. Middleweight black cherry flavor with complimentary oak in the background. An easy drinker for every day use. Good.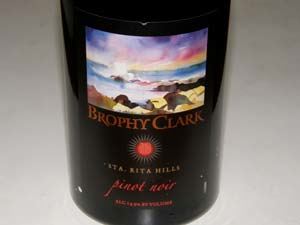 2010 Brophy Clark Sta. Rita Hills Pinot Noir
14.9% alc., $29.99. · Moderately light reddish-purple color in the glass. This is a wine you can really get your teeth into. Vibrant aromas of cherry pie glaze and baking spice. Luscious cherry and berry flavors fan out nicely on the palate, persisting with aplomb on the generous finish that leaves a hint of warmth in its wake. Smooth and seductive, this is an evocative wine. Very good (+).
Carr Vineyards & Winery
Carr is an urban winery located in downtown Santa Barbara first established in 1999 by Ryan and Jessica Carr. All wines are produced from Santa Barbara County grapes grown by Ryan, with a focus on Pinot Noir from the Sta. Rita Hills appellation. Carr's winery and tasting room is housed in a unique 1940s Quonset Hut and is open daily for wine tasting, wines by the glass, flights of wine and wine on tap. A very reliable source of premium Pinot Noir.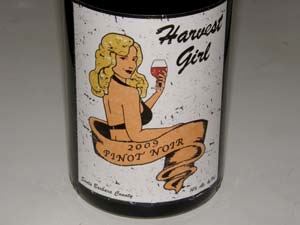 2009 Harvest Girl Santa Barbara County Pinot Noir
14.0% alc., 354 cases, $24. Released December 2011. A winery project between brothers Jonathan and Ryan Carr combining Jonathan's love for tattoo art and graphic design and Ryan's passion for winemaking. Label says, "She will live in your dreams forever and each year you will eagerly await her arrival." Aged 12 months in French oak barrels. · Moderately dark reddish-purple color in the glass. A masculine wine that pushes ripeness to the edge. Aromas of cherries, porto, toast, fennel, nutmeg and seasoned oak. Richly endowed with pie-filling black fruits wrapped in firm fruit tannins. Not a subtle wine by any means, but easy to drink and one that will appeal to lovers of succulent dark fruit. Suitable for a big ribeye. Good
Gary Farrell Vineyards & Winery
Gary Farrell hasn't been here since 2006, but his namesake winery continues to put out consistently fine Chardonnay and Pinot Noir reminiscent of his style. Farrell personally chose Susan Reed as the winemaker upon his departure, but she left in early 2012 to be replaced by Theresa Heredia, formerly of Freestone Vineyards. The winery has access to premium vineyard sites including Rochioli Vineyard and Hallberg Vineyard. A stylish tasting room on Westside Road is open daily.
2009 Gary Farrell Westside Farms Russian River Valley Chardonnay
14.2% alc., pH 3.36, TA 0.68, 916 cases, $38. Released May 1, 2011. Sourced from growers Ron and Pam Kaiser's 40-acre vineyard that sits on the banks of the Russian River, just four miles from the Gary Farrell winery. The Chardonnay vines are clone 4 planted in 1989. Whole-cluster pressed, racked to 100% French oak barrels (43% new, 47% 1-year-old, and 10% 2-year-old), aged sur lie for 7 months. 100% malolactic fermentation. · Light straw color in the glass. Aromas of warm baked apple, butter brickle, flint and marzipan. Moderately intense flavors of baked green apples, lemon curd, hazelnuts and buttered toast with slightly dry tannins and some length on the acid-driven finish. Very good.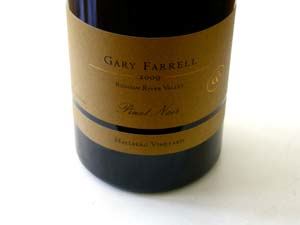 2009 Gary Farrell Hallberg Vineyard Russian River Valley Pinot Noir
14.1% alc. pH 3.37, TA 0.60, 626 cases, $55. Released September 1, 2011. This 100- acre vineyard is named for previous owners Don and Marcia Hallberg. Today it is farmed by partner and Sonoma-Cutrer alumnus Kirk Lokka. · Moderately dark reddish-purple color in the glass. Pleasant aromas of dark red and black fruits, spice, and wine cask, developing complexity over time in the glass. Tasty core of earth-kissed black plum and blackberry flavors with the fruit pulled into line with structured tannins and zippy citric acidity. A complimentary hint of oak brings up the rear. Drank nicely the following day from a previously opened and re-corked bottle. Very good.
Gracianna
With the 2010 vintage, partners Trini and Ashley Amador are offering their fifth releases. The winery is named after the Amador family's great-great-grandmother, Gracianna Lasaga, who was known for hosting memorable celebrations. Trini was "caught" making wine in his garage when he was fifteen. His passion was evident, he was encouraged to make wine, and obtained a degree in enology and viticulture. As part of the Sonoma County community for decades, the Amadors are able to source premium fruit including Pinot Noir from the famed Bacigalupi Vineyard in the Russian River Valley. I have sampled a few vintages to date, and find the wines extremely appealing and recommended. I love to read the tech sheets on the Gracianna wines, as they reveal so much connection to family and a heartfelt pride for the family's wines. A tasting room will be opening soon on Westside Road, the "Rodeo Drive" of Pinot Noir.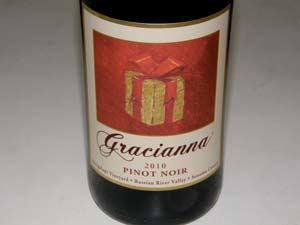 2010 Gracianna Bacigalupi Vineyard Russian River Valley Pinot Noir
14.9% alc., 371 cases, $48. Released April 2012. After a cold soak, the grapes were inoculated with proprietary yeast, racked into French oak barrels, and aged for 11 months. Bottled unfined and unfiltered. · Moderately dark reddish-purple color in the glass. Lovely mix of fresh, vivid aromas of red cherries, red strawberries, savory herbs and sandalwood. Delicious essence of ripe red cherries and berries with a delightful earthy, savory bent. Well-composed with gossamer tannins and some length on the high-spirited, refreshing finish. Very good (+).
Kosta Browne
I have written at length about this hugely popular winery founded by Dan Kosta and Michael Browne (see latest article at www.princeofpinot.com/article/1111/). The winery's new winemaking facility was detailed earlier in this issue. I tasted the 2010 Kosta Browne releases on July 4 this year, an appropriate time since these wines always set off fireworks in the mouth. Do not dismiss the appellation wines, for blending is Michael's strong suit, and these wines are consistently outstanding and made in enough quantity to be more widely available. The Santa Lucia Highlands appellation blend is new with the 2010 vintage. The vineyard designates offer more complexity and finishing length. The key to Kosta Browne's success, besides Michael's adept winemaking, is the impeccable fruit sources. The resulting wines are intense but not too intense, ripe but not overripe or under ripe. The bad news is that the winery's mailing list was filled long ago, but the good news is that production is slowly increasing, making it worthwhile to join the mailing list for possible future offerings. The appellation wines were released in May 2012 and the vineyard-designates will be released in October 2012.
La Crema
The La Crema Pinot Noirs have inched up in price in recent years, but the wines continue to deliver consistency and impressive quality considering the relatively large case production. Widely distributed in the retail marketplace and restaurants, you can't go wrong buying or ordering a La Crema Pinot Noir. The wines are all appellation blends that call upon the vast Pinot Noir vineyard holdings of Jackson Family Wines. Winemaker Melissa Stackhouse has departed for J Vineyards & Winery, but the current winemaker, Elizabeth Grant-Douglas, is equally talented.

2010 La Crema Russian River Valley Pinot Noir
14.3% alc., pH 3.72, TA 0.56, 5,800 cases, $40. A majority of the fruit comes from the estate Laughlin and Piner vineyards, focusing on Pommard, 23, 777,, 115 and 667 clones. The remainder of the fruit comes from long term growers that bring Martini, 828 and 2A clones to the blend. 100% de-stemmed, 70% whole berries in tank, 5-day cold soak, fermented in open-tops, aged in 30% new French oak for 9 months, racked only for blending before bottling. · Dark reddish-purple color in the glass. Well-perfumed with aromas of black cherries, cola, spice, sandalwood and fennel. Moderately intense flavors of black cherries, cola and toasted oak. Ripe, bold and structured with firm, but giving tannins. A classic window into Russian River Valley terroir that is very approachable now. Good (+).
Longboard Vineyards
Israeli-born, surfer dude, winegrower and winemaker Oded Shakked joined Longboard Vineyards in Healdsburg in 2005 and soon became the sole owner. He built surfboards in his early twenties and his love of surfing and wine brought him to California. He studied winemaking at University of California at Davis and worked harvests in Napa and Bordeaux, but was most attracted the Sonoma County. He currently produces multiple red and white varietals including Pinot Noir from purchased grapes. The tasting room in Healdsburg features a redwood surfboard bar and a plasma television showing surf videos.
2008 Longboard Vineyards Russian River Valley Pinot Noir
14.3% alc., 1,450 cases, $33. Sourced from O'Neel, Ledbetter, Rochioli and Webber vineyards. Aged in 35% new French oak. · Moderately light reddish- purple color in the glass. Deeply fragrant initially with aromas of Bing cherries and baking spice, developing scents of sous-bois and stem over time in the glass. Medium weight core of black cherry flavor with hints of cola and tar robed in soft, supple tannins. Decent.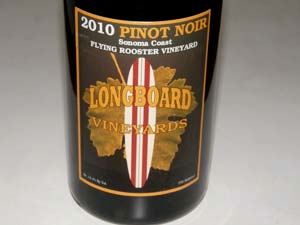 2010 Longboard Vineyards Flying Rooster Vineyard Sonoma Coast Pinot Noir
14.3% alc., $42. From a vineyard located in the Petaluma Gap region of the Sonoma Coast. 100% de-stemmed, 3-day cold soak, aged in French oak. · Medium reddish-purple color in the glass. Lovely aromas of fresh cherry pie glaze, red berries and forest floor, becoming more intense and pleasing over time in the glass. Middleweight flavors of perfectly ripe cherries and raspberries with complimentary notes of spice and tea, finishing long with a good cut of acidity. Very supple tannins make for easy drinking. Read to go now. Very good.
MacPhail Family Wines
MacPhail is a Pinot Noir specialist producing a broad palette of wines since 2002. Owner/winemaker James MacPhail works out of a modern winery in Healdsburg. MacPhail trained with Merry Edwards and his wines reflect her style. Production is just under 5,000 cases, with bottlings from the Russian River Valley, Sonoma Coast, Anderson Valley, Santa Barbara County and the Willamette Valley of Oregon. MacPhail is also the winemaker for Sequanna. The wine label and marketing program are very eye-catching and the wines usually do not disappoint. I find the oak treatment on the wines, especially in 2010, to be too obvious, but it is a personal bias and may be welcomed by others. The winery is not open to the public but offers tours and tasting by invitation and appointment on weekdays (707-433-4780).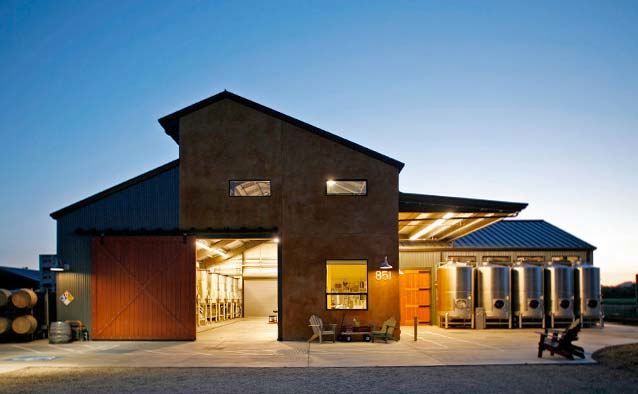 Pali Wine Co.
Founded in 2005 by partners Tim Perr and Scott Knight from Pacific Palisades, California, Pali produces vineyard-designated Pinot Noir and Chardonnay from multiple vineyard sources in California and Oregon. A second group of value-priced offerings, the Cuvée Program, explores appellation-specific Pinot Noir and Chardonnay. The winemakers are Aaron Walker, who previously assisted Brian Loring at Loring Wine Co., and consultant Kenneth Juhasz (Auteur, Robert Stemmler, The Donum Estate). The tasting room is located at the winery at 1036 W Aviation Drive in Lompoc and is open Friday and Saturday 11-4 and Monday-Thursday by appointment. A new tasting room is planned in Santa Barbara's "Funk Zone."
Seagrape Wine Company
Karen Steinwachs is a refugee from the high-tech world who learned her winemaking under Kathy Joseph at Fiddlehead and is now the winemaker for Buttonwood Farm Winery. Her spouse, Dave, is a techie with expertise in computers and logistics, who offers wineries warehousing, marketing, website and e-commerce solutions, and logistics through Vintegrated Solutions. Together they launched their own label, Seagrape Wine Company, specializing in Pinot Noir and Chardonnay from Santa Barbara County grape sources. The name, Seagrape, comes from their island backgrounds. Dave came from the British Isles and Karen lived part of her life in St. Croix. They manage to maintain their islands connection by always vacationing somewhere in the tropics.
The Seagrape tree () that is displayed on the label is found near seaside beaches and is a visual reminder of both their winemaking roots and their love of the islands. If you have attended the World of Pinot Noir, you probably have seen their smiling faces, working tirelessly to make this event a success.

Karen is a fan of whole cluster, but the percentage, which varies from zero to 100% is decided at the time of harvest and field grape sort. New French oak percentages are very modest (5%-25% each year). Time in barrel depends on maturation of tannins and bottling aging of at least six months before release is standard.

Tasting of Seagrape wines is available at Avant Tapas & Wine in Buellton, D'Vine Wine Bar and Taste of Sta. Rita Hills, both in Lompoc.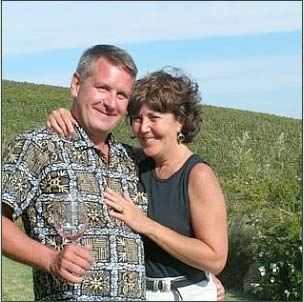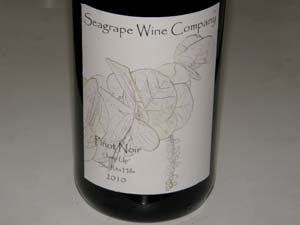 2010 Seagrape Wine Co. "Jump Up" Sta. Rita Hills Pinot Noir

14.5% alc., 200 cases, $32. This blend is named after a kind of street party that occurs throughout the Caribbean. · Moderately light reddish-purple color in the glass. Enticing aromas of dark red berries, spice and leaf, picking up intensity over time in the glass. Elegant on the palate, with a zip of acidity and supple tannins. The flavors of black cherries and red raspberries are complimented by very subtle oak. A spirited drink that exudes finesse, and is highly enjoyable now. Very good.

2010 Seagrape Wine Co. Rancho La Viña Vineyard Sta. Rita Hills Pinot Noir

14.5% alc., 25 cases $34. · From a vineyard located at the southern edge of the Sta. Rita Hills. Medium reddish-purple color in the glass. The nose offers a mash of darker berries with a hint of oak and spice. Moderately light and elegant in style, with flavors of deep red strawberries, raspberries and blackberries. Very smooth on the palate. Nicely crafted and nothing to detract, but lacks a bit of flavor intensity and finishing strength. Could pick up heft with more time in the bottle. Good.




Ulises Valdez (Valdez Family Winery)

Ulises Valdez is an American success story. A native of Michoacan, Mexico, Ulises crossed the border in 1985 at the age of 16, and traveled to Sonoma County to join his older brother who was working in the vineyards. Although underage and unable to speak English, he was able to obtain a job pruning vines based on his skills and soon realized that vineyard work was his calling. Like many migrant workers, he lived in humble conditions and rode a bicycle to work in the vineyards. He received amnesty in 1986, and achieved citizenship in 1996. Ulises became a partner in Florence Vineyard Management Company, and in 2003, bought Jack Florence Jr's stake in the company, changing the name to Valdez & Sons Vineyard Management, Inc.. Based in Cloverdale, his grape clients now include many all-stars in the wine business including Paul Hobbs, Mark Aubert, Kent Rosenblum and Jayson Pahlmeyer.

Ulises now farms 1,000 acres of vineyards in Sonoma County and has a reputation as one of the county's hardest working vineyard managers and growers. Ulises also has 120 acres that he leases or owns including the Ulises Valdez ("UV") Vineyard in the Russian River Valley, the UV El Diablo Vineyard in the Russian River Valley, and Lancel Creek Vineyard and Silver Eagle Ranch, both near Occidental.

In 2006, he launched Valdez Family Wines, marking 20 years in the wine business. His friends, Paul Hobbs and Mark Aubert helped initially as consulting winemakers for the new label. In 2010, the 2008 Valdez Silver Eagle Vineyard Russian River Valley Chardonnay was served at a White House State dinner honoring President Felipe Calderón of Mexico.

In 2010, Ulises leased a winery facility in Cloverdale. Zinfandel (currently five different bottlings) and other hearty reds (Syrah, Cabernet Sauvignon) as well as Chardonnay have always been identified with Ulises Valdez Wines, and the Pinot Noirs, which have been bold, extracted and machismo in style (showing the influence of consultant winemaker Mark Aubert), are undergoing a downsizing under the direction of young winemaker Mauricio Soto, beginning with the 2009 vintage, offering less muscle and more nuance and complexity. The Pinot Noir program is quite small and currently being scaled back (only four barrels of the 2011 vintage when I visited Mauricio at the winery in May 2012), but Mauricio is a Pinot Noir fancier, and he hopes to expand the program. Certainly, Ulises has access to a number of highly regarded Pinot Noir vineyards in Sonoma County. I barrel tasted the 2011 UV Vineyard Pinot Noir (Calera clone - exotic nose and flavors - terrific), the 2011 Lancel Creek Vineyard Pinot Noir (Pommard 5 and 777 - darker fruit, more acidity, more length on the finish), and the 2011 Manzanita Vineyard Pinot Noir (Calera clone - dark plum, hardy tannins, huge finish). The three vineyards are to be blended into a single Pinot Noir for the 2011 vintage, a total of 100 cases. This should be a special, even spectacular Pinot Noir.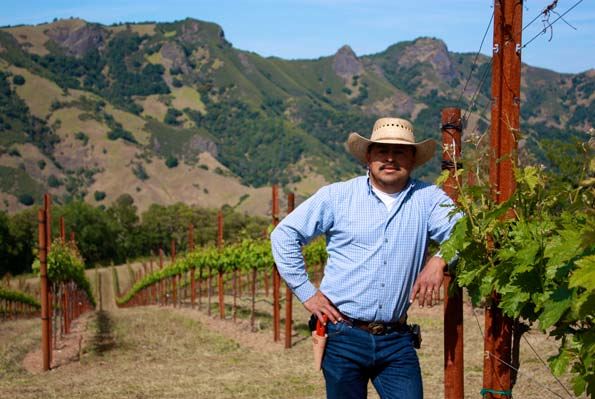 Every Saturday from 11-5, Ulises can be found with his wife at his Cloverdale tasting room, sharing his wines and many stories with visitors. Having spent a little time with him and his larger than life personality, I can only imagine what a unique experience this must be. Visit www.valdezfamilywinery.com. The 2009 vintage red wines and the 2010 vintage Chardonnays will be released by July 2012.

2008 Ulises Valdez Silver Eagle Vineyard Russian River Valley Pinot Noir

14.8% alc., $60. Calera clone. · Deep reddish-purple color in the glass. Aromas of black plum, dark berries, spice and oak with a hint of heat. Rough hewn with slightly astringent tannins, offering full-bodied, sappy flavors of blackberries and plum reduction sauce framed by noticeable oak, finishing with some alcohol-driven warmth. Decent.

2009 Ulises Valdez Lancel Creek Vineyard Russian River Valley Pinot Noir

14.5% alc., $60. Pommard and 777 clones. Aged in 40% new French oak. · Moderately dark reddish-purple color in the glass. Primarily oak-driven aromas with subtle notes of dark fruits. Intensely fruity featuring blackberries and black plum flavors with an underpinning of dark chocolate, offering an appealing plush velvet mouth feel. A little softer and more gentle than the 2008 Silver Eagle Pinot Noir. Still a bit rugged and tannic and needs more time in bottle to mellow. Well-crafted in its style. Good (+).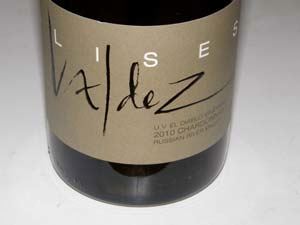 2010 Ulises Valdez U.V. El Diablo Vineyard Russian River Valley Chardonnay

14.7% alc., $50.Barrel fermented, 100% MLF. · Light straw color with slight haze (unfiltered) in the glass. Aromatically pleasing with notes of yeast, buttered popcorn, white peach and citrus peel. Very tasty core of baked pear, apple, pie crust and tropical fruit flavors with complimentary oak. Crisp and lively with a hint of tannin and a dry finish. A dead wringer for one of Aubert's top Chardonnays.




Valerie's Vineyard

A single wine lovingly sourced from a 1-acre vineyard in the Carneros region of Sonoma County. Forget small, we are talking less than 100 cases. This vineyard is a group-managed affair, the result of a partnership between long time Sonoma County PR person Michael Coats, his wife Valerie, her parents and sister, and Chuck Hanson, a noted wine buyer for Hi-Time Cellars in Costa Mesa, California, and Jerry Hanson. Each of the partners share equally in the work of the vineyard which is organically farmed and overseen by noted viticulturist Phil Cotourri. The wine is crafted by B.R. Cohn Winery winemaker, Tom Montgomery.

The wine may be acquired by e-mailing valeriesvineyard@gmail.com or visiting the Hi-Time Cellars website at www.hittimewine.net. The wine can sometimes be found at fine restaurants in Sonoma Valley and New York. The wine sells out quickly every year.

2010 Valerie's Vineyard "One Acre" Carneros Pinot Noir

14.1% alc., 58 cases, $40. 8th vintage. Aged 18 months in new and 2-year-old French oak. · Medium reddish-purple color in the glass. Intriguing nose offering scents of dark red berries, earth, black pepper and coffee. Hits the mid palate with a vengeance, empowered with attention grabbing flavors of blackberries, plum, cola, mushroom, tobacco and spice. Very well-crafted with a seamless character, plush on the palate, with wellproportioned tannins, and a long, long finish. A very unique and interesting wine that you will want to spend considerable time with. Great the following the day as well from a previously opened and re-corked bottle.




Vivier Wines

The husband and wife team of Stephané and Dana Vivier bring a Burgundian sensibility to wines made from California and Willamette Valley grapes. Winemaker Stephané grew up in Meloisey, Burgundy in the Hautes- Côtes de Beaune. He obtained advanced degrees in viticulture and enology from Université de Bourgogne in Dijon, and subsequently worked in Switzerland, New Zealand and Sonoma. He was attracted to American vineyards where winemakers are not bound by tradition or AOC restrictions. Stephané became the winemaker at HdV (Hyde de Villaine) in Carneros in 2002, and remains at that position. His spouse, Dana, brings the business acumen and viticulture skills to their partnership.




Watkins Family Winery

A small, family owned winery in Santa Rosa, Sonoma County, that has been producing boutique wines since 1979. Winemaker Randall Watkins holds a bachelor's degree from the University of California at Davis and has worked at Buena Vista Winery, Hartford Family Winery, S. Anderson Vineyards, and Carmen Vineyards in Chile. In 1999, he obtained a master's degree in enology from University of California at Davis, and became the winemaker at Carmenet Winery and Moon Mountain Vineyard. Currently, he is a consulting winemaker for new wine brands while crafting the wines for Watkins Family Winery.

The Crinella Vineyard is located in Green Valley, planted in Goldridge soil known for its low vigor and excellent drainage. Through the years, fruit from this vineyard has been supplied to DuMOL, Merry Edwards, Siduri and Kosta Browne.

The Watkins Family wines are available at www.watkinsfamilywinery.com. The label features a painting of the well-known Sonoma Valley artist Michael Holland depicting the Watkins Family Estate Vineyard on Taylor Mountain.

2009 Watkins Family Winery Crinella Vineyard Russian River Valley Pinot Noir

14.4% alc., 198 cases, $40. Clones are Mt. Eden, 115, 777 and Pommard. 100% de-stemmed, 5-day cold soak, aged 18 months in French oak. · Moderately dark reddish-purple color in the glass. Nicely fruited nose, offering aromas of black cherries and black raspberries. Juicy and crisp on the palate, with a tasty core of black cherries augmented by oak, wrapped in supple tannins, finishing with moderate depth on the finish. Good (+).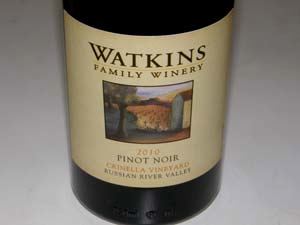 2010 Watkins Family Winery Crinella Vineyard Russian River Valley Pinot Noir

14.4% alc.. · Medium reddish-purple color in the glass. Aromas of black cherries, dark red berries, bramble and pine needle. Middleweight flavors of black cherry liquor, with notes of strawberries and spice, offering an easy drinking experience driven by soft tannins, refreshing acidity and admirable intensity and length on the cherry-driven finish. Very good.