Pinot Briefs —Newsletter 9.9
'SIDEWAYS: The Play' The Ruskin Group Theatre Co. in Santa Monica, California is presenting Rex Pickett's 'SIDEWAYS: The Play' May 18 through August 18, 2012. The play is adapted by Rex Pickett from his novel that spawned the very popular 2004 movie, and is directed by Amelia Mulkey. I attended a performance recently and thorough enjoyed the intimacy of the small theater and the presentation. The play does not duplicate the film, offering scenes from the book that were excluded from the movie. There is clever switching among various settings, and of course, the highlight of the play is the memorable scene where Miles downs a spit bucket of wine. Complimentary Pinot Noir tasting before, during (intermission), and after the play adds to the charm while Rex Pickett holds presence at the wine bar. Pickett's screenplay for 'SIDEWAYS' is enshrined with a plaque on the wall of the Writers Guild of America Theater as one of the 101 Greatest Screenplays in the history of motion pictures. Pickett is currently writing a pilot for HBO, a script for Barbara Shock called On Tour with Max, and pushing director Alexander Payne to film a sequel based on his second novel, Vertical, Follow him at Facebook.com/SidewaysthePlay. For tickets, visit www.rushkingrouptheatre.org.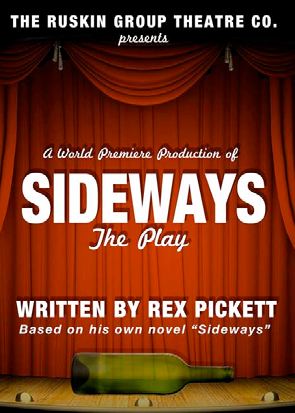 New Zealand Pinot Noir on Film Pinot Noir NZ 2013 will be held on the Wellington Waterfront January 28-31, 2013. To celebrate this upcoming event, a video has been released showing the beauty, depth and character of New Zealand Pinot Noir. You can view it at www.pinotnz.co.nz. Pinot Noir NZ only happens once every three years and it is the biggest event on the New Zealand Wine calendar. Over 110 different producers will show more than 300 wines. A long list of wine experts will attend including Jasper Morris MW, Matt Kramer, Lisa Perrotti Brown MW, Tim Atkin MW, Ned Goodwin MW, and Matthew Jukes. The event will be opened by Sam Neill, movie star and proprietor of Two Paddocks. This is the fifth time Pinot Noir NZ has been held, spanning the last 15 years of New Zealand Pinot Noir. Registrations can be made at www.pinotnz.co.nz.
Sta. Rita Hills Winegrowers Alliance "Wine & Fire" The 2012 "Wine & Fire events will take place over the weekend of August 17-19, 2012. Open houses, special tastings, an educational seminar at Fiddlestix ("The Fire Within - Why Winemakers Choose Chardonnay and Pinot Noir from the Sta. Rita Hills"), and the Grand Tasting at the historic La Purisima Mission are scheduled. A weekend passport is also included, providing access to wineries and tasting rooms of Alliance members. All-inclusive tickets are $175. For additional information and tickets, visit www.staritahills.com.
Paulée Restaurant Opens in Dundee, OR Chef Daniel Mondok and Master Sommelier Brandon Tebbe unveiled a modern rustic eatery in the Willamette Valley with an opening on May 30, 2012. Located on Highway 99W next door to The Inn at Red Hills, Paulée has two distinct dining areas: one with a more intimate, upscale feel and the other a more casual vibe. The eclectic menu features ingredients sourced from local farms and ranches in the Willamette Valley. The cuisine is founded in classic French technique with Spanish and Asian influences, with menus changing daily. 66 wines are offered by the glass, preserved under Enomatic, keg or (sparkling wine) Perlage systems. A small tasting room is planned, featuring wines from small producers that don't have their own tasting rooms. For more information, visit www.pauleerestaurant.com.
Uncorked: My Journey Through the Crazy World of Wine Marco Pasanella clearly states the theme of this melodramatic book that is based on his very personal journey founding and developing a successful wineshop in lower Manhattan: "What about doing what you love, living where you work, creating the life you dreamed of?" The idea of owning a wineshop is enticing to many wine enthusiasts, but it can be a folly, replete with pitfalls as Pasanella discovers. He left a comfortable and successful, but eventually unrewarding life as a designer of hotels and housewares to establish Pasanella & Son Vintners in 2005. His tribulations with wine representatives, agony over wacky employees, and frustration in dealing with local politics and regulations are both humorous and tragic. In the end, his disappointments persist, but he is still upbeat, noting, "Yet these irritations pale in comparison to the satisfaction." It appears he would do it again given the same circumstances and opportunity. As he weaves his memoir, he embellishes the dialogue with wine-friendly recipes and pertinent wine information, and finishes the story with an interesting appendix with sections on "The Five Biggest Misconceptions About Wine," "Five Tips on Tasting Wine," "Ten Ways to Taste Without Feeling Like A Snob," and a number of useful "Toasts." A very enjoyable read, especially with a good glass of Pinot Noir in hand. Hardbound, Clarkson Potter/Publisher, 214 pp, $24.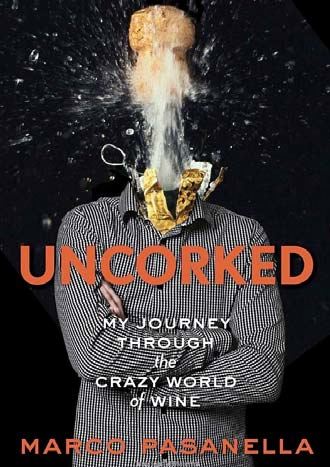 Big Sur Food & Wine Festival One of my readers, Aengus Wagner, informed me of this terrific, relatively intimate festival To be held November 1-4, 2012, the festival has a number of events that would please Pinot Noir lovers: Calera Retrospective with Josh Jensen, Pinot and their Muse (a small panel of Pinot Noir producers will show which wine originally influenced them including Josh Jensen, Paul Lato, Andy Peay and Burt Williams), a Pinot Walkabout with about 30 specially invited and gifted Pinot Noir masters, Wine & Swine Dinner, Sierra Mar Vineyard Seminar with grower Gary Franscioni, and an Auction Lunch and Grand Public Tasting presented by the Post Ranch Inn. All this in the backdrop of beautiful Big Sur. Visit www.bigsurfoodandwine.org for further information and tickets.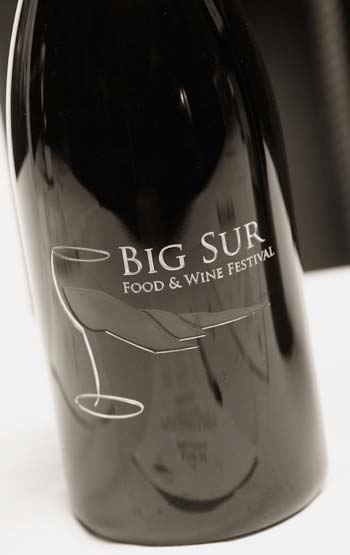 Moderate Consumption of Alcohol May Reduce Risk of RA A study published July 9, 2012 in the British Medical Journal involving 34,141 Swedish women found that women who regularly consumed more than three alcoholic drinks a week for at least 10 years had about half the risk of developing rheumatoid arthritis compared with abstainers. The decreased risk was consistent whether beer, wine or liquor were consumed. The effect may be explained by alcohol's actions in lowering the body's immune system.
Moderate Wine Consumption Can Protect Women's Bones A new study published in the journal Menopause, found that moderate alcohol consumption influences bone turnover. During menopause, the body constantly remakes bone, but the rate of resorption increases and the formation of new bone does not keep up with resorption, resulting in bone loss. Alcohol seems to slow down the bone turnover rate and may protect against fractures. The results should not be extrapolated to young women who are still building bone mass. A larger study is planned to confirm the findings.
California Vintners Turning to Chinese Marketplace The rising middle class in China and other Asian-Pacific countries is one the world's fastest-developing markets for wine, according to a report in the Los Angeles Times (July 5, 2012). $62 million of wine was exported from the United States to China in 2011, a 42% increase from 2010, according to the California Wine Institute. It can be more profitable for California vintners to sell to China than to sell domestically. For years, Calera Wine Company has exported a significant amount of wine to Asia. Even value-priced labels in the $20 to $30 range can get in on the action as the Chinese economy is slowing and the Chinese are beginning to shift their devotion to California's elite brands to interest in value-priced brands.
Mark West Acquired by Constellation Constellation Brands, Inc., the world's leading premium wine company, has bought the Mark West wine brand from Purple Wine Company. Purple Wine Company was founded by Derek Benham in 2001 and is based in Graton, California. Mark West Pinot Noir has had a 35 percent volume growth rate in the last 3 months, is the nation's best-selling Pinot Noir, and is a leader in wine priced at $10-$12 retail. Mark West has shown double digit growth over the last 10 years and has grown into a 600,000 case brand sold primarily in the United States. Mark West currently offers a California Pinot Noir, a Russian River Valley Reserve Pinot Noir, and a Santa Lucia Highlands Reserve Pinot Noir.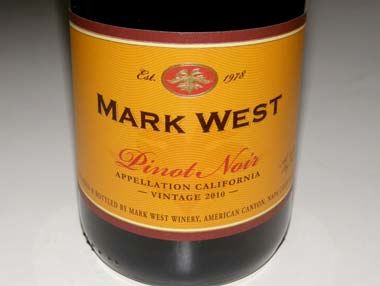 New Definition of Low-Alcohol Wine The International Organization of Vine and Wine (OIV) has adopted new definitions of low-alcohol and de-alcoholized wines. The United States will not be affected as it does not belong to the OIV. The OIV resolution says, "Correcting the alcohol content of a particular wine is allowed with a maximum reduction of 20% of the original alcohol level. If the alcohol content of the wine is reduced by more than 20%, it will fall under a dealcoholization process...the resulting product shall not be presented as wine, since it will not comply with the established definition." Products with an alcohol content of between 0.5 and 8.5 percent will be defined as "having been obtained by partial dealcoholization," while those below 0.5 percent are defined as "dealcoholized." Permitted alcohol reduction techniques are partial vacuum evaporation (spinning cone), membrane techniques (including reverse osmosis) and distillation. The organization is working on definitions for wines that have undergone more than 20% alcohol reduction but still respect the minimum alcohol level for wine and special wine (8.5% vol).
Wineflite Shipping Many wine enthusiasts have been faced with the challenge of shipping home purchased wine during their travels. Wineflite allows you to purchase any amount of wine, take it with you to where you are staying or leave it at will call at the winery or wine shop. Wineflite picks up the wine, packages it for shipping, and ships it to your home or office. The wine can be shipped anywhere, worldwide. Visit www.wineflite.com for information.
Oregon Wine The App Wine writer Katherine Cole has developed a mobile application, Oregon Wine The App, that can be downloaded for $2.99 in the iTunes store. Once downloaded, the app can be used without wireless service. It provides the user the ability to search for vineyards and wineries by appellations, producer details including featured wines, annual production and other "geeky" information, maps, dining and restaurant recommendations, vintage details, etc. The app currently lists 110 wineries but more will be added with updates. Katherine Cole is the author of Voodoo Vintners and writes wine columns for the FOODday section of The Oregonian newspaper and MIX magazine.
Research Shows Women Winemakers More Highly Acclaimed A report by Lucia Albino Gilbert, PhD and John Carl Gilbert, PhD, both of Santa Clara University ("Evidence of Women Winemakers' Success in a Male-Dominated Field" at www.womenwinemakers.com), found that although California wineries with women winemakers are far fewer in number compared to their male counterparts, the wines produced from wineries with women winemakers are more highly acclaimed proportional to their presence in the field than those having male winemakers. A significantly higher percentage of wineries having women winemakers are listed in Opus Vino (work authored by wine critics and writers that is evidence of winery quality). 23% of the California wineries with women winemakers were listed as compared to 14.1% of wineries with male winemakers. The authors point out, "Unfortunately, having their wines more highly acclaimed may lead to the erroneous conclusion that women winemakers are far more numerous than they are." Table below is from www.womenwinemakers.com.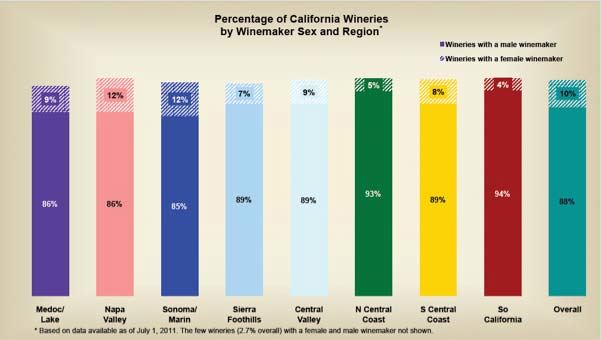 Wine Riot Fueled by wine-loving Millennials, Wine Riot is a non-intimidating place where people can learn about wine. Winery booths, crash courses, mobile app, photo booth, temporary tattoos, GoVino wine glasses, DJ, and food. The first Wine Riot in San Francisco is August 3-4, and the continuing national tour arrives in New York September 21-22 and Los Angeles November 10. Check out the fun at www.facebook.com/ thesecondglass and www.secondglass.com/wineriot/.