IPNC 2012: Pinot Summer School in McMinnville, Oregon
I recently enrolled in the University of Pinot at the Twenty-Sixth Annual International Pinot Noir Celebration (IPNC) to obtain my continuing education in living well. Every year, a diverse group of attendees that includes pinotphiles, gourmands, sommeliers, winemakers, winegrowers, winery owners, retailers, wine critics, and wine writers converge on the campus of Linfield College in McMinnville, Oregon, fueled with an unabated spirit of camaraderie, to revel together in their love for their "Go-Go Juice": Pinot Noir.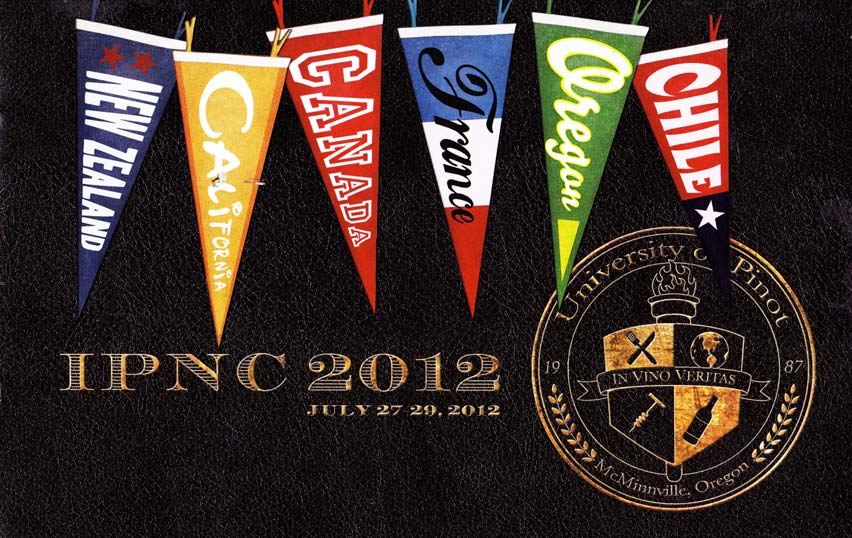 The first IPNC was held in 1987 when a group of Oregon winegrowers and winemakers gathered to figure out a way to promote Oregon wine. Since then, the IPNC has brought over 14,000 wine lovers from around the world to McMinnville. For 2012, approximately 700 attendees were registered and another 550 guests attended the IPNC's Sunday afternoon Walkabout at the end of the weekend.
IPNC has hosted 190 winemakers from France, 39 from New Zealand, 19 from Australia, and several from Italy, Germany, Switzerland, Canada, Chile, Austria, and South Africa, and one each from Argentina, England, Israel and Spain for a total of 302 foreign wineries. The emphasis is always on quality (wineries must submit their wines for acceptance) and stylistic diversity, with many new winery faces appearing each year. Some of this year's winemakers included (pictured below upper left to lower right): Erin Nuccio (Evesham Wood), Ed Kurtzman (Freeman Vineyards & Winery), Michael McNeil (Hanzell Vineyards), Tony Rynders (Cornerstone Oregon), Byron Kosuge (B. Kosuge Wines), Elizabeth Grant-Douglas (La Crema), Blair Walter (Felton Road, New Zealand), Rollin Soles (ROCO), Caroll Kemp and Peter Willmert (Red Car Vineyards), Laurent Montalieu (Hyland Estates), Byron Dooley (Luminous Hills), Michael Richmond and Andrew Brooks (Bouchaine Vineyards), Thomas Houseman (Anne Amie) and Alexandrine Roy (Domaine Marc Roy, Burgundy).







There is no judging of wines at IPNC. It is a pure celebration of Pinot Noir, offering the Pinot Noir enthusiast the opportunity to discover new producers and rub shoulders with established winemakers of repute that they may have only read about. Winemakers, winegrowers, winery owners, and winery representatives as a group outnumber consumers. A full listing of the participants which included wineries from Oregon (36), California (16), Burgundy (10), New Zealand (5), Canada (1), and Chile (1), is on the IPNC website at www.ipnc.org.
The IPNC is truly unique among Pinot Noir festivals in that the food rivals the wine. The meals are creative, original, fresh, and made with local artisan farm-to-table ingredients. The Northwest is blessed with a group of outstanding chefs and 72 of them participated as Featured Chefs along with an extensive kitchen support team. Menus from the on-campus Alfresco Lunch and the Wine Country Lunch at Trisaetum Winery & Vineyards that I attended are below:

There were 38 maîtres d'hôtel pouring wines, which flowed like water throughout the event. My approximate tally at the end of IPNC indicated I had sampled 216 Pinot Noirs and 256 wines in total over the course of the three day event.
Traditionally, the sommeliers are dressed in formal attire during the event, but on Sunday they put their inhibitions aside and dress crazily for the morning brunch. This year, the theme was Roman togas: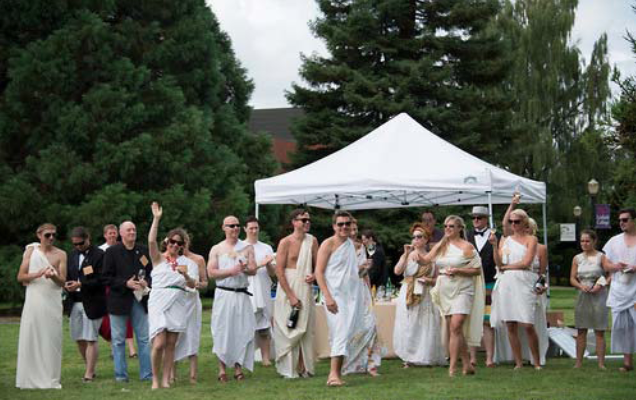 Photo by Andrea Johnson
When the event concluded on Sunday, the sommeliers were able to finally relax and frolic: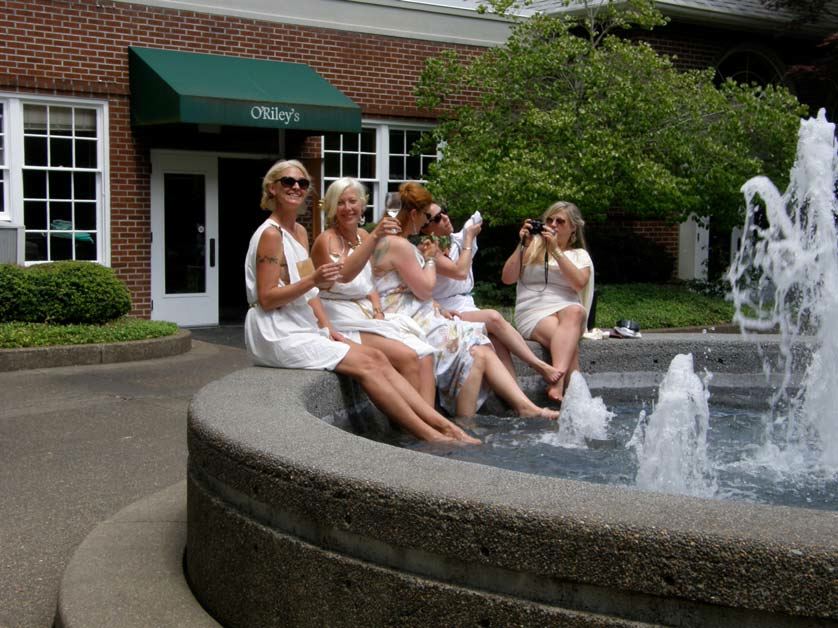 The highlights of the IPNC seminars that I attended will be presented in the next section. A number of other activities add to the joie de vivre of IPNC. Each day begins with Breakfast on the Patio where Oregon's legendary raspberries, blackberries, marionberries and blueberries are served along with decadent pastries and a number of savory items. Coffee and coffee drinks are poured all day long by Stumptown Coffee Roasters.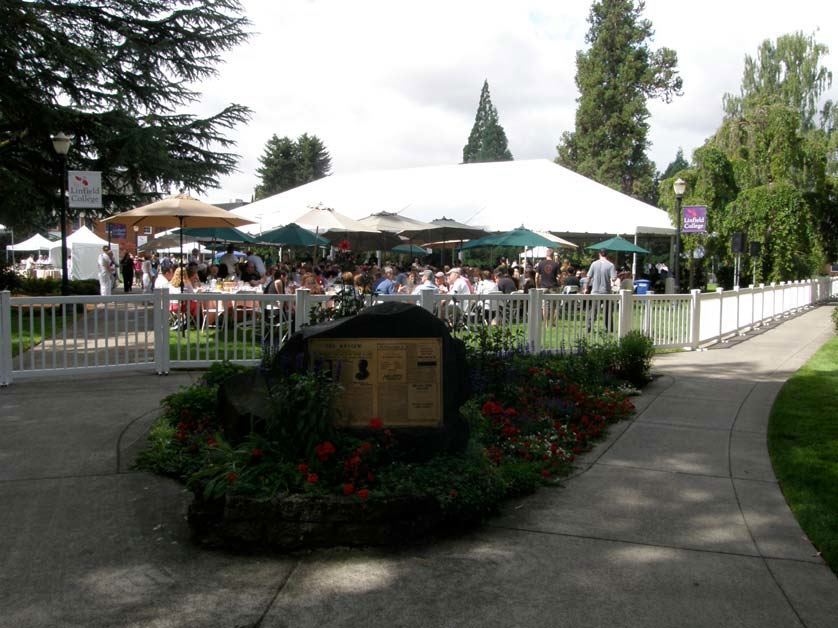 Each attendee enjoys a Vineyard Tour and Winery Lunch at assigned wineries. After a bus ride through the countryside, guests are given a tour of the vineyard and winery, shown a short video of the winemaker's steps during harvest, offered insight into the winemaking techniques of several participating winemakers, followed by a tasting of an array of wines paired with a multi-course meal crafted by one of the event's guest chefs (see lunch menu above). I attended the tour and lunch at Trisaetum Winery & Vineyards in the Ribbon Ridge appellation of the Willamette Valley.
Orange County, California transplants, Andrea and James Frey, acquired a cattle ranch in the foothills of the Coast Range outside McMinnville in 2003. Two years later, they planted 22 acres of Pinot Noir and Riesling. They subsequently added another 28 acres of Pinot Noir and Riesling near Newberg on Ribbon Ridge near neighbors Beaux Frères and Brick House. They built a magnificent winery, dramatically lit underground barrel storage caves, and a 1,500-square-foot gallery to display James' artwork. They named their winery Trisaetum, a Latinized version of the names of their son, Tristan, and daughter, Tatum. The winery offers six bottlings of Pinot Noir and six different Rieslings, vinified by James and co-winemaker Greg McClellan. James is shown in the photo below discussing the soils at Trisaetum vineyards. The winery's website is www.trisaetum.com. Pinot Noirs at the lunch: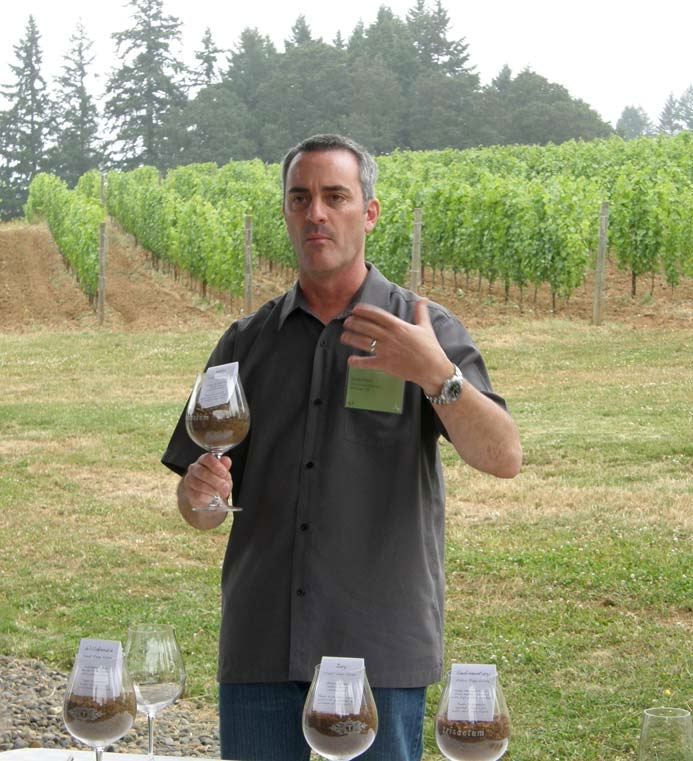 Alfresco Tastings are held Friday and Saturday in the late afternoon and this year offered Pinot Noir from the 2009 and 2010 vintages. This is an opportunity to meet favorite winemakers, discuss vintages, and renew old friendships. Some wines that stood out for me will be presented later in this issue.
The Saturday night Northwest Salmon Bake is a long-standing tradition at IPNC, and has been called, "The most entertaining meal at any wine event in the world." Over 1,000 people attended this year. Held in a lantern-lit oak grove on the Linfield College campus, wild salmon is cooked native northwest style on wood stakes over a 60' by 15' fire pit fueled by fir and alder. Many volunteers from the Depoe Bay Chamber of Commerce cook the succulent Neah Bay Chinook salmon for guests. A photo of the salmon cooking and the extensive buffet menu follow. This is a no-holds-barred opportunity for pinotphiles to bring their best stuff to share and as you wonder among the tables, it is remarkable to see the incredible array of wines, most of which you can taste simply by asking.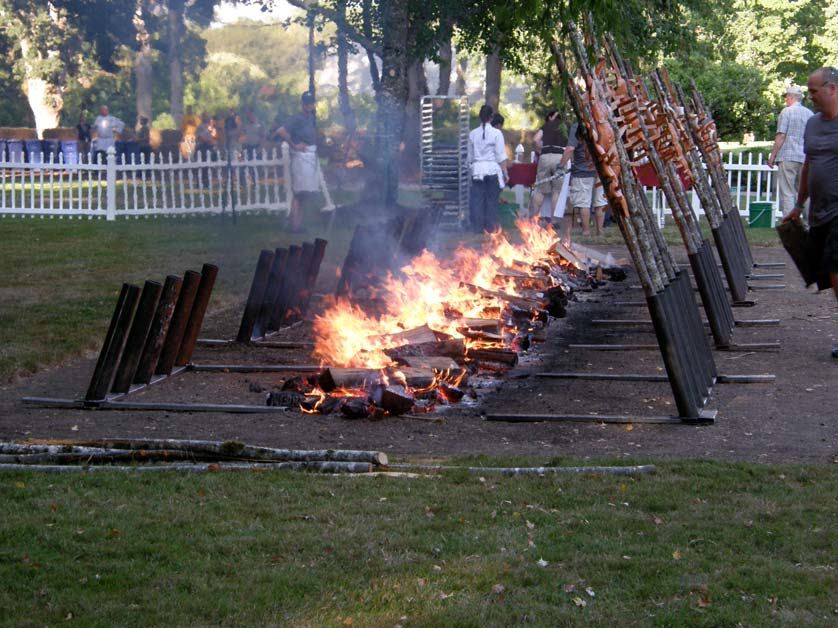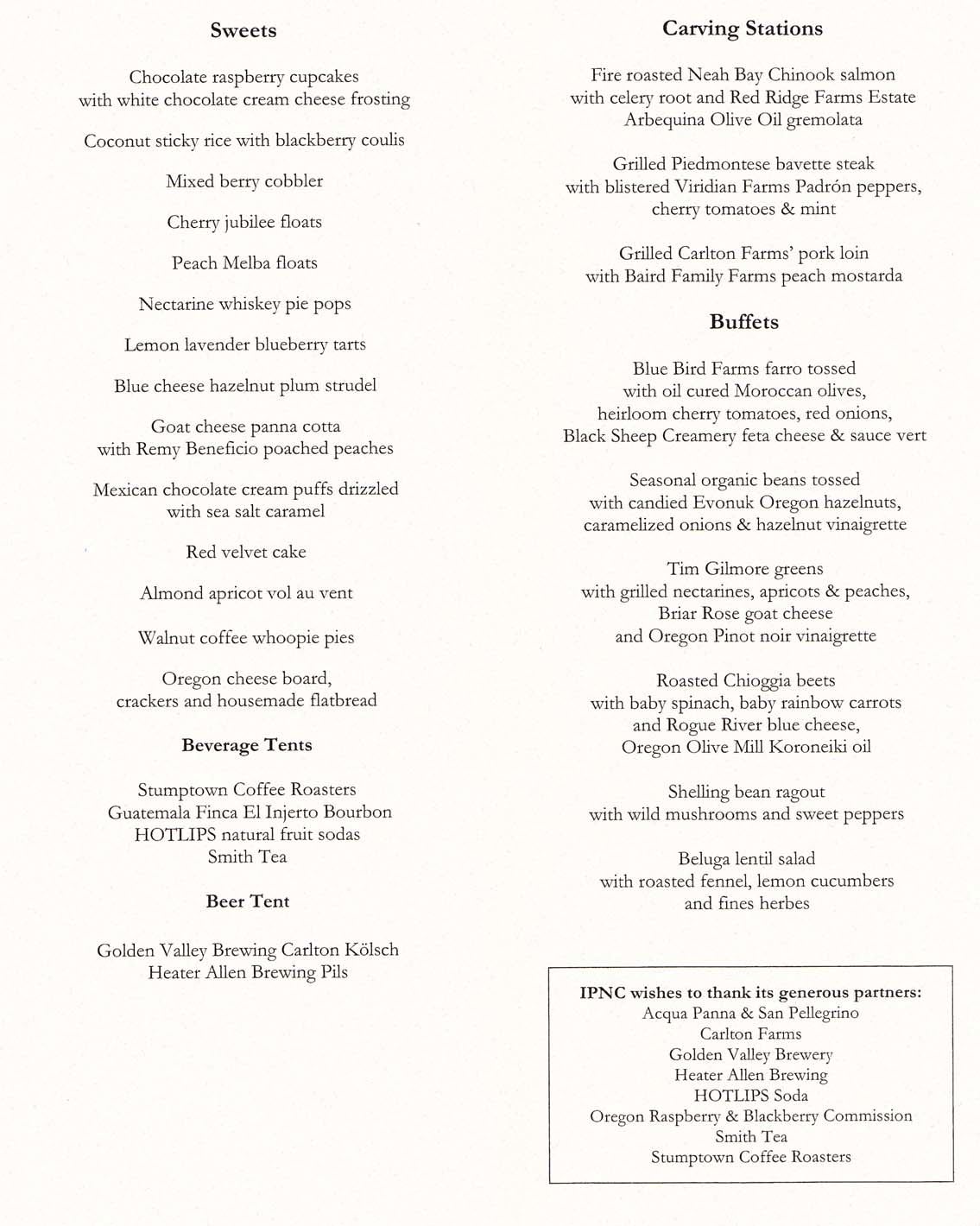 A featured afternoon activity was the screening of 'A Year in Burgundy.' The first-ever showing of the new documentary film featured longtime IPNC friend Martine Saunier as the film's guide. The filmmakers traveled to Burgundy in each season of 2011 following the activities of seven of the region's most respected winemaking families including Domaine Leroy, Domaine Perrot-Minot, Domaine Morey-Coffinet, Domaine Brune Clavelier, Domaine Mortet, Domaine Michel Gay & Fils, and Dominique Cornin. The filmmakers managed to capture the crises and triumphs during the dramatic growing season of 2011; a year that went into the bottle and onto film. The film is currently in post-production by Director/Producer David Kennard, with a 90-minute theatrical version available in late 2012. Visit www.ayearinburgundy.com to view the trailer and for more information.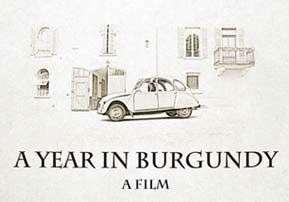 Oregon's wine history is being documented at Linfield College as part of the Oregon Wine History Archive, housed in the Jereld R. Nicholson Library. The Archive was given a recent boost by an $8,000 Cultural Development Grant from the Oregon Cultural Trust. The Archive's collection of photographs and documents that trace the history of the Oregon wine industry and the International Pinot Noir Celebration, was open to attendees at this year's IPNC. In 2011, pioneers of the early Oregon wine industry committed their collections to Linfield College. The archive contains materials from Adelsheim Vineyard, Erath Winery, The Eyrie Vineyards, Ponzi Vineyards, Amity Vineyards, Sokol Blosser Winery and Weber Vineyard. For more information, visit www.linfield.edu. Two archival photos are below. The first photo taken in 1970 is Dick Ponzi and daughter Luisa, who is the current winemaker at Ponzi Vineyards, and the second photo taken in 1983 is of a group of Yamhill County winemakers. How many can you identify?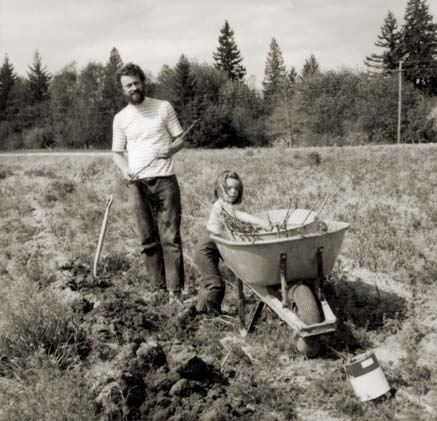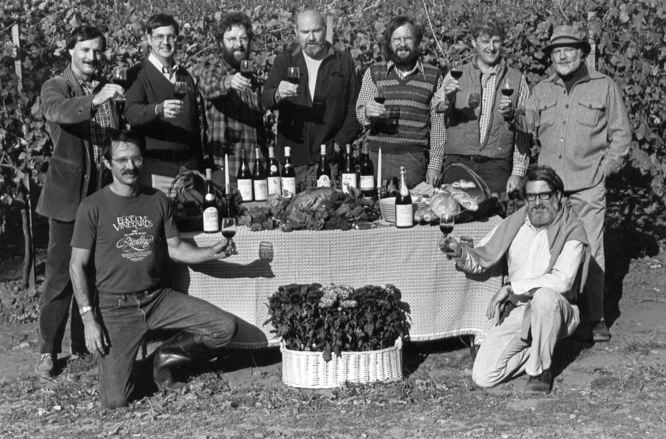 The Sunday afternoon Walkabout is not part of the regular IPNC program but is very popular with the local wine-loving community with upward of 500 consumers attending. It is a "pocket version" of the three-day IPNC weekend and is Oregon's largest outdoor tasting of domestic and international Pinot Noir. All 70 of the winery participants from the regular three-day IPNC weekend pour their wines, with a split into two tasting sessions, offering a break in the middle to introduce the winemakers. I often attend as I did this year because it offers a chance to taste wines that I did not get to sample during the three-day regular IPNC event. The array of artisan foods are a compliment to the Pinot Noirs as indicated by the menu on the next page: