Highlights of the Pinot University Seminars at IPNC
Grand Seminar: Study Abroad in Burgundy with Allen Meadows
Panelists
Bertrand Ambroise, Maison Ambroise
Grégory Gouges, Domaine Henri Gouges
Jacques Lardière, Maison Louis Jadot
Vincent & Phillipe Lécheneaut, Domaine Lécheneaut
Moderator Allen Meadows spoke about the history of Burgundy and how it evolved through the years to it's present state. He led a discussion with the vigneron panelists on a walk through the Côte de Nuits, specifically the vineyards of Chambolle-Musigny, Echézeaux, Gevrey-Chambertin, and Nuits-Saint-Georges. I recorded the seminar so look for it featured on a future Grape Radio show.
Allen is a captivating speaker, offering concise, well-worded and pertinent information, presented with a direct eye to the audience, with no reliance on notes. His French-to-English translations are adept, accurate and instant, a rare talent that keeps the seminar on track.
I highly recommend you listed to this seminar if you are at all interested or even knowledgeable about Burgundy for there is much to learn. I have summarized a few salient points here.
* Burgundy is very small in acreage: only 25,000 acres total in the Côte d'Or, but containing a vast number of vineyards and domaines. Allen spends about 6 months a year in Burgundy visiting about 300 domaines which is barely 10% of the total number in the Côte d'Or.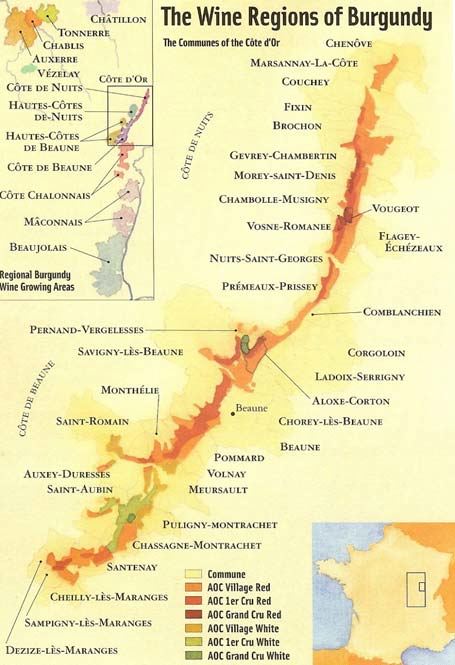 * The Côte d'Or is a series of hills that vary greatly in exposure, drainage and soil type, and minor differences make significant differences in the region's vineyard hierarchy.
* Burgundy is incredibly complex, with over 1,600 different climats. Allen likens it to a Russian doll, where each time a doll is opened, another one appears inside without end. He has been going to Burgundy for over 30 years, and each day he spends there, he learns at least ten new things. He admits that he will never know it all.
* Burgundy is the way it is today because of four developments:
(1) Burgundy was developed by educated religious fanatics. The transparency of Pinot Noir caused the monks to take notice of different terroirs, noting small differences among the various vineyards. They interpreted this as a message from God and found it worthy of note and celebration. This is a very key realization. Eventually the vineyards were thoroughly delimited or mapped out. Typically, soil changes were observed in very short spaces that accounted for differences in the wines made from adjacent or nearby vineyards.

(2) The Napoleonic Code established in 1884 dictated that all siblings would receive an equal share of their parent's estate. This led to a vast mosaic of vineyard holdings.

(3) Phylloxera and the railroads. Phylloxera wiped out the vineyards in Burgundy and the Burgundians were stubborn initially, refusing to graft over their vines onto American rootstock. There was still a demand for Burgundy and the négociants satisfied this demand by bringing in wine from Southern France and Northern Africa via inexpensive railroad transportation and selling it fraudulently as Burgundy. Southern France was less impacted by the devastation of phylloxera because they were quick to graft over their vines onto American rootstock and thus became a ready source of large amounts of wine. The négociants threatened the vineyard hierarchy in Burgundy and a civil war of sorts broke out with small winegrowers. A revolt ensued led by notable Burgundians including Henri Gouge and Marquis de'Angerville, who began selling their wines themselves. They were quickly blackballed by the négociants. Slowly over the next 20 years, the notion became widespread in Burgundy that the domaine owners must protect their wines from fraud: if the wine said Richebourg, it had to contain Richebourg and nothing else.

(4) The AOC system was established in 1935. Very slowly Burgundians learned the art of elevage and bottling. Négociants were victims of the oil crisis and reduced their purchase of significant amounts of Burgundy. It then became a matter of "sink or swim" for Burgundy domaines. Commercial quality bottlers appeared and eventually, by 1973, a large number of domaines bottled their wines at the domaine. The modern face of Burgundy can be dated to only 35 years ago.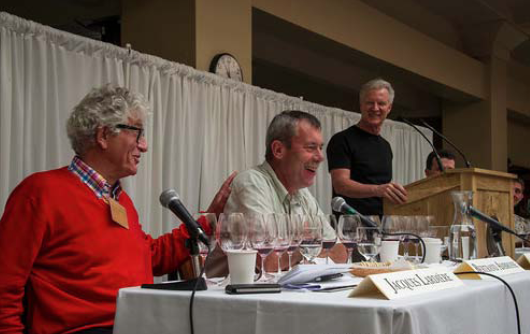 Photo by Andrea Johnson

Comments about the four wine regions discussed in this seminar and the tasting notes:
Chambolle-Musigny The wines show early accessibility. They are the most feminine wines in the Côte d'Or, yet have extraordinary longevity. The wines can stay at their peak for decades.
2008 Domaine Lécheneaut Chambolle-Musigny
Approximate retail $49. From six different parcels in Chambolle-Musigny. Aged 18 months in 40% new French oak. · Red fruits are featured, particularly strawberry, with a flourish of spice. Will continue to improve in the bottle.
2008 Domaine Lécheneaut Chambolle-Musigny 1er Cru
Approximate retail $70. A blend of two vineyards. Aged 18 months in 75% new French oak, otherwise vinified identically to the Chambolle-Musigny. · A clear step up in quality. More aromatic featuring deep red fruits and spice, mild tannins, and some length on the finish. An impressive wine.
Nuits-Saint-Georges 40 1er crus, no grands crus. Numerous clos (enclosed by wall) and monopole (one owner) vineyards. Vignerons are trying to make the wines softer and more accessible, yet capable of aging a long time. The wines are typically ready in 10-15 years now.
Echézeaux 11 different climats. One of largest grands crus in Burgundy. Terroir varies greatly within the vineyard. Wines tend to be "sneaky," that is, they seem to go away and then come back.
2008 Maison Ambroise Echézeaux Grand Cru
Approximate retail $110. Aged 18 months in 100% new French oak. Unfined and unfiltered. Surprisingly good vintage for this wine. · Nicely perfumed with notes of black cherries, rose petals and spice, finishing with intense dark fruits. Full-bodied with firm tannins and impressive length. Quite approachable.
2010 Maison Ambroise Echézeaux Grand Cru
Approximate retail $200. Aged 18 months in 100% new French oak. Unfined and unfiltered. · Bright aromas of ripe black cherries. Richly endowed with excellent minerality and tension, less tannin than in 2008, finishing long and classy. A great wine in the wings.
Gevrey-Chambertin Contains 9 of the 24 grands crus in the Côte de Nuits. The wines are rich, firm and concentrated, masculine in character in contrast to the feminine nature of wines from Chambolle-Musigny.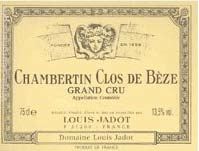 2006 Maison Louis Jadot Clos St-Jacques 1er Cru
Approx retail $110-135. 5 owners (Rousseau, Sylvia Esmonin, Bruno Clair, Domaine Fourrier and Jadot). Clearly above all other 1er cru vineyards in Gevrey- Chambertin and many feel deserving of grands cru status. · Rough and rustic at this stage and not very giving aromatically. Medium depth of sweet, dark red fruits with noticeable oak. Needs another ten years at least.
Seminar: A Life in Wine: A Retrospective Tasting with Jacques Lardière
Host: Alder Yarrow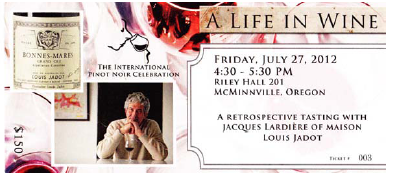 Born in 1948 in Vendée, France, Jacques Lardière decided as a youngster to become a winemaker. He graduated with distinction from the school of Viticulture and Oenology of Alentours, in Mâcon, and pursued research in the biology of aromas and bacteria under Professor Brechot of the Pasteur Institute and Jules Chauvet who was worked his whole life on aromatic identification. In 1970, Jacques Lardière joined Maison Louis Jadot in the capacity of assistant oenologist under Mr. André Gagey, then Managing Director. He was appointed Technical Director in 1980 and became respected as one of France's most brilliant, passionate and inspired winemakers, and one of the preeminent figures in Burgundy. After 42 years, he is retiring from Maison Louis Jadot.
During this seminar, Jacques Lardière spoke more of passion and obscure forces which shape terroir than specifics of his wines. With arms constantly in motion and possessed by unbridled enthusiasm, it matters little that one cannot understand much of what he says. His Franglais is utterly charming and with his repetitive mantra of, "You see, it is important," one cannot help but to be mesmerized. I was so enthralled by Mr. Lardière, I failed to record tasting notes. Suffice it to say, it was an incredible lineup of wines with all the wines showing terroir-specific character.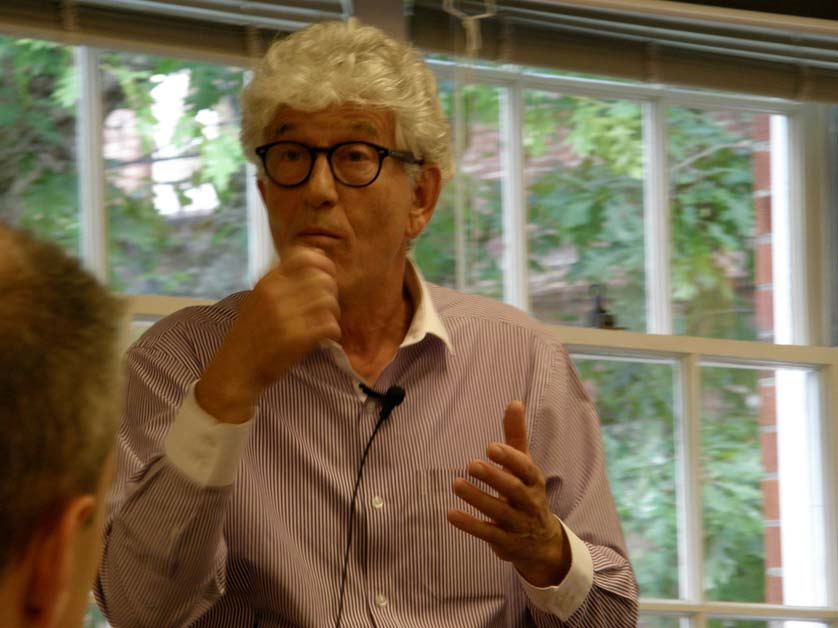 Jacques Lardière brought a number of wines from Jadot's library for this tasting:
1989 Maison Louis Jadot Bonnes Mares Grand Cru
1991 Maison Louis Jadot Gevrey-Chambertin Clos St-Jacques 1er Cru
2001 Maison Louis Jadot Beaune Clos des Ursules 1er Cru
2002 Maison Louis Jadot Volnay Clos de la Barre 1er Cru
2004 Maison Louis Jadot Chambolle-Musigny Les Baudes 1er Cru
2005 Maison Louis Jadot Savigny Les Beaune Clos des Guettes 1er Cru
Seminar: Icons of the New World: The Pinots of Hanzell & Adelsheim
Panelists
David Adelsheim, Founder and President, Adelsheim Vineyard
Michael McNeil, Winemaker, Hanzell Vineyards
Host
John Haeger
David and Ginny Adelsheim dreamed of planting a vineyard in Oregon after returning from a summer in 1969 in Europe. In 1971 they acquired a field in the Chehalem Mountains in what was at the time an unproven viticultural area and Adelsheim Vineyard was born. The following year, they planted 15 acres of Pinot Noir, Chardonnay, Pinot Gris and Riesling using the assistance of friends and family. The vineyard was named Quarter Mile Lane. David knew nothing about winemaking initially and spent a year with David Lett and a year in Burgundy to learn the craft. The first commercial release of 1,300 cases of Pinot Noir, Chardonnay and Pinot Gris was 1978, produced from purchased grapes. It wasn't until 1981 that the first estate wines appeared from the 1979 vintage. The initial winery was established in 1982 adjacent the Adelsheim's home. A 19-acre site was leased across the road from the original estate vineyard at Quarter Mile Lane in 1989 and became known as Bryan Creek Vineyard. Co-owners Jack and Lynn Loacker joined Adelsheim Vineyard in 1994, and began planting a 120-acre site on Ribbon Ridge known as Ribbon Springs Vineyard, the source of much of the winery's Pinot Noir since 1998. A modern winery with underground barrel storage was built at the 52-acre site known as Calkins Lane Vineyard in 1997, and an extensive addition was completed in 2008. Today, the Adelsheim Vineyard estate encompasses 190 acres.
David Adelsheim remains an iconic figure in Oregon wine and has participated as a respected spokesperson on important issues in the Oregon wine industry over the years. He is considered one of the true pioneers of Oregon wine along with Richard Sommer, Charles Coury, David Lett (who was a close friend of Adelsheim's), Dick Erath, and Richard Ponzi. Unlike all the other pioneers who came from California, Adelsheim grew up in Portland. He remains quiet and unassuming (he considers himself a latecomer and not in the lofty category of the original pioneers), with a charming sense of humor which belies his considerable achievements. When I have a question about Oregon wine and viticulture, David always has the answer and is uncommonly patient and generous with his vast store of information. (See an early photo of a bearded David Adelsheim in the archival photo above: he is kneeling in the lower right).
David Paige has been the winemaker since September of 2001, and Chad Vargas has been the viticulturist since 2006. The winery's labels have recently undergone modernization.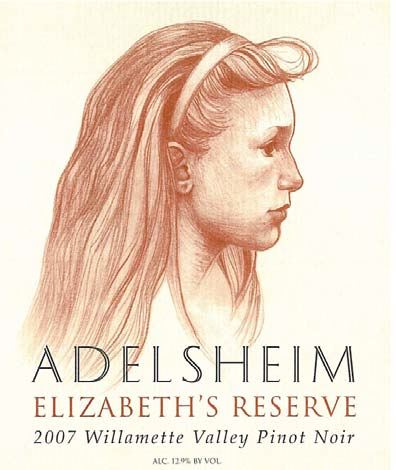 Hanzell Vineyards was one of California's first boutique wine estates. Diplomat and president of Crown Zellerbach, James D. Zellerbach, and his wife, Hana, became fond of Burgundy wines when he served as an American ambassador to Italy. The couple purchased land on Sonoma Mountain just one mile north of Sonoma Plaza and built a winery of redwood and local stone fashioned after Burgundy's Clos de Vougeot. They planted their first vines in 1953: Chardonnay (Wente clone) and Pinot Noir (Martin Ray clone). The Martin Ray material was reputedly from a clandestine late night raid on a Napa Valley vineyard by Hanzell's initial winemaker, Brad Webb. Over the years, the vines have mutated and new vines propagated from them have created a distinct Hanzell selection. The Ambassador's Vineyard, planted in 1953, is the oldest continually producing vineyard of Pinot Noir and Chardonnay in North America.
Winemaking at Hanzell was Burgundian from the beginning and Zellerbach was among the first in California to use French oak barrels. In addition, Zellerbach designed the first temperature-controlled stainless steel fermentation tanks. He was also the first to use nitrogen in bottling. Small amounts of wine were sold starting in 1957, but 1965 was the first full-scale commercial vintage.
Bob Sessions followed Brad Webb and was the general manager and winemaker at Hanzell for 33 years. He retired in 2005, was briefly replaced by Michael Terrien, who was followed by the current winemaker, Michael McNeill. Despite winemaker changes, the house style has remained constant.
Today, Hanzell Vineyards consists of 46 acres, producing 4,500 cases of 100% estate-bottled wine from the estate vineyards. For the past 30 years, Alexander de Brye has owned Hanzell. The Chardonnays have been the star of this winery but the Pinot Noirs have their advocates as well and both varietals age extremely well.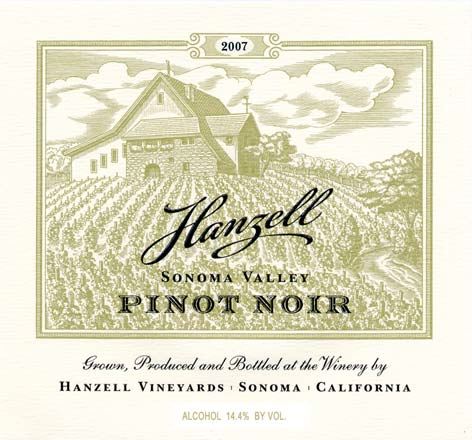 The wines in the seminar:
University of Pinot: Climatology 201
Coolest of the Cool
Panelists
Cyril Audoin, Domaine Charles Audoin
Patrice Ollivier, Domaine Fougeray de Beauclair
Rob Stuart, R. Stuart & Co. (Oregon)
Andy Peay, Peay Vineyard (California)
Blair Walter, Felton Road (New Zealand)
Moderator
Jason Lett, The Eyrie Vineyads
The University of Pinot was a new element to the IPNC. Nine different afternoon small-format seminars were held. I attended Coolest of the Cool.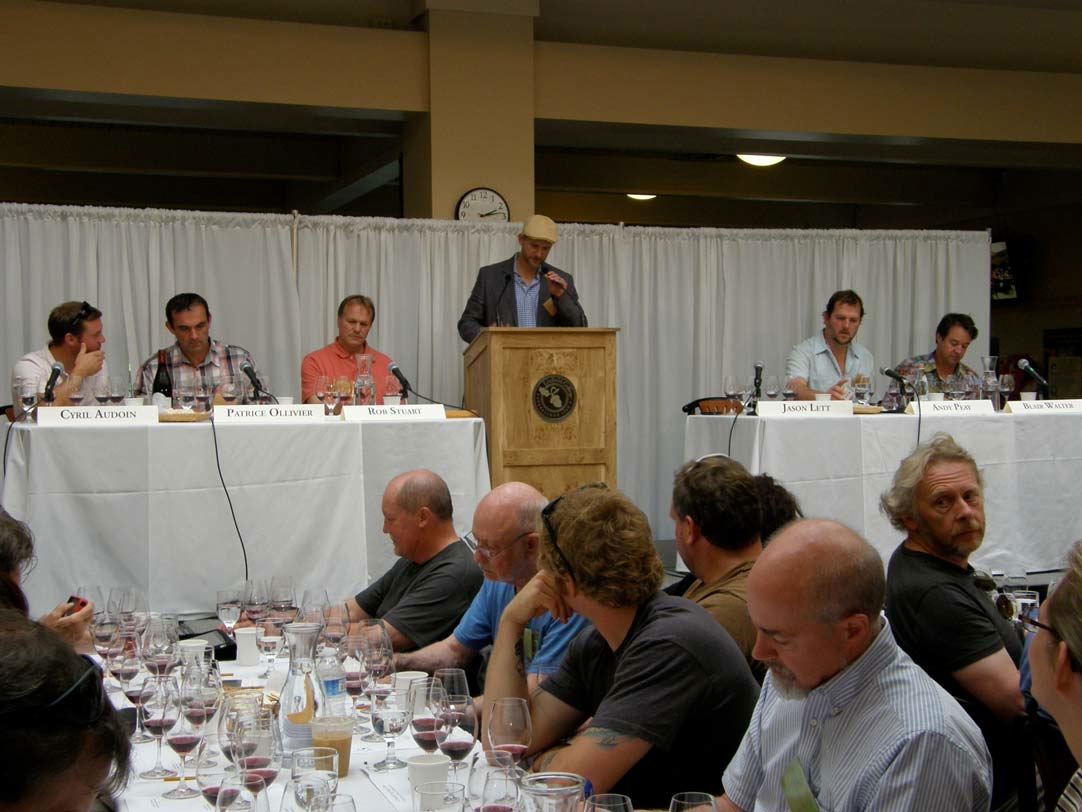 It has been well established that Pinot Noir produces the best fruit when it is planted in a climate with a long, cool growing season. This often means winegrowing on the edge since the grapes ripen just as the fall rains loom on the horizon. The panelists gave their take on the benefits of growing Pinot Noir at the climatic edge.
Pinot Noir has the narrowest band of climate temperature to fully express itself: 2 degrees. An average growing temperature of 14 to 16 degrees Celsius (57 to 60.8 degrees Fahrenheit) is ideal. Once the Pinot Noir vine is grown outside this narrow band of temperatures, it becomes unexpressive.
The wines:
Wines tasted at IPNC that I Highly Recommend

Many of these wines were tasted only briefly, but created an impression, even an emotion. I hope you have the opportunity to grab a few of these beauties for your personal cellar. These wines are additional to the ones reviewed in this issue on the previous pages.
Burgundy
2010 Domaine Huber-Verdereau Volnay "Les Robardelles"
2010 Domaine Fougeray De Beauclair Fixin Clos Marion
2009 Domaine Marc Roy Gevrey Chambertin Clos Prieur
2006 Marquis d'Angerville Volnay Clos Des Ducs 1er Cru
2002 F. Magnien Chambertin Clos de Beze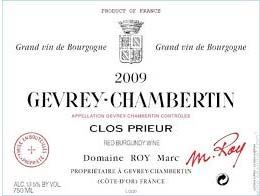 Chile
2009 Kingston Family Vineyards Alazan
Canada
2009 Quail's Gate Reserve Okanagan Valley Pinot Noir
California
2010 B. Kosuge Hirsch Vineyard Sonoma Coast Pinot Noir
2010 Red Car Heaven & Earth Bohemian Vineyard Sonoma Coast Pinot Noir
2009 Freeman Akiko's Cuvée Sonoma Coast Pinot Noir
2009 Lincourt Lindsay's Sta. Rita Hills Pinot Noir
2009 Hanzell Vineyards Sonoma Mountain Chardonnay
2008 Paul Lato Solomon Hills Vineyard Santa Maria Valley Pinot Noir (Magnum)
Oregon
2010 Anne Amie Winemaker's Selection Willamette Valley Pinot Noir
2010 Bergström Winery The Bergström Vineyard Pinot Noir
2010 Evesham Wood Le Puits Sec Eola-Amity Hills Pinot Noir
2010 Luminous Hills Estate Yamhill-Carlton District Pinot Noir
2009 Brooks Janus Willamette Valley Pinot Noir
2009 Cornerstone Willamette Valley Pinot Noir
2009 Et Fille Wines Kalita Vineyard Yamhill-Carlton District Pinot Noir
2009 Hyland Estates Estate McMinnville Pinot Noir
2009 Ilahe Vineyards Reserve Willamette Valley Pinot Noir
2009 Stoller SV Estate Dundee Hills Pinot Noir
2008 Brooks Rastaban Willamette Valley Pinot Noir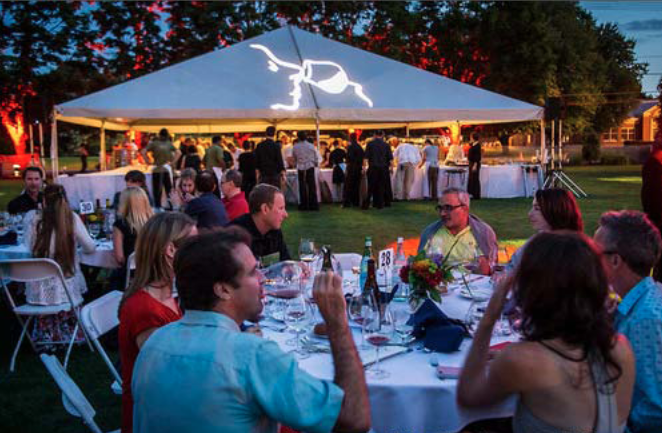 Photo by Andrea Johnson