Pinot Noir IQ Test
In keeping with the educational theme of this year's IPNC, I offer you a Pinot Noir IQ Test. The answers are on the final page of this issue and can be found in many issues of the PinotFile and wine reference books. Some questions are basic while others are rather obscure and deserve extra credit. Sit down with a good glass of Pinot and see how many of the 50 questions you can answer correctly (answers are on the last page of this issue).
1. The approximate number of days from flowering to harvest for Pinot Noir is:
a. 50
b. 100-110
c. 125
d. 145-150

2. Chaptalization of Pinot Noir is legal in all the following regions except:
a. Burgundy
b. Oregon
c. California
d. Germany

3. All the following statements are true except:
a. Pinot Noir was called noirien long before the word pinot appeared
b. Pinot was initially often spelled pynos or pineau
c. The word noir comes from the fact that the juice of the Pinot Noir grape is midnight blue
d. Pinot is so-named because its cluster resembles a pine cone in shape

4. The highest resveratrol content in Pinot Noir comes from what wine region?
a. Okanagan Valley of Canada
b. Oregon
c. Australia
d. South America

5. Pinot Noir Blanc is:
a. A genetic mutation of Pinot Noir
b. A white wine produced from unripe Pinot Noir grapes
c. A white wine produced from Pinot Noir by pressing grapes after harvest to avoid skin contact with the juice
d. None of the above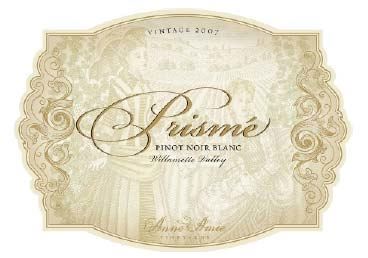 6. With Pinot Noir, fruit set is typically around:
a. 15%
b. 30%
c. 50%
d. 70%

7. "Hens and chicks" (millerandage) is a fruit set disorder that affects Pinot Noir. Which statement is true?
a. Both full size and small berries in the same cluster
b. Higher than normal aborted berries
c. Parts of the cluster turn yellow or brown
d. Large cluster with small berries

8. Pinot Noir is the one of the genetic parents of all except:
a. Chardonnay
b. Melon
c. Pinot Gris
d. Aligoté

9. The recommended serving temperature for Pinot Noir is:
a. 70º-72º
b. 65º-70º
c. 58º-63º
d. 54º-57º

10. Which of the following statements about Pinot Noir are true?
a. Oregon has more extreme vintage variation than Burgundy
b. The alcohol percentages are significantly lower in Oregon than Burgundy
c. Oregon Pinot Noir has limited age ability
d. In the past decade, Burgundy has been warmer than Oregon in every year but one

11. All the following statements about Pinot Noir are true except:
a. It is a shy-bearing variety
b. Pinot Noir berries have thin skin
c. Anthocyanin pigments that give Pinot Noir its color are present in less than half the quantity found in Syrah
d. Individual berries tend to be very large

12. The key to quality Pinot Noir production in California:
a. Maritime fog and breezes
b. Limestone soils
c. Volcanic soils
d. High elevation

13. Who said the famous line, "God made Cabernet Sauvignon, whereas the devil made Pinot Noir."
a. Allen Meadows
b. Robert Parker, Jr.
c. Robert Finigen
d. André Tchelistcheff

14. Pierce's Disease:
a. Stunts grapevines but is not fatal
b. Is secondary to a fungus
c. Is transmitted by the blue-green sharpshooter
d. Is not found in the Santa Cruz Mountains AVA

15. In Oregon:
a. Almost 2/3 of the vineyards are own-rooted
b. Whole cluster fermentation is never used
c. The statewide yield for Pinot Noir is more than 4 tons per acre
d. 75% is the minimum requirement for varietal labeling of Pinot Noir

16. Two significant growers of Pinot Noir in the Arroyo Grande AVA of California are:
a. Laetitia and Talley Farms
b. Edna Valley Vineyards and Chamisal Vineyards
c. Byron and Kenneth Volk
d. Estancia and Morgan

17. Bob Sessions produced age worthy Pinot Noir and Chardonnay for 28 years at which California winery?
a. Saintsbury
b. Hanzell Vineyards
c. Porter Creek
d. Mount Eden Vineyards

18. The book, "The Heartbreak Grape," is about which iconic California winemaker known for Pinot Noir?
a. Jeffrey Patterson
b. Richard Sanford
c. Josh Jensen
d. Burt Williams

19. Which wine region has the most Pinot Noir under vine?
a. Willamette Valley, Oregon
b. California Coast
c. Cote d'Or
d. Central Otago, New Zealand

20. When Burt Williams left Williams Selyem in 1997 following the sale of the winery, he planted a vineyard in Anderson Valley in 1999 named:
a. Bearwallow
b. Maggie Hawk
c. Skyline Ranch
d. Morning Dew Ranch
21. All the following are AVAs in the northern Willamette Valley except:
a. Ribbon Ridge
b. Umpqua Valley
c. Dundee Hills
d. Yamhill-Carlton District

22. The "punt" in Pinot Noir wine bottles:
a. Is a deep indentation in a bottle's butt
b. Is necessary to diffuse pressure
c. There mainly for tradition
d. 1 & 3 are correct

23. Which North American Pinot Noir has "cult" status in Japan?
a. Calera Wine Company
b. Williams Selyem
c. Beaux Frères
d. Domaine Serene

24. Small plantings of Pinot Noir are in which of the following wine regions of California?
a. Yorkville Highlands
b. Spring Mountain District of Napa County
c. Malibu
d. All the above

25. The oldest continuously producing Pinot Noir vineyard in California is:
a. Sanford & Benedict Vineyard, Sta. Rita Hills
b. Mount Eden Vineyards, Santa Cruz Mountains
c. Rochioli West Block, Russian River Valley
d. Ambassador's Vineyard at Hanzell Vineyards, Sonoma Valley

26. The first person to plant Pinot Noir in modern times on the true Sonoma Coast was:
a. David Hirsch
b. Ehren Jordan
c. Steve Kistler
d. Mick Bohan

27. Wineries producing Pinot Noir in California during the 1970s include all the following except:
a. Caymus
b. Heitz
c. Stony Hill
d. Freemark Abbey

28. All the following Oregon producers have biodynamic vineyards certified by Demeter except:
a. Cooper Mountain Vineyards
b. Maysara Winery
c. Shea Wine Cellars
d. Beaux Frères Vineyards & Winery

29. All the following are second label Pinot Noirs except:
a. Chausseur-Cazal
b. Paul Hobbs-Crossbarn
c. Carabella-Plowbuster
d. Ponzi-Jezebel

30. Gary Farrell has made wine for all the following Pinot Noir producing wineries except:
a. J. Swan
b. Davis Bynum
c. Rochioli
d. Alysian

31. All the following statements are true except:
a. Alsace was the first region in the world to do varietal labeling
b. In California, a vineyard-designated Pinot Noir must contain 95% of grapes from the named vineyard
c. In American, Pinot Noir designated wines must contain 60% Pinot Noir if named on the label
d. In Oregon, 90% of the grapes must be the varietal named on the label.

32. The first to plant Pinot Noir in Oregon was:
a. Charles Coury
b. Richard Sommer
c. David Lett
d. Dick Erath

33. All the following wineries operate within the Eola-Amity Hills AVA except:
a. Evesham Wood
b. Bethel Heights
c. St. Innocent
d. Coeur de Terre

34. The winery with the largest acreage of Pinot Noir vines in the California Coast is:
a. Castle Rock
b. Buena Vista
c. Kendall-Jackson
d. Martinelli

35. Merry Edwards has made Pinot Noir for all the following wineries during her long career except:
a. Mount Eden Vineyards
b. Matanzas Creek
c. Pellegrini Family
d. Robert Stemmler
Extra Credit

1. In the book, 'Sideways,' Jack buys a bottle of Pinot Noir and exclaims, "Lovely, big, gamy, almost irreverent for a Pinot. I like it. A perfect beginning to this week-long adventure." What was the wine?
a. 1999 Sanford La Rinconada Sta. Rita Hills Pinot Noir
b. 1998 Foxen Bien Nacido Vineyard Sta. Rita Hills Pinot Noir
c. 1999 Longoria Fe Ciega Vineyard Sta. Rita Hills Pinot Noir
d. 2002 Sea Smoke Botella Sta. Rita Hills Pinot Noir
e. 1992 Byron sparkling wine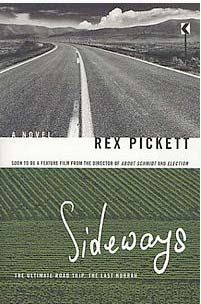 2. Physicians who founded Willamette Valley Pinotcentric wineries include all the following except:
a. Joe Campbell - Elk Cove Vineyards
b. John Bergström - Berström Wines
c. Donald Olson - Torii Mor Winery
d. Mauricio Collada, Jr. - Cubanismo Vineyards
e. John Paul - Cameron Winery

3. All the following California wineries have produced Pinot Noir from Shea Vineyard in Oregon except:
a. Auteur
b. Sine Qua Non
c. Arista Winery
d. Pali Wine Company
e. Loring Wine Company

4. The smallest AVA in the United States with Pinot Noir plantings and one of the few with one owner is:
a. Green Valley
b. Bennett Valley
c. Ribbon Ridge
d. Cole Ranch
e. Redwood Valley

5. The first California Pinot Noir to sell for at least $100:
a. Paul Hobbs 2001 Cuvée Augustina Hyde Vineyard Carneros Pinot Noir
b. 2005 Kistler Bodega Headlands Cuvée Elizabeth Pinot Noir
c. Domaine Serene 2003 Monogram Oregon Pinot Noir
d. Williams Selyem 1991 Summa Vineyard Sonoma Coast Pinot Noir
e. Williams Selyem 1996 Precious Mountain Sonoma Coast Pinot Noir

6. 1964 was an important year in Pinot Noir history. All the following are true except:
a. The Bacigalupi family planted Pinot Noir on Westside Road in the Russian River Valley
b. David Bruce, M.D., bonded his namesake winery in the Santa Cruz Mountains
c. Stanley Hoffman, M.D. planted the only Pinot Noir at the time in the Paso Robles area
d. Uriel Nielsen and Bill De Mattei planted Pinot Noir at Nielsen Vineyard, the first commercial vineyard in Santa Barbara County
e. Martin Ray released his first Pinot Noir from what is now Mount Eden Vineyard

7. Rochioli's first wines were produced under which label?
a. Hacienda del Rio
b. Davis Bynum
c. Fenton Acres
d. Wines by Joe
e. Russian River Valley Vineyards

8. All the following are true regarding Dehlinger's Octagon block of Pinot Noir except:
a. Planted to Pommard selection
b. Planted to Swan selection
c. Is named after the octagon house which sits in the center of the vineyard
d. The inaugural vintage of Octagon block Pinot Noir was 1994
e. Consists of 3.5 acres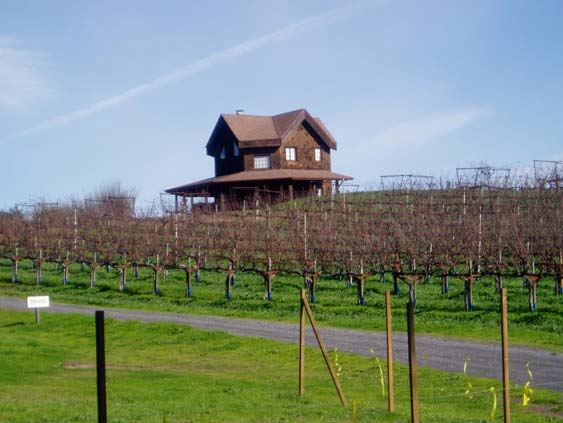 9. Which of the following wineries has the credo, "Produce no wine with less character than yourself"
a. Hanzell Vineyards
b. Cristom Vineyards
c. The Eyrie Vineyards
d. Kalin Cellars
e. Windy Oaks Vineyard & Winery

10. The largest single purchaser of grapes from Bien Nacido Vineyard is:
a. Byron
b. Paul Lato
c. Twomey
d. Foxen
e. Au Bon Climat

11. All the following are true about Patricia Green of Patricia Green Cellars in Oregon except:
a. Her prior career was in forest management and reforestation
b. Previously worked at Torii Mor Winery
c. Bought former Autumn Wind property on Ribbon Ridge with partner Jim Anderson
d. Produced a Pinot Noir from California's Hirsch Vineyard in California
e. Most of vineyards from which Green sources fruit are planted to Dijon clones

12. The most expensive North American Pinot Noir on the market today (release price) is:
a. 2006 Marcassin, Marcassin Vineyard Somona Coast Pinot Noir
b. 2010 J. Rochioli West Block Russian River Valley Pinot Noir
c. 2008 Domaine Serene Monogram Oregon Pinot Noir
d. 2009 Paul Hobbs UV Vineyard Sonoma Coast Pinot Noir
e. 2010 Patricia Green Cellars "Notorious" Willamette Valley Pinot Noir

13. The newly approved Fort Ross-Seaview AVA on the Sonoma Coast includes vineyards from all the wineries listed except:
a. Hirsch Vineyards
b. Marcassin
c. Pahlmeyer
d. Belle Glos
e. Peter Michael

14. The "Barefoot" label, a highly successful line of wines including Pinot Noir owned by E. & J. Gallo, was originally owned by what iconic California winery owner?
a. Davis Bynum
b. Gary Farrell
c. Tom Dehlinger
d. Ted Lemon
e. Tom Rochioli

15. The first California winery to establish a reputation for vineyard-designated Pinot Noir from purchased fruit:
a. Acacia, Carneros
b. Buena Vista, Carneros
c. Saintsbury
d. Byron
e. Siduri