Pinot Briefs —Newsletter 9.10
Alma Rosa Winery Bankruptcy This news shocked me, much like the news several years ago that Richard Sanford had lost his namesake winery. Richard and Thekla filed for Chapter 11 bankruptcy on July 27, attributing the decision to the effects of the global recession of 2008 and the low-yielding crop levels that followed. Sanford was inducted into the Vintners Hall of Fame this past February, and is one of California's most tireless promoters of Pinot Noir, appearing annually at many Pinot Noir and wine events. He is about the nicest guy you would ever want to meet and I hold him in my highest respect. After 44 years in the business, he deserves better. The future plan is to reorganize while the winery remains operational and the Buellton tasting room remains open.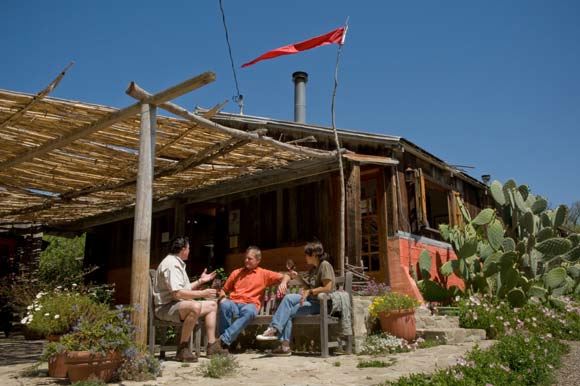 Resveratrol Therapy for Cardiac Patients The American Journal of Cardiology (August 1, 2012) recently published a clinical trial (triple-blind, randomized-parallel, dose-response, placebo-controlled) involving 75 high-risk patients with diabetes, high cholesterol and one other cardiovascular risk factor. The resveratrol supplement (8 mg for the first 6 months and 16 mg for the next 6 months) lowered multiple markers of inflammation and fibrinolytic status in patients who were on statins for primary prevention of cardiac disease and at high cardiac disease risk. Resveratrol may turn out to be an adjunct dietary therapy for the primary prevention of cardiac disease and could compliment the gold standard therapy of statin drugs.
Bruliam Wines Acquires Two Sisters Vineyard Two Sisters Vineyard is a tiny planting in the Russian River Valley of primarily Martini clone, consisting of just 499 Pinot Noir vines. Reportedly, the original vines date to 1953 which would make it one of the oldest continuously producing Pinot Noir vineyards in California (Hanzell's Ambassador's Vineyard was also planted in 1953 and this has been documented). The new owners, Brian and Kerith Overstreet, are researching the history of the vineyard to verify the timing of the original plantings. They expect to produce a Two Sisters Vineyard Pinot Noir in the 2012 vintage, totaling 100-150 cases. From 2000 to 2007, the fruit was used exclusively by Adrian Fog Winery
Reliability & Consensus of Experienced Wine Judges The Journal of Wine Economics (May 2012) published a paper by Robert H. Ashton which considers the levels of reliability and consensus of wine quality judgments of particular wine by the same judge, and consensus, which concerns the similarity of judgments of a particular wine across judges. The reliability and consensus levels found in wine judging were compared to those in six other fields: medicine, clinical psychology, business, auditing, personnel management, and meteorology. In all fields, including wine judging, reliability is greater than consensus. Both reliability and consensus are, on average, substantially lower in wine judging than in other fields, although tremendous variability exists across judges in every field. Little support is found in this research for the idea that experienced wine judges should be regarded as experts. Read the entire paper at Cambridge Journals Online at www.cambridge.org.
Dogpatch Fills Void Left by Crushpad in San Francisco Dogpatch Wine Works, which is located in a former canning factory in San Francisco on 3rd Street, offers wine hobbyists the opportunity to make there own wine, offering services similar to what Crushpad originally offered, except commercial services. The founders of Dogpatch, including Kevin Doucet, formerly worked at Crushpad, and the consulting winemaker, Mike Zitzlaff, was the head of winemaking at Crushpad at one time. Pinot Noir grapes are available from the Keller Estate on the Sonoma Coast in the 2012 vintage. Visit www.dpwineworks.com. (The assets of Crushpad were recently acquired by new investors assembled by Castlegate Capital Advisors of Tiburon, and they plan to find a new industrial space to revive Crushpad and lock in a custom vintner for the 2012 harvest. Some former Crushpad employees were retained. The business model will be changed to hopefully make the operation profitable and attractive to hobbyists and commercial customers.)
Santa Maria Valley Wine Country Map A newly revised wine map and visitor brochure featuring 32 wineries with tasting rooms throughout Santa Maria Valley and Santa Barbara County, including information on restaurants, caterers, hotels and shopping, is available at member locations and as a PDF download at www.smvwines.com. Stay up to date with the latest Santa Maria Valley winery and culinary events at www.smvwines.com/events/upcoming.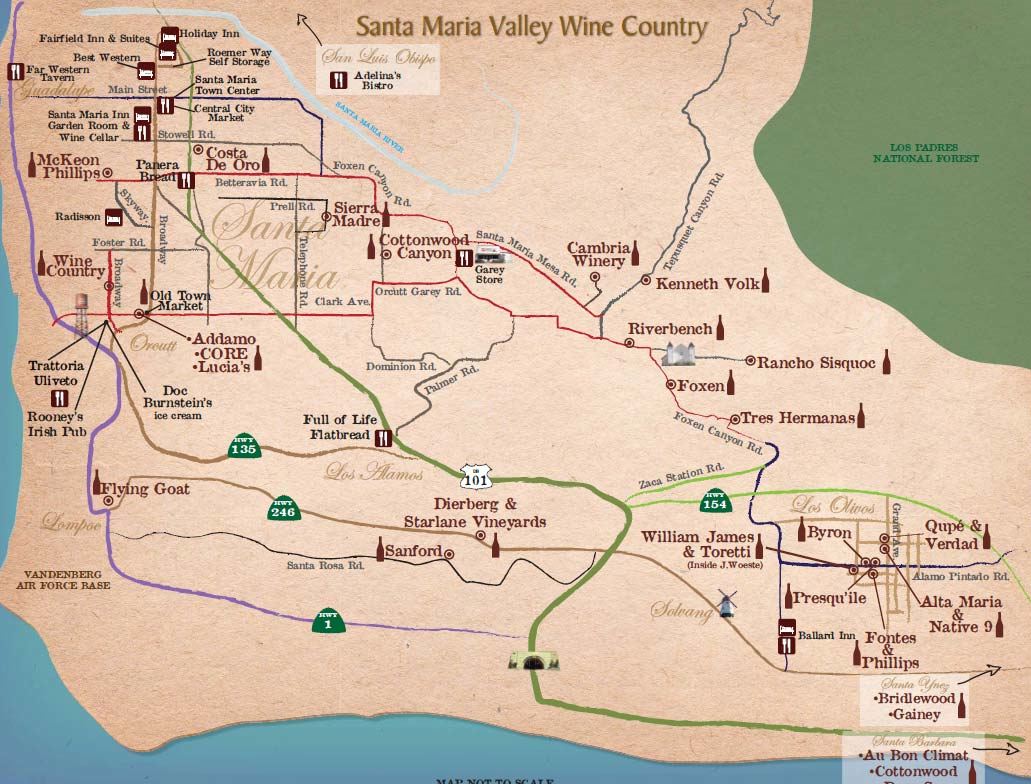 Popularity of Pinot Noir: Devil in Disguise? A recent post on BlogYourWine discussed the popularity of Pinot Noir and how it is a concern for some wineries. It was pointed out that Jason Lett, owner of The Eyrie Vineyards in Dundee Hills, Oregon, confirmed that Pinot Noir plantings were appearing on the fertile valley floor of the Willamette Valley (Pinot Noir vineyards are typically on hillsides above 300 feet to avoid frost and its consequences). We already know that California's Central Valley has one-sixth the Pinot Noir acreage of California' Coastal Region, yet is now producing more tons of Pinot Noir annually. As long as there is a large demand for inexpensive Pinot Noir offered by labels such as A to Z, Castle Rock and Mark West (and I don't see this changing in the future), there will be a demand for Pinot Noir grapes that can only be completely satisfied by establishing large acreage in areas considered too warm or otherwise undesirable for growing premium Pinot Noir, especially in vintages beset with low yields in coastal regions. Also, prices for premium Pinot Noir grapes have risen to extremely high levels, in the range of $8,000 per ton in some cases in 2012, which value-priced Pinot Noir producers obviously cannot shoulder. The only concerned wineries are those premium quality producers who are locked into a price level necessary for profitability, and must complete with the large volume Pinot Noir producers who are offering remarkably good Pinot Noir priced under $20, wines that are a good fit for the burgeoning Millennial wine market.
Pinot on the River 100 small production Pinot Noir producers will participate in the 2012 Pinot On the River Festival, held Sunday, October 21, 2012, on the Healdsburg Plaza in downtown Healdsburg. Many of your favorite producers will be pouring, including Belle Glos, Benovia Winery, Couloir Wines, Davis Family Winery, Donum Estate, Eric Kent Wines, Foursight Wines, Freeman Winery, J Winery & Vineyards, John Tyler Winery, Kanzler Vineyards, Keefer Ranch, Littorai Winery, Papapietro Perry, Patz & Hall, Siduri, Talisman Wine, Wren Hop and more. A special morning seminar, "A Morning with Ted Lemon of Littorai Wines," will be available to the first 50 VIP ticket holders. Visit www.pinotfestival.com for tickets.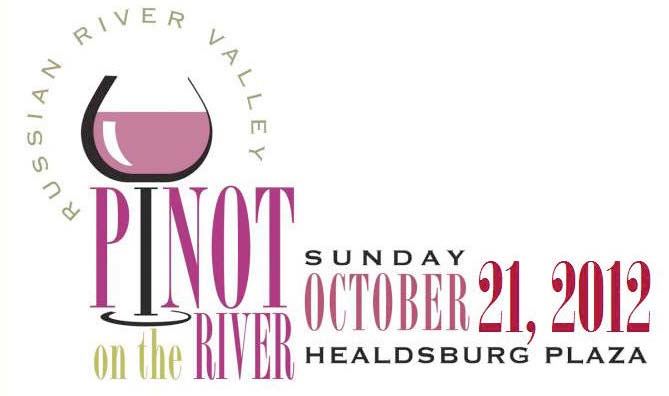 New Wine Books of Interest Naked Wine: Letting Grapes Do What Comes Naturally (Alice Feiring), A Toast to Bargain Wines: How Innovators, Iconoclasts, and Winemaking Revolutionaries are Changing the Way the World Drinks (George M. Taber), Wine Flavor Chemistry (Ronald J. Clarke and Jokie Bakker), Creating Wine: The Emergence of a World Industry, 1840-1914 (James Simpson), and Drinking Diaries: Women Serve Their Stories Straight Up (Caren Osten Gerszberg and Leah Odze Epstein)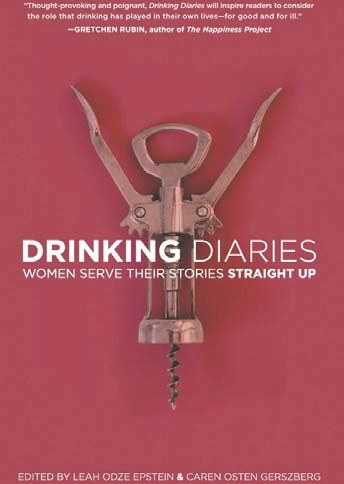 Wine Ride in Oregon Bike Gallery of Portland, Oregon, has organized a September wine ride at Vista Hills Winery. The ride is fully supported, approximately 30-40 miles of rolling terrain, and includes a gourmet lunch, wine tasting, and bike poker. The event is limited to 100 riders and costs $65. 100% of the profits will be donated to the Oregon Chapter of the Children's Heart Foundation. Register for the rides at www.bikegallery/wine-rides/.
Swedish Study Touts Moderate Drinking for Arthritis A study recently published in the British Medical Journal, found that long-term moderate alcohol consumption reduces greatly the risk of rheumatoid arthritis in women. Women who drank more than three glasses of alcohol per week were 37 percent less likely to develop rheumatoid arthritis (14 percent lower for those who drank one or two glasses per week). No differences were found among wine, beer or liquor, although most of the women in the study preferred wine or beer. Other prospective studies will be needed to confirm the results.
Donum Estate Adds Vineyards In recent years Donum Estate has added vineyards in the Russian River Valley (Ten Oaks, Pommard clone) and Anderson Valley (inaugural release from the 2011 vintage). In 2013, the winery will plant 15 acres of Pinot Noir on the home ranch where current plantings are 22 years old. Pommard will be added to the clonal mix at the Carneros site.
2012 Sonoma Wine Country Weekend Labor Day weekend (August 31-September 2), MacMurray Ranch will host this 33rd annual event. Kate MacMurray will host a stroll through the historic MacMurray Ranch property where 170 wineries will be pouring wine and over 60 local chefs will be offering gourmet foods. The event was named one of the 10 Best Wine and Food Events in the United States by Celebrated Living magazine. A never-before-seen exhibition of MacMurray family archives detailing ranch life from the late 19th Century to today will be open. The exhibit will be displayed in the oldest structure on the ranch, called the Prune Shed, referencing the principal Russian River Valley cash crop of the early 1900s. A number of the programs are already sold out. Visit www.sonomawinecountryweekend.com for tickets.
Strange Carafe No 8 Etienne Meneau of Etienne Meneau Sculptures sent me a photo of the latest stange carafe for sale. An edition of 12, it is available at 2500 euros + shipping. Visit www.the-strangedecanter. blogspot.com.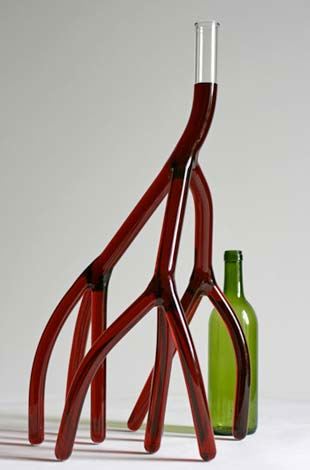 Navarro 2011 Futures Navarro has already sold 60% of the small production of the 2011 Deep End Pinot Noir as futures. Strong sales and less production means Navarro will have little or none to sell when the wine is officially released a year from now. Three 750 bottles cost only $114 as futures (33% savings), six 750 bottles cost $216 (27% savings) and twelve bottles $408 (31% savings). Magnums are also available as futures. Visit the website at www.navarrowine.com or call 800-537-9463. This is always a great wine!
Direct-To-Consumer Shipments According to data tracked by ShipCompliant and Wines & Vines magazine, the dollar value of direct shipped wines was up 11.5 percent for the12-month period ending April 2012. The average price per bottle increased $1.11 to $37.69 and $30-plus wines saw the greatest increase in volume shipped. Cabernet Sauvignon, Chardonnay and Pinot Noir accounted for 48 percent of varietal labelled wine. The average bottle price for Oregon wines ($37) was slightly higher than for Sonoma County wines ($36) and second only to Napa Valley wines ($56).
Belle Glos Growing Rapidly in Popularity According to the latest Wines & Vines (August 2012), Belle Glos and Meiomi labels from Wagner brands (Caymus and Conundrum) grew faster than all other top 20 brands considering off-premise sales, showing a 175% increase in dollars and $3.1 million in 52-week sales. Curtis Mann, director of client insights at the Symphony IRI Group, a Chicago-based market research firm, said, "They are the hottest thing out there for Pinot Noir."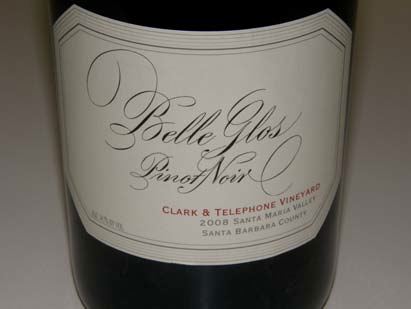 Family Winemakers of California Tasting 2012 Sunday, September 9 (open to the public 3:00-6:00 and trade 1:00-6:00) and Monday, September 10 (open to trade only 2:00-6:00) the tasting will showcase California's small, family owned wineries at Fort Mason Center in San Francisco. Takeaway wine sales available. Tickets at www.familywinemakers.org.
Southeast Wine Collective Opens in Portland Located in the Division-Clinton neighborhood, a hub for the city's emerging food and beverage culture, the Southeast Wine Collective was founded by Kate and Thomas Monroe. The Collective, which opened in August 2012, is a urban winery providing premium custom crush wine production to artisanal wineries, as well as a tasting bar and special events space. The Collective is currently home to the Division Winemaking Company, Helioterra Wines, Vincent Wine Company and Bow & Arrow Wines. Division Winemaking Company was founded in 2010 by Kate and Thomas Monroe and produce sustainably farmed Pinot Noir, Gamay, Chardonnay and Rosé (www.divisionwinemakingcompany.com). Helioterra is a small producer under the direction of winemaker Anne Ebenreitier Hubatch (www.helioterrawines.com). Vincent Wine Company was founded by Vincent Fritzsche in 2009 with the goal of producing Pinot Noir from local vineyards (www.vincentwinecompany.com). Bow & Arrow is owned by Scott and Dana Frank who specialize in Pinot Noir, Gamay and Cabernet Franc (www.bowandarrowwines.com).
Dr. Konstantin Frank Winery turns 50 Dr. Konstantin Frank is an icon to winegrowers in the Finger Lakes region of New York, much like Andre Tchelistcheff is to Californian winegrowers. He was one of a small group of proponents who believed Vitus vinifera could be grown in the eastern United States. Frank's original 9-acre Pinot Noir vineyard was planted on a hillside bluff overlooking Keuka Lake's western shore, just up the road a few miles from Hammondsport. The clone apparently came to the United States from Europe and now numbered 7 and designated the Dr. Frank clone. The oldest blocks of Pinot Noir were planted from 1959 to 1961, and are older than all California plantings still in production except the 1953 Ambassador's Vineyard at Hanzell Vineyards in Sonoma Valley. Dr. Frank's Pinot Noir was chosen twice to be poured at the International Pinot Noir Celebration. When he died in 1985 at the age of 86, the winery was left in the capable hands of his son, Willy Frank. A celebration was held on July 1 to commemorate the 50th anniversary and 29 members of Dr. Frank's family were in attendance. A rediscovered documentary about Dr. Frank filmed in the 1970s was shown. My photos below show the tasting room at Dr. Konstantin Frank Winery and the original plantings of Pinot Noir (2008).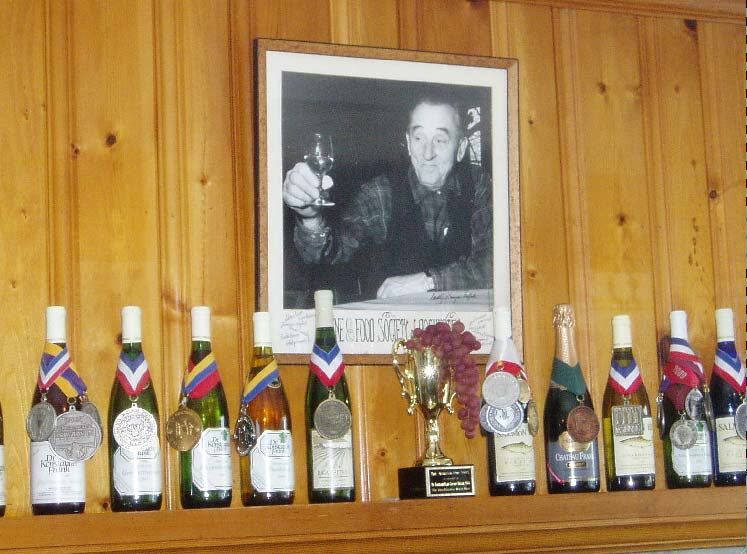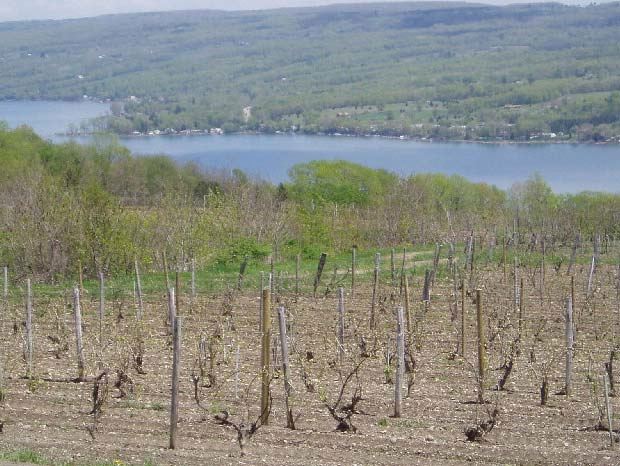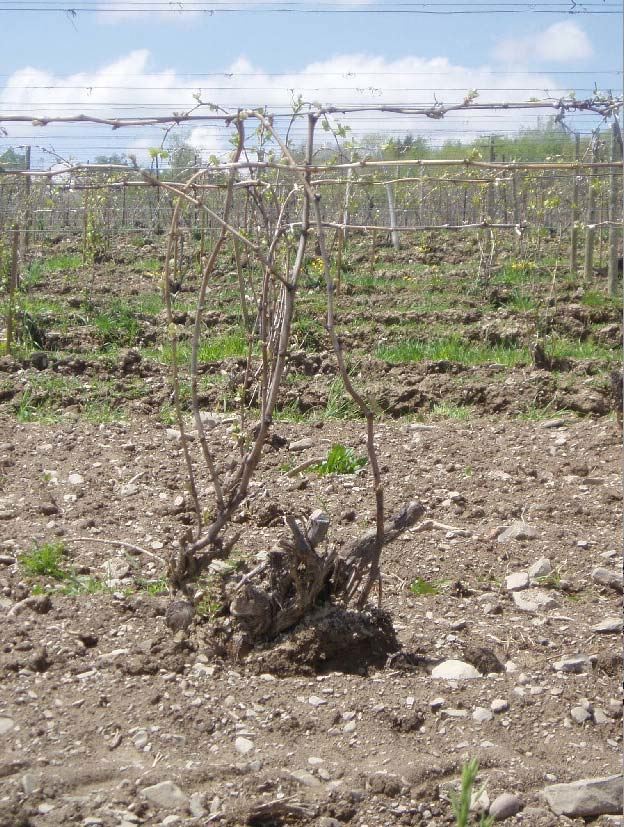 Pinot in the City 70 top Oregon wineries are bringing their wines to San Francisco on Thursday, September 13, 2012, from 6:00 PM to 9:00 PM. The venue will be the Golden Gate Club at The Presidio. Tickets are $65 at www.willamettewines.com. Ticket purchasers will be automatically entered in a drawing for a luxury wine country getaway at The Allison Inn & Spa. A trade tasting will take place September 13 from 12:00 PM to 4:00 PM (contact emily@ekpmedia.com to attend the trade tasting).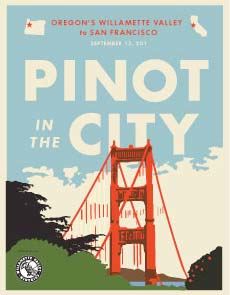 Next Issue I spent a week after this year's IPNC touring the Willamette Valley and tasting the wonderful 2010 vintage Pinot Noirs (and a few barrel samples of the equally fine 2011 vintage Pinot Noirs), and I will give a full report in the next issue. Save your money, you are going to want these wines! The 2010 vintage is one of the three best vintages EVER for Pinot Noir in Oregon!