Added Ramblings on the Willamette Pinot Trail

Life with Maggie at Antica Terra The latest program airing on Grape Radio (www.graperadio.com) is "Life With Maggie, Part 2." Winemaker Maggie Harrison talks about her challenges over the past seven years since she left a comfortable life as assistant winemaker at Sine Qua Non in Southern California to revive a faltering label and vineyard in the Willamette Valley of Oregon. I believe her biggest surprise, and her main challenge, has been dealing with the vagaries of Willamette Valley weather, unlike anything that she experienced in California's Central Coast.
I visited Maggie at her warehouse winery in Dundee to taste the 2011 vintage out of barrel and hear about future plans. There were a number of vineyards represented including Hyland, Nysa, Old School, Cherry Grove, Shea (Pommard and Wädenswil clones), Antica Terra old vine (Wädenswil) and new vine (Coury clone). She has quite a palette of grapes to work with. All the barrels are tasted blind before arriving at the blend for her wines. There are no predetermined combination, although the Botanica bottling has usually been primarily from Shea Vineyard. The 2011 wines, like the 2010 brethren, show excellent depth and concentration, low alcohols, but more structure and tannin presumably from the heat spikes in September of 2011 that led to quick ripening and skin tannin changes.
The Antica Terra Erratica Rosé ($50) is quite unique among Oregon examples. It is taken very seriously by Maggie who plans to produce 450 cases in 2011. She describes her technique: "When certain fermentation bins have special aromatic intensity, often after 6 to 8 days on the skins, just before the juice becomes red wine, I drain off the juice to barrel, and age it on the lees for a year before bottling. This is not how rosé is produced in a conventional sense."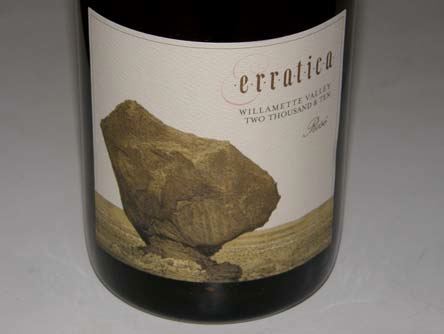 A sparkling wine is being produced and Maggie has a number of other surprises in store which she declined to elucidate. She was eager to talk about the onsite tasting experience that is being planned. Curated by Antica Terra Director and Master Sommelier Nate Ready, visitors will not only be able to taste Antica Terra's current releases, but also a rotating selection of wines from around the world that have inspired and sustained the Antica Terra creative process, ranging from grower Champagnes and Grand Cru Burgundies, to esoteric bottlings from rare, indigenous grapes that feature innovative winemaking techniques. As of late July, the program had not been launched but stay tuned. Antica Terra wines are sold primarily through a mailing list at www.anticaterra.com.
Big Table Farm I had met Clare Carver and Brian Marcy and reviewed a number of their excellent wines, but had never visited the Big Table Farm until July. After traversing several miles of unpaved, gravel roads, I came upon an over-100-year-old farmhouse and an active 70-acre working farm alive with chickens, pigs, horses, cattle, and beehives. Clare manages the farm and animals, and does the marketing for the Big Table Farm wines. She is a talented artist, and has designed wine labels for over 100 wineries including Beaux Frères, Phelps Creek and Miner Family Vineyards. Big Table Farm wine labels are adorned with endearing drawings of the farm's animals. Brian is a talented winemaker who has worked at Turley Wine Cellars, Neyers Vineyards, Blankiet Estate and Marcassin and crafts superb single-vineyard Pinot Noirs from Pelos Sandberg Vineyard and Resonance Vineyard. He is also quite a chef, and cooked dinner for my wife, Patti, and myself. The couple entertain quite frequently, providing a unique winery experience. A small tasting bar is set up in their home, and Clare's art, which is for sale, adorns the rooms. A visit is highly recommended! Consult the excellent website at www.bigtablefarm.com. Tasting and tours are by appointment.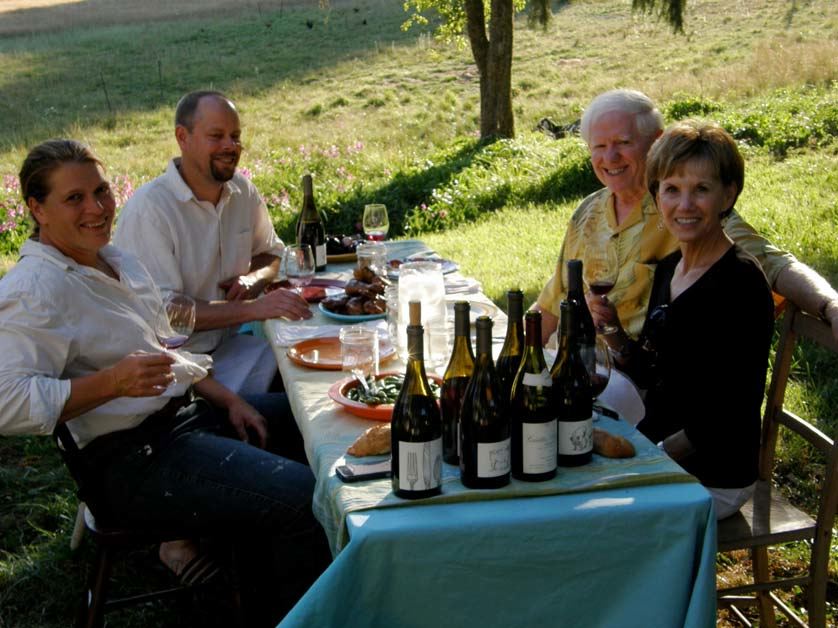 Le Puy: The Place to Stay in the Willamette Valley There are a number of excellent options for wine tourism lodging in the Willamette Valley (see my Pinot Trail Travel Directory), but my top choice would be Le Puy: A Wine Valley Inn in Newberg. This modern 8-room bed and breakfast inn is operated by very congenial hosts, Andy Kosusko and Lea Duffy, both former architects from the Seattle area. The inn sits on ten acres of a tranquil hillside with expansive views of the Chehalem Mountains. Everything you need is at hand and the gourmet breakfasts will fuel you for an entire day of wine tasting. The location is ideal, situated on Highway 240, with all the wineries in the Yamhill-Carlton District, Dundee Hills and Chehalem Mountains within a short bike or car ride. In addition, it is only a 10 minute drive to some of the best dining in the Valley including Jory at The Allison and Recipe in Newberg (see below), and Tina's and Paulee in Dundee. I stayed here as my base of operations the week after IPNC, and I am eager to return. Visit the website at www.lepuy-inn.com.

Recipe: The Place to Eat in the Willamette Valley Dustin Wyant and long time local chef Paul Bachand, who partnered a few years back in launching the Farm to Fork restaurant in the Inn at Red Hills, have reunited at Recipe. They renovated an old Victorian home in downtown Newberg, and offer lunch and dinner both indoors and outdoors on a patio. A community table provides a setting to enjoy dining with local visitors, winemakers and townsfolk. The emphasis is on fresh seasonal ingredients from local farmers and growers. Meats are cured and smoked in house, buratta cheese is hand formed each morning, and pasta is made fresh daily using locally milled flour and farm eggs. The wine list includes hard to find releases from small Oregon producers and wine service is exceptional. The restaurant received a 2013 Superior Cellar Award from Oregon Wine Press. If you go, don't miss the house-made buratta with toy box tomatoes, basil-walnut pesto and ficelle toast or the escargot served in profiteroles with garlic cream and parsley butter. The restaurant is open every day except Monday and reservations are advised but not required. Visit www.recipenewbergor.com.
McMinnville: Where the Action Is Downtown McMinnville has several wine tasting rooms in a roughly 6 block radius including Willamette Valley Vineyards Wine Center, Twelve, Anthony Dell, R. Stuart & Co, Wine Bar, Panther Creek Cellars, Dominio IV, The Eyrie Vineyards, Remy Wines, Westrey Wine Company, and Walnut City Wineworks. Visit www.mcminnvilledowntownwines.org. The McMinnville Public Market is a Saturday gathering of artists, bakers, farmers, winemakers, musicians, chefs, and purveyors, year round at 845 NE 5th or on the corner of 8th & Alpine, just a short walk from downtown McMinnville. Visit www.mcminnvillepublicmarket.com. Finally, McMinnville's Art & Wine Walk is held the third Saturday of every month from 4:00 to 8:00 p.m.. 20 shops and galleries open late and dozens of wineries pouring.
Concentration of Tasting Rooms in Downtown Newberg Eight tasting rooms within walking distance including Anam Cara Cellars, Artisanal Wine Cellars, Chehalem, Dark Horse Tasting Room (Medici, Sineann, Ferraro Cellar), Fox Farm Vineyards & Wine Bar, Hip Chicks Do Wine, Longplay Wine and Spangler Vineyards (Umpqua Valley). Visit www.newbergdowntown.org. Voodoo Martini & Wine Bar is owned by Cal Erath, Dick Erath's son, so not surprisingly one can find many Pinot Noirs from very small producers. I stopped in to try Cal's Pinot Noir from Dick's vineyard in Arizona, but it quickly sold out.
Carlton has Many Appealing Tasting Rooms Also There has been as many as twenty, but some come and go. Most are open on weekends, a few daily. Carlton is seven miles north of McMinnville. Look for Tyrus Evan in the Depot, Carlton Winemaker's Studio (8 wineries including Andrew Rich and Hamacher), Cliff Creek Cellars (southern Oregon), the Tasting Room (several select Oregon producers including Arterberry Maresh, Ayres, Beaux Frères, Big Table Farm, Cameron, De Lancellotii, Domaine Drouhin, EIEIO, Libra, and Soter), Scott Paul Wines (Oregon Pinot Noir and Burgundy), Carlton Cellars, Cana's Feast Winery, Domaine Coteau, Carlo & Julian Winery, Solena Cellars, Utopia Vineyard, and Seven of Hearts/ Luminous Hills.