The Cradle of Oregon Pinot Noir

Richard Sommer is considered the founder of Oregon's modern wine industry. He left California with a degree in agronomy from University of California at Davis, headed to the Umpqua Valley in southern Oregon, and established HillCrest Vineyard on the site of a 40-acre old egg farm in 1961. The first post-Prohibition Vitis vinifera planted in Oregon, Sommer's vines were put in the ground from 1961 to 1964 and in 1968 and included Pinot Noir among the reportedly 35 grape varieties planted there.
The HillCrest Vineyard winery was bonded in 1963 (Oregon Bonded Winery 44 and the oldest continuously running winery in Oregon), the same year Sommer released his first wine, an estate Riesling. He commercially bottled a Pinot Noir as early as 1967 (and possibly as early as 1964). This was a first for Oregon, and preceded the first Pinot Noir released by David Lett in 1970 at The Eyrie Vineyards and the first commercial Pinot Noir produced by Charles Coury at Charles Coury Vineyards the same year.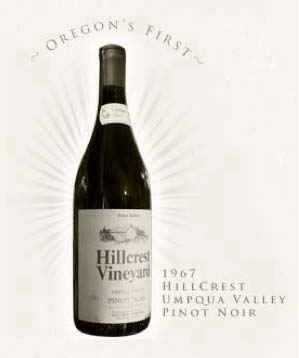 Dyson DeMara, his chef spouse Susan, and their three children, took over HillCrest Vineyard in 2003. Dyson had spent more than 20 years in the California wine industry, had made and taught winemaking in many countries, and had a wealth of wine knowledge, so he was an ideal candidate. He had met Sommer in 1999, and spent time with him both before and after assuming control of the winery. The sale of the winery took some time, for Sommer was reluctant to relinquish his life's work, despite the urgings of his family. When the winery was finally sold, much of the original plantings were dead, suffering from the fungus Eutypa lata (Eutypa die back disease).
DeMara pulled out most of the original 1961 plantings in 2004, including all the Pinot Noir, leaving some Chardonnay, Riesling and Sylvaner. Of the original vines rooted at HillCrest between 1961 and 1968, 13 acres remain, primarily from the 1964 plantings including Oregon's first commercial plantings of Cabernet Sauvignon. Some Pinot Noir remains from the 1968 plantings. Dyson insists on farming his estate vines sustainably and without irrigation. Purchased grapes are only sourced from vineyards that are at least eight years old.
Before this year's IPNC, I visited Hillcrest Vineyard and spent some enjoyable time with Dyson. He has an outgoing persona and a world of stories to tell, and is especially enthusiastic about his wines. He calls them "honest" wines, because the winery operation is truly family owned and run with no employees. He does not employ any fancy technology and insists on no additions to his wines. Grounded in Old World winemaking, he is nevertheless innovative. He has patented a cement fermentation tank design which is similar in shape to halved stainless milk containers popularized by Williams Selyem in California.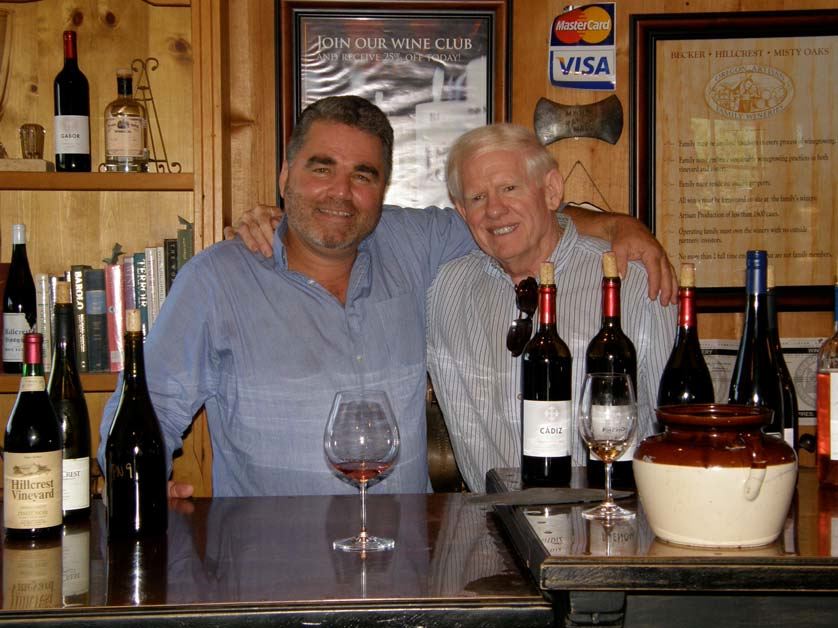 Dyson is serious about maintaining Sommer's legacy of producing fine wine. His wines are sold primarily to those in the know in the Umpqua Valley who visit regularly. The wines are only sold through the tasting room which is nearly always staffed by Dyson himself who offers a colorful, guided complimentary tasting. When I approached the old, rustic building housing the winery and tasting room, I did not know what to expect. After talking with him (and he does love to talk) over the copper-covered bar in the tasting room and sampling many wines in his lineup, I can say without reservation that his wines are of character and class. Dyson is in no hurry to release his wines, and he often keeps the red wines in barrel for 2 years or more. Many of the current releases are from the 2004 to 2008 vintages. Limited quantities are held back and offered periodically as library wines. Total production is about 1,500 cases of multiple varietals.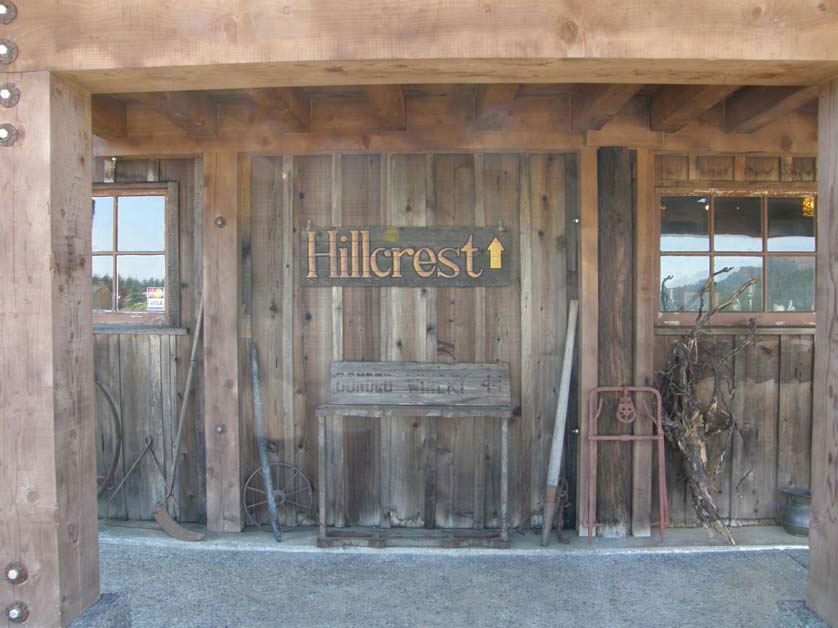 His Cabernet Franc, Cabernet Sauvignon and Tempranillo were all solid wines. I tasted all three Rieslings, one from the estate's 1964 original plantings that was off the charts, blessed with so many fascinating aromas and flavors. A Rosè with 10% alcohol and slight carbonation from an unidentified grape (he wouldn't say) was very refreshing. A Pinot Noir Blanc was typical. A Late Harvest Muscat was among the best of its kind I had ever tasted from Oregon.
I was able to taste the 2009 Estate Pinot Noir produced from the original 1968 plantings. This was a wine to savor and contemplate, discreetly but deliciously fruited with accents of spice and pepper. The wine will not be released until early 2013, and I have marked the calendar to insure I get my hands on a few bottles. How often does one get to drink an Oregon Pinot Noir from 40-year-old vines?
The HillCrest Vineyard tasting room is open March 1 to December 31, 11:00-5:00 daily or by appointment. The winery is located at 240 Vineyard Lane in Roseburg. Visit the website at www.hillcrestvineyard.com.
The following photos show the funky clay Indian heads encircling the outdoor fire pit, the view of the Callahan Mountain Range from the winery, and the entrance to the historic winery.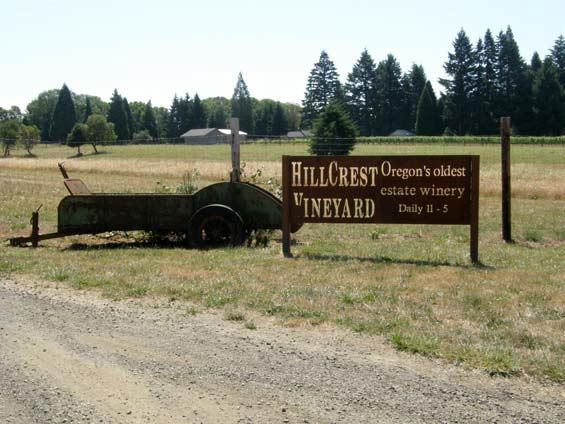 There are 25 wineries and 50 to 60 growers in the Umpqua Valley. The largest winery produces 11,000 cases annually. In 2010, the entire Umpqua Valley AVA produced 60,000 cases of wine. 75% of the Pinot Noir production (often cropped at 4 to 5 tons per acre) is sent to northern Willamette Valley wineries who cherish the fruit when vintages are cool and production is diminished in the northern Willamette Valley. Besides HillCrest, other Umpqua Valley wineries offering premium Pinot Noir from low yielding vines include Brandborg Vineyard & Winery, Bradley Vineyards, and River's Edge. Visit www.umpquavalleywineries.org.