Chardonnays to Admire
100 years ago, Ernest Wente took cuttings from the south of France and planted them at Wente Vineyards in Livermore, California. Today, over 80 percent of Chardonnay produced in California comes from some version of the Wente clone.
Chris Thorpe who owns Adastra vineyard and Adastra Wines in Carneros, has a good summary on his website (www.adastrawines.com) about the twisted history of Old Wente Chardonnay clone. Much of his information came from the article written by Gerald Asher in Gourmet (May 1990), "Chardonnay: Buds, Twigs and Clones."
In 1882, Charles Wetmore, the President of the California State Viticultural Commission and owner of Cresta Blanca Winery brought back budwood cuttings from Meursault in Burgundy. The budwood was then established in vineyards in the Livermore Valley of California. In 1912, a member of the Wente family (reportedly Ernest) went to France and took cuttings from the University of Montpellier viticultural nursery. These cuttings took a prominent place in the Wente vineyards in Livermore, along with cuttings taken from the Gier Vineyard which had used some of Wetmore's budwood. Budwood taken from Wente vineyards by other winegrowers became known as "Wente."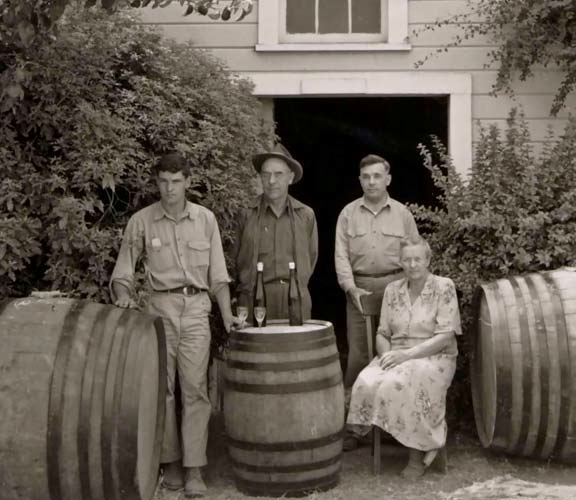 Karl, Ernest and Mr. & Mrs. Herman Wente
In 1948, Fred and Eleanor McCrea obtained budwood from Wente's vineyard for planting at their Stony Hill Vineyard in Napa. Louis Martini took budwood from Stony Hill and referred to it as "Wente." Budwood from some of Martini's vines, as well as Wente plantings in Livermore and the nursery established in Arroyo Seco by Karl Wente, were taken to the Foundation block at University of California at Davis by Howard Olmo beginning in 1955. Olmo selected material that appeared to be disease free and had good yields. At the Foundation block, the vines were grafted, tested and certified as Foundation Plant Materials Service (F.P.M.S.) clone 4. This clone is referred to as the "Wente" or "heat treated Wente." Non-certified budwood, like that taken by the McCreas, is referred to as "Old Wente."
The most common Chardonnay Dijon clones planted are 96 and 95, both traced to Meursault, France, and 76, traced to the Saone et Loire region of France. Dijon clones of Chardonnay are particularly desirable in Oregon because they give better yields than the Wente clone, and they ripen earlier. Wente clone can make excellent Chardonnay in Oregon, but there are only about 10 acres of old Wente plantings remaining in the Northern Willamette Valley as most of the Wente plantings have been displaced by Dijon clones. Todd Hansen of Longplay in Oregon who sells some of his Wente selection to J. Christopher, told me the Rex Hill "old Vine" Chardonnay is a 30-year-old Wente selection, Crowley's Chardonnay is mostly Wente. Jay Christopher, Josh Bergstrom, and Nancy Ponzi all profess a love for Wente selection.