Pinot Briefs —Newsletter 9.12
Slowdown in Immigration Challenges Winegrowers As reported in The Press Democrat (September 16, 2012), there is a dwindling supply of vineyard workers because fewer field workers are immigrating from Mexico, and many laborers are returning to Mexico from the United States. The article cites data from the Pew Hispanic Center that show between 1995 to 2000, nearly 3 million people migrated from Mexico to the United States, and only 670,000 left. From 2005 to 2010, only 1.37 million entered the United States from Mexico, while 1.39 million returned. Historically, many vineyard works from Mexico entered the United States at the time of harvest and returned to Mexico for the winter, eventually acquiring citizenship so they could cross the border legally. However, vineyard workers who immigrated here over the years are aging and retiring, and their children have no interest in pursuing the same work. I have talked to winegrowers in California and Oregon and they tell me American-born Caucasians simply won't do this kind of work. Even during the recession during the 2008 and 2009 vintages, when many Americans were out of work, they could not be coaxed into doing this type of hard labor.
Oregon Statistics OregonLive.com (September 8, 2012) reports the following data for Oregon. 758 winery licenses were issued in the last year (an increase from 632 two years ago), of which about 500 are traditional wineries. $159 million is generated by wine related tourism in Oregon annually. Bottles of wine are taxed at the rate of 67 cents a gallon or about 17 cents a bottle. Oregon residents spent $740 million on alcoholic beverages in 2010, only slightly less than they spent on fruits and vegetables.
Coverage of Oregon Pinot in the City This extensive tasting of wines from 70 top Oregon wineries was held in San Francisco on Thursday, September 12, 2012. Richard Jennings, who writes RJonWine.com (www.rjonwine.com) provided extensive coverage. Somehow he managed to taste, review and score 144 wines from 59 producers during the four-hour tasting. That is about one wine every two minutes. I asked him how he accomplishes this iron man achievement and he told me the following. "I've trained myself to do it over a period of 9 or 10 years now. It's a very dubious talent, but it's one I've keenly developed. I am, if you will, the Michael Phelps of massive trade tasting events. I have found, over many years of doing this, that my scores are valid and I end up within a point or with the identical score when I re-taste the same wine in a more leisurely setting." Richard covers the world of wine extensively and I highly recommend his website.
Fastest Growing Wine Grape Varieties in California Fred Swan, at www.norcalwine.com, reported September 4, 2012, the following. 56% of the 77,000 acres of new vineyards planted in California in the past five years (bearing and non bearing) were devoted to red-grape varieties. Pinot Noir showed the most increase in new acreage of all wine varieties: 8,529 new acres planted between 2007 and 2011. Total Pinot Noir plantings as of 2011 were 39,273 acres. The counties with the greatest increase in Pinot Noir vineyards were Monterey, Santa Barbara and Sonoma. Chardonnay showed the second largest increase in new acreage and Cabernet Sauvignon was third.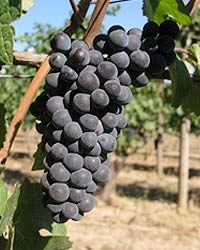 Wine & Wall San Francisco Wine & Wall is a new wine store, wine bar event site, and art gallery in San Francisco adjacent the Lark Creek Restaurant Group's One Market Restaurant. All the wines that are stocked are chosen because of their attention-getting labels. James Blackwelder is the certified sommelier who choses the wines along with a tasting panel, but he reassures customers that quality is not being sacrificed for label visual appeal. No Pinot Noirs are currently featured (Haven't they seen Eric Kent's labels?). Visit www.wineandwall.com.
Amazon Enters Wine Business According to Wine Industry Insight, Amazon will be offering wine for sale from Napa and Sonoma in time for the holidays through online promotions. Wineries committed to this program are so far hush, hush about it. The program became feasible with the passage of California's 2011 ruling that allows unlicensed, third-party vendors to promote wine sales as long as they do not sell the wines directly. Amazon will be able to obtain very low shipping rates for wineries do to the vast business they do with UPS. Read more in Wine Executive News (by subscription).
Wine Shipping Sales top $1.35 Billion According to ShipCompliant and Wines & Vines, the winery shipping channel has grown to $1.35 billion, representing 8.6% of the total United States wine retail market (12-month period ending July 2012). The volume of wine shipped direct to consumers increased 7.2% over the previous 12-month period, while the value of shipments increased by 10.3%. Cabernet Sauvignon, Pinot Noir and Chardonnay account for nearly 60% of all wines shipped during the period and the total dollar value represented by these three varietals is 72%. Larger wineries saw the greatest percent increase in volume of wines shipped. California is by far the top state for winery-to-consumer shipments. The Direct-To- Consumer Shipping Reportis available for download free at www.shipcompliant.com/shippingreport.
Tickets to ¡Salud! The Oregon Pinot Noir Auction On Sale Wineries will be debuting Oregon's 2011 vintage at this year's auction. Tasting and Big Board Auction is at Domaine Drouhin Oregon on Friday, November 9, 2012 and the Dinner and Auction Gala is Saturday, November 10, 2012 at The Governor Hotel in Portland. Ticket price of $395 per person includes both events. ¡Salud! is partnering with the following Vintners Circle wineries in 2012: Adelsheim Vineyard, Amalie Robert Estate, Antica Terra, ArborBrook Vineyards, Archery Summit, Argyle, Ayres Vineyard, Beaux Frères, Bethel Heights, Brittan Vineyards, Brooks Winery, Chehalem, Cristom, Dobbes Family Estate, Domaine Drouhin Oregon, Dusky Goose, Elk Cove Vineyards, Erath Winery, Evening Land Vineyards, Hamacher Wines, King Estate Winery, Maysara Winery, Panther Creek Cellars, Patricia Green Cellars, Patton Valley Vineyard, Penner-Ash Wine Cellars, Ponzi Vineyards, R. Stuart & Co., Raptor Ridge Winery, Scott Paul Wines, Shea Wine Cellars, Sokol Blosser, Soléna Estate, Soter Vineyards, St. Innocent Winery, Stoller Family Estate, Torii Mor, Trisaetum, WillaKenzie Estate, Willamette Valley Vineyards, Winderlea Vineyard & Winery, and Witness Tree Vineyard.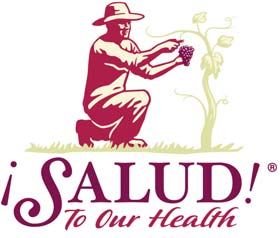 Pinot Days Dates Announced The fall 2012 and 2013 events: Los Angeles, November 11, 2012, 80 producers (tickets at $70 per person on sale now); New York, January 26, 2013, 65 producers; Chicago, April 30, 2013, 65 producers; San Francisco, June 22, 2013, 190 producers. Visit www.pinotdays.com.
Closure Debate Surfaces There has not been much in the news recently about closures until a fivepart series ran online at www.thedrinksbusiness, September 10-14, 2012. The articles profiled a trial performed by Chateau Margaux's Paul Pontallier over ten years in what was called "the most high profile experiment in the history of the closure debate." Pontallier had undertaken the trial in 2002 because a large number of wines from the Margaux property had a high level of TCA and screw caps had become available. He admitted that even though Margaux obtains the best natural corks available, TCA is still an issue (below 1% but still considered unacceptable).
A set of three red wines from the 2003 vintage and three white wines from the 2004 vintage (from vineyards used for Pavillon Rouge and Blanc) were sealed using three different closures: natural cork and two screwcaps with different linings (Saratin and Saranex). The wines were offered to the UK Press for tasting in February 2012. Wines were also closed with synthetic corks, but were not shown as the results were deemed "catastrophic." The press in attendance preferred the red wine aged under Saratin-lined screwcaps (impermeable to oxygen), but preferred the white wine sealed with natural cork, although most considered it very similar to the white wine sealed with a Saratin-lined closure. The Saranex screw cap, which is permeable, showed more oxidation and aromatic evolution for both red and white wines.
No definite conclusions have been reached at this stage of the trial, and Pontallier feels he will have to wait another ten to twenty years to decide which closure is better.
New Book for Wine Geeks Wine Grapes is a comprehensive look at 1,369 vine varieties including their origins and flavors written by Jancis Robinson, Julia Harding and José Vouillamox. To be released October 30, 2012, the book weighs in at 1,280 pages. It contains eight-page gatefolds revealing the family trees of grapes and a variety of full-color illustrations from old ampelography sources. Price is $175 ($110.25 pre-order price on amazon).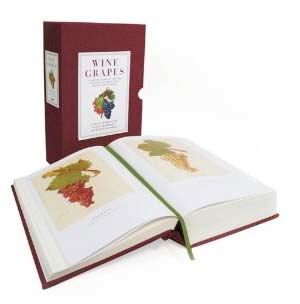 Other new books of interest include Vintner's Apprentice: An Insider's Guide to the Art and Craft of Wine Making, Taught by the Masters (Eric Miller, $15.99), How to Love Wine: A Memoir and Manfesto (Eric Asimov, $16.49), The Curious World of Wine: Facts, Legends, and Lore About the Drink We Love So Much (Richard Vine, Ph.D, $13.60), and The Organic Backyard Vineyard (Tom Powers, $13.57)
Whole Cluster Trend Jamie Goode wrote an excellent article in The World of Fine Wine (Issue 37, 2012) in which he points out something that I have been aware of as well: an increasing number of the best producers in the Old and New Worlds are turning to the use of stems in red wine making. Burgundy and Pinot Noir have been most associated with whole cluster fermentation. In the article, Jasper Morris MW is quoted as saying, "In Burgundy at the moment there is a tendency to move toward stems. I can see two main reasons for this. One is that Henri Jayer, who hated stems, is dead. And the other is that with climate change, the stems are more often riper than they used to be." Goode points out the benefits of whole bunch: (1) Delivers a textural smoothness or silkiness that is especially attractive in Pinot Noir, (2) The tannic structure is increased, (3) The aromatic expression of the wine is enhanced, (4) Freshness, and (5) The wines are more elegant. He concludes, "What was once seen as an outmoded practice is now becoming a fashionable winemaking tool for those seeking elegance over power."
The Navy Chief Wine Taster At a wine merchant's warehouse the regular taster died, and the director was looking for a new one to hire. A retired Chief Petty Officer, drunk and with a ragged look came to apply for the position. The director wondered how to send him away. He decided to give him a glass of wine to taste. The old chief tried it and said, "It's Muscat three years old, grown on a north slope, matured in stainless steel. Low grade, but acceptable." "That's correct," said the director and handed him a second glass. "It's a Cabernet, eight years old, southwestern slope, matured in oak barrels. Requires three more years for finest results." "Absolutely correct," repeated the director and handed him a third glass. "It's a Pinot Blanc sparkling wine, high grade and exclusive," calmly said the drunk. The director was astonished and winked at his secretary to suggest something. She left the room and came back with a glass of urine. The old Navy Chief tried it. "It's a blonde, 26-years-old, three months pregnant, and if I don't get the job, I'll name the father."