Wine For Dummies, 5th Edition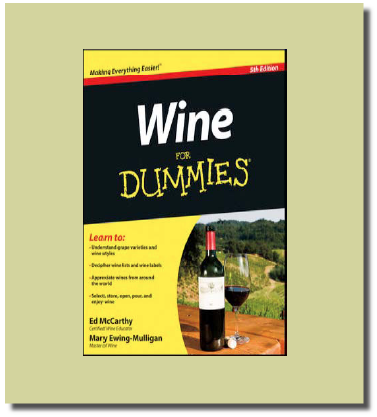 The latest edition of this very popular book has been updated to include online resources, new wine styles and vintages, best new wine values, new wineries and more. The first edition dates to 1995 and over the years the authors have refined their presentation so that this is clearly the most comprehensive book in the series.
The wine knowledgeable authors are married, having met at an Italian wine tasting many years ago in New York. McCarthy is a noted wine journalist and Certified Wine Educator, and Ewing-Mulligan is a Master of Wine. Together they have more than a half century of wine experience between them.
Ignore the title, for wine lovers at every level of expertise from novices ("Dummies") to experienced wine connoisseurs will find this book a valuable reference. Millenials, in particular, and those who are new to wine, will find a treasure trove of practical information including how to shop for wine, how to properly taste wine, how to decode restaurant wine lists, how to describe wines, how to store wine properly, and most of all, how to pursue your love of wine. Special attention should be paid to the chapter, "Ten Wine Myths Demystified."
The book is written in understandable, plain-English, and includes an appendix with a pronunciation guide to wine terms and a glossary of wine terms. The text is replete with valuable tips, warnings, worthy searches, technical stuff and key points to remember indicated by appropriate markers ( a target with an arrow in the center for valuable tips, for example) in the left margins.
A lengthy list of U.S. wine stores worth knowing, wine books worth reading, and newsletters and blogs worth seeking out to obtain further knowledge is invaluable for the uninitiated. My only nit is that there is no mention of the PinotFile.
A companion website, www.dummies.com, is another source of information with articles such as "Understanding Wine Labels," "Attending a Wine Tasting Event, and "Discovering How to Sniff a Glass of Wine."
Wine For Dummies, 5th Edition, Ed McCarthy and Mary Ewing-Mulligan, September 19, 2012, 432 pages, paperback, Wiley, $22.99. Also available in e-book format.