Bailiwick: No One-Trick Pinot Pony
Last year I discovered Bailiwick Wines, a partnership between brothers Bryan and Paul Vais. As I noted then, "Once in a while a new producer seemingly comes out of nowhere and really impresses me." The four 2009 Bailiwick Pinot Noirs were stellar, exemplifying deft winemaking, and the labels, marketing program and website were intriguing. I subsequently met the brothers at wine tasting events and warmed to their unabashed enthusiasm and modesty.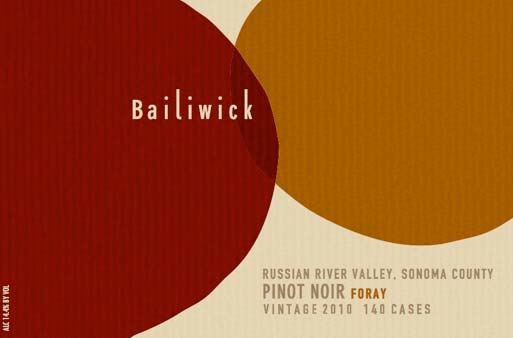 Bryan and Paul are natives of the San Francisco Bay Area who have been making wine in their home basements and various garages for 25 years while they pursued successful careers in engineering, technology and finance. In 2009 they launched a commercial venture, intent on producing premium Pinot Noir from specially chosen vineyards across multiple California appellations. The name they chose, Bailiwick, refers to a person's special field of interest, authority or skill, in this case wine. The brothers come from a family of great cooks and are foodies themselves, and the wines they produce reflect that background in the suitability if their wines for the dinner table.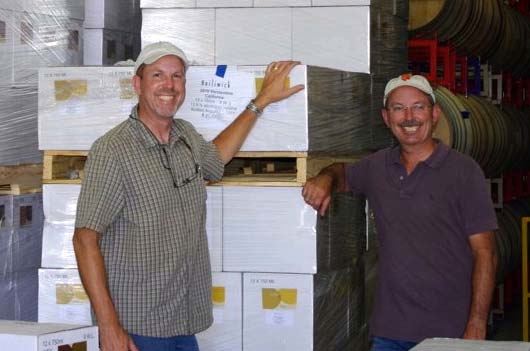 I recently sampled six new Pinot Noir releases from the challenging 2010 vintage and I am happy to report that these wines were even better than the previous vintage and superb across the entire lineup. This producer is no one trick pony. The AVA blends are released now and the single vineyard wines will be available in November. Two new wines were added in 2010: a Sonoma Coast AVA bottling and "Foray," a single vineyard bottling representing a chance to get some extraordinary grapes under unusual circumstances.
Paul told me the following. "2010 was a very difficult vintage, and we are doubly pleased that our wines turned out so well. We were well prepared for the September heat spikes and executed well to get grapes into the winery before they were ruined. In general, the fruit came in with reasonable levels of ripeness, acidity, etc.. Nonetheless, we managed to make six really nice pinots that we are proud to offer." The photo below is of the entire work crew who look very happy.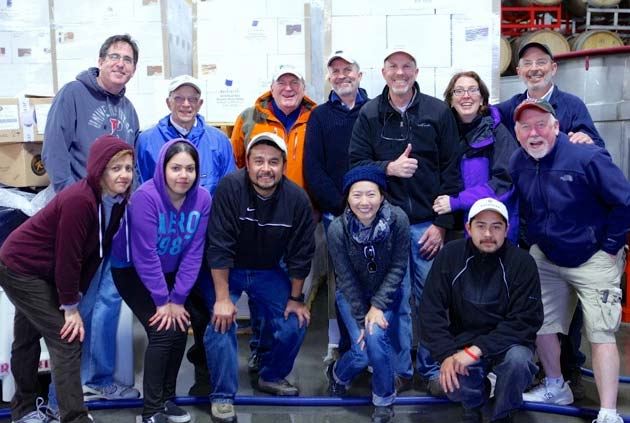 My general impressions of the wines were as follows. The aromatics are lagging the flavors at this early stage, which is to be expected, but they are still alluring. Each wine is distinctly different but there is a common thread of impeccable balance, admirable oak integration, and complimentary tannic structures, done in an elegant, gentle style: all you can ask for in California Pinot Noir. It is rare to have such a diverse portfolio of grape sources handled so adroitly. It was difficult for me to make discerning qualitative judgements as all the wines were excellent.
The grapes for all wines were hand picked and sorted, 100% de-stemmed without crushing and fermented in open top containers. After a 3 to 4-day cold soak, commercial yeast was added to drive fermentation and highlight varietal aromas. Gentle punchdowns were performed three times a day. Post-fermentation maceration on the skins lasted several weeks. The wines were pressed off into French oak cooperage where they were aged for 17 months.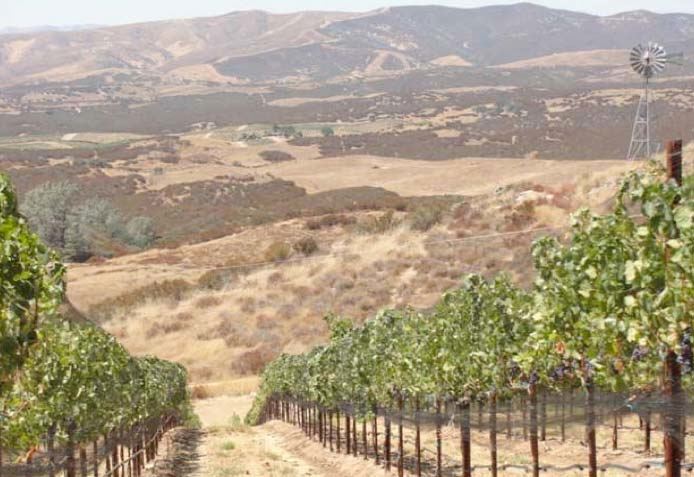 2010 Bailiwick Borderline Marin County Pinot Noir
14.4% alc., pH 3.69, TA 0.56, 100 cases, $36. Sourced solely from the Kendric Vineyard farmed by Stewart Johnson. Clones 115 and 777. Aged in 50% new French oak barrels. · Moderately light reddish-purple hue in the glass. A panoply of scents including black cherries, pie berries, clay, oak, and white chocolate that come and go in the glass. Strikingly fresh berry flavor, seemingly wild and exotic, underlain with well-integrated oak and supple tannins. Unusually ripe for cool Marin County. An evocative middleweight, that enters with aplomb, and finishes smooth and polished. I really like this Pinot.
2010 Bailiwick Sonoma Coast Pinot Noir
14.4% alc., pH 3.76, TA 0.64, 270 cases, $36. Sourced from the Ross Ranch Vineyard, located in the hills southwest of Sebastopol. Goldridge sandy loam soil. Clones 115 and Pommard. Aged in 50% new French oak barrels. · Light reddish-purple hue in the glass. Vibrant aromas of fresh red fruits, especially cherry glaze, with notes of spice, sandalwood and toasty oak. Explodes on the palate with melt in your mouth, perfectly ripe cherries accented by dark chocolate and spice. Very smoothly textured with gossamer tannins and noticeable persistence on the fruit-filled finish. Shows the most oak influence of all the Bailiwick wines this vintage, but it is not intrusive. Very good (+).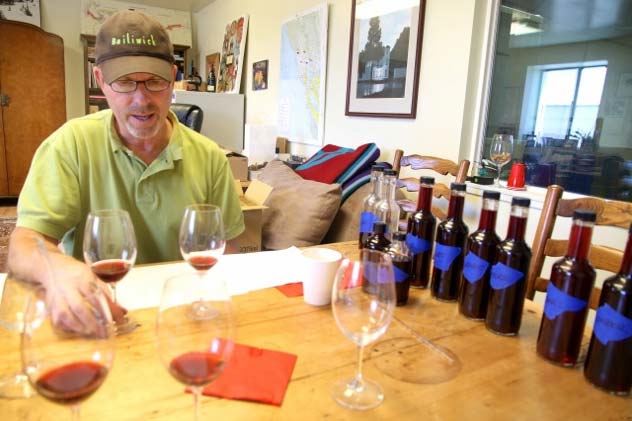 Visit the website at www.bailiwickwines.com to purchase wines online. A 2010 Cabernet Franc and 2011 Vermentino are also offered.