Rhys Vineyards: Tasting Recent Vintages is a Revelation
The number of wineries in the Santa Cruz Mountains is relatively small for such a large appellation, but the Pinot Noirs of a few producers are among the best in California. These wineries include Big Basin Vineyards, Mount Eden Vineyards, Rhys Vineyards, Thomas Fogarty, Varner and Neely, and Windy Oaks Estate Vineyards & Winery among those whose wines I have sampled recently.
Owner Kevin Harvey of Rhys Vineyards currently has five diverse vineyards with distinct geological profiles in the Santa Cruz Mountains. Two of them, Family Farm Vineyard and Home Vineyard, are technically just outside the AVA but produce wines that are Santa Cruz Mountains in character. The other three vineyards are Alpine, Horseshoe Ranch, and Skyline. Most recently, Harvey has acquired an abandoned apple orchard on the southern end of the Santa Cruz Mountains chain near Corralitos where he plans to plant an additional 20 acres in 2013. Still another estate vineyard, Bearwallow, is located in the deep end of the Anderson Valley. The vineyards are described in detail on the winery's website at www.rhysvineyards.com.
All the vineyards meet important criteria: shallow soils which limit vigor, iron-rich soils, deeply fractured and rocky subsoils which allow vine roots to penetrate deeply, moderate clay content and limited water holding capacity, steep non-forested slopes, and a cool climate. Yields from these vineyards have typically been painfully low.
The name, Rhys, is derived from the Welsh spelling of Reese. The first estate vineyard Pinot Noir release came in 2004, and the 2007 vintage was the first in which all five vineyards were in production. A second bottling from Alpine Vineyard is from a special block known as Swan Terrace, and is kept separate because of its distinctive character.
Harvey has shunned the newer Dijon clones for the most part and instead planted "suitcase" selections such as Calera, Swan, La Tache, Hyde and Wente. Over time, vines have been identified that naturally produce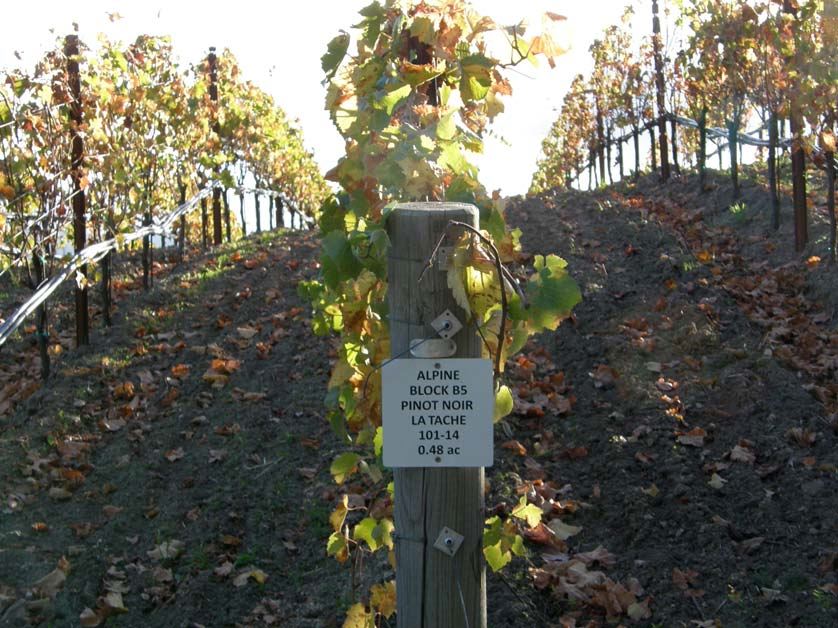 optimal quality at each of the vineyard sites. These vines offer a perfect balance of crop and canopy without excessive management and the wines that are produced from these vines have been carefully scrutinized. In some instances, the Rhys crew has determined that they then can achieve higher quality by regrafting some vines with cuttings from existing vines. The majority of the new grafts are a selection massale (mass selection) or mixture of clones that have been find optimal for a given vineyard. This is an extensive undertaking, but one that will steadily increase quality in the future.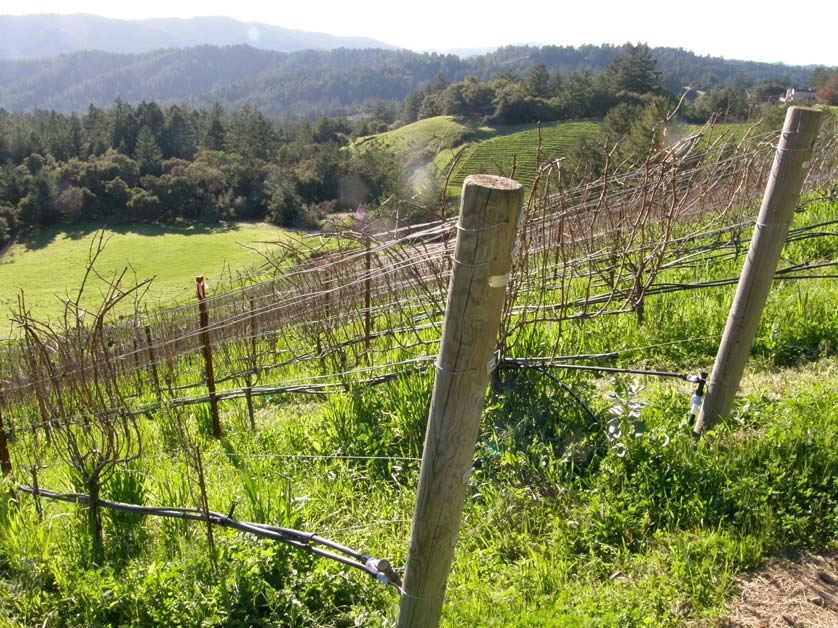 The young and talented winemaker at Rhys Vineyards is Jeff Brinkman. Brinkman majored in biochemistry in college, sold wine at the retail level for a short time, and then learned winemaking on the job, beginning as a cellar rat in 1996. Brinkman makes it clear that Rhys wines are made in the vineyard.
In the winery, the grapes from each site are handled in an identical manner. Picking occurs early, often at 21.5º to 23º Brix. The grapes are harvested over a several day interval without concern about achieving the same ripeness in every vine row. Harvey notes, "A variety of ripeness makes a more interesting wine." The grapes are carefully hand sorted, and placed 100% whole cluster into 1-ton fermentation tanks. Fermentations are carried out in small lots from specific vineyard blocks and reassembled in the blending process later. A 10 to 14-day cold soak under sealed conditions is followed by natural fermentation. The cap is punched down three times a day by foot treading. The wine is pressed off with a basket press and the juice gravity fed into oak barrels. Blending takes place either before or after the next harvest after the wine spends approximately 14 months in barrel. All barrels are sourced from Francois Frères and made from 4-year air-dried staves, eliminating any barrel variability effect on the finished wines. New oak percentage is variable and constantly being refined. The estate wines are unfined and unfiltered. The whole winemaking process is natural and straight forward and harkens back to the days in Burgundy when wine really was made in the vineyard.
Rhys wines are highly allocated and sold only through a mailing list. Allocations are based on aggregate purchase history. The wines are very hard to come by and I often don't receive a full allocation of every wine. The wines are released to mailing list customers in the spring and fall. Most wines are aged a full year in bottle before release. Rhys Chardonnays are exceptional as well. A second label, Alesia, offers less-expensive wines from regions outside the Santa Cruz Mountains and wines that do not fit into vineyard-designated bottlings.
A 10,000-case winery ensconced in a cave at Skyline Vineyard was finished in 2010 and has hosted Open Houses for members of the mailing list on Pickup Days. Allen Meadows, Eric Asimov, Matt Kramer and many others, including myself, have been fans of these terroir-driven wines. Follow Rhys harvest and happenings at www.twitter.com/RhysVineyards. For the complete low down on Rhys Vineyards, read my feature from 2009 at www.princeofpinot.com/article/633/.
I recently got the urge to pop some corks on recent vintages of Rhys Vineyards Pinot Noirs to see how the wines were progressing. Most of my tastings have been at the winery with barrel samples or recently bottled examples. This tasting was a revelation. The wines are low in alcohol, yet exhibit ripe fruit phenolics. They are all deeply colored with no intrusion of oak and nicely integrated acidity. All the wines change dramatically over time in the glass, and some have very impressive length. These are serious wines that benefit from cellaring and will continue to evolve over the coming years. It will be exciting to see what these wines are like ten years down the road compared to their Burgundy cousins. I suspect the fruit will fade and exhibit secondary characters, the now prominent tannins (of the 2007 and 2008 vintages) will change and integrate, while the bright acidity will hold the wines together, and the low alcohol levels should never intrude.