Pinot Briefs —Newsletter 9.13
Pinot Geek and Golden Geek Get Makeover The PinotFile is a unique wine publication in that numerical scoring is not used in reviewing wines. Short, relevant tasting descriptions are featured instead, intended to guide the reader to styles of Pinot Noir and Chardonnay he or she might enjoy. I prefer that the reader focus more on producers than specific wines. That said, I do provide a qualitative assessment at the end of each tasting note which includes the categories of Exceptional (represented by the Pinot Geek or Golden Geek Icon, and indicating a complete and transcendent wine), Very Good (a distinctive and beautifully crafted wine), Good (a solid wine of varietal character), Decent (an undistinguished but drinkable wine), and Unsatisfactory (a wine that is flawed or one that I would not recommend). The Pinot Geek Icon was originally intended to represent a passionate pinotphile who had sampled so much Pinot Noir his lips and teeth were stained reddish-purple. The image was taken from a photo of my oldest son, Garrick, who has very prominent lips and a big smile. He is gregarious, upbeat, good-humored and likable. He enjoys great Pinot too. Influenced by some opinions I have received over the years, I decided to refine and humanize the caricature and discard the purple lips and teeth. Thanks are due Wendy Coy of Coy Design in Sebastopol (www.coydesign.com), and my other son, Dane, for their contributions to the redesign. Here are the new icons: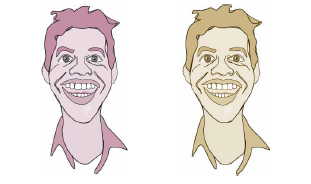 Russian River Valley Film Maurice (Joe) Nugent, founder of Nugent Vineyard in the Russian River Valley, has finished a film on the Russian River Valley titled "From Obscurity to Excellence: The Story of Grapes and Wine in the Russian River Valley." A preview of the film is available at www.russian-rivervalley. com/. The movie will premier in the tasting room at Rochioli on Friday, October 26, 2012, for wineries, news people and theater representatives. Future showings are planned. Follow Nugent's blog at www.rrvmovie.wordpress.com/.
Oregon: I'll Bet You Didn't Know After California, Oregon is one of the three top wine-producing states, along with Washington and New York. Oregon wineries received 1.5 million visitors last year and about half of these were from out of state. The Allison Inn, located in Newberg in the Willamette Valley, was named by Travel + Leisure magazine as the top resort spa in the continental United States for 2012. There were 20,400 acres of planted vineyards in Oregon in 2011, over half of it Pinot Noir (12,560 acres), followed by Pinot Gris, Chardonnay and more than 60 other varieties. The Willamette Valley is the largest Oregon AVA, consisting of 5,200 square miles and is named for the river that bisects the Valley for most of its 150 miles length. Two-thirds of Oregon's wineries are located in the Willamette Valley. The tiny town of Carlton, situated in the northern Willamette Valley, was once a sawmill town, but is now home to 40 winemakers.
Tasting Room Opens at Fort Ross The first tasting room in the new Fort Ross-Seaview appellation near Jenner has been opened by Fort Ross Vineyard. Fort Ross Vineyard is among the closest vineyards to the Pacific Ocean in California. The Fort Ross-Seaview appellation, approved by the U.S. Trade & Tax Bureau January 13, 2012, is the first of what may be more subdivisions of the huge Sonoma Coast appellation. It covers the first two coastal ridges and west-facing slope of the third ridge line and extends over 27,500 acres. Prominent Pinot Noir producers from the appellation include Fort Ross Vineyard, Flowers Vineyard & Winery, Hirsch Vineyards, Wild Hog, Marcassin, Failla, Pahlmeyer, Martinelli and Peter Michael. As of 2005, there were 46 commercial vineyards on about 1,400 acres. A photo of Fort Ross Vineyard is below. The tasting room, which offers panoramic views of the Pacific Ocean, is open 10:00-6:00 daily but hours vary seasonally so best to call ahead. Visit www.fortrossvineyard.com.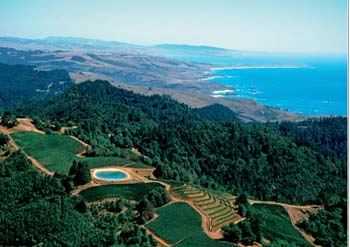 French Wine Regions Maps An online map of the appellations, vineyards and domaines in France is available at www.aocmaps.com.
Disheartening News for Those with Wine Lockers In Irvine, California, George Osumi, who operated Legend Cellars, Inc., was charged with second degree commercial burglary, grand theft, and embezzlement after stealing nearly $3 million in vintage wines from storage lockers rented by clients. Apparently, Osumi broke into the private storage lockers of three different owners beginning in 2008, and switched bottles of valuable wine for cheaper bottles of wine. He then auctioned some of the stolen wine bottles and deposited the earnings into his business account. Fortunately I have my wine stored in a nearby facility in Irvine, the Wine Cellar Club Inc., where I have complete faith in the owners.
Mornington Peninsula International Pinot Noir Festival The sixth MPIPNC will be held February 8-9, 2013 at RACV Cape Schanck Resort in the Mornington Peninsula, Australia's most notable Pinot Noir growing region. The theme will be the pilgrimage of Pinot Noir and how far Australia has taken it from its 25 homeland. Featured speakers include Josh Jensen (Calera Wine Co.), Ted Lemon (Littorai), and Marquis Sauvage (Burn Cottage). The keynote speaker will be Jasper Morris MW. MPIPNC is modeled after the International Pinot Noir Festival in Oregon and is held every two years. For information and tickets, visit www.mpva.com.au.
Monumental U.S. 2012 Harvest While the French harvest in 2012 is reportedly the smallest on record since 1991 and Italy and Spain will have record-low yields, California and Oregon are experiencing a banner year, the beneficiaries of perfect growing seasons and one of the driest seasons on record. Oregon's harvest will not meet the record 41,500 tons of 2011, but the vintage is already being compared to 2002 and 2008, both of which were superb vintages for Oregon. Jesse Lange, winemaker at Lange Estate Winery and Vineyards in Dundee, Oregon, which is celebrating it's 25th anniversary, has used the words "epic" and "spectacular" to describe the 2012 vintage harvest. Don Lange, inspecting grapes, is pictured below. In California, the crop looks to be significantly above average, especially for Pinot Noir and Chardonnay.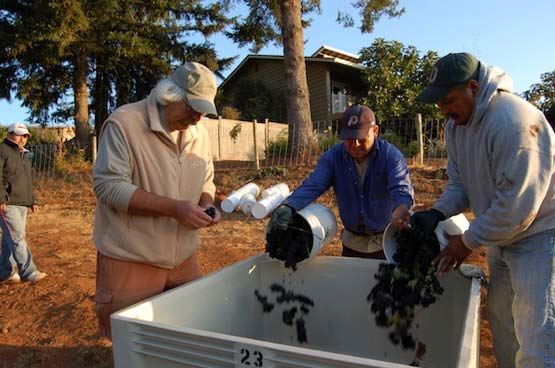 Williams Selyem Shows Up in Retail Marketplace It is certainly not publicized, but high end Pinot Noir producers may be struggling with sales and some are releasing their grasp on exclusivity. Los Angeles Wine Co. (www.lawineco.com) sent out an online offering on October 20 of 2010 Williams Selyem Bucher Vineyard, Eastside Road Neighbors, Flax Vineyard, Ferrington Vineyard and Estate Vineyard Pinot Noirs, (at full retail prices). I have also seen the Williams Selyem Sonoma County bottling in the bins at Total Wine.
New Wines & Vines Directory & Buyer's Guide The 2013 compendium of wineries in North America is now available for ordering at $95 at www.winesandvines.com. There are 7,600 winery listings, including 3,497 wineries in California, as well as custom crush facilities, suppliers, growers, and compliance information for all 50 states. The winery profiles include size, sales, and staff contacts.
Oregon Wine History Project™ at Linfield College The Portland Tribune and Forest Grove News-Times recently paid tribute to the Oregon Wine History Archive at Linfield College. The Archive now includes a 1974 bottle of Dick Erath's early Pinot Noir, and 80 linear feet of papers, maps and photographs detailing the work of Dick Erath, David and Diana Lett, Myron Redford, David Adelsheim, Bill and Susan Sokol- Blosser, and Dick and Nancy Ponzi. The Archive is tended by full-time archivist Rachael Woody and a number of Linfield College students. The material that can be digitalized is available at www.linfield.edu.
New Study Questions Alcohol and Breast Cancer Link The Nurses' Health Study (NHS) published last year found that even light and moderate alcohol consumption could increase the risk of breast cancer in women by 10 percent. Unfortunately, many well known publications warned women to abstain from alcohol if they have a family history of breast cancer. This month, the National Institute on Alcohol Abuse and Alcoholism (NIAAA) released a paper that questioned the epidemiological NHS study and recommended further study of the relationship between alcohol intake and breast cancer risk in women. The authors of the NIAAA study note that a significant problem with alcohol and breast cancer studies is that people tend to report less alcohol than they actually consume and resultant studies can overestimate the effect of a given amount of alcohol on breast cancer risk. Studies often lack information on drinking patterns as well. Phillip J. Brooks, Ph.D., program officer in the NIAAA Division of Metabolism and Health Effects emphasized the following. "In view of our lack of understanding of how and when alcohol consumption impacts breast cancer risk, and the documented health benefits of moderate alcohol consumption, it is not clear that stopping drinking would benefit the overall health of postmenopausal women who are moderate drinkers. In contrast, based on our understanding of alcohol metabolism, as well as recent epidemiological data, binge drinking by younger women could increase the risk of breast cancer later in life. Binge drinking is unhealthy for anyone, and the possibility of increasing breast cancer risk is another reason for women in particular to avoid binge drinking." The NIAAA study was published in Alcoholism Clinical & Experimental Research online October 16, 2012.
Mr. Picky Measuring Wine Glass These new wine glasses, priced at $14.95 each, are for health conscious wine drinkers who want to be able to measure their wine consumption. Discreet bubbles on the glass mark 4, 6 and 8 oz portions on lead-free crystal from a Riedel factory in Germany. Both red wine and white wine moderation glasses are available. The glasses are endorsed by California cardiologist Steven R. Gundy, M.D., and The Sonoma Diet author, Connie Guttersen, R.D., Ph.D.. Visit www.mr-picky/moderationwine- glasses/.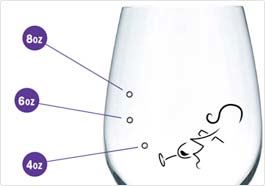 Big Sur Food & Wine Festival 2012 Not well publicized, but extremely well-loved by consumers and winemakers alike, this event will be held November 1-4, 2012. Participating wineries are a whose who of California Pinot Noir: August West, Calera, Cargasacchi, Copain, Fiddlehead Cellars, Flying Goat Cellars, Hahn Estates, Hirsch Vineyards, Hitching Post, Martinelli Winery Melville, Mirua, Morgan, Morning Dew Ranch, Paul Lato, Peay, Pelerin, Pisoni, Roar, Siduri, Skywalker Vineyards, Talbott, Talley Vineyards, Tantara, Testarossa, and Wind Gap - Wow! For tickets, visit www.bigsurfoodandwine.org.

La Paulée de New York March 6-9, 2013 in New York City presented by Daniel Johnnes featuring the finest Domaines of Burgundy including Domaine Jean-Marc Bouley, Domaine Bruno Clair, Domaine Vincent Dauvissat, Maison Joseph Drouhin, Domaine Dujac, Domaine Fourrier, Domaine Lfarge, Domaine des Comtes Lafon, Domaine Leflaive, Domaine de la Romanee-Conti, Domaine Georges Roumier and more. Featured chefs for the Gala Dinner are Daniel Boulud of Restaurant Daniel, Daniel Humm of Eleven Madison Park, and Cesar RAmirez of Chef's Table at Brooklyn Fare along with Michel Troisgros of Maison Troisgros in Roanne, France. For information, visit www.lapaulee.com.
¡Salud! Auction Packages Now Online The Dinner and Auction Gala will be held on Saturday, November 10, 2012, and includes an exciting range of live and silent auction packages. I have offered Lot 13, "The Russian River Valley Immersion Package four people." The package includes three nights at Benovia Winery Hideaway Cottage in Santa Rosa, four day tour of Russian River Valley wineries led personally by the Prince, including wineries such as Benovia, Rochioli, DuMOL, Twomey, Arista, Williams Selyem, Kosta Browne, and Thomas George Estates, gourmet lunches and dinners at the Russian River Valley's finest restaurants including great Pinots from the Prince's own cellar, one magnum each of Kosta Browne, Williams Selyem and Merry Edwards Russian River Valley Pinot Noir, and a $1,000 travel voucher for air transportation to Sonoma County or Bay Area. Last year the package raised $8,000. One luncheon will be with iconic Williams Selyem winemaker Burt Williams and will include a tasting of Burt's wines from the past and present (subject to his availability). Honestly, this is a one-of-a-kind trip with the money going to a gratifying cause. You can bid on the package without attending the ¡Salud! event by visiting www.saludauction.org and a dedicated attendant can be arranged to bid on your behalf. Better yet, attend the event in person to bid. Friday, November 9, is the Big Board Auction at Domaine Drouhin Oregon where the 2011 Oregon Pinot Noirs will be previewed. The Dinner Gala and Auction is on Saturday, November 10, at the Governor Hotel in Portland. ¡Salud! is one of the most long-lived and successful fundraisers, celebrating its 21st birthday. The program is supported by the Oregon wine community and Tuality Healthcare to provide access to healthcare services for Oregon's seasonal workers and their families. No other agricultural industry in the country supports its seasonal workers at this level. Workers normally move from crop to crop with no healthcare support. In 2011, over 3,600 workers and family members were registered in the program and over 7,000 medical and dental encounters were documented.