How to Love Wine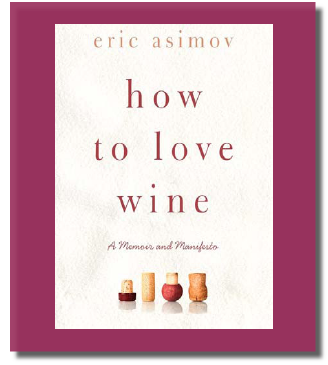 Eric Asimov has been the Chief Wine Critic for the New York Times since 2004. It is not a title he trumpets, for he is too unpretentious in nature to relish such an exalted anointment. The title, rather, is a figment of the Times' imagination, intended to lend credence to the Times as an authoritative publication on wine. Regardless, Eric wears the title well, and is much beloved by those with an interest in wine. His weekly column appears in the Dining section of the Times.
Since I am based on the West Coast and not a subscriber to the Times, I have not read Eric's columns on a regular basis, and because I am so pinotcentric, I have only focused on his articles that feature my chosen grape. I had met Eric once, at the International Pinot Noir Celebration, where our contact was fleeting but sincere and respectfully gracious. It was natural that I was eager to read his first book on wine and learn more about him.
As the subtitle of the book suggests, this is an autobiography, allowing the reader considerable insight into Eric's upbringing, lifestyle, dreams, and loves, one of which is wine. We learn that he disdains the hoity-toity attitude of wine snobs ("Drinking wine is an elemental, natural pleasure that for too many people has been gilded with nonsense"), he abhors wine showmanship such as touting the talent of identifying a wine blind, dislikes blind mass tastings (he calls them "infantilizing"), is scornful of traditional tasting notes (referring to them as, "a useless, self-indulgent exercise"), and sees the 100-point wine scoring system as a necessary evil ("Scores for wine are not offensive....they simply don't offer enough information to be useful"). The reader may be shocked that a wine critic could be so brutally honest in debunking common wine myths.
People with even the slightest interest in wine are often fascinated by those lucky enough to earn a living writing about wine. Many of those so anointed remain very private, cautious about revealing too much of themselves less they threaten their "mystique." In this book, Eric is completely open and confessional, and his personal life experiences are honestly portrayed so the reader understands how he traveled from point "A," attending graduate school at the University of Texas where he had his wine epiphany, a bottle of 1978 Giacomo Conterno Barbara d'Alba, to point "B," a man in his mid-fifties living in Manhattan who has an outlet for advocating his love of wine. Eric says, "This is the fundamental idea I want to convey....If you love wine, all the sense of fulfillment, pleasure, and satisfaction that you hope to get out of wine will follow." This book is a good read, if only as a confirmation that Eric Asimov is a regular guy who never takes wine or himself too seriously. Ironically, he is not unlike wine itself, thoroughly embraceable.
How to Love Wine: A Memoir and Manifesto, Eric Asimov, William Morrow (Harper Collins), 2012, hard cover, 277 pages, $24.99. Also available from HarperCollins e-books.